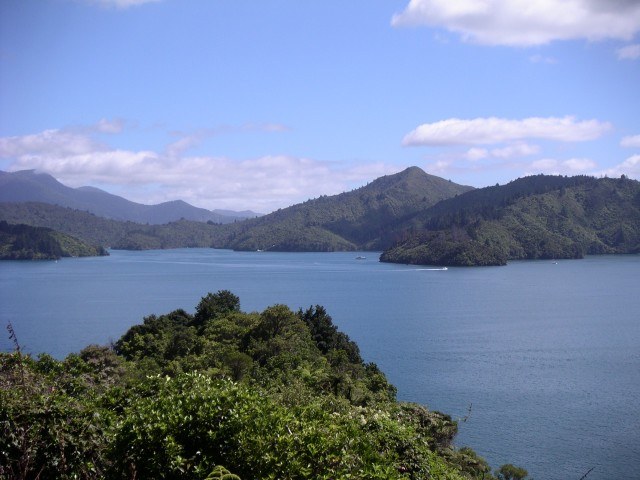 The Marlborough Sounds on the South Island of New Zealand are a boaters and nature lovers paradise. With over 4,000 km² of islands, sounds and peninsulas, its coastline is so jagged that it actually contains one fifth of New Zealand's total coastline. The areas rugged beauty and natural wonder attract tourists all year long. From the large ferry terminal in Picton to the smaller leisure craft marina and town of Waikawa the area is teeming with boating and hiking possibilities.
Some of New Zealand's most famous and picturesque hikes like the Queen Charlotte Track can be found in this region. The Queen Charlotte Track is considered to be one of the best hiking tracks in the world and is definitely the most accessible, with a variety of accommodations along the way. There's even a water transport service that will ferry your luggage (or yourself if you're too tired) to your next destination each night if you don't feel like carrying a backpack. Most people can walk the 71km track in 3 or 4 days, however with a little planning you can start or stop anywhere you choose.
As well as the ferry terminal to Wellington, Picton is the start of both the Main North Line Railway and the State Highway. From Picton, you can jump on a ferry to the North Island, hop aboard a train south to Christchurch or start your South Island tour in the vehicle of your choice. It doesn't get much greener or wilder than this.
On the water, sea kayaking and sailing reign supreme, with boaters of all ages enjoying the calm waters and easy breezes that this area has to offer. There are tons of areas where you can rent a variety of boats for a few hours or a few days.
Here's a travel tip: Getting off the ferry in Picton you might feel a little lost with all this area has to offer. With tons of nature all around and no nearby big city to give you a clear direction, feel free to head towards Waikawa. Waikawa is the boating hub of the area and offers all the accommodations and restaurants that you're going to need to start your adventure. From Waikawa, you can schedule your Queen Charlotte Track excursion or sit back and watch the sailboats come in and out all day.
There are numerous boating options up and down the coast, however spending the day on a sea kayak is by far my favorite. The water in Marlborough Sounds is clear and calm and you can make some good distance in a few hours with a minimal amount of work. On a kayak you can get right into nature and see the fur seals, blue penguins, Hector's, bottlenose, or dusky dolphins as well as countless varieties of birds and marine animals that call this area home.