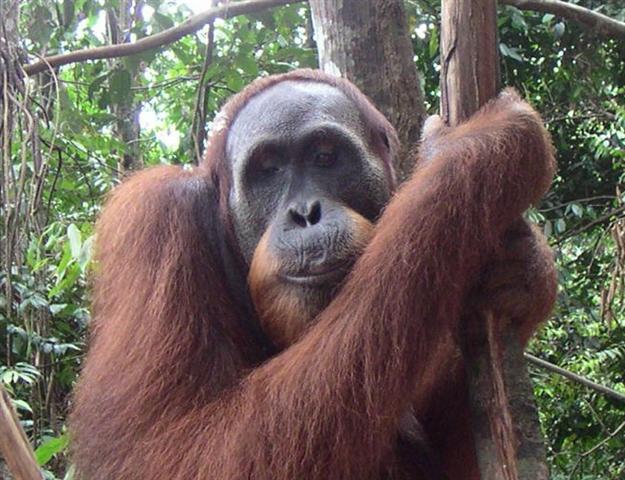 The Bohorok Orangutan Centre at Bukit Lawang in Indonesia is one of the only places in the world where you can see orangutans in the wild. The Orangutan sanctuary is located inside Gunung Leuser National Park.
Half a dozen orangutans were swinging in the trees around us when we snapped this photo. The rangers were feeding some of the orangutans on a feeding platform a few feet away.
Bukit Lawang is a small village deep in Sumatra's forest, packed with backpacker hostels and cafes.  To get there, we took a ferry from Penang, Malaysia to Medan, Indonesia, and jumped on board a mini-bus to Bukittinggi. From Bukittinggi, we took a local bus on roads with potholes deep enough to lose a car.
Here's a travel tip:  Open air buses are usually a better bet than air conditioned in Indonesia. We paid an extra dollar for the air conditioned bus, but the air conditioning was broken, the windows were sealed shut, and we were locked into a ten hour bus ride with about 50 clove cigarette smoking passengers. There was a man in the back of the bus whose sole job was to hand out barf bags to the passengers.