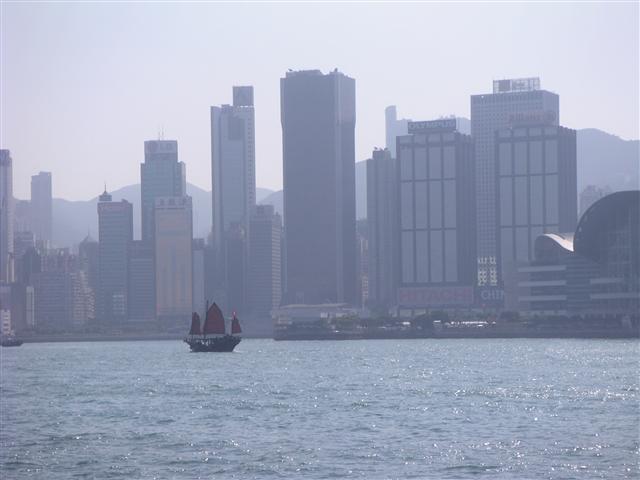 Victoria Harbour, in beautiful Hong Kong, is a perfect juxtaposition of old world charm meets rampant 21st century commercialism. There aren't that many places in the world where a 19th century style Chinese junk boat (the Duk Ling) could sail through a crowded harbour backdropped by giant skyscrapers topped with monomental brand names and yet look so perfectly in it's element. It's striking, yet works.
As beautiful as Victoria Harbour is during the day, at night it really shines with its dazzling A Symphony of Lights where more than 40 of Hong Kong's skyscrapers light up the night in a music and light show. The show takes place on both sides of the harbour and is a joy to see.
From the waterfront you can take a ride up The Peak or jump on a ferry and head to the Tsim Sha Tsui Promenade and check out the Avenue of Stars (home to a life size bronze Bruce Lee statue and hand prints of Hong Kong natives Jackie Chan, John Woo and Chow Yun-fat just to name a few).
Here's a travel tip: Hong Kong is easy to get around and fairly cheap as well. They have double decker buses that tour the majority of the city (it's basically just a regular bus) and you can get off and on at numerous locations around the city. The ferry system is a quick and cheap way to see the harbour from the water and if you time your ride correctly, you can see the Symphony of Lights from the water without having to pay extra for one of their "specialty cruises". The MTR (Mass Transit Railway) is fast and cheap however the walk between stations can get a little taxing. Taking a historic tram (double decker street car) in the Western District and North Point is a lot of fun just make sure you keep your hands in the cars at all times. Some of those trams can get a little close to each other.
If you're feeling brave you can tackle all of them in one run depending on where you're starting from. Jump on the MTR to East Tsim Sha Tsui. Jump on a double decker bus or simply walk to the Star Ferry Pier and climb aboard a ferry bound for Central then when you get off jump on a bus (15C) that will take you to The Peak. Take the tram up The Peak and get yourself an ice cream and a couple of photos of the breath taking views from the top (come on, you deserve it). Take a bus back down (15 or 1) to Central Station and either jump on the MTR back to your place or jump on a tram and go do a little shopping in one of the many malls in that area.