Sparkling, crystal clear ocean waves, long, powdery white sandy beaches and gentle tropical trade winds to cool off in the afternoon sun define Punta Cana in the Dominican Republic. This Caribbean Sea community is comprised mostly of all inclusive hotels and tourists lazing the day away on their long anticipated vacations.
Who can blame them when the weather, the water and the relaxing lifestyle all converge to give them a trip they'll always remember. From its dozens of freshly manicured world class golf courses to its string of spas and boutique shops that Sulis Minerva herself would envy, Punta Cana has everything that a modern paradise seeking tourist could want.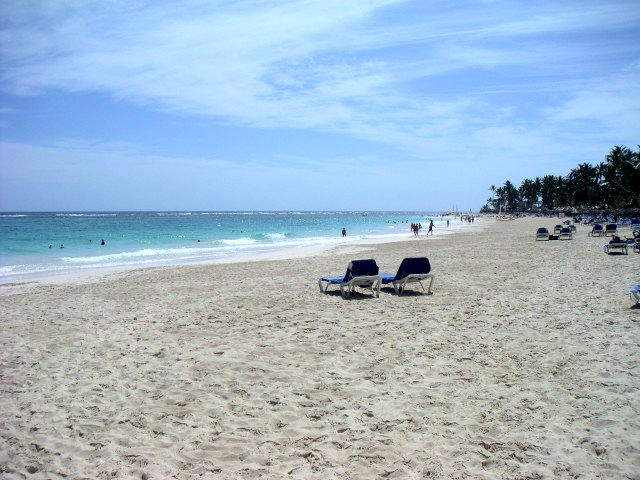 Though this area isn't a thrifty backpackers ideal destination in regards to cost, there are many reasons for even the hard core traveller to venture into this area. Did I tell you about the gorgeous clear aquamarine ocean yet? Or how about the miles and miles of pristine white sand beaches that are so fine that stone ground flour gets jealous? Maybe I need to remind you of the perpetual mid 20 to 30°C climate and the long dry season? How about the relaxed lifestyle and the Spanish speaking locals who will welcome both you and your money equally with open arms, a perpetual smile and quick joke to share?
Convinced yet? You should be, because Punta Cana in the Dominican Republic is the picture perfect postcard of a beach vacation. With tons of direct flights from all over the globe, getting there is as simple as booking your one way flight. The nicest part of it all is that within an hour of arriving you can be sinking your barefoot toes into the marvellous white sands while your bartender brings you fruity concoctions spiced with one of the islands deliciously sweet famous rums.
Travel Tip: This area is as famously known for its beaches as it is for its prices. All inclusive hotels litter the area with many running into the thousands for the night. While we were there we met a traveller who stayed on for months by continually booking über cheap last minute all inclusive getaways. Even including airfare in those last minute deals, he was still paying much less than any single hotels going rate for drop-ins. The only thing he would do is make sure that he could take the deal without needing to be on a plane. Most travel shops didn't have a problem with that, and a few even gave him partial credit back for the flights he didn't need to take. He had been doing that for several years every winter while travelling the country and getting to see first hand what each area had to offer.