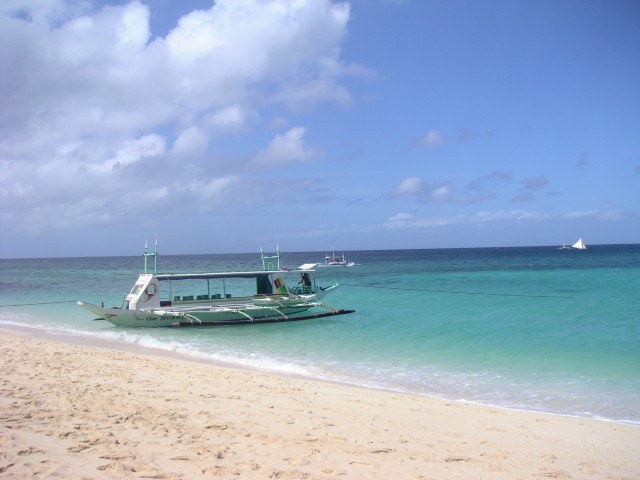 The island of Boracay in the Philippines is considered by many to be one of the nicest beach destinations in the world. It routinely makes it into the top 10 beach lists year after year. After a few moments walking the length of it's three main beaches you'll quickly understand why.
Yapak Beach (Puka Shell Beach) on the northern side is special because it's entirely made up of white puka shells. Though this creates a slightly rougher sand compared to the famous white powder on White Beach, the color of the azure water and the quiet isolation easily make up for it.
The throngs of people that spend their waking hours walking up and down amazing White Beach or kite boarding on the windy Bolabog Beach rarely venture to this quiet area that is every bit as nice as it's siblings. To get there you can take a boat, rent a bike, rent an ATV, get a taxi to drop you off or even walk there. Considering that Boracay is only a few km in length anything on it is fairly accessible.
The water at Puka Shell Beach is both crystal clear and great for swimming or spending the day watching the sun's rays bouncing of the gorgeous blue water.
Here's a travel tip: Yapak Beach is definitely reachable by walking however taking a taxi, ATV or tricycle (approx 150 pesos) back is preferable. Chances are your hotel will be on White Beach so if you have a little time and a little energy you can walk the length of White Beach going North and jump in and out of the little bays that wind their way up. As long as the tide isn't high you can easily follow the sand and the walkways to Punta Bunga Beach. Once there you can follow the road up to Yapak Beach.
If you've spent some time in the Philippines, then you know that visas can be bothersome. In fact, we got dinged with a fine when we overstayed our tourist visa in the Philippines. The airport wouldn't take credit cards, and only accepted USD. We were incredibly that the only nearby bank machine gave out USD, and we managed to catch our plane in time.
Make sure you take some sunscreen and maybe a hat since the sun can get quite hot as the day progresses. If you get lost don't worry about it because there is only one way in or out of Puka Beach and there's always someone who can direct you. At a leisurely pace you should be there in just over an hour. Bring a few dollars with you because the local craft and jewelry stalls that border the entranceway are some of the cheapest on the island. There's also a few cheap local restaurants on the beach to provide a snack or two if you get the munchies.