This post is sponsored by the The Ranch at Rock Creek.
When the West was still in its infancy, staying in a tent while traversing North America was pretty much par for the course. With settled towns few and far between, finally arriving someplace civilized was a momentous occasion.
Fast forward a few hundred years and people are flocking back to the wild to get away from it all. So what is a modern person who likes the convenience of sleeping in a bed and having their daily cappuccino to do if they want to commune with nature without giving up every comfort they love? Glamping to the rescue!
Most people are aware of luxury motorhomes and campers that put some homes to shame, but what about sleeping in a tent or a hut? Sound primitive? Perhaps, however that's what glamping is all about.
Glamorous camping may sound like a contradiction, but in this day and age, you can have almost anything you want for the right price. Remote location with all the conveniences of home overlooking your own waterfall? Check. Giant cabin-sized tents nestled in the majestic Rocky Mountains? Check. Cool and unique structures all over the world in harmony with their surroundings? Check. Small ecological footprint with big rewards for those willing to drive the extra mile? Check and double check.
Intrigued? If you haven't tried glamping yet, here are ten great reasons glamping might be right for you:
The conveniences of home
One of glamping's greatest attractions is having all the conveniences of home while still being in the heart of nature. Love sleeping in a nice plush, elevated bed? Most people do and even though you're staying in a tent or a hut only a few feet from the great outdoors, a comfortable night's sleep will give you that extra energy in the morning to see and experience the wilderness around you. You'll also have a nice ensuite to call your own and most home style conveniences are right at your fingertips.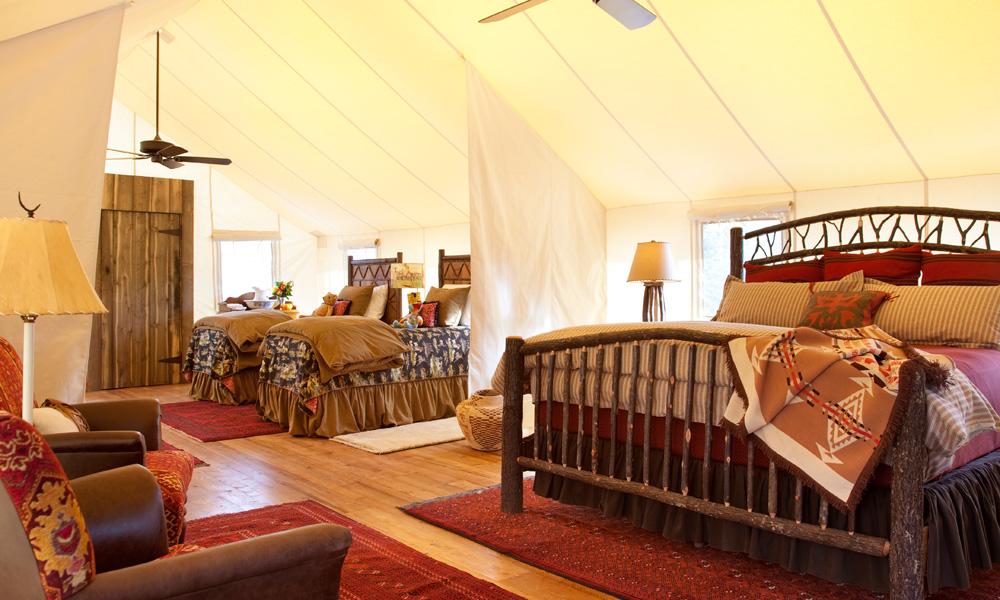 Small ecological footprint
The problem with most luxury hotels around the world is that no matter how well they try to blend into their surroundings, the reality is that during their construction phase, they destroy the land around them and have to bring it all back again once construction is complete. Tents, huts, cabins and yurts require next to nothing to be assembled and leave a very small footprint compared to their brick and mortar counterparts. The wild stays wild and you can feel good that you're not destroying the natural vegetation around you while you get to enjoy the true benefits of ecotourism.
Gets you right into the action
Whether you're staying in a Berber tent in the middle of the Sahara Desert, a hut on the water in the Maldives or in a luxury cabin in the Rockies, glamping often puts you right where you want to be. Hate having to drive to the beach or 4x4ing to the nearest hiking trail? When glamping. you can jump off your deck into the crystal blue ocean or open your back door and walk down the path to that hidden waterfall that no one but the other guests know about. Glamping gets you right where you want to be.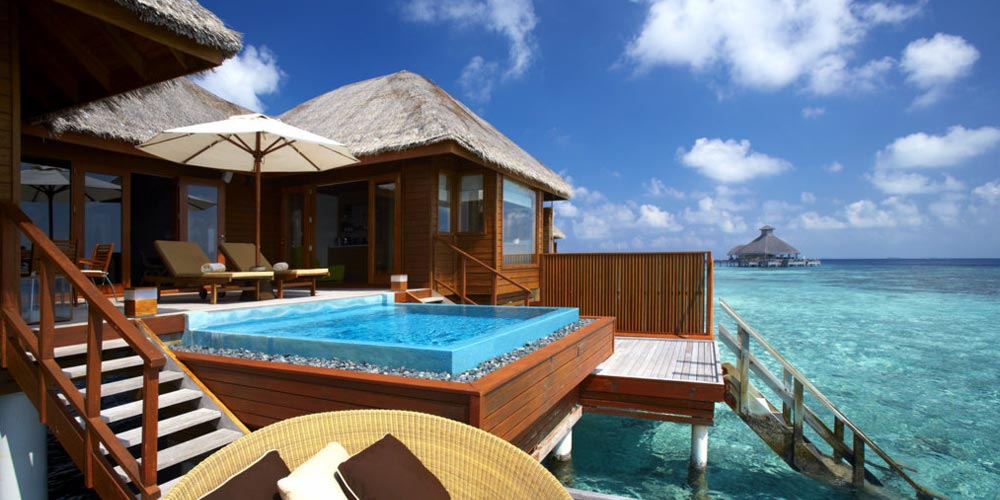 Allows you to stay for longer
Ever go traditional camping and by the second night you're tired of the smelly drop toilets, the cold water showers, the constantly leaking air mattress and the lukewarm food in your melted cooler? When you glamp those aren't even a concern. Huge sprawling tents, warm running water, cold running fridges, comfy down beds and chef-prepared meals are all possible. You might have come for a weekend, but you'll probably want to stay for a week.
Unique places to stay
Glamping accommodations aren't just confined to oversized tents and luxury yurts these days. They can be anything from tree forts to geodomes. Cabins, huts, wigwams and teepees are always popular or you can go all out and stay in a tree fort or even a heated igloo. Luxury African safari tents have existed for centuries however how often can you say you slept in a Gypsy trailer or a turn of the century rail car nestled in the mountains?
Nicer than home
Some glamping resorts offer home style comforts. That's great, however what if you want to not only get away but also take it up a notch? How about your own personal butler or a private salt water swimming pool? How about your own private beach or a natural hot spring right out your back door? Not only is it possible, but some some glamping sites specialize in the extreme.
You might be sleeping in a glorified tent but don't be fooled, the amenities are often five star, like the ones at the The Ranch at Rock Creek in Montana. One of the first glamping luxury accommodations, The Ranch at Rock Creek has received the Forbes 5-star Travel Guide award, and even hosted Kate Bosworth's celebrity wedding.
The views are amazing
Tired of looking at concrete buildings and endless urban sprawl?
When you glamp, you're getting away in style. Imagine being surrounded by the Rocky Mountains or surrounded by dense jungle. It's all possible and there are glamping places in every nook and cranny around the world. Crave to see the grasslands in Mongolia? There's  a yurt for that. Want to camp on the African plains? There's a safari tent for that. Essentially, glamping places are as varied as the world they exist in.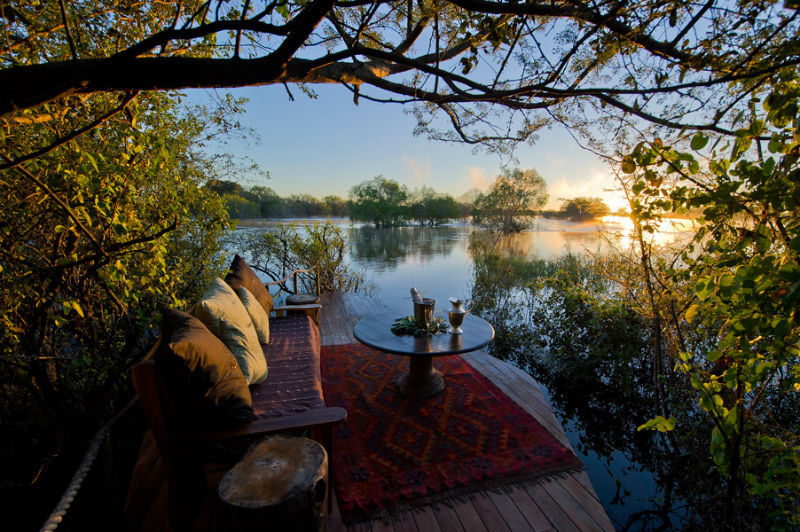 Even celebrities do it
From Justin Bieber to Prince William, chances are that when a rich celebrity heads to the outdoors, they're glamping. Some glampers, such as Kate Bosworth, even decide to get married while glamping. If it's good enough for them, chances are you'll enjoy it too. It's even become the norm for celebrities to stay in luxury camps themselves when hitting or headlining some of the big music festivals during the summer. You can be guaranteed these aren't the popup tents you stayed in as a kid.
Activities you won't find anywhere else
Want to get back to your roots and live on a ranch, the Rock Creek Ranch offers everything an urban cowboy could wish for. Would you rather be at the beach? No problem, you can stay in a bamboo hut over the ocean in Belize and work on your scuba certification right from your deck. If you want to capture award winning pictures of the Big 5 in Africa, all you need to do is sit on your elevated porch and fire away. If you crave a little more excitement, you can stay in a treefort in Costa Rica and zipline down for your afternoon lunch or catch a wave in Australia and learn to surf from your own private beach.
Roughing it without the rough part
The truth about glamping is that when you glamp, you're roughing it without the rough part. You can get away from the every day without sacrificing your quality of life while enjoying what each area has to offer.
If the sky is the limit on your funds, there really is no upper limit to what you can spend and what you can get while roughing it. Personal concierges, room service, big screen TVs, haute cuisine, heated swimming pools, oversized hot tubs, luxury spas and your very own masseuse are just some of the possibilities.
Luckily, there's also a place for every budget and if you don't have movie star cash to spend there are still many great places that will not only let you get up close and personal with nature, but will also make you glad you decided to try out glamping for yourself. After all, glamorous camping is one half glamour no matter which way you cut it. It feels wonderful to be pampered and splurge every now and then.
This post is sponsored in part by The Rock at Ranch Creek.