This article is for you if you're looking for a cheap flight to a specific destination, but are very flexible about where you fly from.
In the last article in our flight hacking series, we told you how to find the cheapest flight (to anywhere) out of your departure city (or country). Now it's time to up the game a little and see how a little extra ingenuity (and to be honest, a little hard work) can save you serious money on airfare.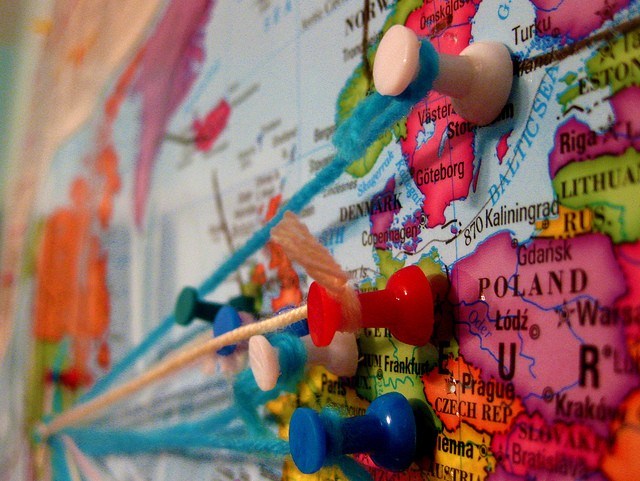 Here is one of my favorite advanced travel hacking techniques for finding great flight deals.
The problem: Unfortunately, non of our favorite flight search engines will let you find the cheapest flight to a destination from multiple countries or regions. You always need to enter a departure city or country. (The search engine WhichBudget.com does let you search from anywhere as a departure, but we found WhichBudget's results unreliable enough that we don't use them).
The workaround: Reverse the normal airfare search process by first finding the cheap routes leaving your destination city. Logically, some of the cheap routes flying out of a city should also have the cheapest fares flying into the same city.
Important: This technique only works if your departure city or country is flexible.
Here's an example of how it works.
We were looking for a cheap flight to Toronto from Spain, but had no luck finding a great deal directly from Spain. Since flights on budget airlines are so cheap throughout Europe and we had another month to spend in the area, we were willing to fly to Toronto from almost anywhere in Europe.
So, we did a search of flights departing from Toronto to Everywhere, using Skyscanner, and found some affordable flights to Istanbul from Toronto. Then, we reversed the direction, searching for flights from Istanbul to Toronto, and stumbled across a great deal with Air Transat for $282 (USD, taxes included) for a one-way direct flight from Istanbul to Toronto.
Click here to search Skyscanner.
If you're only able to depart from within airports within the same country, you can type your Country of departure in Skyscanner's From field. However, Skyscanner won't let you type in Anywhere in this field, so you're restricted to searching for departures from within one country.
So, how do you find a the cheapest flight if your departure airport could be in another country?
Here's our step by step how to guide.
Step by step how to:
Go to the Skyscanner webpage or the Skyscanner app. Click here to go to the Skyscanner webpage.
Type your destination city in the From field. Remember, you're just looking to find routes that are traditionally cheap for your destination city. So, you're reversing your normal search by trying to find a cheap flight from your destination.
Type Everywhere or a specific country  in the To field. Unfortunately, Skyscanner doesn't let you type in searches like Europe or North America, so you'll have to specify a country or everywhere.
In the Date field, click the calendar icon, and select the Whole Year button, and click the Search button.
Check the results for cheap fares from your intended destination.
Once you find a cheap fare, you'll now need to check to see if cheap flights are offered in the opposite direction.
In Skyscanner, type the country or city where you found a cheap flight in the previous search in the From field. Click here to search Skyscanner.
Type your destination city in the To field.
Type your flight date in the Date field and click the Search button. You'll get much better (and cheaper!) results if your flight dates are flexible.
Did you find this helpful? Check out some of our other travel tips:
Do you have any travel hacking tips? We'd love to hear about them in the comments.