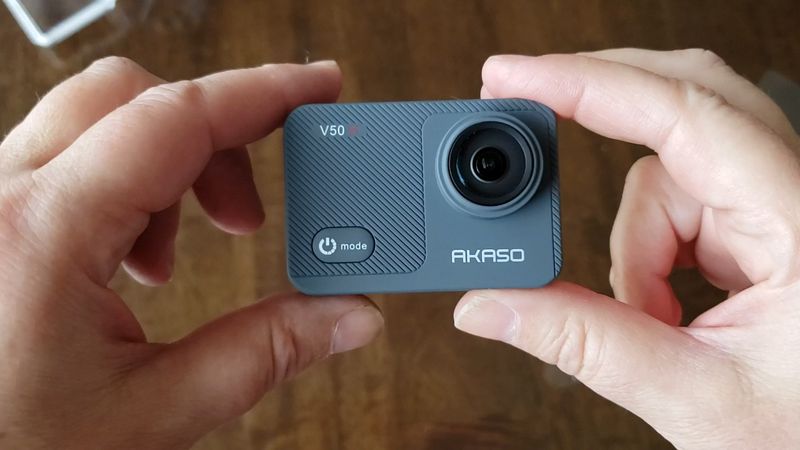 When AKASO reached out to us to try their V50X action cam, which sells for under $100, we jumped at the chance. I've wanted to get my hands on a more affordable GoPro alternative for a while now.
So why buy an AKASO instead of a GoPro? PRICE. The AKASO retails for under $100 USD, while the newest GoPro is about four times that!
We own a GoPro Hero Black, and while I really love the camera, I've never loved the price. The newest GoPro is around $400 USD for the camera, and that comes without any mounts, but does include the micro SD card.
See the AKASO V50X on Amazon here. 
See the official AKASO website.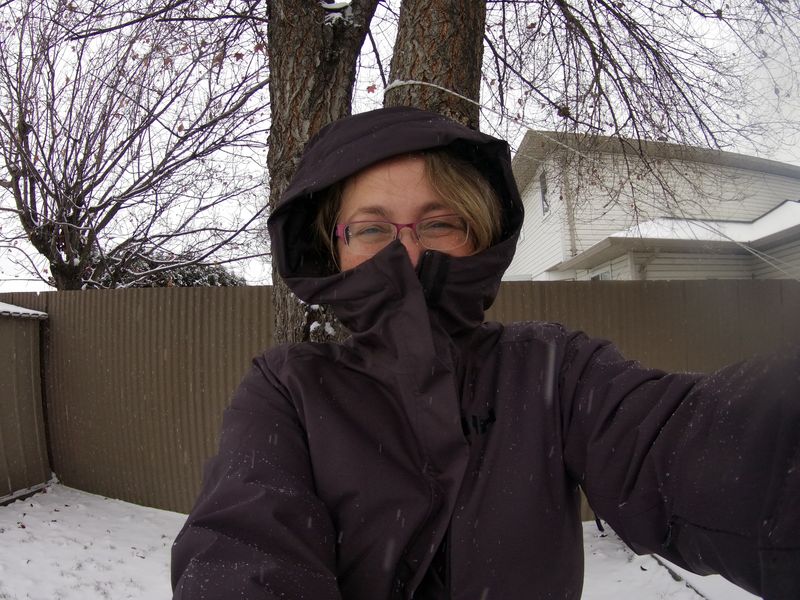 Here's a quick look at the AKASO capabilities, and what's included for your hundred dollars.
Specs:
Video resolutions: 4K 30 fps video or 2K 30 fps or 1080P 90 fps
Photo resolution: 12M/10M/8M or 4M @jpg format
Waterproof up to 131 feet
Input/output micro USD / HDMI
WiFi connectivity (via the RoadCam app)
Touchscreen (only when not in waterproof case)
What's included:
AKASO V50X action cam
waterproof case
remote control (included)
two – 1340 mAh batteries
mounts and accessories
requires a micro SDHC card (not included)
The AKASO does not come with a microSD card. You can buy buy a cheap 16 GB SanDisk MicroSD for well under $10, all the way up to a more expensive 512 GB Samsung Micro SD Card for around $80.
Here's our unboxing video, so you can see exactly what you get for your $100.
The AKASO V50X also doesn't come with a carrying case, which is a bit of a bother. I don't want to get the lens of either the camera, or the plastic covering the lens on the underwater case, to get scratched. For now, I'm carrying the AKASO around in an old sunglasses case to protect it.
Mounts are compatible with GoPro accessories, so if you have a GoPro, you can use these with the GoPro as well.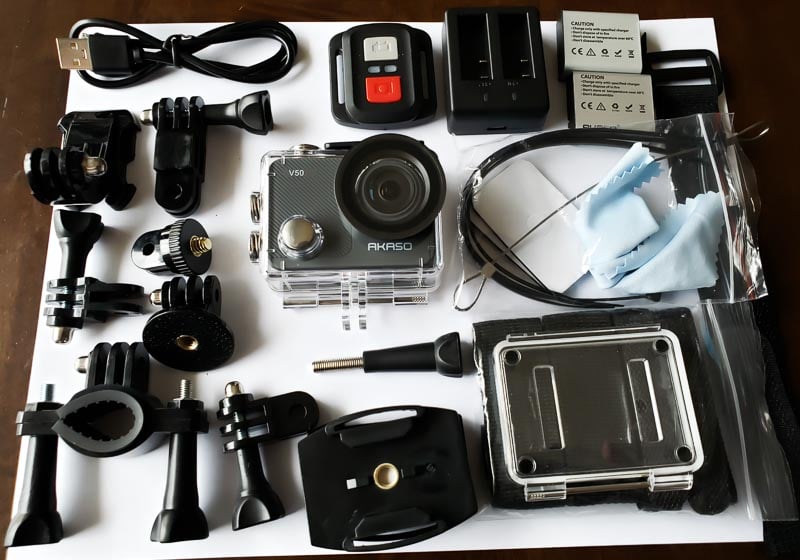 Of course, what really matters is if the video and photos are good, so we're testing that out next.
Is the AKASO V50X easy to use?
To really test how easy the AKASO V50X is to use, we handed it to our 11 year old to take photos and videos of our kitten.
She was really happy with the assignment.
I showed her how to turn the camera on, what button to hit to change mode from video to photo, and that's it.
She was up and running instantly, and tested out photo, video, and slow motion mode. She also tested the microphone by recording the kitten purring.
Her videos were awesome, but most of the photos she took were a little blurry. I think that may be because there wasn't a lot of light, plus she hasn't quite mastered holding the camera still when taking photos. I didn't have any issues with blurry photos when I used the camera.
That said, she did take this hyper close photo, which makes our cat look alien and makes me laugh every time I see it.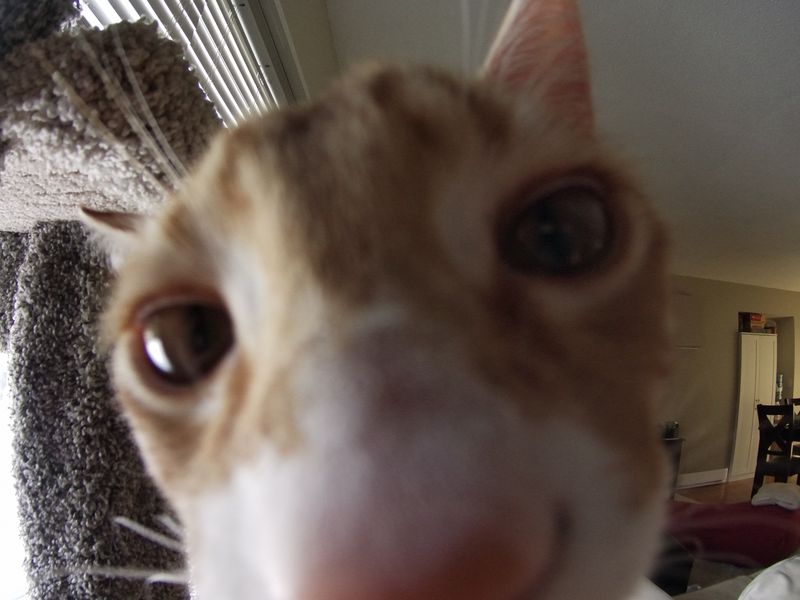 How's the AKASO V50X microphone?
Action camera's aren't known for great sound quality, so my expectations were pretty low here.
I found that when it's in the waterproof case, the microphone is definitely muffled. That's the scenario for even higher end action cams with outer cases and definitely something the case bound GoPro's had in common. The AKASO V50X does come with a outer case that has holes cut out for the mic (not for use under water!), so you can get better sound when using a mount.
When my 11 year old recorded our cat purring without the case, I thought the sound was pretty good for an action cam.
The AKASO V50X does support an external microphone, if you want to improve your sound quality.
How is the AKASO V50X stabilization?
Overall, the image stabilization seemed decent.
We haven't had a chance to try it out mountain biking, or any other high impact activity, but the image stabilization is pretty decent when handheld, even by our 11 year old.
How long does the AKASO V50X battery last?
The Vikaso V50X battery is easy to charge. The included AKASO charger base fits both of the two included batteries, which charge via USB.
However, I find it easier to just charge the AKASO camera directly with a USB cable.
What's cool is that you can charge the AKASO V50X while you're using it, if you connect it to a power bank or have a long USB cable.
AKASO says each battery will support 60 minutes of video recording in 4 K at 30 frames per second (or 180 minutes if you're recording at 1080p). In practice, I found that I was getting about 40 minutes out of a battery recording at 4 K at 30 fps.
What is the AKASO V50X like underwater?
The V50X camera is supposedly waterproof up to 131 feet, which is pretty impressive. It also has a diving mode in the menu settings, which AKASO says will compensate for the lack of red light in underwater scenes. Water filters out red light, so unedited or unfiltered underwater shots often have a lot of green and blue tones, while reds don't show up well.
It's pretty easy to switch between modes like Photo, Video, Self Timer, and Time Lapse with the underwater case on the camera. However, I don't think you can access settings to change the resolution, self timer time length, and so on while the underwater case is on. This is a bit of a bother.
Unfortunately, we didn't get to test the V50X camera outside underwater. It's pretty cold here in Canada in the water, and none of us were willing to go for a Polar Bear swim to test it! I'll update this section when we've had a chance to try it out.
How do you get your photos and videos off the AKASO V50X camera?
It's fairly simple to get your photos and videos onto either your computer, smartphone or tablet.
To get your content to a computer, either manually insert the micro SD card into your computer (we use a micro SD adapter, since our computer only reads standard SD cards).
Tip – Click USB Storage on the AKASO menu that pops up when you connect your AKASO to your computer via USB. You'll then be able to see and browse the AKASO MicroSD card on the camera.
Since the AKASO V50X doesn't come with a Micro SD card, you'll need to buy one before you use the camera.
A SD card can range in price from around $5 to around $80 or more, depending on the storage. If you're going to be taking 4K video, especially, I'd recommend at least a 256 GB micro SD, or you'll start running out of storage room pretty quickly!
AKASO V50X codecs and H.265
Like almost any other action camera out there, the AKASO uses H.264 or H.265 video compression (you can choose which in the settings). The H.265 gives you high quality video, and a smaller file size, but it does mean that you may have trouble viewing or editing the videos, especially if you have an older computer.
If you're like me, and using an older PC using Windows, you may need to install a HEIF image extension(free) and/or a HEVC video extension (currently 99 cents) to be able to watch 4K HEIF videos or images in HEIF format. There's more info here.
I had to install this codec, then power off and restart my computer before I could play my AKASO V50X video natively on my PC laptop.
Since Charles is smart, he set our AKASO settings to record in H.264, which is a bit easier for my old computer to use. H.265 does make file sizes smaller, but it can be much harder for older computers to read. Since newer computers have H.265 decoders built in, if you've bought your computer in the last 4 years, you should be fine with h.265 otherwise it might be best to stick to H.264 for now.
It should be noted that YouTube supports both codecs so, even if your computer can't play it straight out of the camera, you could always upload it to YouTube then view and/or edit it that way.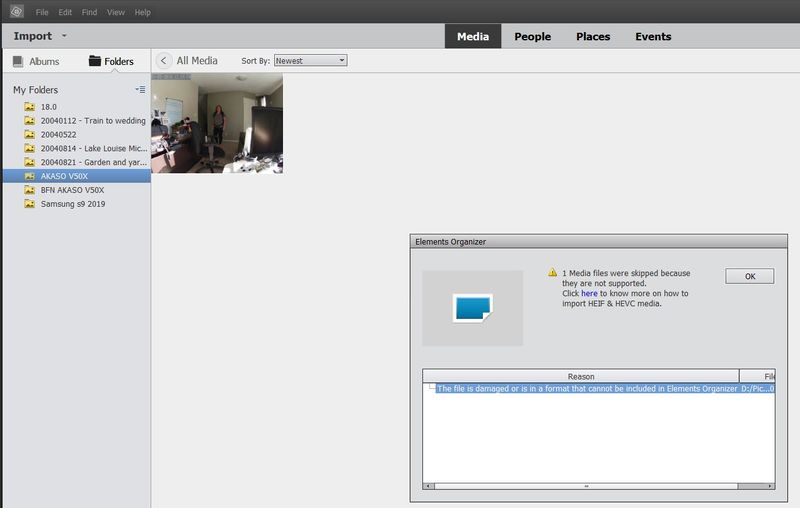 We did make the mistake when first shooting of forgetting to remove the date and time stamp on videos and photos. In our defense, it is buried deep in the settings menu. You may notice the date and time stamp on some of our first video.
What's the V50X documentation like?
A quick reference guide comes with the AKASO, but it's pretty basic, with only a simple diagram of the camera's components. Inside, there's a link to the online user guide, which you can find here.
The user guide itself covers all the necessities, like switching between modes, and menu options. The user guide also has a helpful section on how to mount the camera to different things, like a bike, helmet, or tripod.
Using the RoadCam app with the AKASO V50X
You can use the RoadCam app to take photos and videos, and also download photos and videos from the AKASO. This is especially useful if you have the AKASO on a tripod, and want to set up your video or photo by looking at your phone screen.
Though we like the camera itself, I'd give the entire RoadCam app experience a 3/5. It does work, but the functionality is limited, and it feels a bit like an add-on.
To set up the RoadCam app with the AKASO V50X:
Turn on the AKASO WiFi signal by pressing the up button for 3 seconds
Sync your smartphone to the AKASO WiFi. To connect to the AKASO WiFi on your smartphone you'll need a password. The password is in the user manual, but you may need to look it up in the French section.
When you're done, click the up button once to turn off WiFi on the AKASO.
Note: When WiFi is enabled on the AKASO, you can no longer see or navigate the AKASO menu.
I did catch an error in the AKASO manual's English instructions, where it said to activate AKASO WiFi by turning the camera on and pressing the up button. However, in the French instructions (I'm Canadian, so I read a little bit of French) it also says to press and HOLD the up button for 3 seconds to run on WiFi. Turns out the French instructions were correct!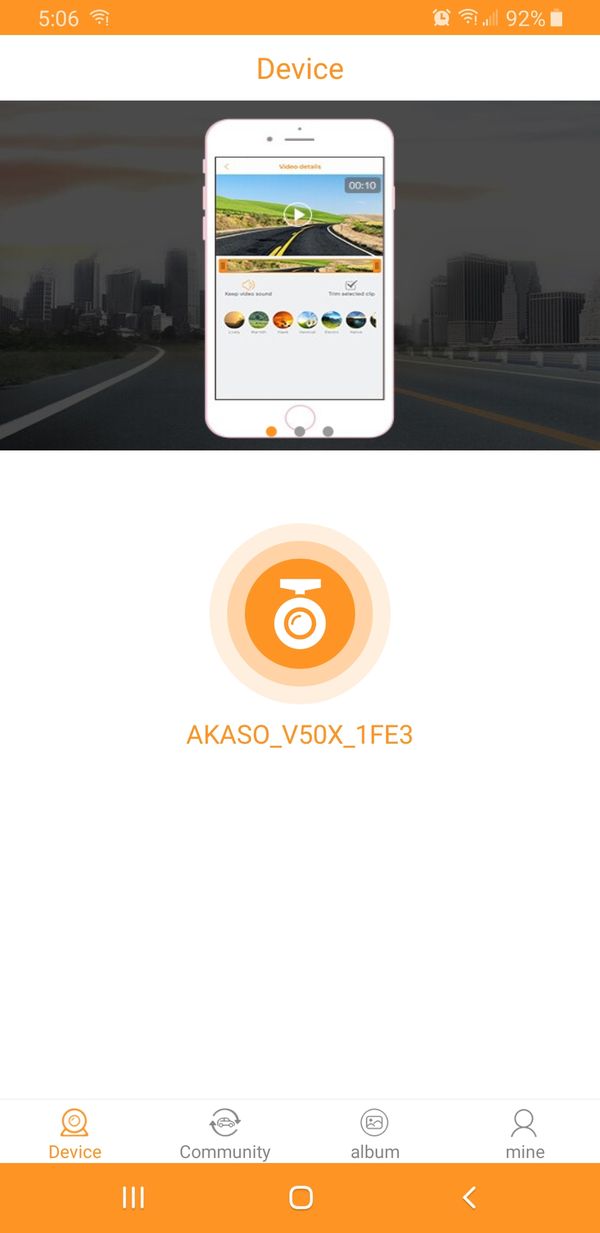 The English section is also missing instructions for using the RoadCam app with the AKASO V50X.
You can use the RoadCam app to take a photo or video. I found it to be a bit buggy – when I took a video, the view in the RoadCam app never changed as I moved the camera, making it really hard to judge what I was recording.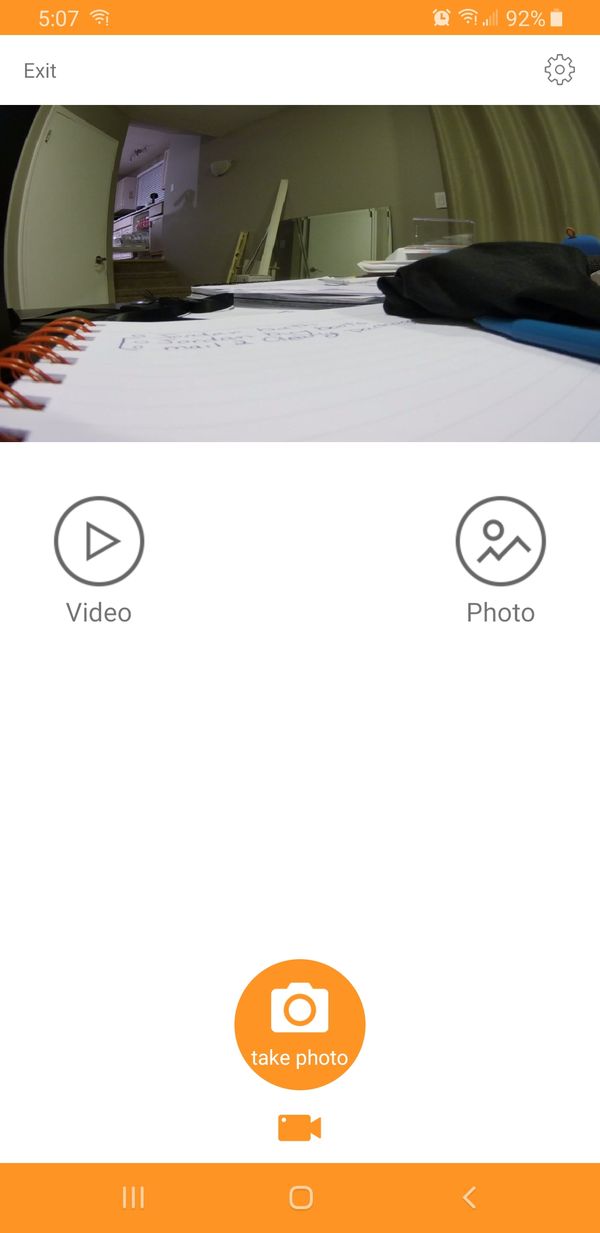 You can also download photos or videos to your smartphone, using the RoadCam app. This would be really useful for uploading to social media, or moving photos and videos to an editor on your smartphone. You can also delete photos and videos using RoadCam.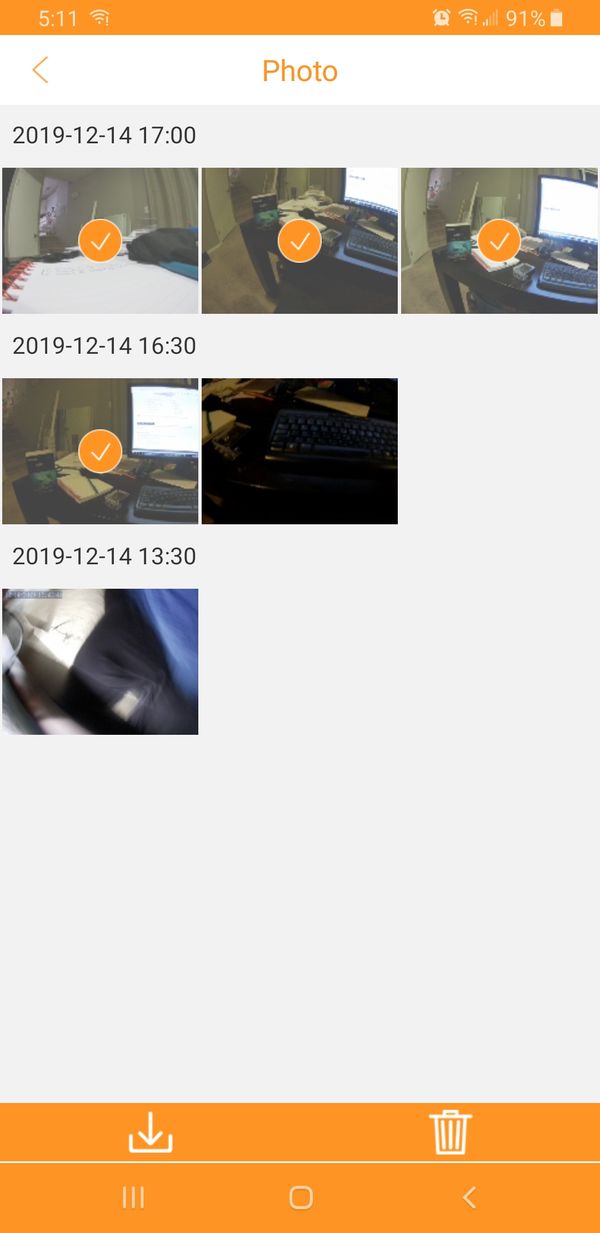 You can't edit photos or videos in Roadcam but you should be able to once the file is copied to your device using the built in tools or by downloading one of the hundreds of video editor apps out there.
You also can't see the AKASO battery remaining in RoadCam (or on the AKASO either).
I can't say for sure, since I didn't test this extensively, but it seemed like the AKASO battery ran down pretty quickly when in WiFi mode. I had it in WiFi mode for less than 10 minutes, and the battery was already at about 70%. The AKASO also felt a bit warm in WiFi mode (not too warm, but it felt warm like it was definitely working to capacity).
Final thoughts on the AKASO V50X
Overall, I think the AKASO V50X is a great little action cam for under $100.
The overall build quality makes it feel well made, and it does a great job of its basic functions of taking quality photos and videos. It definitely excels in outdoor shots with plenty of light. Inside shots aren't bad either as long as there is plenty of light otherwise shots can look a little grainy.
Some people also use their AKASO V50X as a dashcam (there is supposedly a dashcam mode in the options) so it's nice to know that even as time progresses and technology changes this camera could still be useful years from now.
I would definitely recommend the AKASO V50X for someone who wants to take decent quality action cam photos and videos, but who doesn't have the budget for the newer GoPro's and wants to save money.
The included accessories are a nice bonus as well as the dual batteries, the waterproof casing and the remote control. The app could use some love and the sound can be a bit muffled at times but you definitely get a lot for your money with the AKASO V50X and, at the sub $100 price point, that's a great thing no matter what.