I tried Babbel Live to learn Spanish – find out how it went in this personal Babbel Live review. Though I'm not fluent yet, I've become much more confident speaking a foreign language, and you can, too.
Are you a globetrotter yearning to connect more deeply with different cultures?

Or maybe you're eyeing that promotion at work that requires bilingual skills? Perhaps you're simply interested in expanding your horizons from the comfort of your home.
Whatever your motivation, learning a new language is a rewarding journey, and today I'll share my personal experience with Babbel Live, an online language learning platform that's starting to gain some serious attention.
I personally tested Babbel Live online Spanish classes, which are live sessions with certified teachers that are designed to get you speaking naturally.
While Babbel Live does have its advantages such as flexible learning hours and a full suite of self-study materials on the Babbel app, the question remains: does Babbel Live truly deliver?
In a hurry? Get up to 50% OFF on your Babbel Live subscription!
My honest, hands-on Babbel Live Review
In this review, I'll take you through the ins and outs of Babbel Live, and let you decide if it could be your key to unlocking a new language. I focus on my experience learning Spanish with Babbel Live classes, and on the Babbel app.
I'm pretty familiar with basic Spanish (Example: My name is: Me llamo Thank you: Gracias). I can typically order food in a restaurant, lightly haggle prices and take a bus in Spanish, but I definitely lack conversational skills.
Before I talk about my personal experience with Babbel Live, let's take a quick look at the Babbel app, and how Babbel Live works.
In a hurry? Skip to my personal, hands-on experience with Babbel Live here.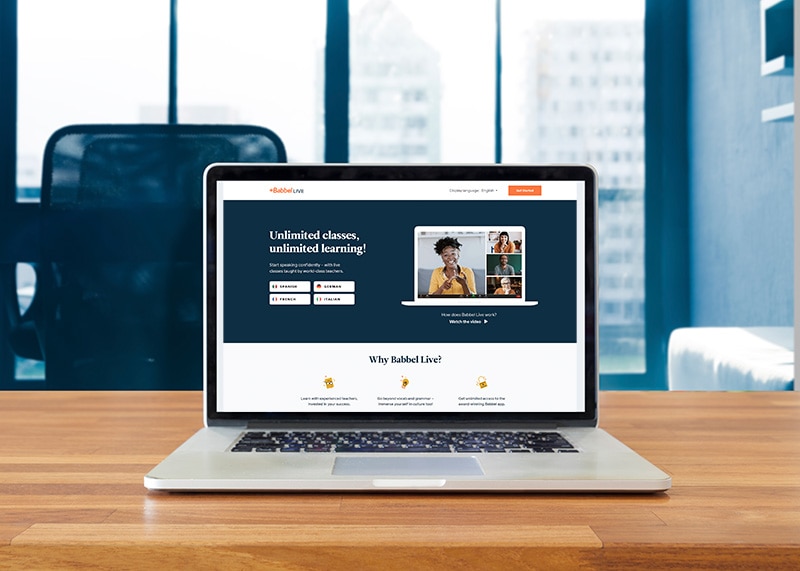 Why Babbel?
Babbel is one of the top language learning apps in the world. Despite that, somehow I've never tried it. I've been looking for an affordable language app, with affordable live language classes, so now seemed to be the perfect time to try it!
Let's take a step back and look at the Babbel language learning app, which serves as the foundation for Babbel Live.
Babbel has structured its app around a bold claim: they say you can start speaking a new language in as little as three weeks. With lessons developed by real language educators, their approach focuses on facilitating practical conversations – think travel, business, and interpersonal relationships. That's a practical edge that many of us appreciate.
I really love the idea of learning to speak a language with native speakers of the language. In my case, I'm learning Spanish, and I've picked a bit of vocabulary, but I really struggle with my accent. My English accent is definitely quite strong, but practicing live, with a teacher, is a huge help in improving my accent.
Not completely sold yet?
Babbel provides a 20-day money-back guarantee, giving you a little bit of reassurance while you evaluate. And when it comes to subscription options, they do offer variety – ranging from monthly plans to a lifetime subscription.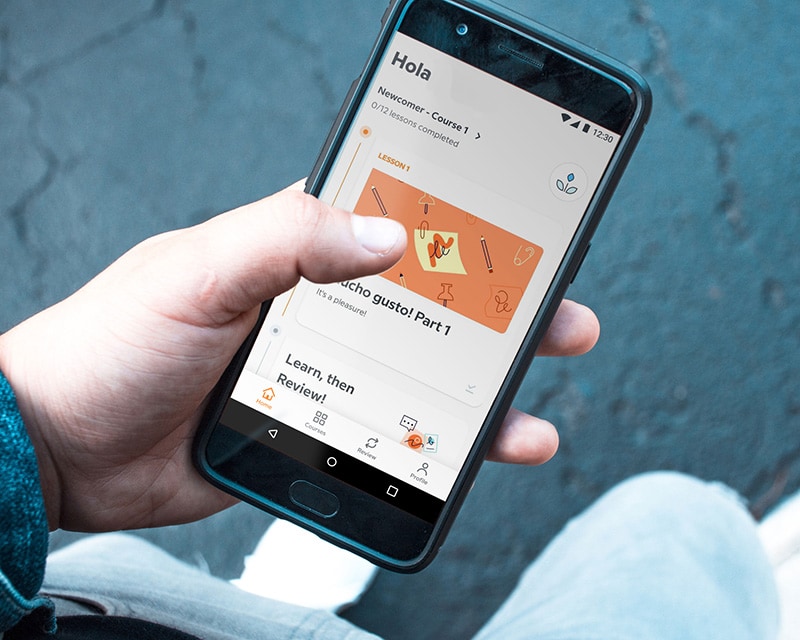 Can I use the Babbel app for free?
Yes, the Babbel app has a limited, free tier. It's free to register with Babbel, and then you'll have access to the first lesson in every course. It's a great way to try it out.
What is Babbel Live?
Babbel Live offers live online language sessions where you engage directly with a certified instructor, wherever you are in the world.
Babbel Live is separate from the Babbel app, and has its own subscription plans, but all Babbel Live subscriptions include a Babbel app subscription.
The teachers with Babbel Live have a teaching qualification or degree in a language-related field. They're also either: 1) native speakers of the language, or 2) certified at a CEFR C2 level (the highest level on the Common European Framework of Reference for Languages scale) in the language they teach.
Right now, Babbel Live offers live classes in Spanish, German, French and Italian.
Live offers learning levels at Newcomer (A1), Beginner (A2), Intermediate (B1), Upper Intermediate (B2), and Advanced (C1).
When I took my placement test, I came in as level A1 – Newcomer.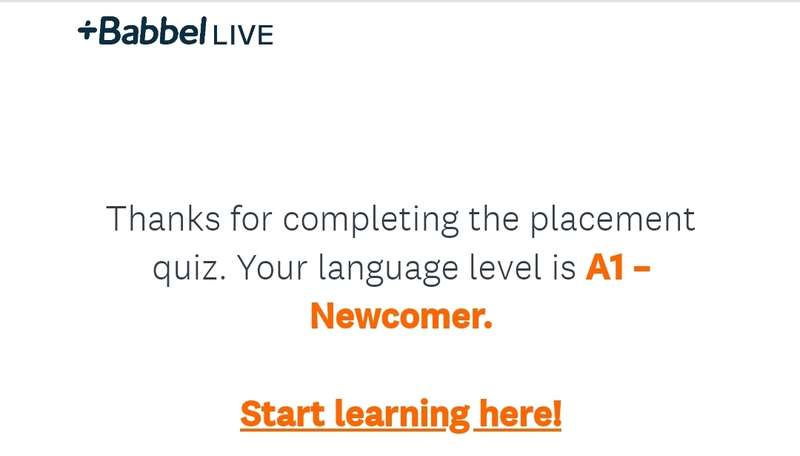 I've spent years trying to learn Spanish by myself, with almost no conversations.
I've managed to get some basic vocabulary, and can order in a restaurant, and figure out a bus schedule, but I'm completely lost in conversations. The only time I've made any significant, faster, progress is when I've taken an interactive Spanish class, or if I've had a chance to speak Spanish in an actual conversation. Where I live in Canada, there aren't many native Spanish speakers, so online classes are really my only affordable option for real conversations in Spanish short of jumping on a plane and heading somewhere else.
How to get a free Babbel Live class
Right now, you can get two FREE Babbel Live classes when you sign up for a Babbel account on the app or website.
This is a fantastic deal, honestly. I don't know about you, but I'm all about the free stuff.
I'm not sure that this deal will last, so sign up now before it goes away!
There is one catch though – if you're a free user, and not signed up for a subscription – you will need to add your payment details to book a free class, and hold your seat.
How much does Babbel Live cost?
Babbel Live offers four plans. All four plans give you access to the Babbel app.
All plans give you unlimited classes in all four languages offered: Spanish, German, French and Italian. You aren't limited to one language.
Prices are in USD. The plans are:
1 month $59/month
3 months $41/month ($123 total)
6 months $35/month ($210 total)
12 months $29/month ($348 total))
All subscriptions renew automatically, until you cancel.
How much does each Babbel Live class cost?
Because all plans come with unlimited classes, the cost per class can be incredibly affordable, if you take advantage of the unlimited classes.
Let's look at the most expensive option, the one month plan, which is $ 59 USD/month. Even if you only take five classes a month, each class only costs $11.80, which is a fantastic price for a class with a real, live teacher. If you take 10 classes a month, that works out to $5.90 per live class.
On top of that, you also get the regular Babbel app subscription included.
How does Babbel Live work?
Babbel Live's classes are led by Babbel teachers, with up to six students per class. Classes are taught in the language you're learning (Spanish, in my case), and in a virtual Zoom classroom.
How to book Babbel Live classes (and what classes to choose!)
Booking classes is easy. When searching for classes, you can filter classes by levels (newcomer to advanced), days, times, and even hide all fully booked classes or previously attended classes to speed up your searches.
Tip! Take Babbel's placement test before booking your first class! It'll help you figure out what level of class you should take – Newcomer (A1), Beginner (A2), Intermediate (B1), Upper Intermediate (B2), or Advanced (C1).
All times are shown in your local time, which you set up in your account.
You can filter classes to show only specific levels, days, whether the classes are fully booked, and more.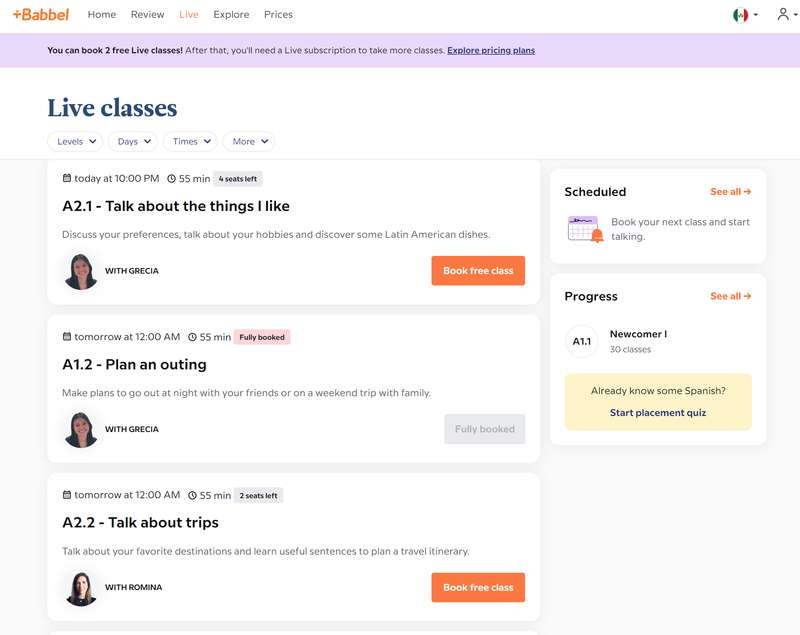 Babbel offers classes at times that fit different schedules, 24/7, every hour of the day.
While you can book a class on short notice, I found that the best selection of classes was about three days out. When I booked classes three days in advance, for beginners only, there were classes available almost every hour of the day.
If you don't see a class right away in the schedule, keep checking back, as people cancel classes regularly, and spots free up all the time.
You can cancel and change classes 24 hours before the class for no fee. However, if you cancel with less than 24 hours notice, Babbel says you MAY be charged a 3 EURO fee. If you're a no show, and don't let them know, Babbel says you MAY be charged a 5 EURO fee. I mean, fair enough since you're limiting others chances to sneak a class in with the 6 student max limit.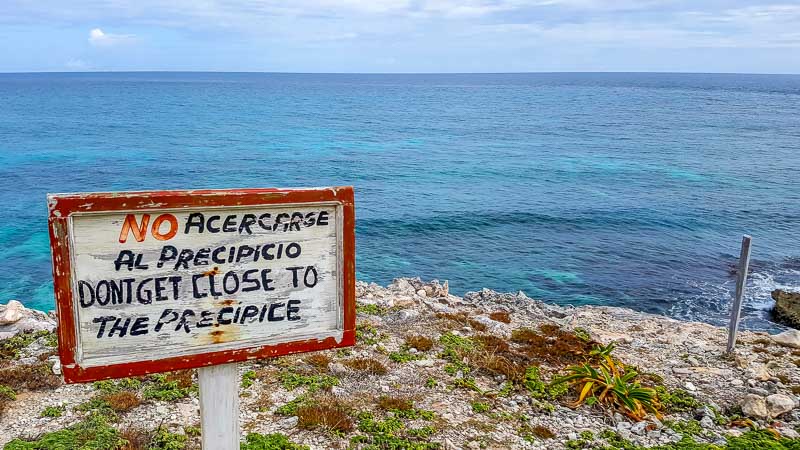 My Honest, Personal Review. What are Babbel Live Classes Really Like?
Wondering what it's like to take a Babbel Live class? I've just finished my first two classes, and here's what they were like.
As I learn more, and have more experience with the Live classes, I'll update this review.
All Babbel Live classes are held over Zoom, with a live teacher.
My first Live class
I picked my first Live class randomly, based on what was available. My first class was: A1.1 – Buy holiday souvenirs (with Marisel).
I was way over my head with this one, but I'd still rate the class, as a whole, at 8/10. I learned a lot, and the instructor was fantastic.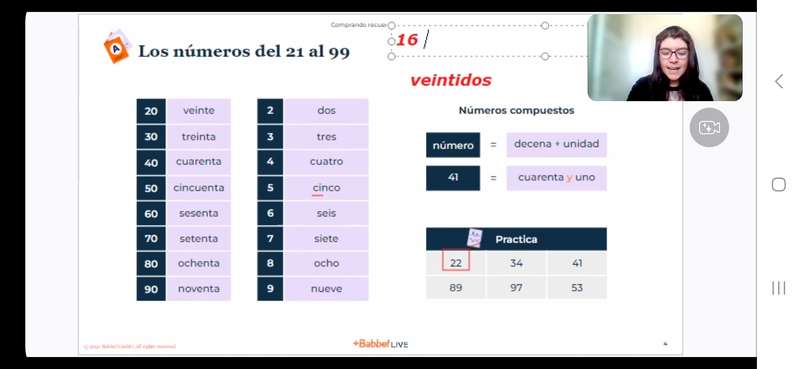 My teacher
Marisel was from Chile, with a Latin American accent. I'd rate my teacher for this class a solid 9/10. She was friendly, patient, helpful, and responsive. It was incredibly encouraging to have such a great teacher my first time out.
I quickly realized I was out of my depth with this class, but Marisel was patient, and kind. She suggested spending a little more time on my vocabulary in the Babbel app before taking classes I found more difficult, like this one.
What was my class like?
There were six of us students in the class, which is the maximum for a Babbel Live class. There were a wide range of beginner Spanish abilities here, and students were mostly from the USA, but other countries as well.
The class was scheduled for 55 minutes, and lasted 56 minutes.
This specific lesson started with having us students match photos with vocabulary. The instructor asked each participant in turn to speak out loud when doing the lesson.
What did I learn?
Despite being a bit overwhelmed, which I think is probably natural in a first class, especially since I roared in unprepared, I did pick up quite a few tips to improve my experience, and improved my spoken Spanish, and comprehension.
I found the practicing of numbers 21 to 99 out loud, and especially clarification of the pronunciation 50 (cincuenta) to be one of the key takeaways from this particular lesson.
Where did I go wrong?
What did I do wrong? I overestimated my abilities in spoken Spanish. To avoid this I'd suggest taking Babbel's placement quiz to determine your level. I was in a hurry to get started so I'd skipped this step, and was a little bit too optimistic in my Spanish level!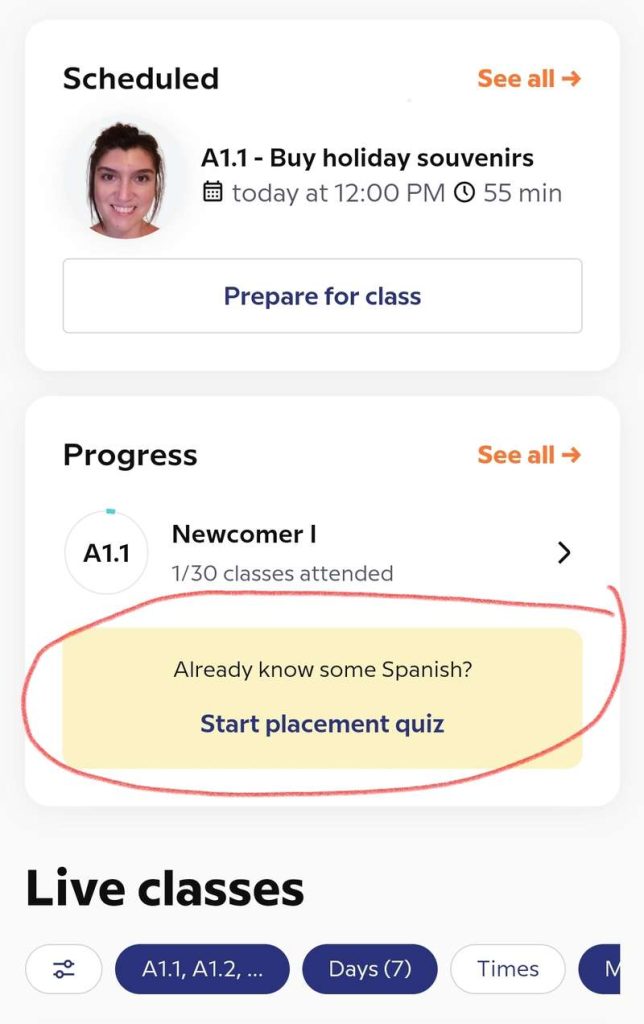 How can I improve?
I came away with a couple of helpful tips from this class, in addition to improving my Spanish. My teacher recommended a couple of easy books in Spanish for me, in addition to suggesting I use the Babbel app consistently. There's a chat feature in the class, where she added the book recommendations, and a few other helpful notes.
At the end of the class, one of the other participants in my first class reached out to me and shared her go-to prep to help. She suggested looking at the PDF of class material (there's one for every class), and writing down all of the words I didn't know, and their definition.
My rating of my first lesson:
Class rating (A 1.1 – Buy Holiday Souvenirs): 8/10
Teacher rating (Marisel): 9/10
My second live class
My second live class went much more smoothly! My second class was: A 1.2 – Talk about experiences and share anecdotes with Paloma.
I'd rate it a 9/10 overall.
The teacher, Paloma, was fantastic. I found she spoke a little more slowly than my first instructor, and I was more familiar with Paloma's Spanish accent, than with the Chileans accent of my first instructor. That said, I think it's a great idea to experience different accents, as it definitely improves language comprehension overall.
I think this class was easier for me because I was more prepared, I knew better what to expect, and I was more familiar with the course material.
I'd taken the advice from my past teacher and fellow students, and read over the PDF of the class materials, translating any words I didn't know. I'd also done two of the three practice exercises.
On top of that, I'd chosen a class topic that I was more familiar with.
My rating of my second live class:
Class rating (A 1.2 – Talk about experiences and share anecdotes): 9/10
Teacher rating (Palmoa): 10/10
As I take more classes, I'll share my experiences here!
How to get the most out of Babbel Live classes
I'd recommend using a laptop or larger screen for a Live class, as there's a bit of writing on the screen, and it's easier to read on a larger screen. That said I took my entire first class on my smartphone and made out just fine.
After your class, pop onto the app, and spend some time in the review section, which has specialized vocabulary and games, based on the classes that you've taken.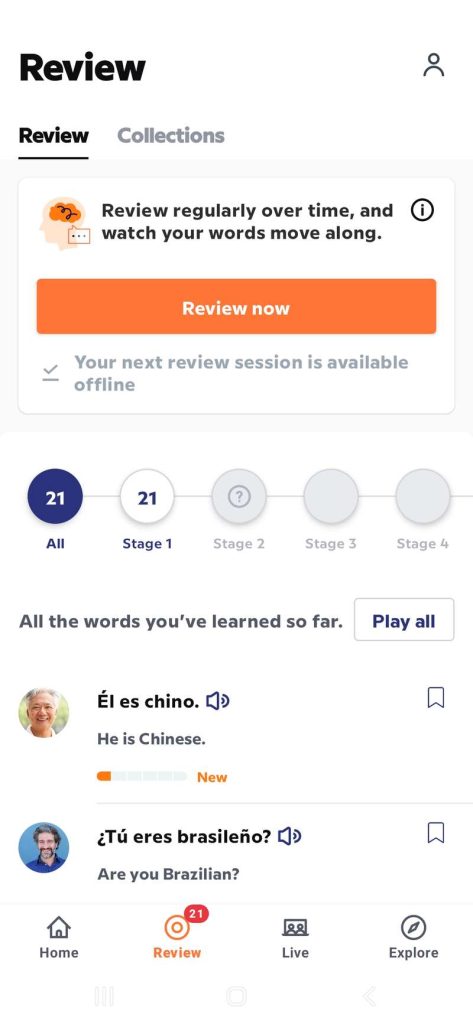 Take the placement quiz! I'd overestimated my Spanish abilities, and wasn't quite ready for my first class.
To get the most out of your spoken classes time, prepare ahead of time. Read the PDF of the class materials, and translate all of the words and phrases you don't know. After that's done, do the three class prep quizzes.
If you're an absolute beginner, spend some time in the Babbel app, improving your vocabulary, before jumping into a live class.
Pros and Cons of Babbel Live
Stepping into the world of Babbel Live has felt a bit like starting on a new trail – there have been plenty of rewarding discoveries along the way, mixed with a few bumps in the path. But isn't that part of every worthwhile journey?
On the upside, I really love the personal touch of talking to a real, live tutor, who can offer not only language help, but emotional support and encouragement. My teachers have shared quite a bit about Spanish culture and language, which is an added bonus!
Another pro is its affordability – Babbel Live really does offer good value for your money.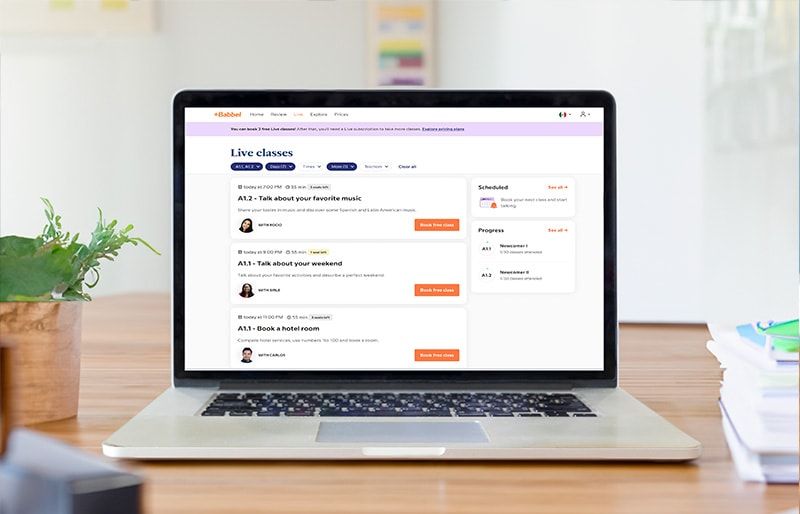 I've had wonderful luck with teachers, but it's possible you could get a bad teacher, or a teacher you just don't vibe with. That'd be easy to avoid in the future (just don't take any more of their classes), but any time there's a human element, it's a risk.
Because there's no barrier into what level class you go in, it's possible to get a really varied language level among the students. That said, I don't think it's a big issue since most students choose a class at their language level.
If you're looking for a language outside of Spanish, German, French and Italian, Babbel Live isn't for you – at least right now. Babbel says more languages are coming so check back once in a while if you're interested in learning something currently not in the menu.
I won't lie, Babbel Live isn't perfect (what is!), but it's the best solution I've found so far for language learning outside of taking a language course in a real school at home or abroad.
Can you cancel a Babbel Live subscription?
All Babbel Live subscriptions renew automatically. To cancel your Babbel Live subscription, you have to cancel the auto-renewal option in your account information BEFORE your subscription period ends.
What if I already have a Babbel app subscription when I sign up to Babbel Live?
If you bought your Babbel app subscription from Babbel.com or the Google Play store:
Your Babbel app subscription is canceled automatically. Don't worry – you still have access to the Babbel app with your Live subscription. You'll get an email with a voucher code for any remaining time on your Babbel app subscription, which you can redeem once your Babbel Live subscription ends.
If you bought your Babbel app subscription through the Apple App Store:
You need to cancel your Babbel app subscription manually in the Apple App Store. When your Babbel Live subscription ends, you'll need to contact Babbel support, and they say they'll arrange for you to get access to the Babbel app for any remaining time that was on your subscription before it was canceled.
What happens to my existing Babble app lifetime subscription if I sign up for Babble Live?
If you have a Babbel lifetime subscription and upgrade to Babbel Live, then your lifetime Babble app subscription isn't canceled. After your Babbel Live subscription ends, you'll need to contact Babbel support, and they'll give you a voucher for access to the self-study courses, for a time that's equivalent to when the Babbel app and Babbel Live subscriptions overlapped.
The Bottom Line: Is Babbel Live worth it?
For what feels like forever, I've grappled with Spanish, mostly solo.
Picture this: I've amassed enough vocabulary to get by in a restaurant, decipher a timetable, understand a few written things and speak a couple common greetings but toss me into a full-blown conversation? I'm like a deer caught in headlights.
The only real leaps in progress? Those came when I had the chance to dive into an interactive Spanish class or take part in authentic Spanish conversations.
Yet, hailing from a corner of Canada where chatting with native Spanish speakers is quite rare, online classes are pretty much my only realistic (and budget-friendly) shot at experiencing genuine Spanish dialogues.
That's where Babbel Live has stepped into the picture and let me tell you, it's been a genuine game-changer. It's like it's turbo-charged my learning journey, allowing my conversational Spanish to leap forward in ways I didn't think possible before.
Want to try Babbel?
Start speaking a new language in three weeks with Babbel 🎉.
Sign up for the Babbel app, and get to FREE Babbel Live classes!
Get up to 50% OFF your Babbel LIVE subscription ➡Here!
Did you try Babbel Live or the Babbel app? Let us know what you think in the comments.
Are you going to try Babbel? Leave a comment about what language you'd like to learn!