Looking for some great songs about travel and adventure for your next trip? We share some of our favorite road trip songs, and more.
It's guaranteed that any list of the best songs is going to be controversial. Your musical taste might be entirely different than mine, and I guarantee my 89 year old Mom's musical preferences are probably different from my 16 year old son.
That said, there are some songs that are so iconic, so ingrained into our culture, that it's hard to dispute that they're beloved by many.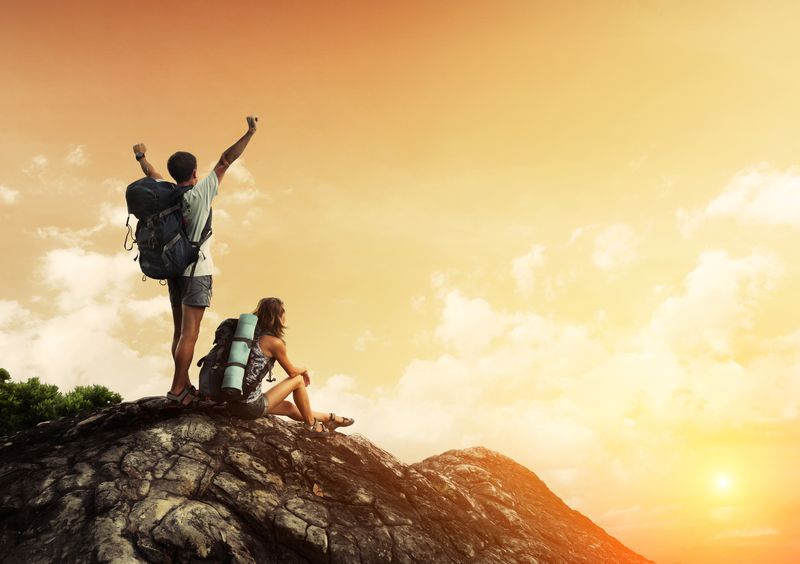 The Best Songs about Adventure and Travel
Each of these songs is on this list for a different reason. Sometimes the lyrics of a song remind us of adventure and the open road. Sometimes the beat of a song makes it an instant travel song. And sometimes a song reminds us of a time when we were more carefree and life seemed more fun.
Carry On Wayward Son by Kansas
If you're fans of the TV show Supernatural, like Charles and I are, this next song is a must listen on the road: Carry On Wayward Son by Kansas.
Even though Supernatural ended after 15 fantastic seasons, this song always brings me back to Sam and Dean cruising in Baby, Dean's 1967 Chevrolet Impala.
Home for a Rest by Spirit of the West
This song is an epic tradition among Charles' family and friends. It highlights the need for home after too many nights partying on the road.
Whenever a DJ plays it at a wedding dance, or it starts playing on someone's home playlist, the entire group jumps up and starts singing and dancing. There are a lot of good memories for this song, for sure, plus it's upbeat and unforgettable and a lot of fun.
Dirty Paws by Of Monsters and Men
Dirty Paws by Of Monsters and Men from the movie The Secret Life of Walter Mitty. It's actually a folk song that tells the story of how Iceland came to have no bees, because of a war between the bees, birds, and cats.
Send Me On My Way by Rusted Root
The catchy, uplifting Send Me On My Way by Rusted Root always gets me singing along.
This is another 1990's song, and it may seem familiar since it's been in plenty of movies and TV shows, including the movie Matilda, iconic TV show Party of Five, Ice Age, and, more recently, the Netflix 2021 TV show Maid.
Roam by the The B-52's
Speaking of catchy, Roam by the The B-52's, also from the 1990's has to be one of the most uplifting travel songs out there.
On Top Of The World by Imagine Dragons
On Top Of The World by Imagine Dragons is one of our kids favorite road trips songs, and we can see why.
It's uplifting and fun, and sets a lighthearted mood. The song's hugely popular, and was used in President Obama's inauguration, video games, movie trailers and soundtracks, as well as on TV.
Africa by Toto
Our kids absolutely love this upbeat, unique 1980's hit song, so it's always a must listen on our adventure songs list.
Budapest by George Ezra
Budapest by George Ezra is a long time favorite for everyone in our family. It's always on our road trip and travel playlists.
Me Gustas Tu by Manu Chao
For something a little different, I like Me Gustas Tu by Manu Chao. It's a catchy repetitive Spanish song with a little French in the chorus and it's also a fun way to learn a little Spanish as you travel.
Roughly translated, the opening lines of Me Gustas Tu by Manu Chao start something like this:
I like airplanes, I like you.
I like to travel, I like you.
I like the morning, I like you.
I like the wind, I like you.
I like to dream, I like you.
I like the sea, I like you.
- Manu Chao, Me Gustas Tu
Adventure Of A Lifetime by Coldplay
Adventure Of A Lifetime by Coldplay is fun. Honestly, it's a good song, but not my style. It's good to have a few dance travel songs on the list. Plus, it has a gorgeous, imaginative video to watch
I'm Gonna Be (500 Miles) by The Proclaimers
A classic party song, this song still gets us tapping our toes. While it isn't a travel song per say, it does involve walking 500 miles for love and anyone that has had a long distance relationship can sympathize with driving across the country to be with them.
Photograph by Nickelback
Don't hate on me for including Nickelback. I have my reasons, I promise.
Nickelback is from my home town of Hanna, Alberta, and parts of this music video were filmed near there. For me, this is all about nostalgia. Plus, it's a fun, catchy song.
Classic travel songs
Some songs are so iconic that they've been featured on lists of the best travel songs for decades now. Here are a few of our favorite classic road trip songs.
On the Road Again by Willie Nelson
On the Road Again by Willie Nelson must be on every road trip playlist ever created, and rightly so.
It's easy to sing along to, with a nostalgic and fun vibe, and it's perfect for road trips with friends and family.
I've Been Everywhere by Johnny Cash
This song always resonates with us, since we've made travel such a big part of our lives. It's a tough song to sing along to, and I've never quite mastered the long list of place names Johnny lists, but it's fun nonetheless.
I've been everywhere, man.
Crossed the desert's bare, man.
I've breathed the mountain air, man.
Of travel I've had my share, man.
I've been everywhere.
- Johnny Cash, I've Been Everywhere
Kokomo by The Beach Boys
This one's perfect for coastal Florida road trips across that beautiful state.
If you're driving the scenic highway to the beautiful beaches to the Florida Keys, this is the perfect song. Even if you're buying the best souvenirs at The Wizarding World of Harry Potter near Orlando, this song catches a chill, relaxed vibe we aspire to as we travel.
Travelin' Man by Ricky Nelson
This song's a real oldie, from way back in 1961. IT's catchy and fun, and I always find myself humming the tune the next day.
Songs for a Road Trip Across Canada
As Canadians, we have an unfair advantage in knowing the very best songs for Canadian road trips. We're fortunate enough to have traveled thousands of kilometers across Canada on the Trans-Canada Highway, and on many of the smaller roads as well.
Here are a few of our favorite tunes for your cross Canada playlist.
Life is a Highway by Tom Cochrane
This is the original from 1991, which became a number one hit in Canada (where Cochrane is from), and not the remake for the Cars movie by Rascal Flatts.
Ahead by a Century by The Tragically Hip
I once heard someone say that you don't really understand Canada until you understand what The Tragically Hip, and their lead singer, Gord Downie, mean to a generations of Canadians. That may be an exaggeration, but not by much.
Known to Canadians as the Hip, the band is lesser known outside of the country, but all 17 of their albums appeared on the Canadian Billboard Charts. Much of their music has a strong Canadian theme, weaving in social commentary on injustices and on notable past events.
One of my fondest Hip memories is walking down our street, and hearing Gord Downie's final concert with the Hip blasting from almost every TV set. Downie later died of terminal brain cancer, but will forever remain a Canadian icon.
Bobcaygeon by The Tragically Hip
Like a lot of Hip songs, Bobcaygeon is poetic and the meaning of the song is a bit obscure. It references small town and cottage life in Canada. Bobcaygeon itself is a small town in east-central Ontario. Whatever the lyrics mean, the song itself is typical Hip – lyrical, easy to listen to, and almost anthemic.
Runnin' Back to Saskatoon by The Guess Who
The Guess Who are another famous Canadian band, but from an earlier generation than the Hip. The Guess Who had most of their hits in the late 1960's and early 1970's.
Runnin' Back to Saskatoon is a great song for a Canadian west coast road trip, as it mentions three places in Saskatchewan (Saskatoon, Moose Jaw, and small town Moosomin), three cities in Alberta (Red Deer, Medicine Hat and Hanna) and Terrace, British Columbia.
Miles From Our Home by Cowboy Junkies
The title of this song alone marks it as a great road trip song.
No one in sight for fifty miles,
Sleeping fields sigh as I glide across their spines
If I could just reach the crest of that hill
This whole day will tumble and out the night will spill
- Miles From Our Home, Cowboy Junkies
Road Regrets by Dan Mangan
This is one of the more obscure gems on this list of great adventure songs. Dan Mangan is a Canadian singer-songwriter, but this song was written about a road trip across the American Southwest.
The TransCanada by The Constantines
If you're Canadian, or even if you've ever driven from one place to another while in Canada then you've likely driven a portion of the Trans-Canada highway. Stretching 7,476 km (4,645 mi) across the country from coast to coast it's goes through 10 provinces and is one of the longest highways in the world.
Starting in Victoria (on Vancouver Island) and ending in St. John's, Newfoundland and Labrador, driving it from start to finish will take you over 78 straight hours if you don't stop for food or petrol.
Maybe Tomorrow – Littlest Hobo theme song by Jacques Urbont
OK, admittedly the Littlest Hobo theme song is an odd choice for a playlist, but you're guaranteed a lively response if you play this for a Canadian born before the 80's.
The song is a little cheesy (well, a lot cheesy), but it's from an almost universally loved TV show that ran in the early 1980s about a homeless dog that traveled the country, offering help to anyone who needed it. Yep, you read that right, almost every Canadian over the age of 40 (and a lot younger than that) have heard of this.
Sudbury Saturday Night by Stompin' Tom Connors
Tom Conners was a Canadian folk and country musician, and this song is about the hard-partying social life of those in the mining city of Sudbury, Ontario.
It's an oldie, released way back in 1967, but it's still played at weddings and on your parent's Canadiana playlists.
The Best Songs for Travel Videos
I've spent some time recently playing with making more travel videos. It's a pretty complex process, if you focus on the technical details.
It's easy to get caught up in the details of choosing the best video converters for mac or PC, choosing the right camera for video, picking the right editing software, or choosing what frame rate and resolution to film.
That said, it's sometimes better to just slow it down, and think about the basics. Travel videos are about transporting you to a different place and time, and making you feel something. Music is one of the most important elements to bring emotion and feeling to a travel video.
For travel videos for your own private use, any of the songs on this list are a great choice.
If you're looking for travel video music for commercial use, then you'll need to find royalty free music to use, or pay for a licensing fee (from a company like Epidemic Sound or Artlist).
Copyrighted music for travel videos
Here are some of the best songs for travel videos that are copyrighted. IF you use these copyrighted songs, you won't be able to monetize on YouTube and probably won't be able to upload to Facebook.
Stay Alive by José González
From the movie The Secret Life of Walter Mitty, this song has a relaxed, romantic, moody feel that becomes more uplifting and faster paced as the song continues. It's great for B roll of gorgeous scenery, and perfect for creating a feeling of movement and emotional uplift through a video.
Novo Amor – From Gold
This song has an ethereal, romantic vibe, making it perfect for cinematic shots.
Royalty Free Music for Travel Videos
Finding good royalty free music for travel and adventure videos can be tough.
YouTube itself does have royalty free music for content creators in the YouTube Audio Library. There are some gems there, for sure, but a lot of it isn't the best, to be honest, and many of the songs are used over and over on different videos.
There are a few other sources for royalty free travel video music, including Incompetech, Envato Market, and Soundcloud.
The Best Songs about Adventure and Travel Playlist
Want to listen to the best songs about adventure and travel songs back to back? Check out this playlist we've created for you. Enjoy!
Did we miss any of your favorite travel songs? Let us know in the comments below, and don't miss our best audiobooks for road trips!