The Fluentalk T1 is an effective tool for live translating that doesn't need a phone or any other accessories. Simple and fast, with strong battery life, the only major downside of this lightweight electronic handheld translator is the price.
Learning a new language can be difficult and time-consuming. After years of learning Spanish with Rosetta Stone and Lingoda, I still struggle to do much more than order in restaurants, and give basic directions to a taxi driver.
But what if it was possible to immerse yourself in local culture off the beaten path and chat with locals without having to master a new language?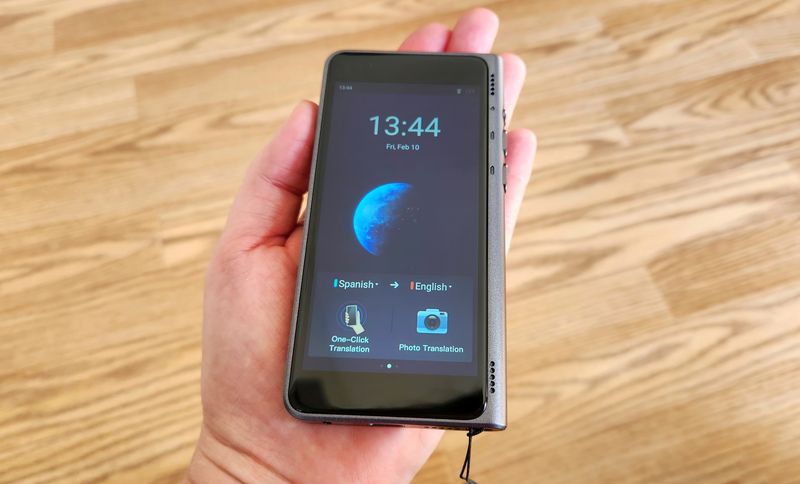 A real time handheld language translator can do that, from translating directions, to starting a conversation, or even to asking for emergency assistance if you become ill. It's even helpful for learning a new language or using as a pocket dictionary.
See prices on the Fluentalk website.
Even better, an offline language translator like the Fluentalk T1 can help you break the language barrier and explore with confidence, even when you're not connected to Wi-Fi and out of cell range.
Our Hands-on Fluentalk T1 Review
Let's take a closer look at this powerful translator in our Fluentalk T1 review and see how it can help you during your travels.
What does it do? As you speak into the device, it immediately translates your words into another language (both as voice and as text). You can also translate photos. It works with a Wi-Fi connection, an included data plan, or offline.
The Fluentalk T1 comes with:
an included two year data plan that works almost anywhere in the world
95% Accuracy in 40 languages and 93 accents
offline translation available for 13 languages
image translation on a four inch color HD screen
The T1 can work offline or online via Wi-Fi or a (included) cellular eSIM card.
See the Fluentalk T1 translator on Amazon.
Quick look at the Fluentalk T1 Handheld Translator
The Fluentalk T1 Handheld Language Translator comes equipped with a host of features that make translating easy and fast. These features include:
Realtime two-way translation. This feature allows for natural conversations between two people speaking different languages.
Highly accurate speech recognition. Using advanced algorithms, the handheld translator is able to recognize speech accurately so that users get precise translations quickly.
Easy one touch operation. With just one button press you can activate the translator so that it recognizes words or phrases in either language being spoken in real time.
Portable design. The device is lightweight and compact making it easy to carry around while traveling or on vacation.
Voice recognition accuracy as high as 95%. This means that users get accurate translations every time they use their device, allowing them to navigate their way through any country with ease.
Before I get into the details of the review, a little bit about if the Fluentalk T1 fits my top requirement for any language translation device: It needs to work well, and reliably, offline.
Offline Voice Translator – Fluentalk T1
An absolute must for me for portable translator is that it works well offline.
An offline translator is particularly useful if you don't have a local SIM card, mobile hotspot, or a portable hotspot to stay connected. It's also helpful when you're somewhere remote that's out of range of cell service.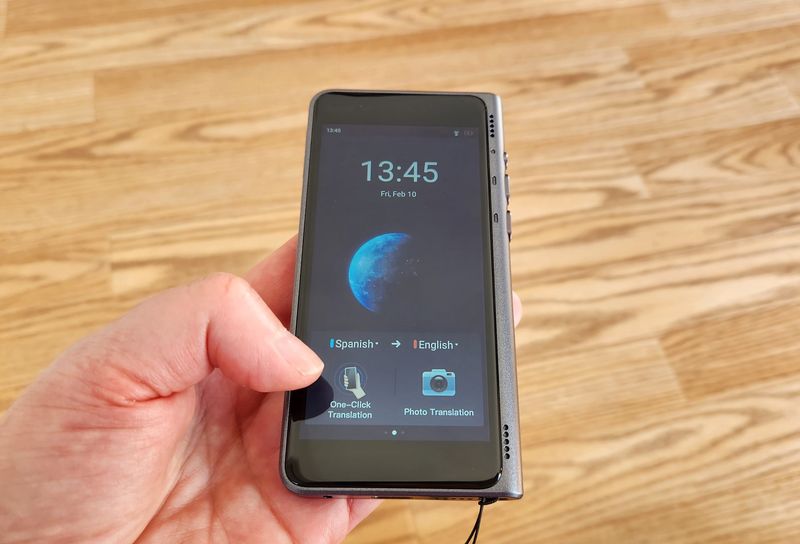 The Fluentalk handheld language translator can translate 13 pairs of languages offline in either direction: English-Chinese, English-Japanese, English-Korean, English-French, English-Spanish, English-Russian, English-German, Chinese-English, Chinese-Japanese, Chinese-Korean, Chinese-French, Chinese-Spanish, Chinese-Russian and Chinese-Germany.
The T1 comes out of the box with four offline language sets already downloaded for portable translation. You'll need to connect to Wi-Fi to download the other nine languages for use offline.
Offline review of this translator device without internet
While it was offline, I tested the T1's translation from French to English, and English to French, and it was reliably able to translate short sentences.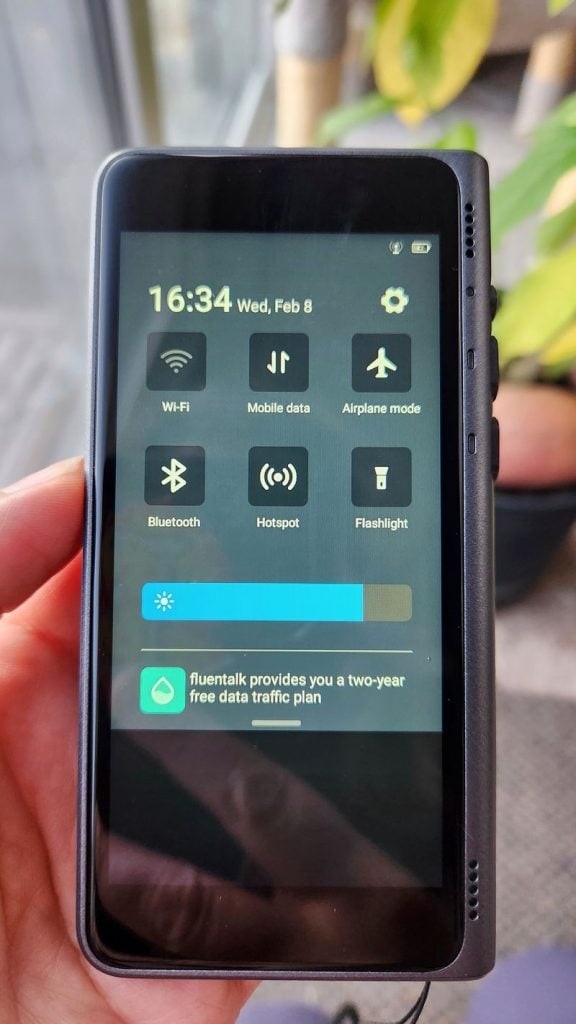 Since my French is pretty limited, I couldn't confirm it's accuracy at longer sentences however Charles is fluent and he said it seemed spot on.
I'm more fluent in Spanish, so I was able to push it a bit further, testing full sentences at a time. It translated accurately and quickly in Spanish, as long as I was careful to pronounce my Spanish words carefully.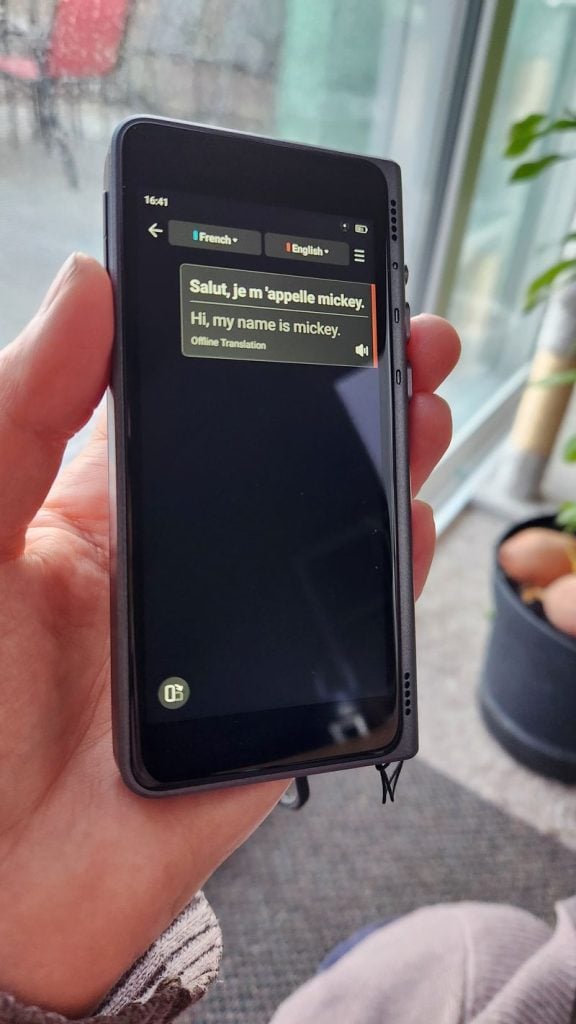 In my tests translating between French and English, and Spanish and English, the offline mode worked well. Translation was just as fast in offline mode as in online mode, and it seemed as accurate in offline mode as it was using Wi-Fi or data.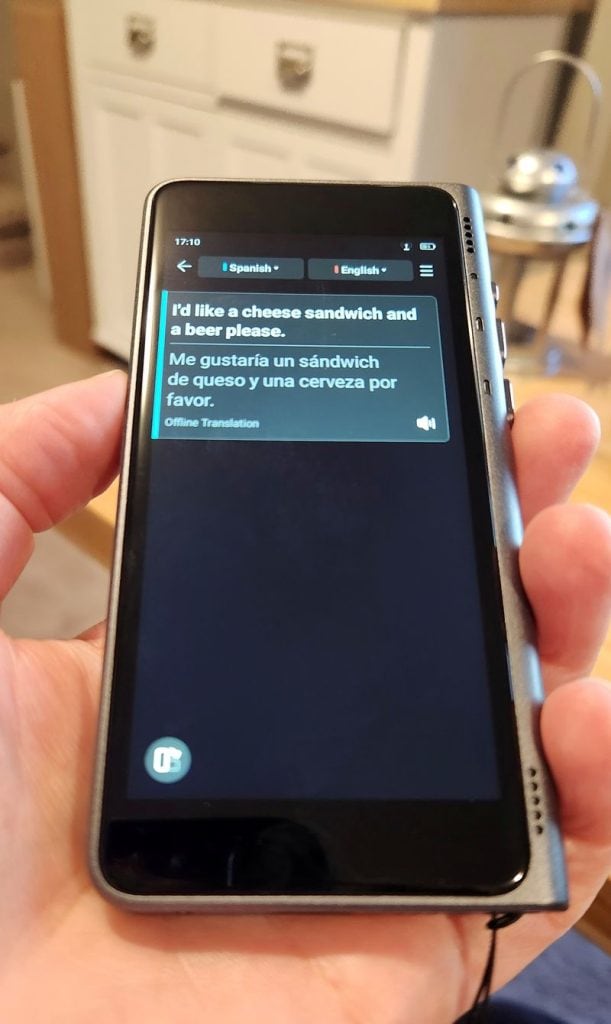 In offline mode, the translator outputs both voice and text translation.
Overall, I was happy with how well this little language translator device works without wifi.
Our Hands-on Fluentalk T1 Review
My first impression of the T1 was that it is cute and compact. It's small enough to be hung around the neck, and feels sturdy and reliable. It weighs only four ounces (155 g), so it's easy to slip into any pocket, ensuring you have it on hand when you need it.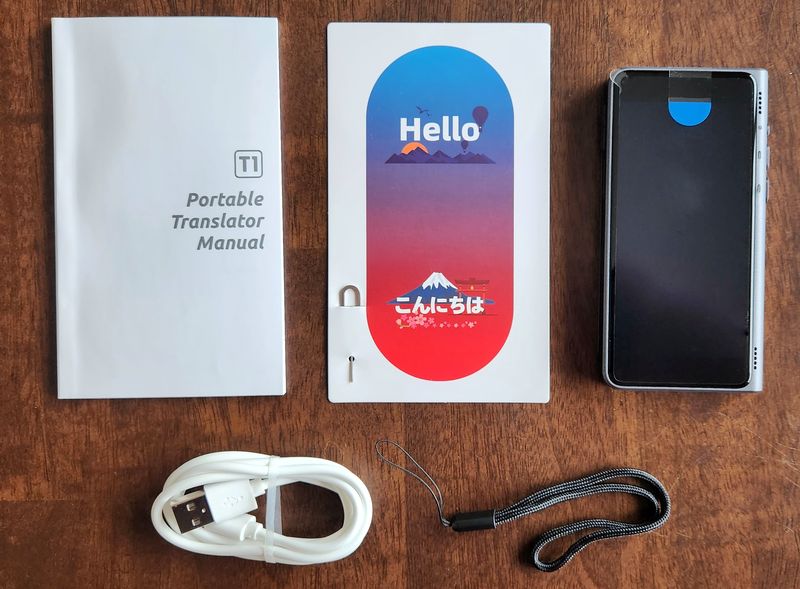 The four inch color touchscreen is easy to read and navigate. The translation buttons are easy to press, and feel like they'll hold up with repeat use.
I found the T1 pretty easy and intuitive to use.
There are three buttons on the side. The top yellow button is the power button. I used the middle blue button for my native language button and the bottom red button (it actually looks more orange to me) I used as the other language button however they can can be easily swapped around to your preference.
On the opposite side, there's also a volume up or down button. Besides for the responsive touchscreen, the controls are pretty straighforward.
It was easy to start up and to choose the languages for translation on the touch screen.
On first start up, it prompted me to activate the eSIM, which happened in a couple of clicks and took less than five minutes for it to fully activate.
I really loved that it came with an eSIM preinstalled, saving me the hassle of inserting and activating a physical SIM card when I received the device. There is a slot for an additional physical SIM card, in addition to the eSIM card if you're in another country and want to pick up a sim card just for the device.
What does the T1 cost? Is it worth the price?
The T1 costs $299.99 USD.
It's definitely toward the high end, cost-wise, compared to other personal translators.
However, in my tests, it offered offer good performance in terms of speed and accuracy, and also with the number of languages offered.
Some cheaper pocket translators work by connecting to your smartphone and using your phone's data or Wi-Fi connection. However, the T1 has a built-in data connection, with an included two year plan, for translating without another device or Wi-Fi connection.
On top of that, it has a solid offline mode, which is crucial for many travelers.
Want to check it out right away? See the Fluentalk T1 on Amazon.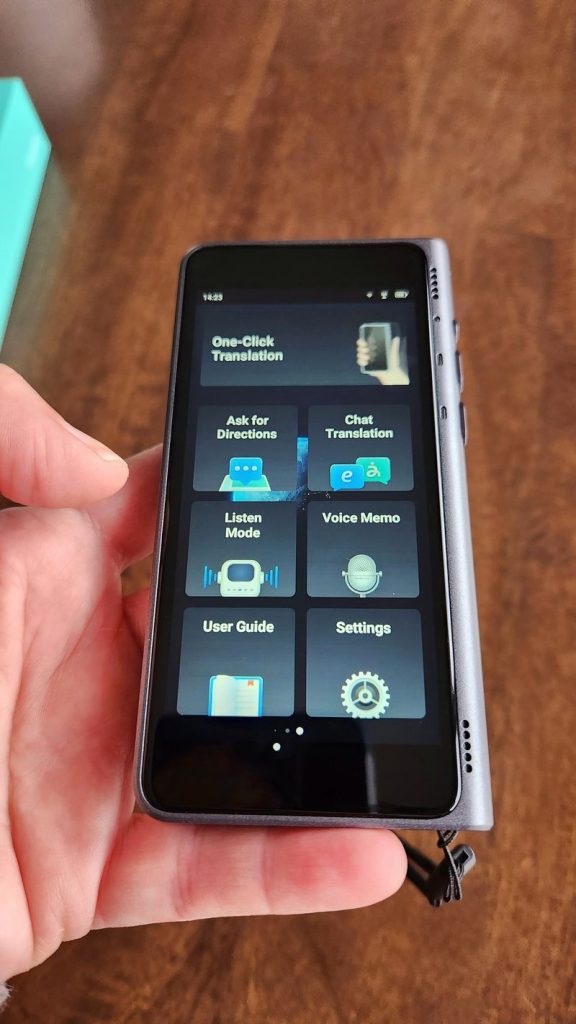 How does it compare to a translation app on a smartphone?
Honestly, I was pretty skeptical about getting a handheld translation device, when I already had a translation app or two on my phone, that mostly work pretty well.
But translation apps are a little glitchy.
For example, if you speak more than one language well, then you'll know that translation apps like Google Translate make a lot of weird errors, which seem to get worse if you use slang, speak in an accent, or swear. Most also get noticeably worse if you dan't have a Wifi or data connection.
While translator apps are easily available, having a dedicated device means you won't have to thumb through apps to get an instant translation and the inclusion of 2 dedicated language buttons right on the device means it's easier to get it going for both you and the person you're trying to communicate with. Accuracy and speed are also top-notch.
I also really like not having to hand my smartphone to strangers when doing the translation. Having a stand-alone device makes me feel a lot more comfortable, in terms of protecting my data and personal information.
One area where the T1 is much better than most smartphone apps is that it differentiates between multiple accents in a language. For example, the Fluentalk translator lets you translate Spanish in accents from these countries: Spain, USA, Mexico, Honduras, Nicaragua, Panama, Costa Rica, Argentina, Chile, Bolivia, Columbia, Dominic (I assume this is the Dominican Republic), Ecuador, Guatemala, Peru, Puerto Rico, Paraguay, Uruguay, Venezuela, and Salvatore.
That's pretty impressive to me, as there can be huge differences in the accents in Spanish!
After several months in Mexico a few years ago, we flew directly to Spain. I was pretty cocky, thinking that my Mexican Spanish would translate well. Unfortunately, as soon as I got off the plane, I realized that I couldn't understand half of what everyone was saying in Spanish. It took me a couple of weeks to get used to the difference in accents between Mexico and Spain!
Is the Fluentalk fast and accurate?
The T1 handheld voice translator translates in real-time, almost instantly between two or more different languages.
Translation accuracy
While we can't test all 40 languages (we did try a multitude of them but couldn't verify their output), we ran our main tests translating between English and Spanish (Mexico), or English and French. We both speak and read some Spanish, I understand some basic French and Charles is fluent in it.
I found no difference in speed translating in offline or online mode.
Text to speech speed
Fluentalk says the T1 immediately translates any speech within 0.2 seconds. In our tests, there wasn't any perceptible lag between talking and having our speech translated to text.
Speech translation
Similarly, when translating from my voice to the T1's translated voice output, it was also fast.
Fluentalk T1 translation modes
The T1 offers a few translation modes: One-Click Translation mode (default), Chat mode, Custom mode, Spectator mode and Photo translation mode. It also includes a speech transcriber for Voice memos.
One-Click Translation mode
The One-Click Translation mode is the default translation mode and works with the two colored buttons on the right. The blue button is language 1 and red button is language 2. I set up the blue button as English in our tests however they can be swapped around as needed.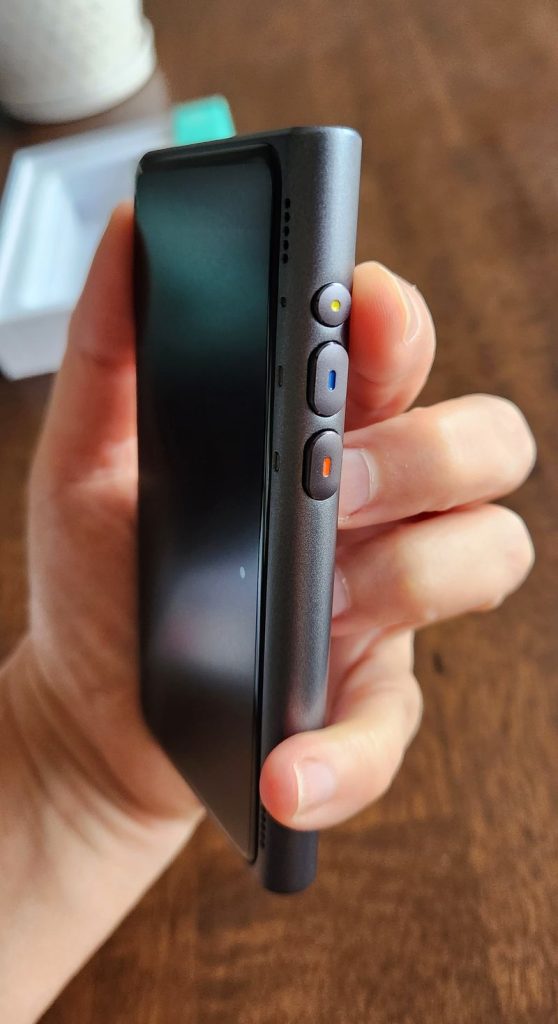 To use One-Click Translation mode, I'd just press the middle (blue) button to speak. It would wait until I released the button to translate my voice into the other language. This was helpful to avoid confusion having the voice translation play over our own voice while we were talking.
I'd just press the bottom button (red) when I wanted the T1 to translate, in reverse, from the second language.
Not a fan of physical buttons? In One-Click mode, you can quickly rotate the device to use it without having to continually press the buttons on the side. To rotate the screen, just tap the small switch button on the bottom left of the translation screen for a side-by-side conversation. Tap the on-screen language button to start or pause the translation. It will continue auto-translating from that language until the other language is chosen or the current language is paused.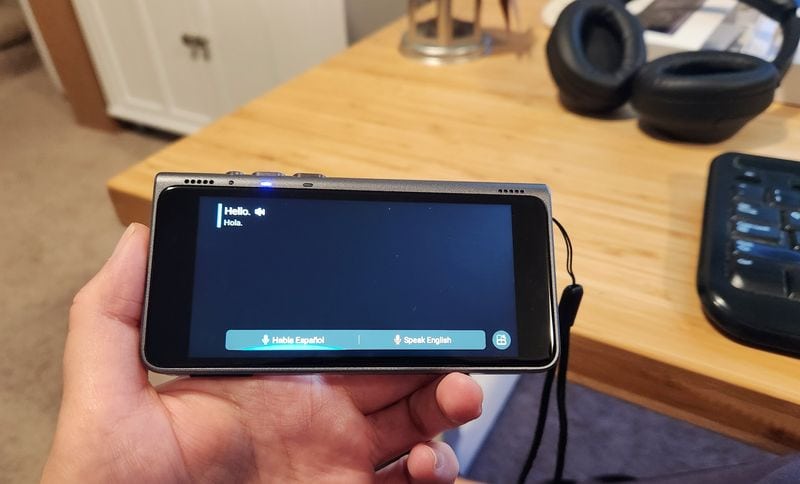 Chat mode
Chat mode allows you to have a real time conversation without having to hold any buttons. Just point the top of the device facing the person you want to talk to and the bottom towards yourself. Once you have your languages properly set up, just click the middle play button and it will then translate what each of you is saying.
See prices on the Fluentalk website.
You can access Chat mode directly through the touchscreen menu and can adjust the speaking interval for chat translation, if you want to translate longer or shorter sentences, in the options in the top right of the screen. You can also enable/disable voice if you just want the device to translate into text. It's a cool feature because the screen is split in 2 with both people able to read it standing in front of each other.
You can also see your chat history by swiping up or down on the screen while in Chat mode.
Custom Translation/Ask for Directions mode
In a hurry? Use Custom Translation mode.
Just double click the power button to start a conversation using pre-written text (and voice) translated to your language of choice. It's set up by default to say in English "Excuse me, can you help me? We can use this translator to communicate."
However, you can change the content of this message, and change the default language, in the Custom Menu. You can also start Custom Translation mode through the touchscreen menu by clicking the Ask for Directions button.
Spectator (Listening) mode
In Spectator mode, the T1 stays on, and translates what others say around you into your native language just via text.
This could be a great option when watching TV or listening to a travel guide. It could also be great when listening to instructions given in another language since you can quickly scroll back to what was just said if you need to reference it later.
Photo translation
I had good luck with the photo translation as well. On the road, we would use this for road signs, maps, menus, and so on. As a vegetarian, I love using photo translation for ingredient labels and menus.
To do photo translation, just snap a photo of what you want to translate using the T1's built in eight megapixel camera.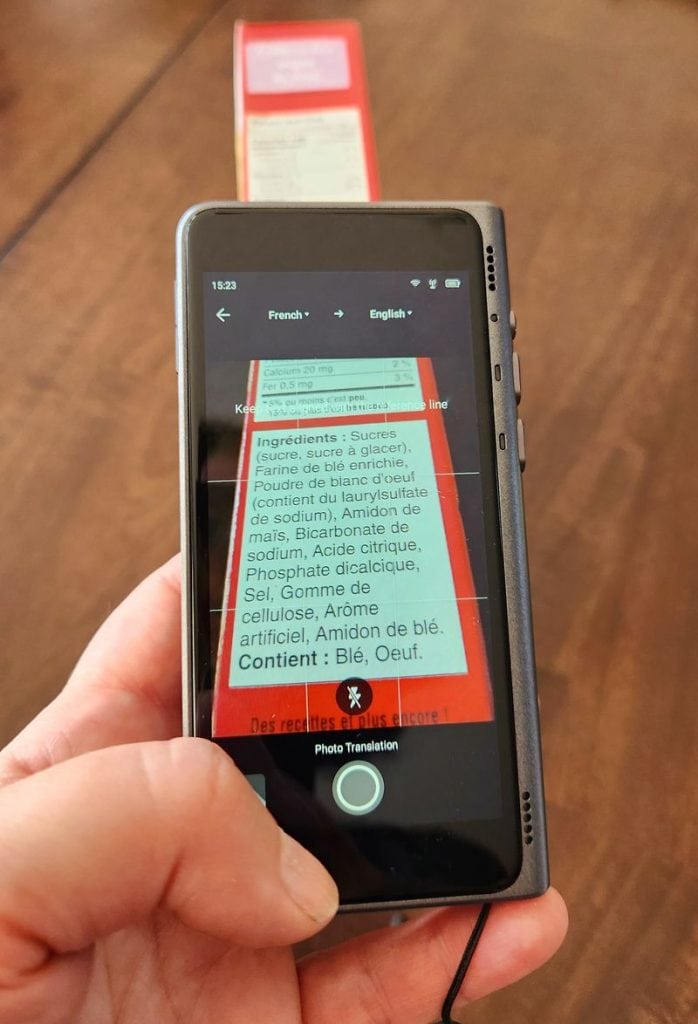 The four inch HD screen makes the translation easy to read.
Image translation works for 36 languages.
I found that the photo translation worked like a dream most of the time, but it would occasionally break down if it was translating an unusual font, and it didn't work well for me for handwriting.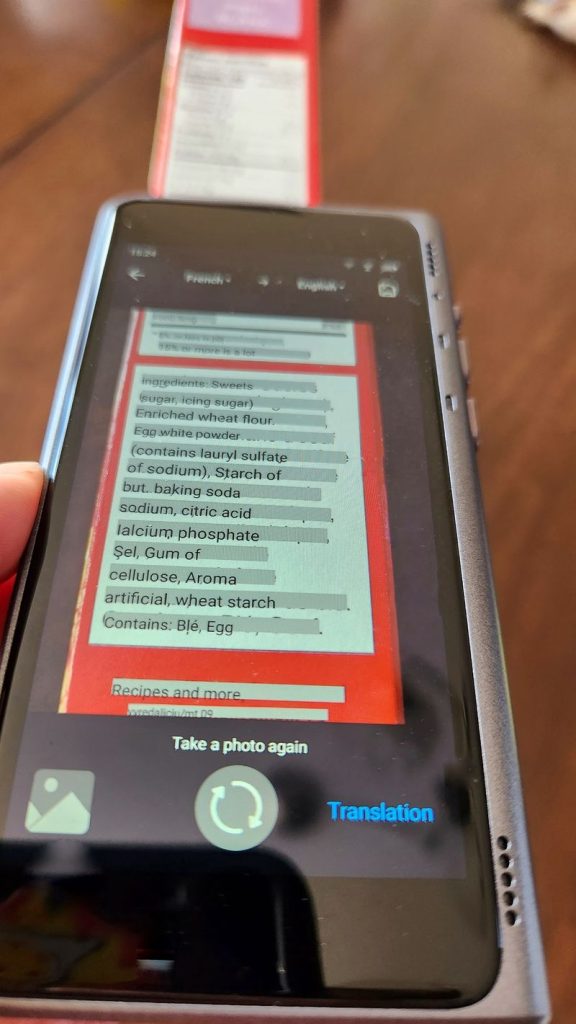 Photo translation is from text to text only. It doesn't give a voice readout.
Voice memos
The Fluentalk T1 also includes a Voice Memo mode that automatically transcribes your voice to text and saves it on your device. It's a cool method to leave yourself notes to follow up on later. You can also set the name of each transcribed voice text for easier identification later on.
I just wish there was an easy way to pull those texts off the device so I could use them in other places. Fluentalk is missing an opportunity here for uses outside of the translation world. Having a ready to go voice transcriber that works well could be handy in several different fields. Couple in the ability to change the side buttons for it's use and you've opened up another use case for the device.
Common Questions about the Fluentalk T1
T1 Battery life
When we first got the T1, it was charged to about halfway. I used the device for about two hours, and it was then ready for a charge.
I charged it using the USB-C cable provided, and it was fully charged when I checked a couple of hours later.
It has a 1500 mAh battery, which offers 3.5 hours of continuous translation time, and 96 hours of standby time.
I played with it, off and on, for around three hours, and the battery level showed at about one quarter.
Will it translate jargon, slang, and swear words?
Instead of translating swear words, it translates them as asterisks (***), at least with the few we tried in English, like f*ck, b*tch, and any swear words we knew in Spanish.
It does translate common slang well in English to Spanish, for example, it translates "what's up" as "how are you doing". However, it didn't translate new slang for us, like the word "cheugy", which is new slang roughly meaning out of date or trying too hard.
It's designed as a general translator, so the T1 won't necessarily translate specialized jargon (or language specific to an occupation). That said, I did test it by asking it to translate some specific words in neuroscience (my university degree). It accurately translated common words like "neuroscience" and "dopamine", but it didn't understand less common words like "amygdala" (a region of the brain) and "gamma aminobutyric acid" (a neurotransmitter) from English to Spanish.
Is it loud enough?
I had no trouble hearing the translator at about 75% volume, in a normal home environment, with our (loud) dishwasher running the background and my kids talking in the other room.
I also tried the volume at 100%, and while it was tinny (which is what I'd expect with a speaker in such a small device) I could easily understand it even if I had music playing in the background or the TV on up close. You may struggle to hear the little speakers if you keep the device on a table a couple of feet away in a louder environment, like a busy restaurant. I think for most uses, in normal environments, it should be fine.
How's the microphone?
There are two microphones on the top of the device, and one on the bottom.
When the device was held at arm's length, I had no trouble with the mic picking up my speaking voice, and translating it properly. I have a soft speaking voice, and I found that it started to have a little trouble picking up my voice from about ten feet away, while in Spectator mode.
Does it use voice commands?
It does not have voice commands. You operate the device through the buttons, or the touchscreen.
Can you use it as a mobile hotspot?
You can only share data with other devices, using the WLAN hotspot, if you insert a separate nano SIM card of your own. It does not share the included eSIM data (I got errors when I tried).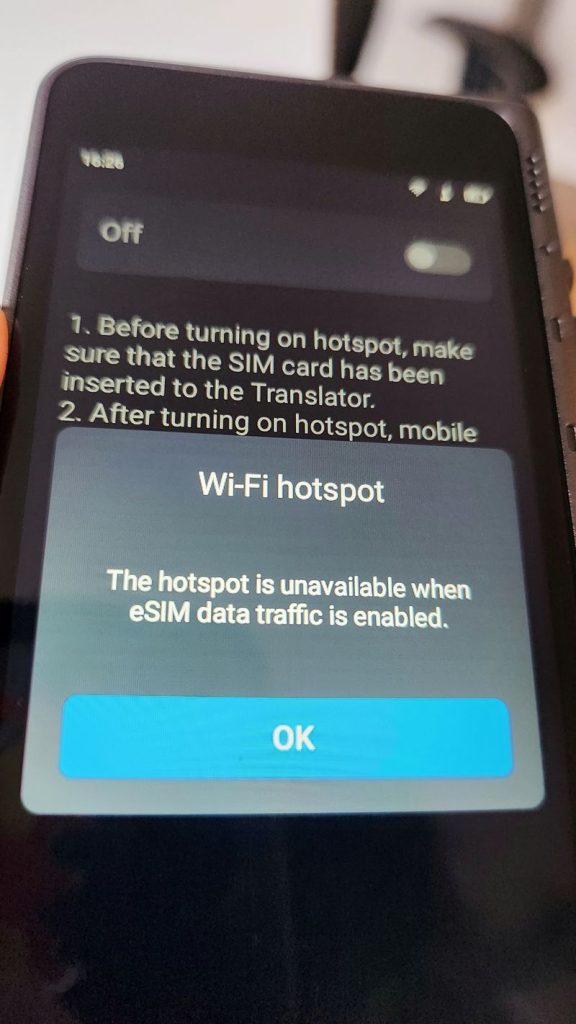 However, I tested to see if it would act as hotspot for the Wi-Fi signal that I was connected to, and it worked perfectly when I connected my phone to the T1's hotspot (named Android AP_6654, in the photo below).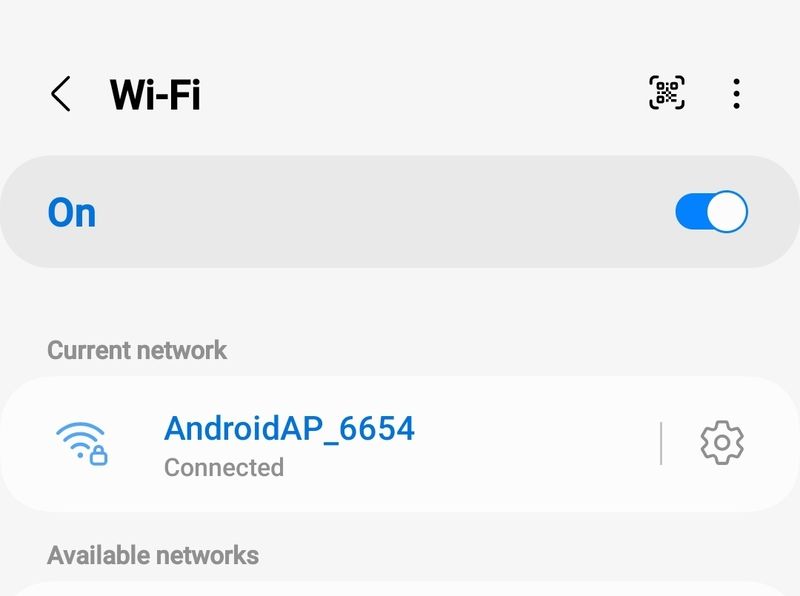 How well does the mobile data work?
I tested the T1 using only the mobile data eSIM.
When I ran a speedtest, it downloaded at 17.4 Mbps and uploaded at 11.5 Mbps, which is quite fast. More than fast enough to stream video, in fact.
Given that the eSIM data was so fast, it's no surprise that I found the T1 translation to be just as fast using mobile data as it was using Wi-Fi.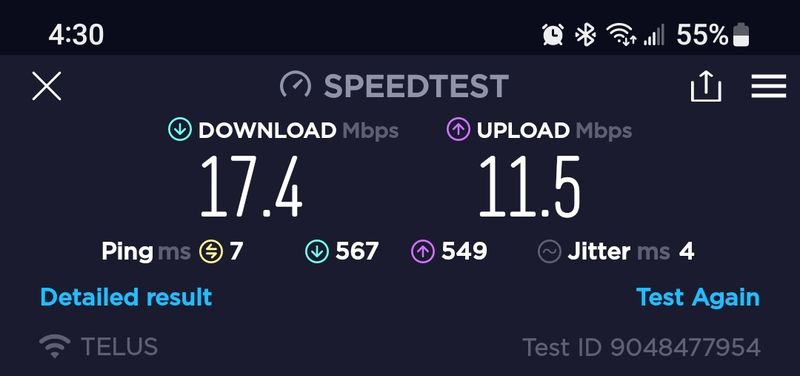 Is it easy to use and intuitive?
Overall, the T1 is easy to use and intuitive.
To get up and running, all you need to do is turn the device on, choose your languages, and press the side buttons. It's easy to switch languages, the eSIM started up like an absolute dream, and it's even simple enough to switch between Chat and Spectator mode.
One feature that wasn't the most intuitive (to me at least), was how to navigate back through the screens. I had a little trouble navigating back and forth between screens, until I broke down and looked at the manual, which told me that I could use swiping gestures from the sides to navigate back and forth.
For example, to see the previous screen, you just swipe right on the edge of the left hand side of the screen with one finger to return to the previous screen. This works well, but it would have been helpful to have a back arrow on all screens, in addition to having the swiping option. It's a small thing, and you may just pick it up intuitively, but I didn't.
Can I connect T1 with my Bluetooth device?
Fluentalk doesn't recommend connecting via Bluetooth.
While there is a menu option to connect via Bluetooth, it's not recommended, except in the rare case where you're connecting directly to the Timekettle TWS earbuds, and listening to the translation through the earbud, with the user talks to the T1 in one-talk mode.
What happens when the two years of data expires?
After the two year free cellular data plan expires on the eSIM, you aren't stuck with paying for the Fluentalk cellular data. After the data service expires, you can either insert your own SIM card, or use Wi-Fi.
If you want, Fluentalk is currently working on an option to purchase more data directly through them, but details aren't available yet.
What other features does the Fluentalk T1 have?
There are several extras on the T1 including a flashlight, a configurable world clock, an exchange rate conversion, and an SOS feature.
The little flashlight is fine for a little extra illumination to find your keys in the dark, but I found it to be less powerful than my Samsung S22+ smartphone's flashlight. It has 2 locations you can set for a world clock and an automatically updated exchange rate conversion for a large variety of world currencies. I just wish it also included a calculator here rather than just the days current rates.
The SOS feature is handy as it lists the countries emergency contact numbers including police, emergency and fire. In North America (US, Canada and Mexico), all 3 are 911 however, in some countries, they have different numbers for different emergencies so that's a nice feature.
Handheld translator vs translator earbuds: Which is better?
Language translation earbuds are an alternative to a handheld translation device however, for many earbuds, this means giving one of the earbuds to the person you're speaking to. If, like me, you're a bit squeamish about someone else having your earbud in their ear, then a handheld device like the Fluentalk T1 may be a better choice.
Who makes the Fluentalk T1?
Fluentalk is a sub-brand of Timekettle Technology Co., Ltd. (founded in 2016). Fluentalk mainly specializes in the research and development of handheld translators.
Timekettle also makes translation earbuds, like the:
Want to order the Fluentalk T1?
See the Fluentalk T1 on Amazon.
Articles you might like: