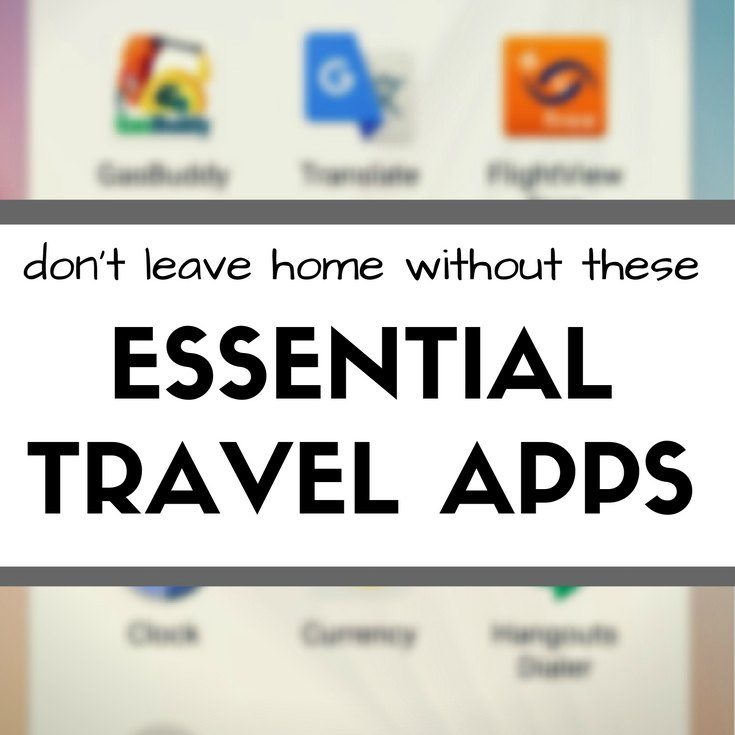 When someone asks me which travel apps I use the most, my answer usually depends on who I'm talking to and what kind of traveler they are.
A hardcore, frugal backpacker and a luxury vacationer often have very different ideas on what travel means to them and as such, will often use apps that cater to their own unique needs.
Of course, there are certain apps that everyone can use, regardless of how much money you have in your bank account or how far off the map you're willing to travel.
As such, these are our basic, go-to apps that we recommend to almost every type of traveler.
Our Bare Essentials Travel Apps
For starters, apps like Google Translate (iTunes, Android) and XE Currency (iTunes, Android) are pretty universal.
No matter who you are, everyone needs to know a few words in the local language and how much the local peso or rupee is going for. Google Translate also has the ability to let you point your smartphone's camera at a foreign sign or even a menu and translate it on the fly. If you've never tried it, you'll swear it's magic.
These days Apple uses its own maps however there was a time when Google Maps was the perennial favorite. It's still our default go to map simply because it integrates so well with local web searches and these days, it lets you download maps for offline use if you don't have a data plan or are planning to be away away from WiFi. If you don't already have it, then you can grab it on iTunes or on Google Play.
Another one of our most used travel apps, at least while we're in Canada or the USA, is GasBuddy. It's the best for long roadtrips where you're not sure how far it is to the next town and whether or not it even has a gas station. As well, with gas prices sometimes fluctuating 10 cents a liter within a few kilometers, knowing what the prices are ahead of time and driving that extra mile can often save you enough for a nice latte or a quick sandwich. Get it at the App Store or via Google Play.
Micki has done a lot of hiking in her life, and that may be why she refuses to travel without either a physical or digital compass. She used the native iPhone compass before she made the switch to Android, but now she uses Compass 360 Pro Free on her Samsung phone. Get it on iTunes or through Google Play.
A good alarm clock app is a necessity. We rely on the native clock for iOS. It's free, comes pre-installed on most or all iPhones, and it's served us well for dozens of early wake-up calls.
For Micki's Android, she uses the native Android clock, which she says works just as well as it's ios counterpart. She's also tested Google's Clock, and says it works perfectly for her alarms. You can get Google's Clock on Google Play (we couldn't find it on iTunes).
As well as the biggest social apps, we always have a calling app (or two, or three) on our phones. A calling app needs to be able to reach anyone on Android or iOS (sorry, Facetime is Apple only), and it needs to be reliable. Our favorite calling app these days is Google Hangouts. It's on almost every Android phone by default, it's free, offers free voice calls to most of North America and it works without any hassles for us. Get Google Hangouts on iTunes here.
Note: If you're on an Android, be sure to install Google Hangouts Dialer. Just the basic Google Hangouts wouldn't let Micki make calls on her Samsung. You can get Google Hangouts Dialer on Google Play here. That said, WhatsApp (iTunes | Google Play) and Skype (iTunes | Google Play) or even something else may be your calling app of choice and it's not a bad idea to stick with what works for you.
Like most people who fly regularly, we also have a flight tracker on our phones. Micki swears by FlightView Free (iTunes | Google Play) (which she says is a bit clunky, but completely reliable), and I've been using FlightTrack on my iPhone for years. They only have a paid version these days called FlightTrack 5 (iTunes | Google Play) and though I still prefer the old version, the new one's still pretty decent. We've tried out a few others, but haven't found anything we loved.
Right now, besides for the ones above, my phone is pretty bare. As luck would have it, I just upgraded to a newer iPhone and, as I do whenever I get a new phone, I usually only pull across a few key things like my Contacts when I upgrade and slowly install apps as I need them.
Next, I'll be installing the nice-to-have travel apps as well. Our more inclusive post with our favorite travel apps is showing its age so we'll be writing another article soon on the best, newest travel apps we're using.
If you're looking at this on your Smartphone, here are links for some helpful apps.
Google Trips – iTunes, Google Play
Get Your Guide – iTunes, Google Play
Trover – iTunes, Google Play
Tripr – iTunes, Google Play
Trail Wallet – Only on iTunes
Toilet Finder – iTunes, Google Play
PackPoint – iTunes, Google Play
Guidrr – Only on iTunes