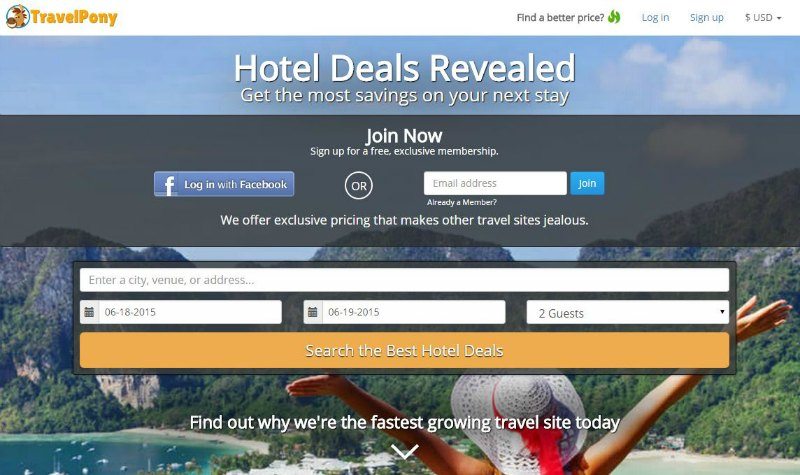 Booking hotels keeps getting easier and easier. These days there are dozens of online hotel booking sites out there, each with a mountain of information and a deal around every corner.
The only problem is choosing where to spend your hard-earned dollar.
So, when hotel booking site TravelPony reached out to us to see if we'd review their recent changes, we decided to take a closer look.
Important update for 2017
We contacted TravelPony website support back in January 2017, and asked why their search only TravelPony hotels check box wasn't working.

Here's their reply "Our inventory is currently more limited than usual because we are in negotiations with our primary inventory supplier. Please check back periodically to see if we've added new inventory in your desired locations."

When we checked in March, and again in April 2017, the search TravelPony hotels check box had disappeared. We also couldn't find any TravelPony hotels in searches of ten cities we searched.

Why is this important? You can only use TravelPony credits on TravelPony hotels. You cannot use TravelPony credits on hotels booked through other sites, such as Hotels.com, or Booking.com.

If you have TravelPony credits (like we do), as of now, you can't use them on the site at all.

We're now using Booking.com for most of our hotel bookings. It's fast, has a huge inventory, and I've found it to be very reliable.
Using TravelPony
To tell you the truth, we've used TravelPony a fair bit this past year. We actually used it for our last three hotel bookings and just made a reservation the other day for a trip into Vancouver. We've found they're pretty hard to beat in terms of price, especially when you're trying to stay someplace that's relatively nice or in an expensive city.
That said, it's been almost a year and a half since we brought you our very popular TravelPony Review, so we thought with the recent TravelPony updates, we'd revisit them to see if they're still worth considering.
What We Like – More Hotels, More Cities
When we wrote our last review, TravelPony listed around 20,000 hotels, but their new site now offers over 200,000 hotels, with dozens of hotels in cities where even a few months ago there were none.
This is huge.
It means there are more hotels to choose from in larger cities. It also means that you can now find a hotel for a smaller city or town through TravelPony.
What We Like – PriceReview
My favorite feature is TravelPony's new PriceReview.

If you find a better price somewhere else, you can share your savings with everyone on TravelPony. It not only shows up on the hotel page but also right on the main search results page!
That means you can share a coupon, a deal you found by calling the hotel directly, or even a mobile-only same day price.
To me that brings TravelPony up to the forefront, because even though you can leave reviews directly on most hotel comparison sites these days, none will ever publish a this is how to get it even cheaper comment.
So we thought we'd test to see if TravelPony was true to their word, and that they'd really post a cheaper price for somewhere else.
The deal I posted via their PriceReview was a coupon that we use often for Motel6 when we're on the road. It's a discount code we use directly through the hotel website, and it almost always gets us a better deal than we can find on a booking site.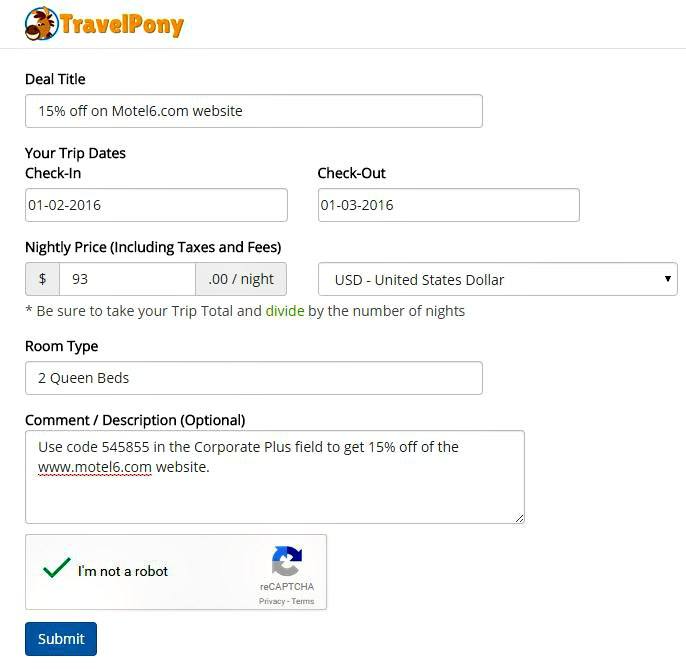 Sure enough, our deal appeared on the hotel booking page.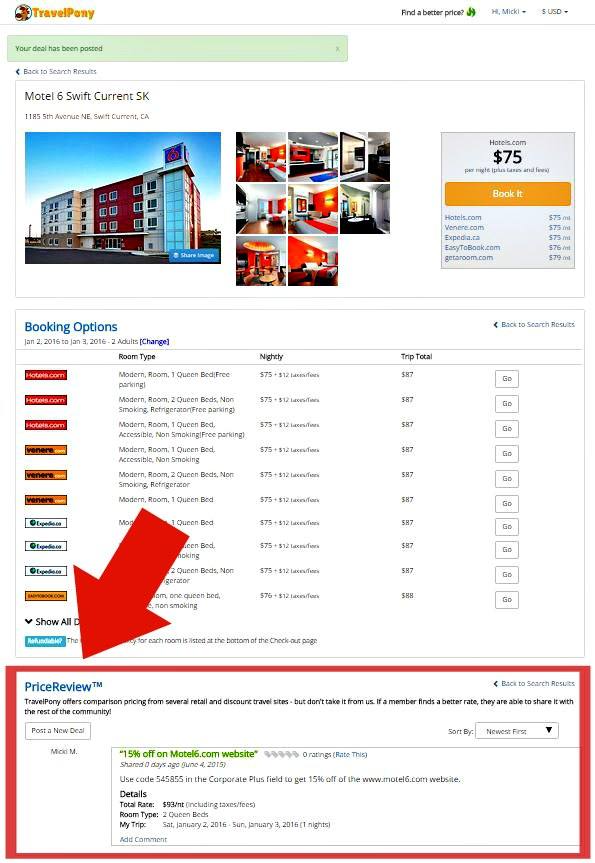 But, ahem, the price on the hotel website with our discount code was actually still a bit more expensive ($93) than the TravelPony advertised price. That's a score for TravelPony's price transparency policy.
PriceReview is a pretty new feature, so I didn't see a lot of comments on hotel sites, but I expect that to change as more users try the new TravelPony system.
We're excited to see a company stepping up to the plate and willing to let their members tell you how to get it even cheaper regardless of which other site you book it through.
What We Like – Better Hotel Reviews
Another thing I just noticed is that TravelPony has finally gotten on board with their review rating.
Instead of just relying on their own member ratings (something more than a few other sites do), they've linked in directly to Trip Advisor, the holy grail of hotel review sites. Chances are that if you want to find out the lowdown of any hotel, especially recent additions and season specific reviews, TripAdvisor should be the first site you check.
What We Like – More Comparisons
They also updated the site so that seeing and comparing hotel deals is even easier than ever.
Not only do they show competitor pricing, but getting to the other sites is now just a quick click away. On top of that, they've also expanded their search parameters and include more competitors than ever.
What We'd Like More Of – Hotel Room & Amenity Information
The only thing I still find mildly annoying on Travel Pony is that there isn't a lot of room or hotel amenity information. I'd like to see a bit more information about the hotel we're looking at, as well as what's included with our stay, besides for a chunky paragraph listing what each hotel offers.
It's nice that you can filter based on amenities (as well as price, stars, location and whether it's a TravelPony featured hotel), but a nicer rundown (maybe with some quick visual icons of what the hotel includes) would speed up our searches immensely.
Luckily the TripAdvisor hotel information page is only a quick click away, but something right on the Travel Pony page would pretty much give us all the information we need to book it on the spot.
What We're Not Sure About
Whenever we've booked a hotel through TravelPony, we've paid through the TravelPony site. It's always been quick, easy straightforward.
Now, their Book It button will take you to another hotel booking site if it's not a TravelPony featured hotel.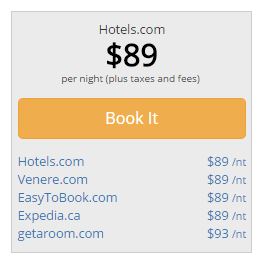 They're very up front about redirecting you, which I love, but I'd like to be able to complete my booking directly on TravelPony.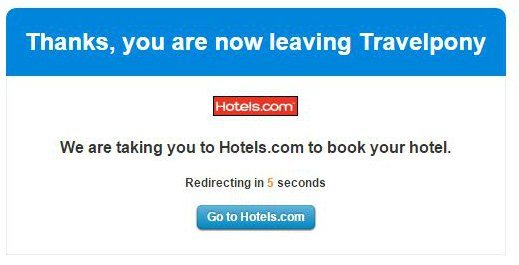 Plus, if you happen to have TravelPony credits, you can't use these when you're redirected to another site like Hotels.com. You can only use TravelPony credits when you book the hotel directly through TravelPony, meaning that you'll have fewer hotels to choose from with your TravelPony credits.
What We Don't Like – You Need to Log In
To get a price quote, you'll need to create an account and log in with your email address or Facebook. I'd love the ability to search and compare prices on the go without logging in first.
Bonus – Get a $35 Discount on Your First Stay!
TravelPony gives everyone a chance to earn TravelPony credits every time they refer a friend.
Use this link to get $35 USD in Travel Pony Credits off your first TravelPony booking. Good for first time bookings of $200 or more, booked directly through TravelPony.com.
UPDATE, 2017: If you have TravelPony credits (like we do), as of now, you can't use them on the site at all.
The Bottom Line
I think the new TravelPony updates were a needed improvement on a now great online hotel searching tool, and have definitely cemented them at the forefront of our hotel booking checklist.
While no single company is always going to have the best price when booking a hotel, we've found that for the most part, Travel Pony more often than not beats the competition quite handily and if not, now they'll even tell you how to do it via their PriceReview.
Mobile App
If you're on the go you can also grab the free TravelPony app for your iPhone at the AppStore or for your Android device at Google Play. It's great for getting daily deals on hotel rooms and is a great addition to the TravelPony website. There are differences between the app and the web page so make sure you bookmark TravelPony.com as well.  You can read our review on the TravelPony app here.