As Canadians, we've been lucky enough to visit most of Canada.
Since we also have family and friends all over the country, we always have a place to stay. It's wonderful to have that sense of community wherever we go. Having an affordable place to hang our hats for the night doesn't hurt either.
For visitors to our beautiful country, it's not always so easy. Canada can be a terribly expensive place to visit. Because it's such a big country, with relatively few people, flights are pricey. Plus, long distance bus service is limited here, especially in Western Canada with the coming closure of all Greyhound bus routes in the Western provinces.
To top that off, accommodation costs are high, especially in larger cities like Vancouver or Toronto, where most visitors start or end their visit.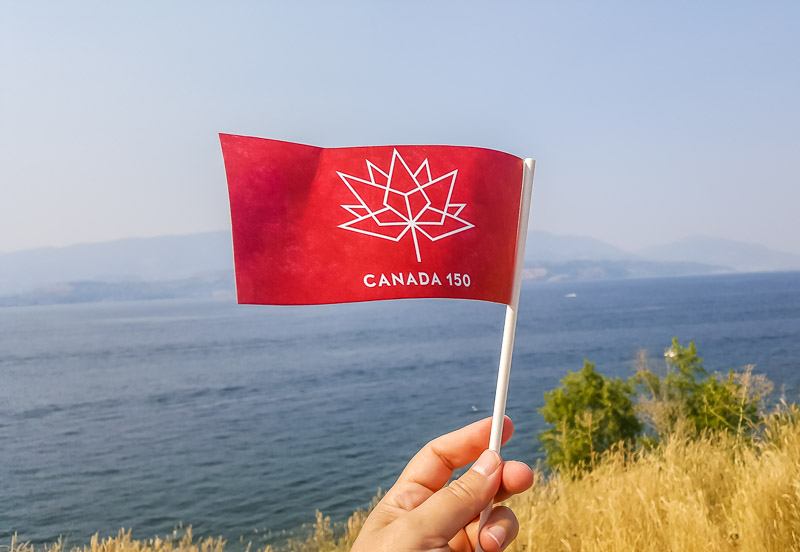 Canadians in general are a pretty friendly bunch, but it's always a challenge to feel like part of a community while staying in a hotel.
So, how can you save money traveling in Canada, and tap into the wonderful community we have here?
One fantastic way is to dip your toes into house sitting in Canada.
Housesitting in Canada
Canada is a great place to house sit. Since accommodation is pretty expensive, making house sitting a great value. Plus, there are quite a few listings, especially from homeowners with pets that need love and attention while their owners are on vacation.
How do you get started house sitting in Canada?
We'd recommend signing up for a house sitting website that connects potential sitters and homeowners.
The Nomador house sitting website is a great place to start. They're relatively new to the house sitting world, but they're already making a big dent, and quickly.
Nomador is becoming so incredibly popular, in part, because of their free Discovery option. The Discovery option lets you apply for your first three assignments at no charge. Homeowners can get a similar deal for their first listings.
Click here to check out Nomador's free discovery option.
After your first three assignments, there's a membership fee to join. It's the same rate for housesitters and home owners, and the website has listings all over the world.
What's really cool about Nomador is the Stopover concept, which connects travelers and hosts around the world.
The Stopover lets home owners register to offer up a spare bedroom for members in between house sits. This lets members stay for a night or two as they travel in another country, or maybe even to fill a gap between house-sits. The culture of Nomador is based on community and the sharing economy, and we think they've really succeeded here!
Find out more about Nomador Stopovers now.
Do I need to have references and experience to house sit in Canada?
It's not a bad idea to have some references on hand, such as reference from a rental apartment or work.
That said, on Nomador you can't add external references to your profile. Any references must be left by other members of the Nomador community. You can mention in your Additional Information area that you have other references and that you're happy to send them to the homeowner.
A lot of housesitters in Canada get started building their references by doing a couple of short house sits close to home to build up their Nomador references.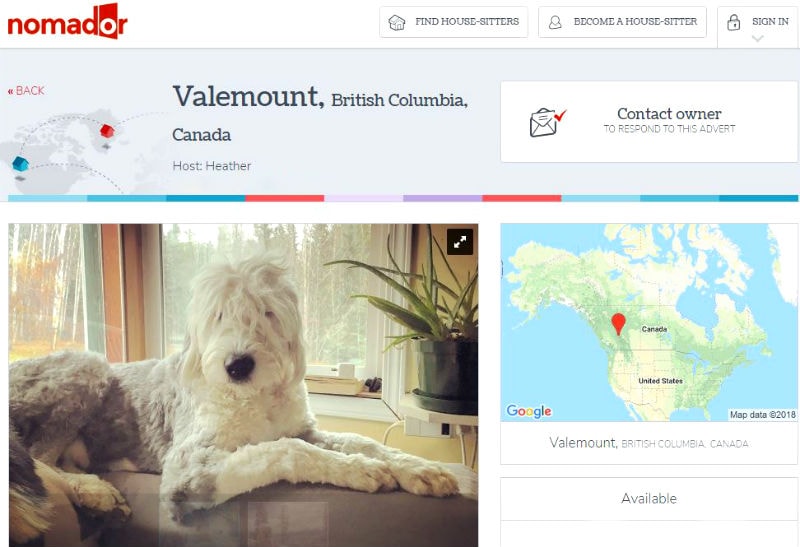 Why do people get house sitters in Canada?
Many homeowners are looking for someone to help take care of their pets while they're away. Getting a house sitter lets dogs and cats stay in their own home and keep their familiar routine, which can be a lot less stressful than sending a dog to the kennel.
Other homeowners just want someone to take care of their property to ensure it stays in good condition while they're away or to bring in the mail and water their plants.
How do you find a good housesit in Canada?
Patience is the key to your first good gig as a house sitter in Canada. Take some time to fill out your profile, apply to several house sitting gigs, and even consider doing a short, local, trial run house sit to build up your references.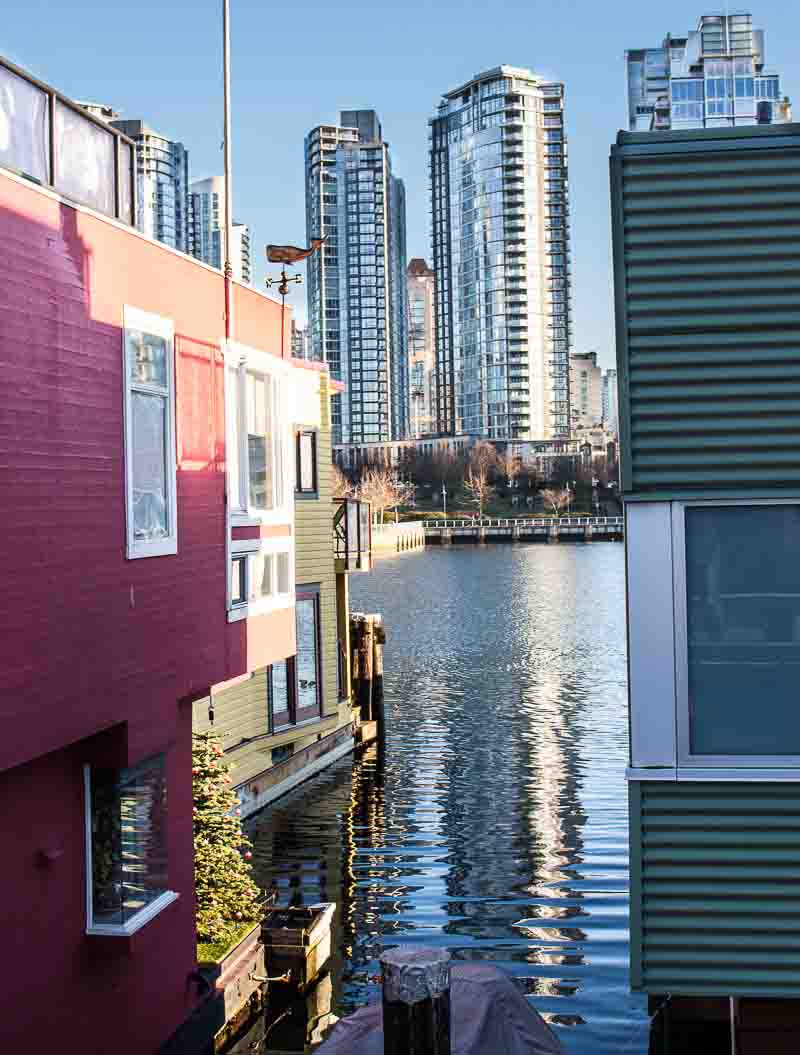 Can you get long term house sitting in Canada?
The length of a house sit varies quite a bit, from a few days to months on end. Plenty of homeowners go away on extended trips, take a year abroad, study overseas, or take a leave of absence from work, making their home available for longer periods.
There are hundreds of house sits available on Nomador, so the best thing to do is check out the listings and see what's available for long term sits.
See all the house sits available now.
Where should I get a house sit in Canada?
Canada is huge, and expensive to fly in, so getting a house to sit in the right area is important.
As Canadians, I can't tell you how many times we've run across a traveler who hadn't done their research and ended up overwhelmed by the big distances and cost to travel between cities within Canada.
Let's put it this way – it's a 20 hour drive (at 100+ km/h, or 62 miles/hour) with no stops from our home city of Kelowna to Charles' family in Winnipeg. That's less than a third of the drive coast to coast across Canada!
Because Canada is so big, and most cities are spread out, if you're house sitting in an area outside of reliable public transit, you'll need a car while you're here. Distances in Canada are large, and most of our population who are outside the largest centers get around by automobile.
Note: If you're thinking of using Uber or Lyft, realize that Uber won't be available in the province of BC or Vancouver until the fall of 2019 and it's no longer offered in Quebec. Lyft has just entered the Canadian market and won't be available much outside of Toronto at the moment.
House sitting in Vancouver
Vancouver is one of Canada's largest, and most beautiful cities. It's perched on the Pacific Ocean, and even in the heart of the city you're likely never more than half an hour away from nature.
Most of Vancouver's attractions are in the city center, so housesits in areas like downtown, Kitsilano, UBC, Gastown, trendy Yaletown, and the West End are pretty desirable.
In terms of best areas to house sit in Vancouver, don't discount suburban areas like Richmond (which has a fantastic night market) or New Westminster either. Public transit in Vancouver is reliable and clean, especially if you can score a Vancouver house sit near the SkyTrain route.
Check out our fun things to do in Vancouver with kids.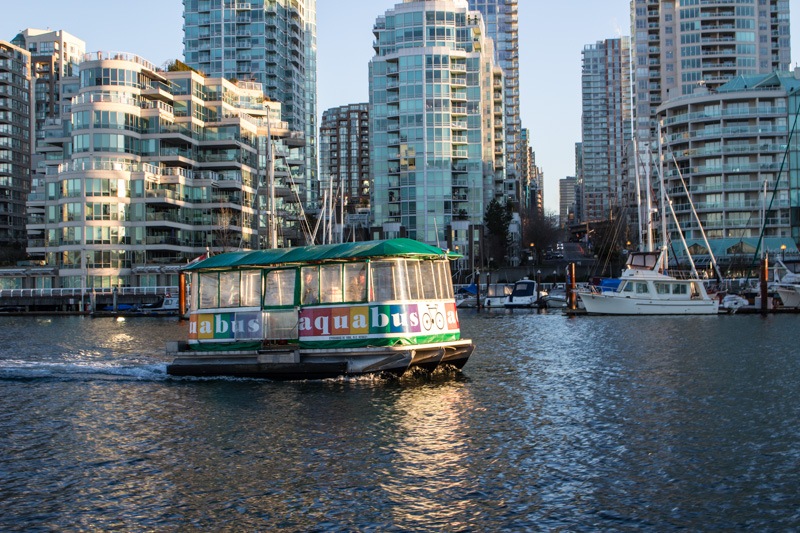 House sitting in Toronto
Toronto is Canada's largest city, and it's a busy, bustling place with plenty of diversity and a whole lot to see and do.
We spent a few days in Mississauga (a Toronto suburb) at a conference a few years ago, and I can say from personal experience that highway traffic can get incredibly congested and slow outside the core. The city's actually known for having some of the worst traffic jams in the USA and Canada.
So, that said, a Toronto house sit that's close to downtown, or on the Toronto Transit Commission subway line, would be ideal.
Good neighborhoods to house sit in Toronto's downtown core are the Distillery District, Liberty Village, the Toronto Harbourfront, and Cabbagetown (don't let the name scare you off).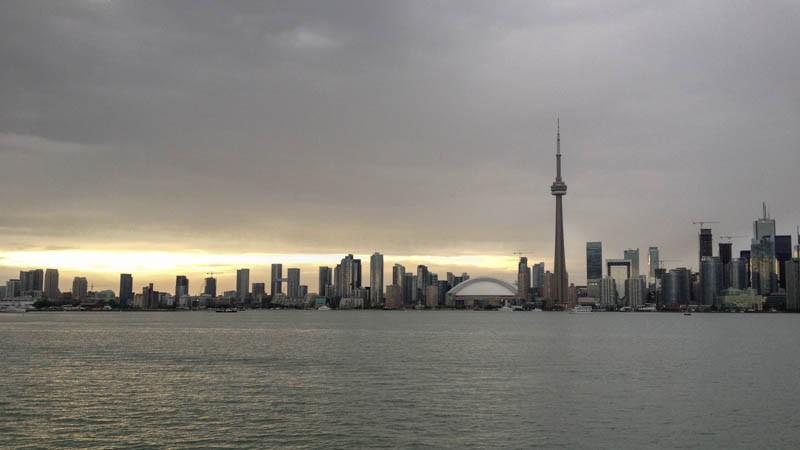 House sitting in Victoria, BC
Despite being the provincial capital of British Columbia, Victoria is a small city with just about 85,000 residents. There's no subway, so if you're relying on public transit, you'll need to take the bus.
Honestly, any neighborhood in Victoria is good to house sit in – don't expect any ghettos.
As far as best neighborhoods to house sit in Victoria, Beacon Hill is one of the city's most expensive neighborhoods, Gordon Head is middle class and suburban, while downtown is a good choice if you're looking for lots to do and good restaurants.
While you're in Victoria, be sure to check out the stunning Butchart Gardens.
House sitting in Calgary, Alberta
Calgary is a booming Canadian city on the footsteps of the Rocky Mountains with the gorgeous Bow River winding through the city. It's also less than an hour drive from Banff National Park and only 30 minutes from one of our favorite Albertan mountain towns, Canmore.
The Calgary Zoo, located just outside the heart of the Calgary core, is one of the best zoo's in North America and with warm Chinook winds, it's not uncommon for Calgary to occasionally hit the high teens (Celsius) in the middle of winter (which isn't so common in Canada). Calgary is also home to the Calgary Stampede, one of the largest rodeos in the world.
The CTrain runs throughout Calgary and makes it easy and fairly quick to get around. Calgary's downtown, especially the Eau Claire district, makes a great place to stay with easy access to shops in all directions.
Some of the best neighborhoods in Calgary to house sit in relation to shops, amenities and transit outside the downtown core are Beltline, Arbour Lake, Sunnyside, Signal Hill, Westside, Bridge Line and McKenzie Town.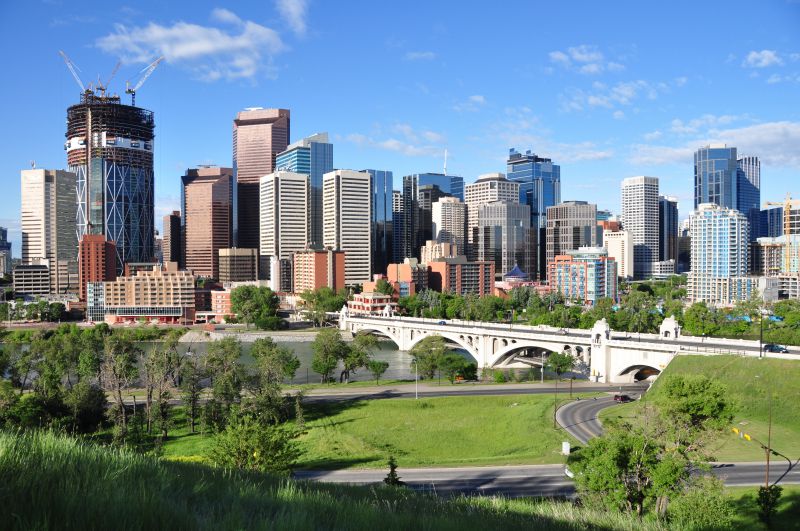 House sitting in Montreal, Quebec
Montreal is known for delicious food and lively entertainment. The city is as famous for poutine, smoked meat, tourtière and, oddly enough, delicious bagels as it is for cinema and culture.
Montreal is also the home to dozens of festivals, including the Montreal Jazz Festival and the always funny Just For Laughs Festival. Montreal is also the home city of Cirque Du Soleil.
Though Montreal is the second largest french city in the world (second only to Paris), most of its population is bilingual You'll find the largest concentration of English speakers centered around the downtown core and towards the western side of the city.
There are 68 metro stations across Montreal (called the STM) and good enough transit that you can house sit just about anywhere in the city.
Some of the best neighborhoods to house sit in Montreal include Ville Marie (effectively the downtown area), Old Montreal (known locally as Vieux Montreal with its old architecture and picturesque streets), Griffintown (Irish descent and foodie paradise), Plateau-Mont-Royal (largest concentration of artists per capita in Canada) and The Village (very LGBT friendly).
Looking at house sitting in Quebec or other French Canadian areas?
Nomador has a great resource that talks about the differences (and similarities) between Anglophone (English) and Francophone (French) Canadian culture, and some special tips for applying for house sits in Quebec. Check it out here. 
House sitters in Kelowna, BC
This is our home city, so there's a lot to say. It's a stunning small city (nudging 125,000 people), that's perched on deep blue Okanagan lake and surrounded by mountains and wineries.
It pains me to say it, but Kelowna's public transit is definitely lacking. There's no subway, so you'll need to rely on the buses, which take a fair bit of flak from residents for being less than reliable. That said, some routes are served well, especially the route from Kelowna proper to UBC Okanagan (near the airport).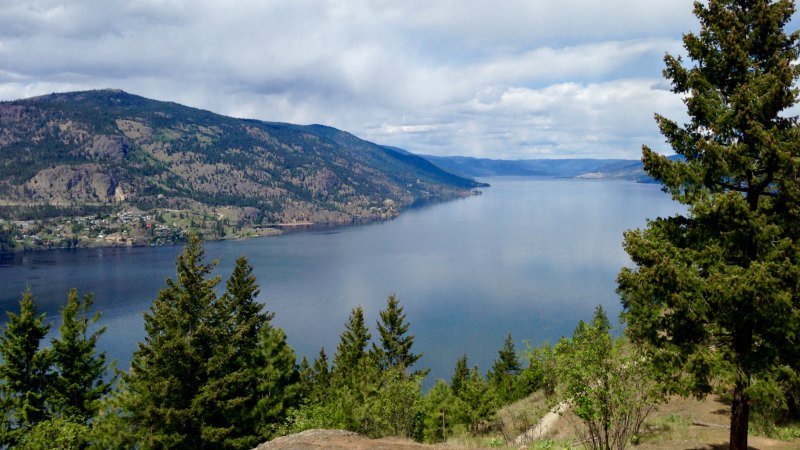 If you get a house sit in Kelowna, try to get a car, or find a central location like downtown where you won't need to commute much.
Kelowna's roughly made of two cities, West Kelowna and Kelowna proper, which includes downtown, Rutland (which has an undeservedly bad reputation, honestly, and some great hole in the wall restaurants – try Latin Fiesta and Dosa Crepe Cafe), Lower and Upper Mission, Glenmore and several other nice neighborhoods. Kelowna is also only 30 minutes away from Big White, a huge international ski and snowboard hill.
West Kelowna is home to the stunning Mission Hill winery, and you'll find that you're pretty close to Okanagan Lake anywhere in the city if you love the water as much as we do. However, the real action in Kelowna, as well as most restaurants and attractions, are in the downtown area. If you're looking to house sit in Kelowna and don't have a vehicle, downtown is your best best.
Tip! We've had some terrible wildfires here during the summer months over the last few years, so make sure you chat with the homeowner about that if you're staying on the outskirts of the city during the summer.
A few last notes on housesitting in Canada
No matter where you want to house sit in Canada, you'll likely meet friendly and welcoming people who will make your stay memorable and enjoyable.
From the Pacific to the Atlantic, you'll find varied cultures, unforgettable landscapes and everything from majestic mountains to wind swept prairies to rocky peaks. Each place has its own charms and its own people.
Have you ever tried home sitting in Canada? Let us know your tips! We'd love to hear from you.