Itching to just grab your suitcase and fly somewhere? Don't really care where as long as it's cheap and gets you away from wherever you are now?
We've scored some fantastic deals using airfare search engines that let you type in your departure city (or country) and search for cheap flights to virtually any destination in the world. This is perfect if you're searching for flights without a destination in mind.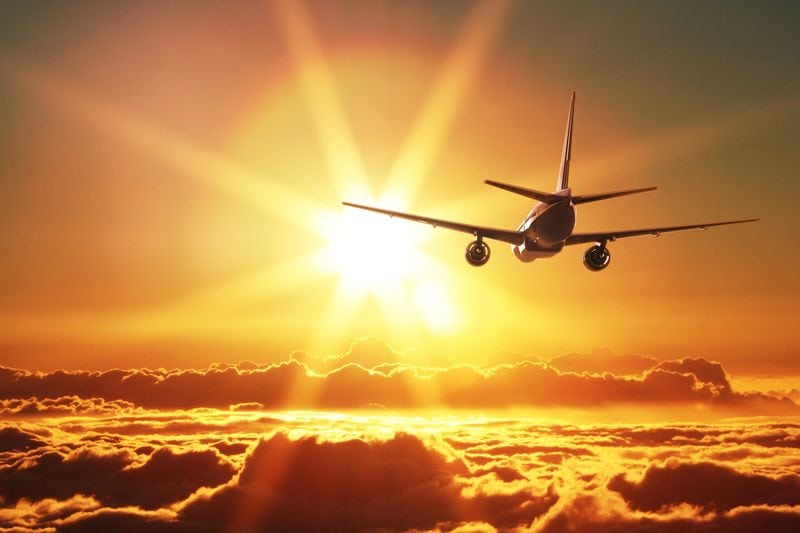 Updated in 2022! We still prefer Skyscanner and Google Flights to other search engines – keep reading to see why.
Want to get started now? Click here to search on Skyscanner, and be sure to put Everywhere in the destination field to find cheap flights to anywhere in the world.
Using these hacks, we found cheap one way flights from Cancun, Mexico to Madrid, Spain for $160 USD all in. We also just booked a one-way flight from Istanbul, Turkey to Toronto, Canada for just $288, including taxes and fees
That's less than your average local flight within Canada. These tips will work to find the cheapest flights from NYC to anywhere, or really from any city or country!
Travel tip! If you want to protect your privacy on public Wi-Fi in cafes, airports, and hotels, look into getting a VPN. Using a VPN can help you get cheaper flights, if used correctly, even if you're debating surfshark vs pia.
I also use a VPN (Virtual Private Network) to access country-specific websites. As a Canadian, a lot of websites from the USA are blocked in Canada (and elsewhere outside of the USA). To get around this, I use a VPN to "trick" the USA based website into thinking I'm browsing from the USA. With a VPN, I can access these websites just as if I was in the USA.
A VPN can be set up on a smartphone, tablet, computer or laptop. It protects your privacy when on public Wi-Fi, and even lets you stream your favorite TV shows from home.
See Private Internet Access VPN prices and more here.
How to find the cheapest flights to anywhere
Sound interesting? In this post, we:
Tell you how we find cheap flights to anywhere (and no, none of these companies paid us to write this post).
Review the major flight search engines that allow you to search from a departure city (or country) without including any specific destination. You can use this feature to search cheap flights by date not destination.
Let's start! Make sure your passport is current, get your visa (get more details by following the link), and let's book that flight!
Skyscanner
Let's start with what we think is the best search engine of the bunch for finding cheap flights anywhere: Skyscanner. To find cheap flights to everywhere from your destination, just leave the To field blank in your Skyscanner search (or type Everywhere). This works really well to find last minute cheap flights to anywhere as well!
Click here to search on Skyscanner.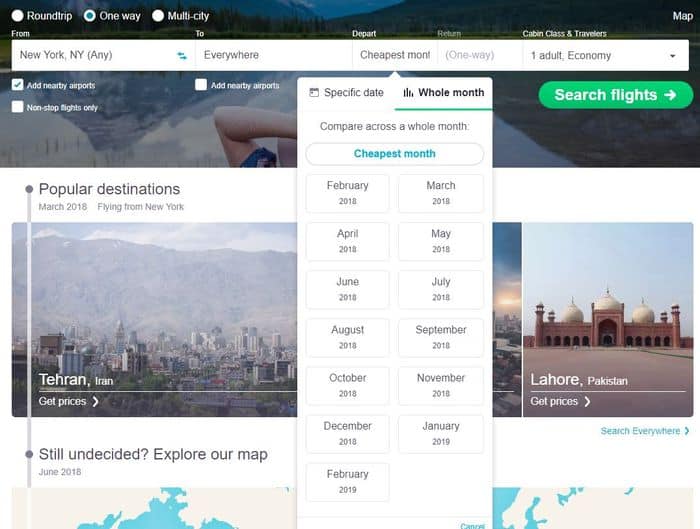 Skyscanner lets you see a month of fares at a time, which can save you a bundle if your dates are flexible. It will also let you see the cheapest month.
To see flights for a whole month, or choose the cheapest month, just click in the Depart box.
Skyscanner Explore also lets you type in a country name in the From box to find cheap airfares from all cities in the country.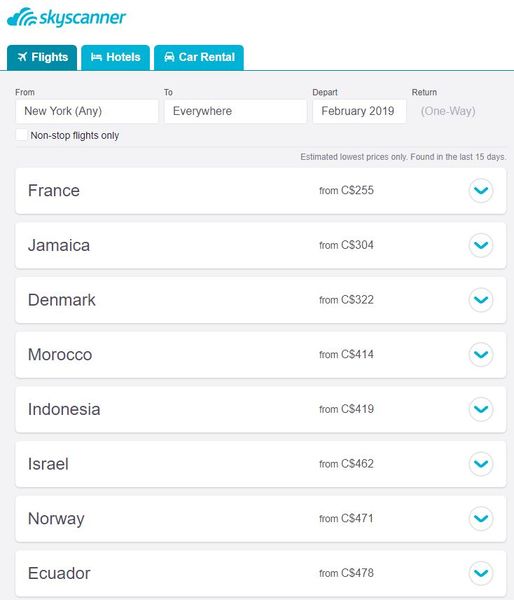 Skyscanner map search. This is one of our favorite features on Skyscanner, and it's a great helping in showing you how to find random cheap flights to anywhere. On the Skyscanner site (click here to search on Skyscanner), scroll down and click on the map to see an airfare map with prices and explore cheap flights.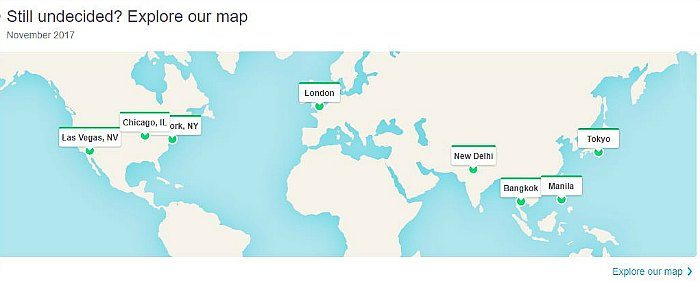 Then just select your departure city or airport and date. You can only select one month at a time for fares, but this flight price map is a great way to see cheap flights to a random destination in the world.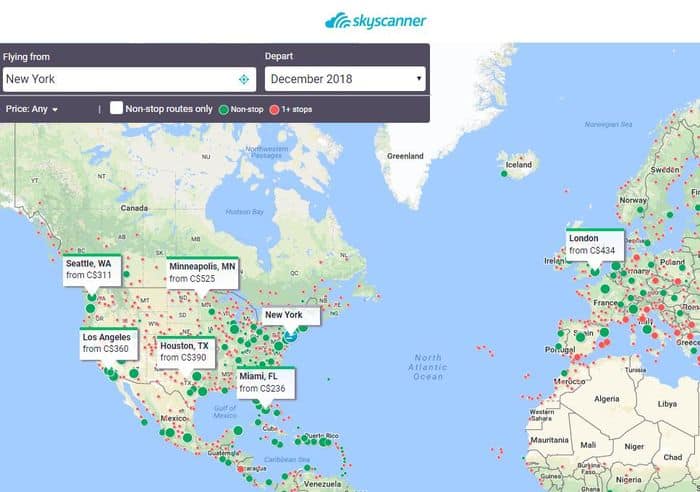 Free Apps: We use the Skyscanner iPhone app a lot as well to find Skyscanner flights to anywhere. The app seems to have almost all of the features of the site, including the ability to search for flights to anywhere, and for a month at a time. It also features a cool interactive cheap flights map that lists prices to cities around the globe. The app is available for iPhone, iPad, on Google Play, and Amazon apps.
The prices listed on Skyscanner are based on previous flight search data. That means when you click the link to search prices, your new search prices may be different from the first prices you saw. When you actually go to book, prices may change as well.
What we don't like: The prices you see first aren't always the final price you pay, as they're pulled from earlier searches by Skyscanner users.
Our take: The best of the bunch. Skyscanner is easy to use, we've found that the fares it comes up with are generally accurate, and it even comes as a well designed app. Love it. It also makes a great tool to quickly find cheap alternative routes to your destination, and find cheap flights without a destination in mind.
Kayak Explore
The Kayak Explore tool is made specifically for searching for flights to anywhere. To find flights on Kayak flights to anywhere, type your departure city and select Anytime.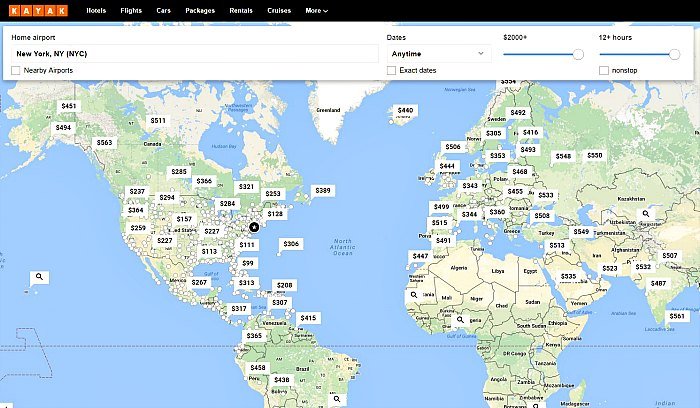 Kayak's Explore tool lets you search for airfares for different seasons, like spring or winter, making it a great tool for long term planning.
Results show up in a map. You can drag and zoom, making it easy to see airfares to different regions, or even for the entire world at once.
Kayak Explore has some fun search filters that let you see only fights by weather, and by things to do (golf, gambling, and so on). You can even narrow down results by budget. It's among the best cheap flight finder to anywhere, but it's not perfect.
Note: The Kayak Explore flight map prices are based on flights found on Kayak in the last 48 hours. When you actually go to book, prices may be different.
Free Apps: Kayak has a free app for iPhone, iPad, and Android. You can use the Kayak Explore map feature by clicking Explore the world on the home screen.
What we don't like: We're not keen that the Explore tool only lists round trip fares, making it harder to plan trips with multiple legs. Another thing we don't love is that Kayak Explore won't let you see all flights from a specific country. Instead, you're limited to searching from specific cities.
Our take. Very good. We love the map display of fares, and the fun search options, but don't like that it only lists round trip fares (Kayak Explore one way doesn't work), and that it won't find cheapest flights any date from a specific country.
Google Flights
Google Flights Explore Map is quickly becoming one of our favorite ways to search for affordable flights anywhere in the world.
It's fast, prices are accurate, but it just doesn't offer enough functionality for searches to random cheap destinations. The major drawback is that you have to specify a departure date, and you can't search for cheapest flights for an entire month or year.
It has an annoying feature I wish they'd correct; if you're in the Explore map, and you happen to have a date in the Return box, you can't delete it. Instead, you need to go back to the main Google Flights page, and re-enter your search without a return date to see one way flights.
What we like: It's fast, and prices are among the most accurate of the bunch. There are about a million filters, which can be nice if you're picky about price, number of stops, or flight duration and the like.
What we don't like: You need to specify an exact departure date, which is annoying. You also can't search for airfares from an entire country, which can be nice if your departure city is flexible.
Our take: Not bad. Not quite good enough to move away from Skyscanner as our first choice for finding the cheapest flights today to anywhere, but it's getting closer.
Escape from MIT
There's a relative newcomer to the flight search engine landscape called Escape at www.greatescape.co that's worth a mention. It was developed by the MIT Senseable City Laboratory in Singapore.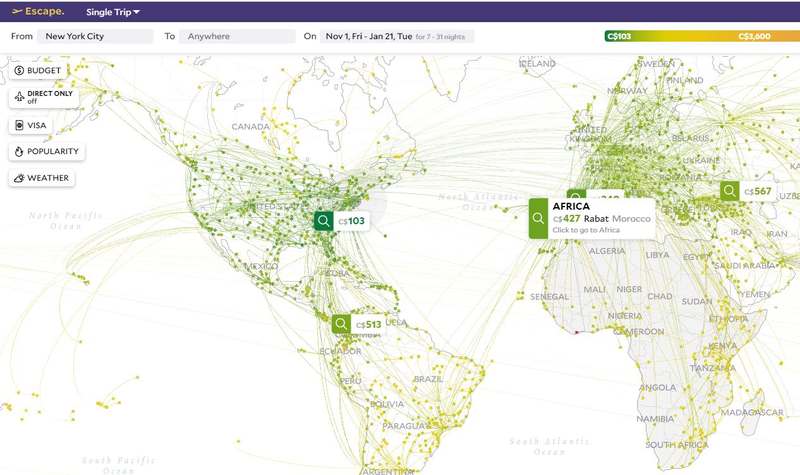 It's a great choice if you're a visual person, since it displays flight prices on an interactive map. Escape searches searches both Kiwi and Skyscanner for prices.
You can search by your departure city to Anywhere in the world, and then see the prices displayed on a map. You can search by one way or round trip, or by fixed or flexible dates. You can also put in a trip duration from 1 to 31 days.
The flexible dates feature is pretty nice, since you can choose months at a time to search, or just a few days, whichever you prefer.
The main downside to Escape is that you need to put in a specific departure city, making your search a little less flexible.
I tried Escape out, comparing it to Google Flights, and found that in the three tests I ran, Google flights was able to find a cheaper flight. I also had trouble clicking through to get flight details.
Other search engines
We use Skyscanner and sometimes Google Flights almost exclusively to search for flights from a specific destination to anywhere.
That said, there are a few other flight search engines that do a similar job (though not nowhere near as well). We've included them here just for the sake of completeness.
Kiwi.com
Kiwi.com is an unfamiliar name to most. That said, it has a decent map-based search function, and we find it somewhat useful for an "I'll go anywhere flight search" moment. You can select a Departure airport, and select Anywhere in the To: field. You can put in a custom date range, which will let you search a week, month, or really any range of dates. You can also select Anytime to find the cheapest flight on any date. You can search return or one way flights. This is helpful to find cheap flights to anywhere from your city.
Click here to search with Kiwi.com.
The airfares it give generally seem to be accurate, though you'll almost always find more accurate rates on Google Flights or the airline directly.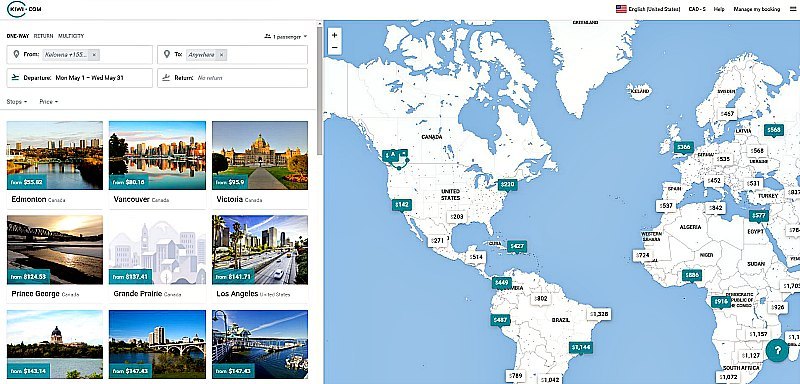 What we don't like: We found the speed of the map display to vary a lot. Some days results appeared to be lightning fast, and some days they were frustratingly slow, despite our Internet speed being consistently fast.
Our take: Not bad. Not quite good enough to move away from Skyscanner or Google Flights.

FareCompare – A Kayak Explore alternative
Like Kayak Explore, FareCompare lets you search for fares to anywhere from a specific departure city.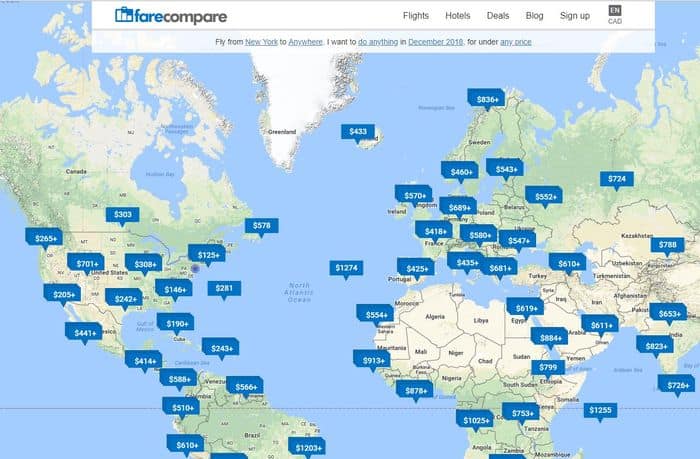 The problem is that we found FareCompare to be slower, and have less features, than Kayak Explore or Skyscanner.
What we don't like: We find the FareCompare search to be slow, and don't love that you can only search from specific cities, as it won't let you search to, or from, specific countries or regions. Once you select the airfare that interests you, finding that flight can be awkward as it opens a half dozen windows to other popular sites like Expedia.
Our take: Too limited and just another front end to more popular search sites.
Momondo
Momondo has long been a favorite of travel hackers and bloggers, since it seems to be able to search more budget airlines.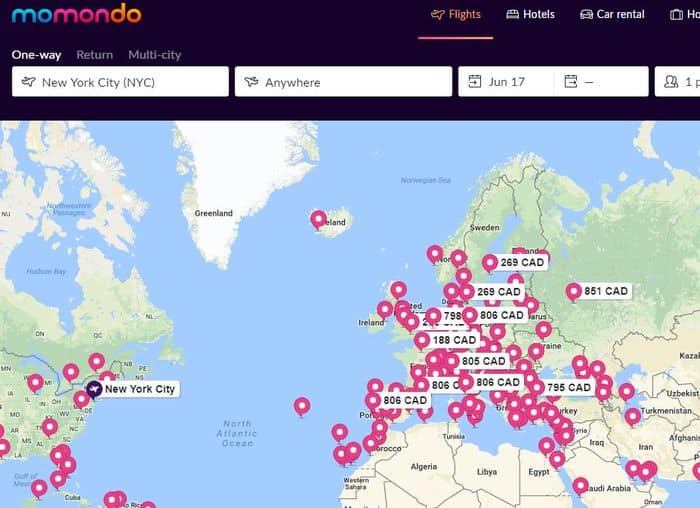 They now have an Anywhere search, but you need to enter a departure date. You can see results in a list, but there aren't a lot of filters or options. It's fine, but there's no reason to choose it over Skyscanner or Google flights.
What we don't like: The big drawback is that you must give a departure date, meaning you can't search for the cheapest fare for an entire month or year.
Whichbudget
Whichbudget lets you search for cheap random flights from a city or country to anywhere for the cheapest airfare. It's fast, and it also lets you search from a good range of international destinations, and was the only search engine that would let us specify Anywhere in the departure field, which is helpful if your departure city or country is flexible, but you know your destination.
What we don't like: Unfortunately, the results are clunky, the text is hard to read, and you can't sort the results to show the lowest price first. We didn't find it user friendly at all.
Our take: It's ugly too look at, with poor sorting of results, small text and worse than average results. Not our favorite way to search flights by date not destination, or well, any other way.
Airfarewatchdog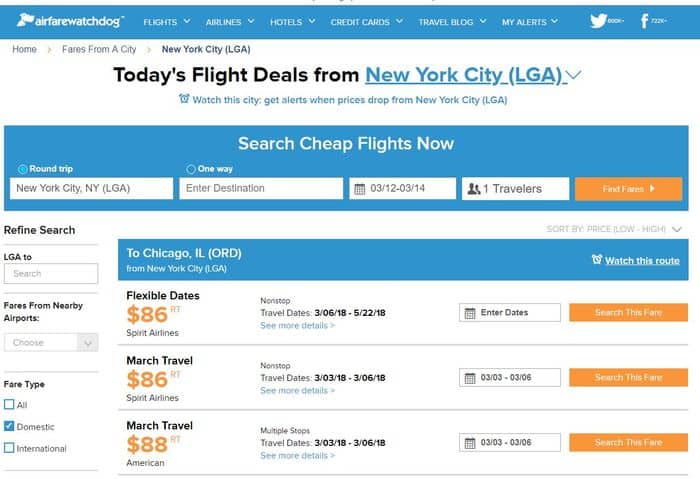 Airfarewatchdog is probably the most bare bones of all the search engines that let you find a flight to any destination. It will only let you search from a specific airport (not even a city, but a specific airport), and doesn't offer many useful filters.
What we don't like: Limited functionality, and it's annoying in that it keeps asking for your name and email to sign up and get low price alerts.
Our take: Not bad for basic searches where you have a destination, but not good for finding a flight if you don't know your final destination. Might be good for email alerts if you want to go to specific place and are just waiting for a good deal.
Drungli
Back in the day, the Drungli website used to have a Drungli take me wherever search. Sadly, it's not working anymore, so it just acts like a normal search engine.
To sum it up
Skyscanner and Google Flights Map search, are helpful for getting a general idea of flight costs to different places around the world. If you're coming up dry with those three, and have a bit of time, then check out the others for cheap flights to any destination.
Click here to search on Skyscanner.
However, once you've used any of them to pick out affordable destinations (and dates), it's worth it to compare those flights to some of the budget airlines that don't appear in a lot of search engines. You also need to compare hidden airline surcharges like baggage fees and specialty taxes.
Different airlines charge baggage and seating fees differently and a lot of these search tools don't always factor those costs in.
Business Class Consolidator offers discounted business class tickets to all global destinations and on all major airlines. Cheap business class flights – save up to 72% on premium travel. Contact our travel experts today and get access to discounted airfare deals.
Are you ready to say "fly me anywhere"?
For more tips on finding a great deal, check out our Six Quick Steps to Nailing the Cheapest Flight.
Did you like this article? Check out Advanced Flight Hacking: How to Save Money if Your Departure City is Flexible. We're working on others articles to save you money – sign up to get our new blog posts by email so you don't miss it.