Here are a few of our best tricks for how to get cheap one way flights, based on years of travel. Follow our tips, and you'll be laughing all the way to your dream destination, with plenty of spending cash left in your pockets.
One of the biggest travel misconceptions we hear is that return flights are cheaper than booking one way flights. While that may have been true years ago, it's definitely not the case now.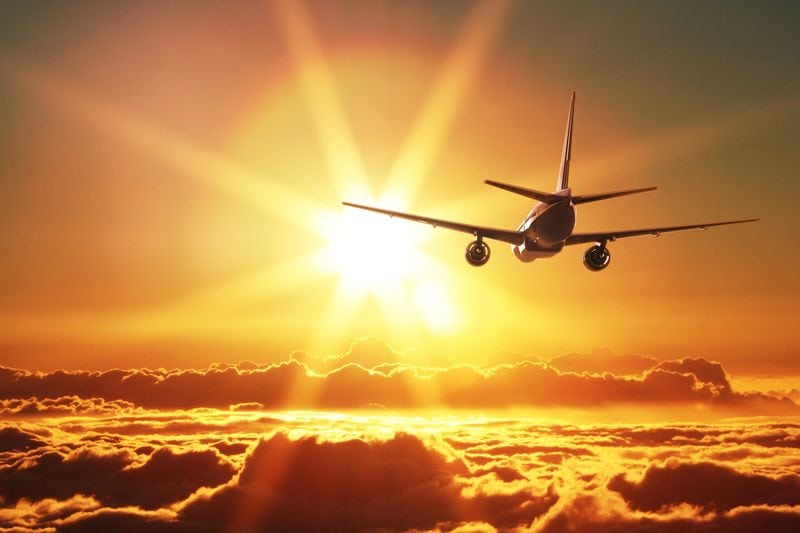 We love to book one way flights simply because it often saves us a lot of money! We've scored some amazing deals over the years by booking one way flights.
How to Get Cheap One Way Flights
Ready? Here are our best tips for how to find cheap one way flights.
Be as flexible with your dates as possible
Having flexible dates is probably the easiest way to save money on flights. Flexible dates regularly saves us 20 to 50 percent off our flights, and often more. The more flexible you are on timelines, the bigger savings you can get.
Even better, you can save a ton of money by avoiding peak times like Thanksgiving, Christmas and Spring Break.
Find the cheapest destination
Your destination airport is probably the biggest factor that can save you money, sometimes more than 50%. We use this trick all the time – it's landed us some great deals.
On our last visit to Europe, we planned to stay three months, and we knew we were leaving from Cancun, Mexico.
Keeping our destination city open landed us a one way ticket from Cancun to Madrid, Spain for $160 USD with Pullmantur Air (now branded as Wamos Air). This was a lot cheaper than our second cheapest option of $391 from Cancun to Frankfurt.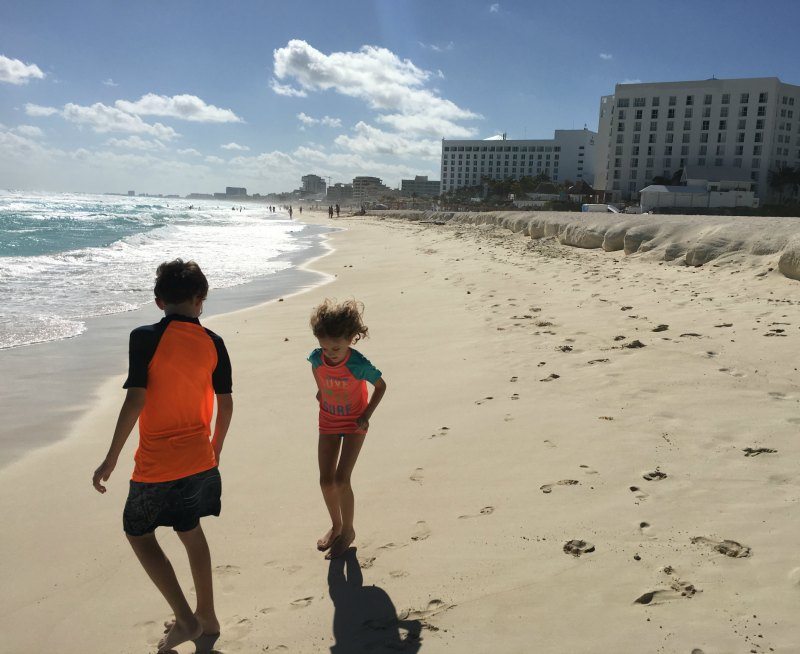 Use the right flight search engine
Not all search engines are created equal – some, like FlightList, make finding one way flights especially easy.
Right now, we're searching for cheap one way flights to Europe in the fall. Since we're going to be there for a few weeks (at a minimum), and we're going to visit a few countries, we have a lot of flexibility in our arrival and departure cities.
Europe has some of the most affordable discount airlines, so we have the flexibility to fly into almost any city in Europe, and catch a cheap budget flight to the countries that are on our main list: England, Scotland, France, and Italy.
We're flying out of our home city in Kelowna, BC, Canada, making this a pretty challenging search. Kelowna's a small city that's not served by many budget airlines, and it has no direct flights to Europe, meaning we'll need a minimum of one stop. Flights from here tend to be a bit pricey, and generally a pain to find.
I really like Flightlist for cheap one-way flights, because I can choose an entire country or region as a departure (or destination). In the screenshot below, we easily found the cheapest flight between Kelowna and Europe (Kelowna to London Heathrow) for $322 USD a person. Love it!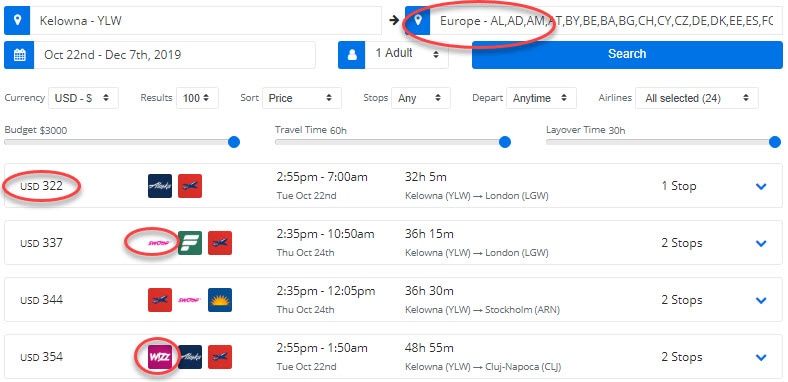 What I really love is that this search includes discount airlines like Wizzair and Swoop that I don't see on other search engines.
Check for discount budget airlines
Flight search engines are getting better and better at including discount airlines in their searches. That said, there are some budget airlines, like Southwest Airlines, that don't allow bookings with flight search engines.
Budget airlines can save you a bundle, but the problem is that it can be hard to figure out which budget airlines serve a specific airport.
Don't know where to start? Wikipedia has a helpful list of low cost airlines here. You can almost always find a list of airlines that fly in or out of an airport directly on the airport's website, which you can usually find with a Google search.
Consider flying in to, and out of, alternate airports
When you do a flight search, be sure not to limit your search to large airports like LAX, LFK or London Heathrow. You can often catch a much better deal by flying into alternate airports nearby.
Smaller airports often have lower landing fees, and they're less busy, allowing airlines to offer lower fares and more flight times.
Just make sure you budget transportation to and from the alternate airport into your travel plans! This can often add a hefty unexpected expense.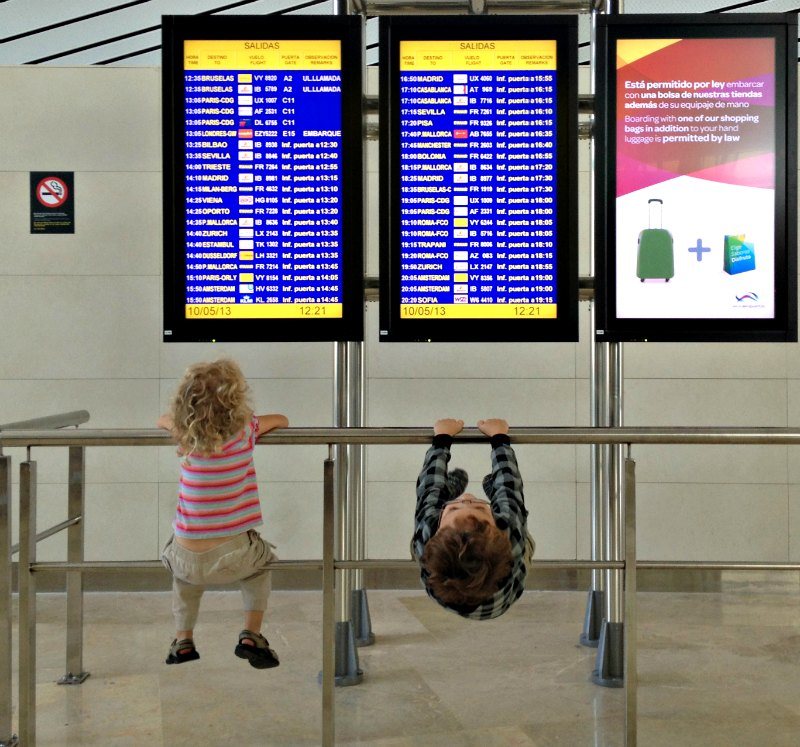 Search for one person
Airlines often offer one or two seats on a flight at a lower price than the rest (I'm assuming so their flights show as cheaper on flight engine). Since most airlines offer the same rate for every passenger in a booking, that means that a family of four (like ours) will miss out on the deal.
For example, if there is one seat available for $500, and the rest are at $800, a family searching for four seats will get a rate of $800 per seat, missing out on that one seat deal for $500!
This often means that a family booking together will miss out on a lower fare.
To get around this, you can do separate bookings to score the cheapest deal. The downside is that there's a bit more work to do the separate bookings, and you may end up seated separately.
Search in Incognito Mode
You've likely heard this before – some say flight booking websites track our airfare searches, and increase prices when they see us searching for the same flights over and over.
In response, you're supposed to put your web browser into incognito mode (which hides your search history), preventing websites from tracking your searches, and getting you a lower price.
The best actual research we found on this was from a CBC video on how to score the best deal online. What's interesting is that they found that prices sometimes did change if you were in incognito mode – and this is interesting – but sometimes they were lower, and other times prices were higher.
That said, it's insanely easy to switch your browser to incognito mode, so you may as well give it a try.
Don't forget about luggage fees
Sure, a flight may seem cheap, but if you're going to be dinged with huge fees for carry-on and checked baggage, it may cost a lot more than you anticipated.
This doesn't mean you need to layer on seven layers of clothing to avoid baggage fees. Just know what you want to take – carry on, a larger checked bag, or nothing more than a tiny personal item – and budget for that.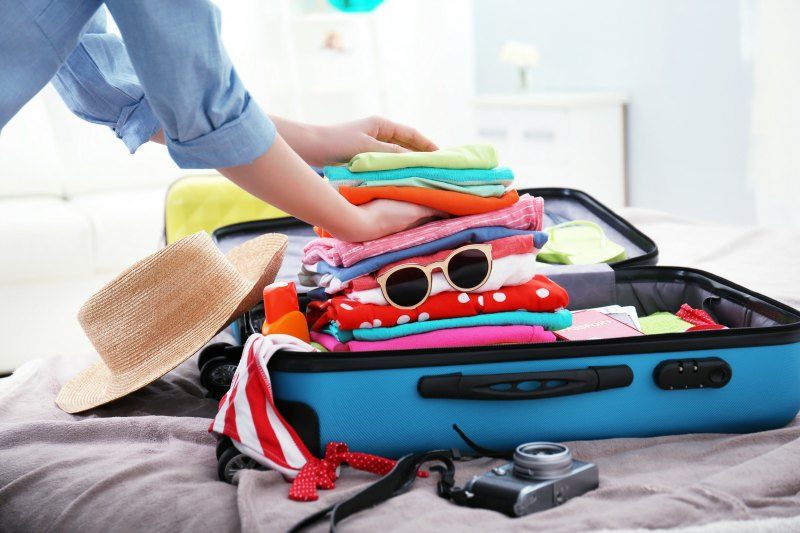 Watch for special deals
If you know what airline you'll likely be flying, sign up for their newsletter to catch special deals.
Keep watching fares for 24 hours after you book!
Many airlines allow you to cancel your tickets within 24 hours after purchase, meaning you have 24 hours to find a better price.
Then, you can either get a refund and buy a new ticket, or try to call your airline and get a the difference refunded.
Do this with caution, however! The 24 hour free cancellation isn't always as easy as it sounds. Some airlines only offer the 24 hour refund ONLY on refundable tickets, and many don't offer this if you use an online booking site or in real life travel agent.
Like this article? Check out more ways to save: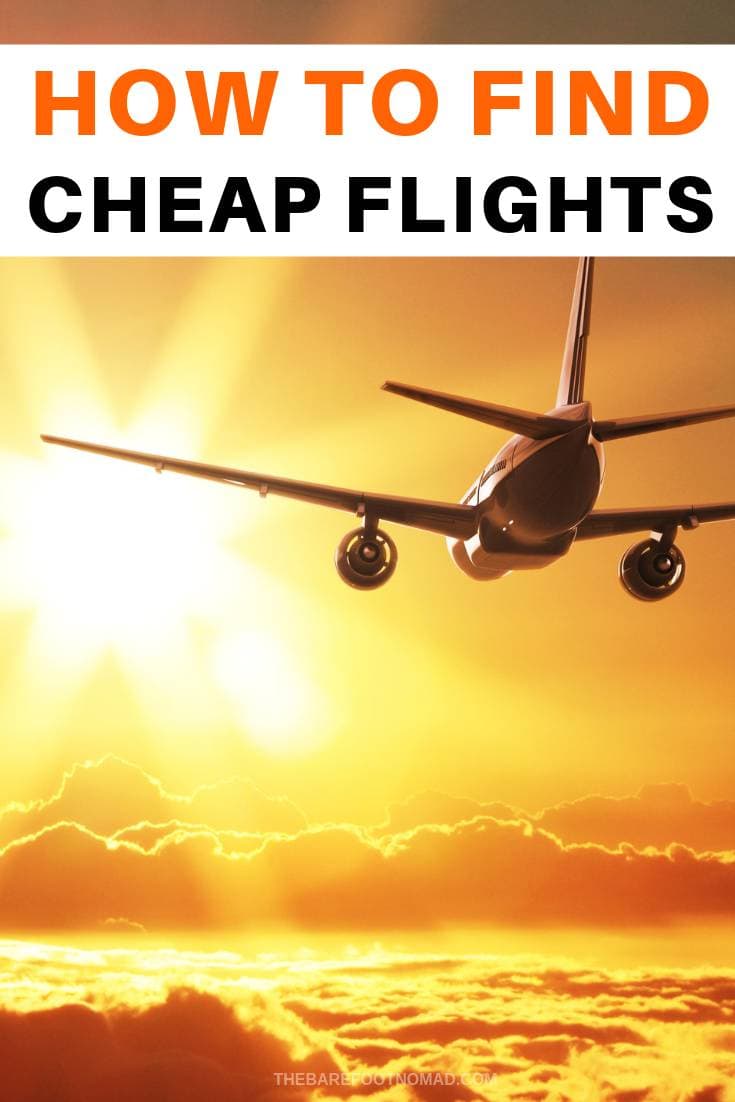 Do you have any tips for finding the cheapest one way tickets? Let us know!