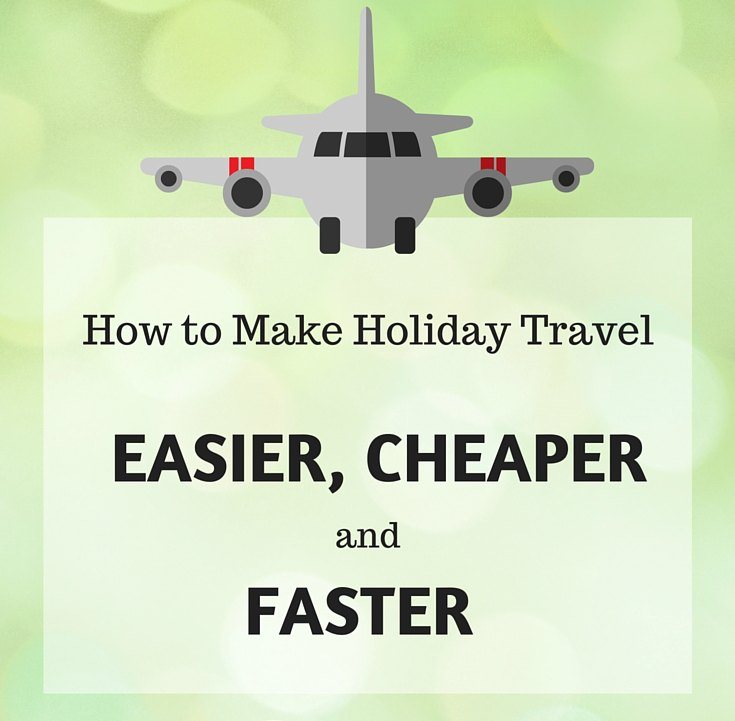 Holidays are the busiest season for travel. With so many people on the road and in the air, we thought we'd share some of our favorite tips for how to make holiday travel easier, cheaper and faster.
Consider flying on the actual holiday
We've found some great airfare deals by being willing to travel on Christmas Day and even New Year's Day. Most people want to be at their destination early, meaning that ticket prices for flying on the actual holiday are often lower than days leading up to it. We've flown on Christmas day several times over the years when trying to see both sides of our family during the holiday break and have found it to be one the quietest times to fly. As a bonus, oftentimes companies will include holiday perks like special snacks and holiday themed meals.
Book in advance
Booking early is a hard one for us, as we're the kind of people who like to keep our options open. However, when it comes to holiday travel, it definitely pays to book early. During the holidays, flights and hotels book up quickly, so it's smart to grab a good rate well in advance before rooms get booked up and prices increase. With an influx of holiday travelers booking their time off, sometimes years in advance, it's never too early to plan accordingly.
Take advantage of cancellation policies
This is a tip that surprisingly few people use. If you're like us, and your travel plans are a bit uncertain, book in advance to lock in a good price, but make sure that your hotel and flights have a clear, no cost cancellation policy. Then, mark the cancellation dates on your calendar, with a reminder set. If your plans change, you'll be able to cancel without penalty, and if they don't change, you'll have grabbed a good early booking discount.
Watch prices after you book
If you book in advance, keep an eye on prices until you fly. If you see the price drop, call and see if you can be refunded the difference. Some hotels and airlines have a price protection guarantee, and will reimburse you the difference without question. If your airline or hotel won't refund the difference, check your cancellation policy. If you can cancel without penalty (or for a small fee) you always have the option of cancelling the initial reservation, and re-booking at the cheaper price.
Use loyalty programs
Many hotels and airlines have good loyalty programs. Not only can you get points toward future purchases, but signing up may give you free upgrades and even alerts for sale offers. Depending on your card, some of the best times to redeem your points are during peak periods like the holidays where standard costs are higher than normal yet the amount of points redeemed remain the same.
Take advantage of holiday bonuses on rewards programs
Many loyalty programs offer seasonal bonuses and rewards. Look into them early, check deadlines carefully, and loyalty programs may save you a fortune. Loyalty programs often even band together to give extra bonuses over the holidays.
Don't wrap gifts before you fly
If you're bringing gifts, don't wrap them before you get on a plane. With increased security, you may just find yourself being asked to unwrap your presents so airport security can see what's inside. Instead, bring tape and wrapping paper, and secure scissors in your checked baggage. We always carry child safe scissors for this reason. Buying gift bags is another great option when traveling instead of wrapping presents. That way, if security needs to go through your luggage you simply need to open the bag instead of unwrapping it. You can find cheap gift bags at nearly every dollar store in North America and the nicest part about them is that they're easy to reuse for future presents.
Confirm your flight and hotel
With the busy holiday season, it can be easy to let little things slide. Check your flight status ahead of time, and call the hotel to confirm your booking before you leave. It's much easier to iron out any issues that arise early. We use the FlightTrack app to keep track of our flights. It gives up to the minute updates letting you know if you're flight is still on time as well as useful info about the plane, airport and gates.