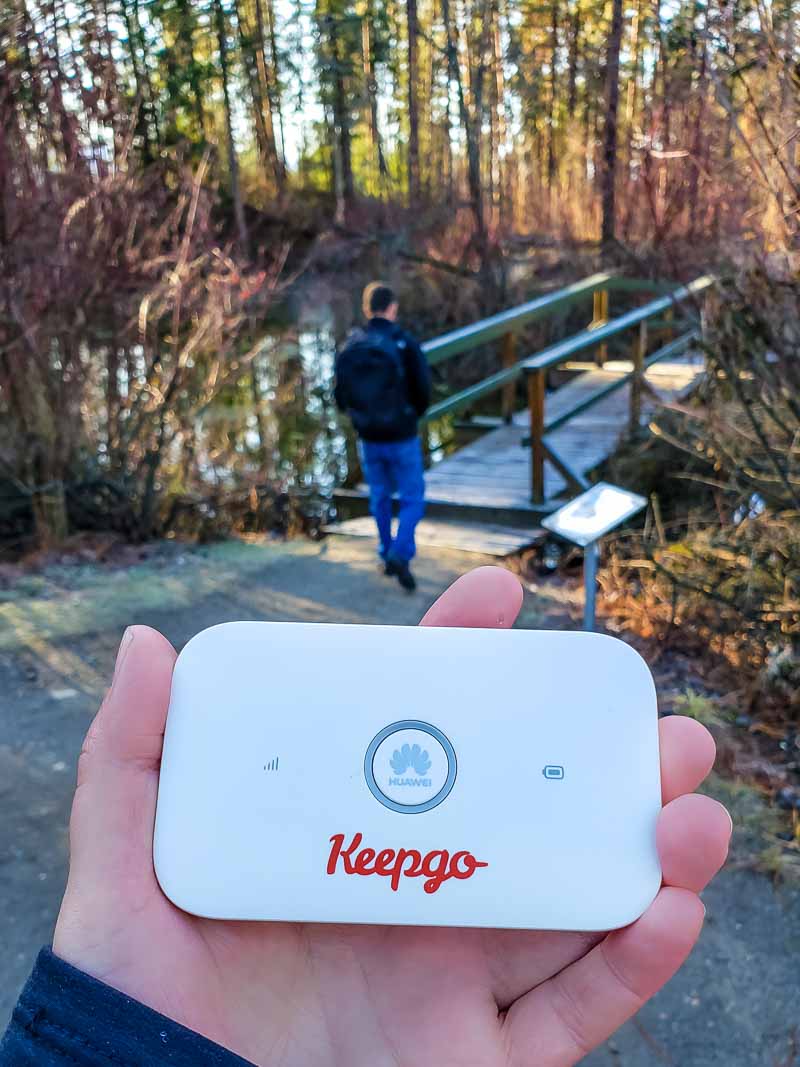 In this article, we review the Keepgo hotspot and Keepgo travel SIM card.
Great internet is a must when we travel.
We travel a lot, and over the years, we've grown pretty tired of unreliable WiFi at cafes and hotels, or trying not to get dinged by data roaming charges on our phones.
One way to avoid all of those hassles is to take your own WiFi with you wherever you go, in the form of a portable WiFi hotspot, or a data sim card.
A Review of the Keepgo WiFi Hotspot
The first thing I noticed when I unboxed the Keepgo was how small it is! It's tiny enough to fit comfortably in the palm of my hand, and weighs only 2.64 ounces.
What is a Keepgo WiFi hotspot? It's a battery-powered, portable WiFi router that gives you a wireless internet connection through the mobile services of country-specific, local broadband providers.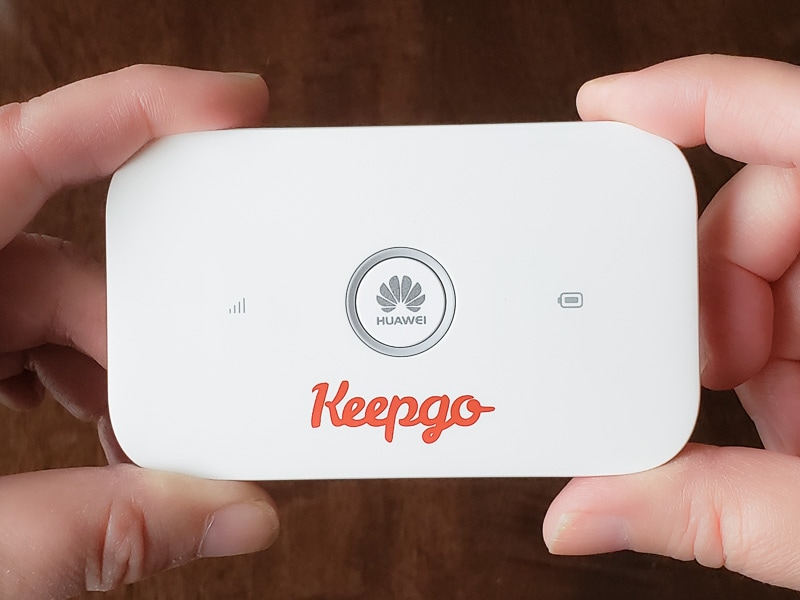 It can give you WiFi access in more than a hundred countries and lets you to connect up to 16 devices at a time, including phones, laptops, tablets, e-readers, and even gaming devices.
The Keepgo hotspot has a long-lasting battery that allows to stay continuously online for 6 hours. Stand-by time is around 300 hours.
Check out the Keepgo hotspot here, and be sure to use coupon code BAREFOOT for 10% off!
A Keepgo hotspot includes:
Mobile Hotspot
Keepgo Data SIM
Rechargable Li battery
Micro USB cable
Manual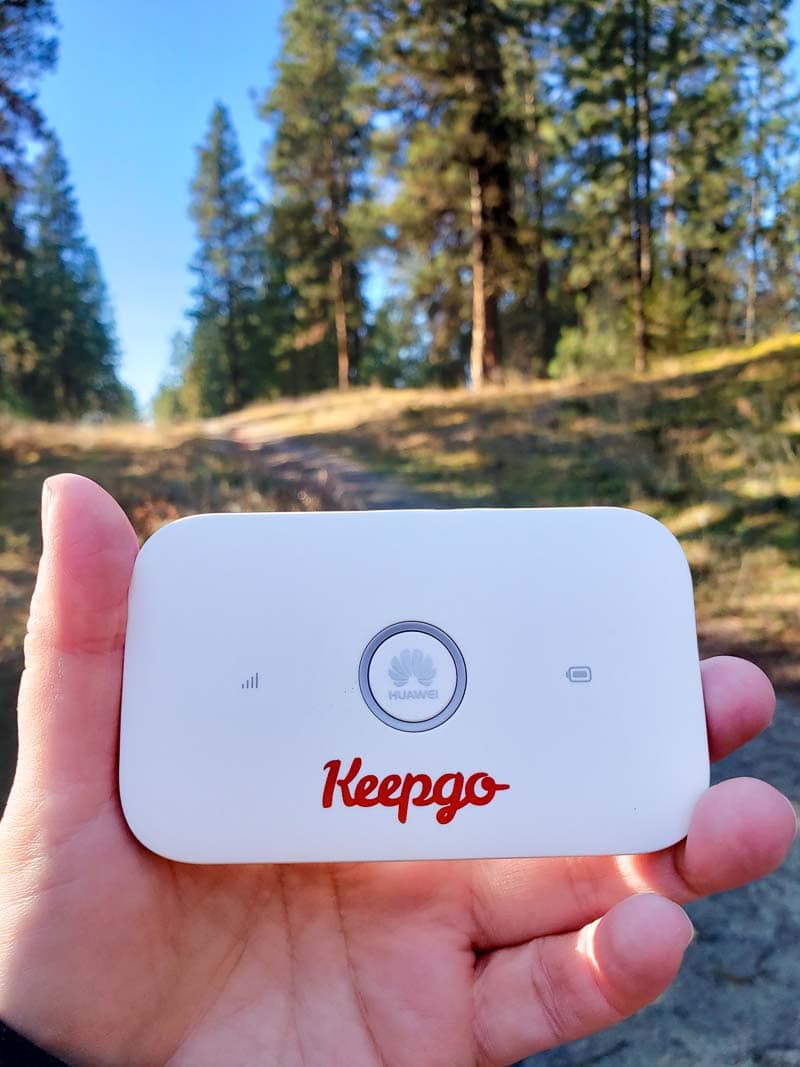 Things we really like about the Keepgo
It will let you connect up to 16 devices. Many other mobile hotspots only allow four or six.
Ordering is easy, shipping is fast, and there's no big upsell when you order.
What we don't love about the Keepgo
Here's something we didn't notice when we ordered the Keepgo: it's a Hauwei device.
To be fair, Keepgo doesn't hide the fact that the hotspot is a Hauwei device – here are the specs on the Keepgo site.
If you're not familiar with Hauwei, it's a Chinese telecommunications company that's come under fire for potentially being a security threat.
In fact, the USA has made moves to ban Huawei devices in the States. As of late November 2019, there was a 3 month delay in implementing a ban on Hauwei products.
How much data is included?
There are 2 WiFi hotspots available:
For the Lifetime World Travel WiFi Hotspot, 1 GB of data is included in the cost of the Keepgo.
The prepaid data you buy is valid forever if refilled once a year.
In the USA or Europe?
There's new plan called GoFi Europe USA which is a the Keepgo WiFi hotspot with a monthly data plan.
You get wireless in the USA and Europe for $8 a month for 1 GB. Additional data is priced at $8 for each additional 1GB. is represented by sim card and WiFi hotspot and gives you 4G LTE speeds for the flat rate of $8/GB.
How much does extra data cost?
The International device is available in various data plans, all of them prepaid and valid forever, provided that you refill your data once a year. Plans start from 500 MB and they go up to 10 GB.
Extra data costs are:
1 MB $14
1 GB $26
3 GB $61
5 GB $88
10 GB $165
You can refill manually using a credit card or PayPal, or sign up for an auto-refill if you're worried about running low.
For pay-as-you-go, you'll get an alert via email or text notification when your balance falls below 250MB, 100 MB or reaches 0 MB.
You can also set up auto-refill. With the auto-refill, your account is refilled with 1GB of data every time your balance drops below 100 MB.
Does Keepgo throttle internet speed or filter traffic?
The Keepgo websites says "We never throttle down internet speed. We never filter traffic."
What countries can I use the Keepgo?
The Keepgo hotspot has coverage in the USA and in 120 other countries
around the world.
What if I have a problem?
Customer support is available 24/7.
Ordering and shipping the Keepgo
I really loved how easy it was to order the Keepgo. There was no annoying upsell, and the order page was simple, clear and quick.
There was no shipping charge, either, which is huge for me. Shipping charges to where we live in Canada are often outrageous.
The Keepgo hotspot ships for free to 39 countries and it can be delivered to temporary addresses, such as offices or hotels.
I ordered Keepgo on a Thursday, and it arrived on my doorstep on Saturday. Not bad, especially since I live in a smaller Canadian city that's a four hour drive from Vancouver.
How to get free data
You can get some extra data with their Refer-a-friend program. For every friend you refer you get 300Mb of free data.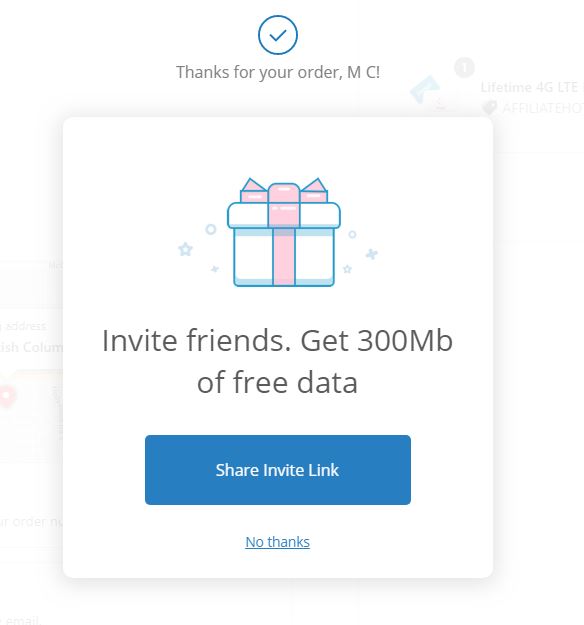 A Review of the Keepgo Data SIM card
The Keepgo Data SIM card is a prepaid data SIM card that works in over 100 countries.
It gives a high-speed, 4G internet connection.
Check out the Keepgo SIM here, and be sure to use coupon code BAREFOOT for 10% off!
To use the Keepgo SIM, you'll need to replace the existing SIM card in your phone. You'll also need an unlocked phone to use the Keepgo SIM card.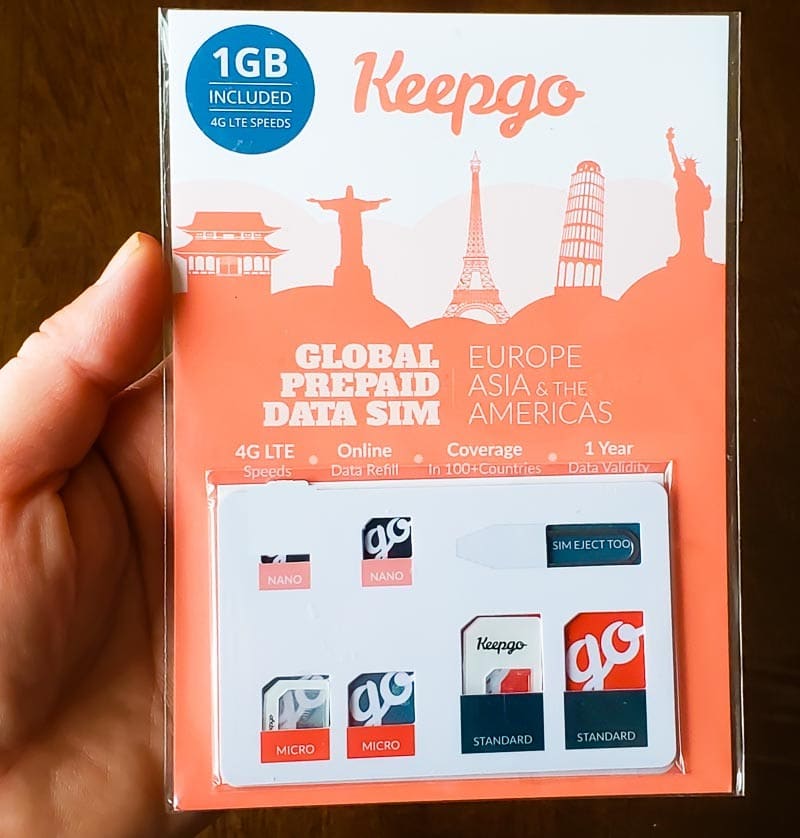 About the Keepgo Data SIM Card
You can order the Keepgo Data SIM card from over 200 countries in the world, without any shipping fees.
Keepgo says that internet speed or data traffic are never limited.
The card is compatible with any type of unlocked device, including laptops, dual SIM phones, tablets, hotspots and many others.

You can use the Keepgo SIM as a nano, micro, or standard SIM. It comes as a nano SIM with adapters suitable for transforming it into a micro or a standard SIM, depending on what fits into your device. There's also an adaptor pin.
Technically , the data on your Keepgo SIME card never expires, as long as you refill your card at least once a year.
Extra data costs are:
1 MB $14
1 GB $26
3 GB $61
5 GB $88
10 GB $165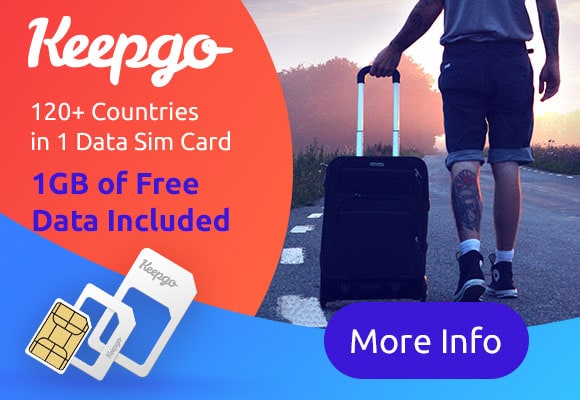 Want to see it for yourself?
Check out the Keepgo hotspot here, and use coupon code BAREFOOT for 10% off!
Check out the Keepgo SIM here, and be sure to use coupon code BAREFOOT for 10% off!