KelbyOne gave us a membership for the purpose of this review however our thoughts are our own.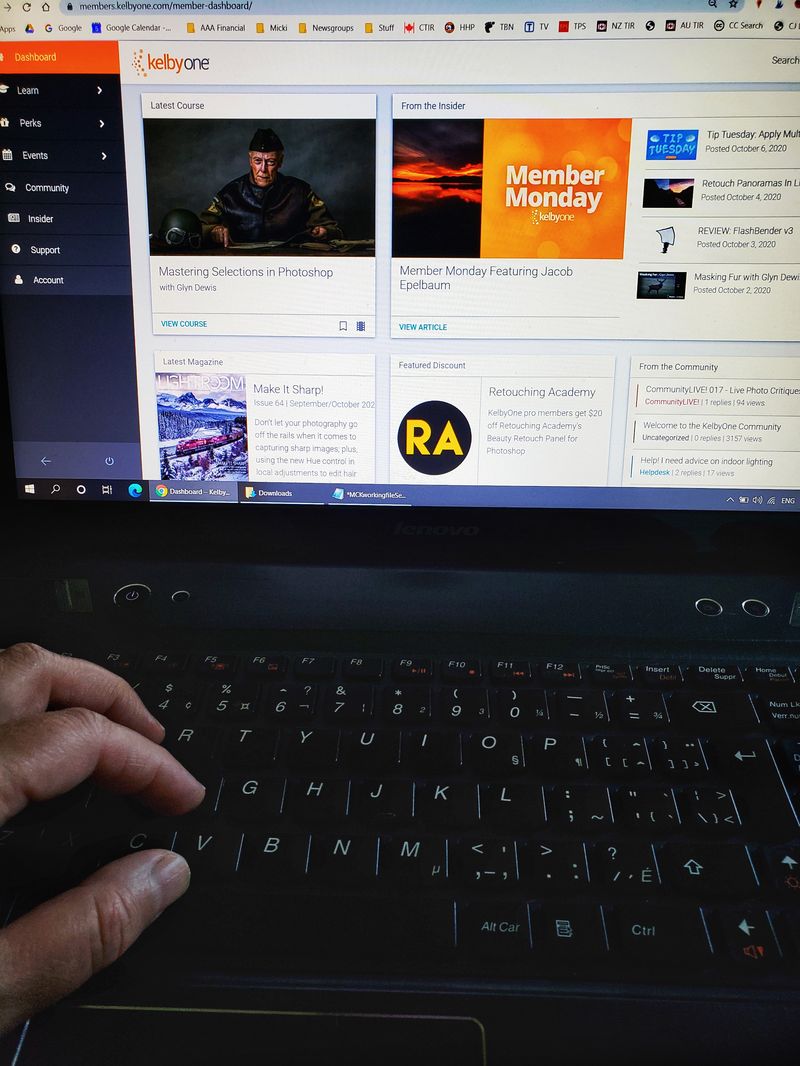 I am not a born photographer.
My daughter on the other hand, at only 12 has the gift of being able to look through the lens, seeing the end product, and composing a great shot on the fly.
I have to work at taking a great photo, even after years of taking photos as a travel blogger.
There's so much to know about photography, from photo composition and lighting, to how to use a DSLR camera to even knowing how to do photo editing in post production.
Plus, I'm continually working on my videography skills which takes a whole new slew of skills.
Over the years, I'm not ashamed to admit I've taken a few paid courses, which have been a great help. I've also spent a lot of time browsing YouTube for tips and tricks, often with varying results. Some of the courses I've found for free have been great, and some have been a complete waste of my time.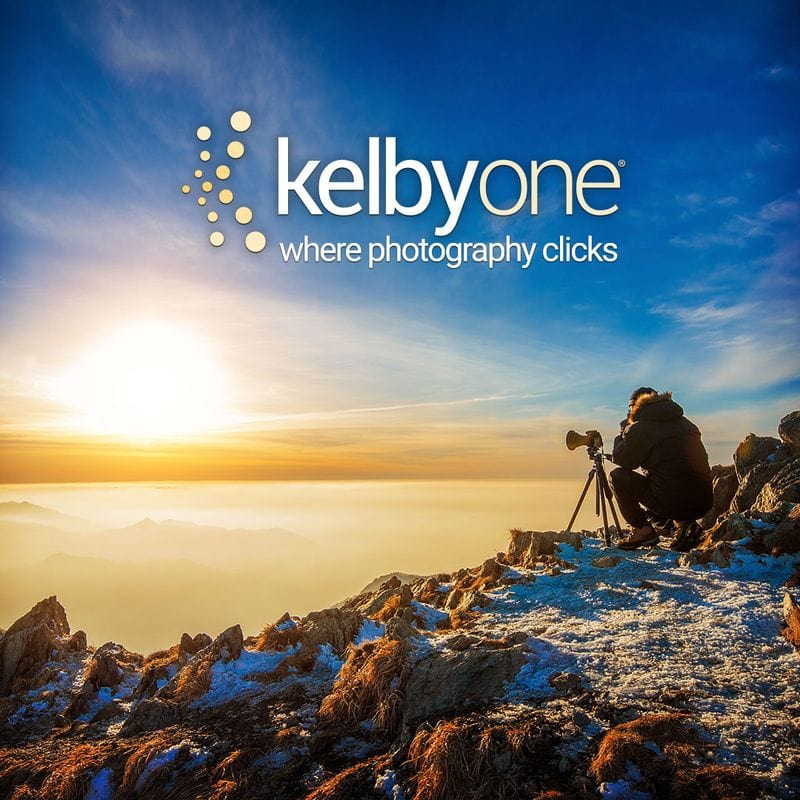 I'm just at the point where I'd like to have one place where I can do a deep dive into improving my photography and video. I'd like to be able to take unlimited classes in one place.
Here's what I wanted from my photography courses:
courses that I could stop and start at any time
a wide range of courses from beginner to intermediate to professional
training given by video with a hands on feel
training that includes both photography and video courses
Since I use Lightroom to edit my photos already, I wanted to have Lightroom training too.
That's a lot, I know, but I really wanted to make it worthwhile if I was planning to pay for a membership to learn.
After looking at a bunch of options for online training, I settled on trying out KelbyOne photography training.
What is KelbyOne?
KelbyOne offers online video training for Photoshop, Lightroom, and photography.
Because photography is a visual medium, KelbyOne offers its courses by video, so you can instantly see and understand examples.
Exclusive KelbyOne coupon
We have an exclusive coupon for our readers!
To save 10% on the KelbyOne Monthly Plan – Use Code KELBYONE10 at checkout.
Use Code "KELBYONE10" Now and SAVE!
Want to save on an annual plan instead?
Get 10% Off the KelbyOne Plus Annual Plan, and Save on Professional Online Photography Courses! Use Code "KOPLUS10" Now and SAVE!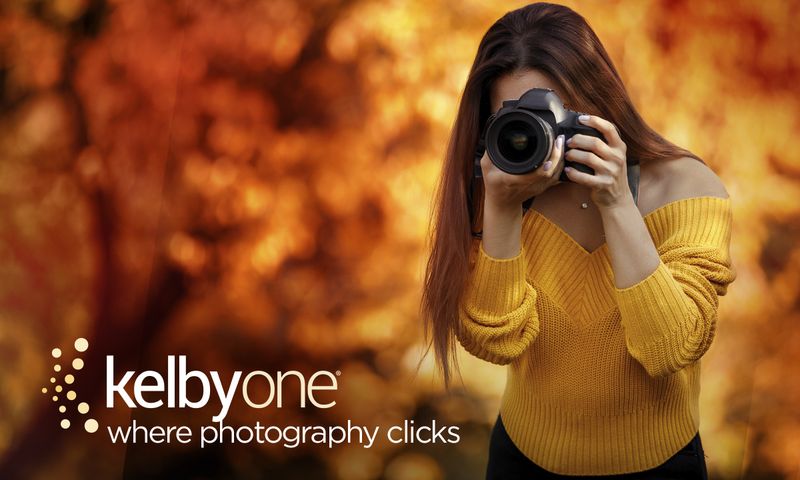 KelbyOne Online Training Review
I chose the Pro membership, which offers over 800 courses.
What I like most about KelbyOne training is that you can watch anytime with unlimited viewing. I have weeks where I just don't seem to have time or ambition to sit down and take a course, but I also have periods where I spend a good chunk of my spare time learning.
My first courses were on DSLR video production, where I learned everything from planning the video to location scouting to essential gear to taking B-roll. It was a huge help for me.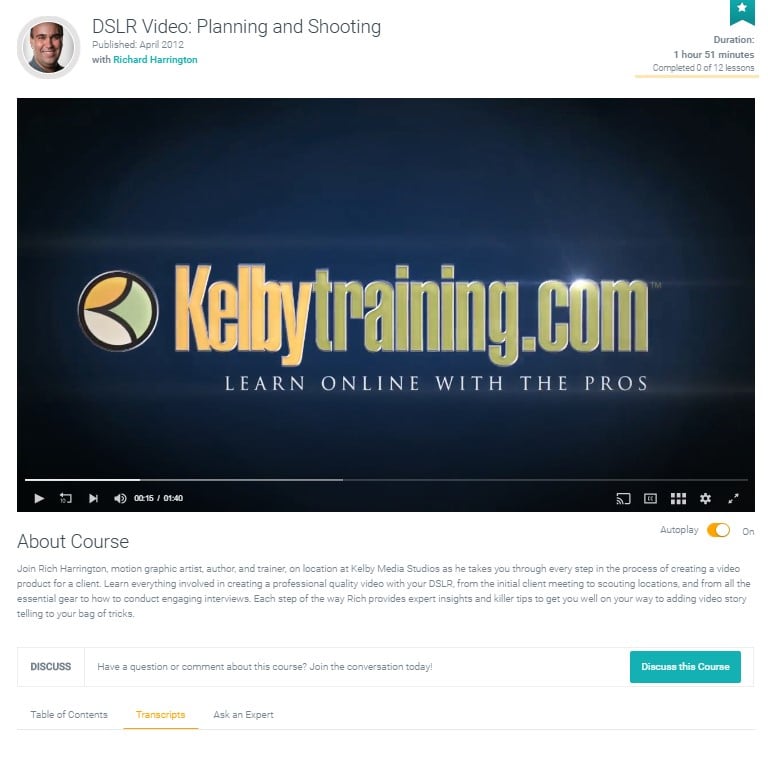 I've also started taking a few courses in Lightroom Classic. Lightroom is one area where I feel pretty comfortable. At this point in the game, I'd say that I'm probably at an intermediate to advanced level. That said, I definitely have some gaps in my knowledge, since I learned Lightroom mostly through trial and error.
I found the few courses I've done so far to be well laid out and the instructions quite concise. Of course, every course is different so some might be better than others. I guess I'll find out more in the coming weeks.
What didn't I like about KelbyOne?
One thing I didn't love is that KelbyOne didn't offer a trial membership. I would have loved to have the option to check out a course or two before signing up. That said, they do offer a money back guarantee in the first week if it's not for you.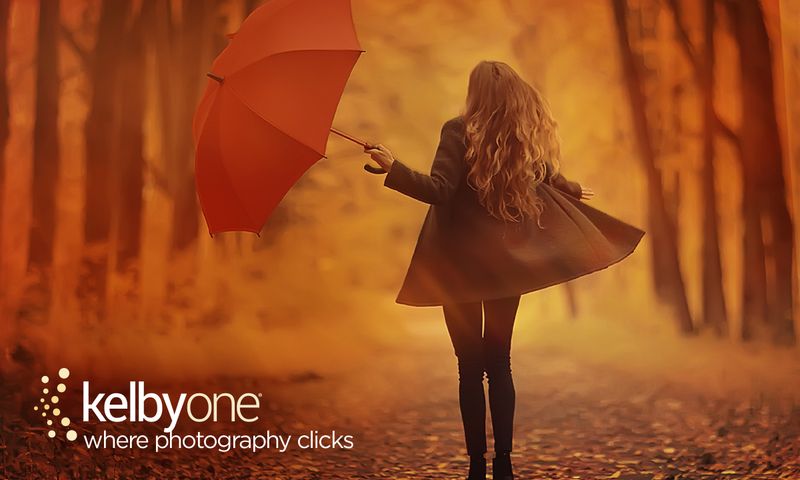 How much does KelbyOne cost?
There are two KelbyOne membership options to choose from.
Memberships start at $9.99 a month.
KelbyOne Plus Monthly Membership: Plus membership gives you access to over 300 courses. New content is added monthly.
KelbyOne Plus membership costs $9.99 a month.
KelbyOne Pro Monthly Membership: Pro membership gives you access to over 800 courses, with over 20 learning tracks. There's also access to the interactive community. New content is added weekly.
KelbyOne Pro membership costs $19.99 a month.
KelbyOne Plus Annual Membership entitles all the features as Plus Monthly except you pay only $96 a year
KelbyOne Pro Annual Membership entitles all the features as Pro Monthly except you pay only $199 a year
To save an additional 15% on the KelbyOne Pro Annual Plan, use Promo Code NOMAD15 at checkout.
They also offer group memberships for companies.
KelbyOne doesn't offer a free trial membership.
Can I cancel my KelbyOne membership?
Yes, you can cancel for any reason. There's a 100% Money-Back Guarantee, if you contact KelbyOne within the first 7 days of your monthly membership (or the first 30 days of your annual membership)
Who are the KelbyOne photography courses for?
The KelbyOne online photography courses are for anyone who wants to get better in photography. They have courses for every skill level from "looking to get into photography" newbies to advanced users. Since there is always another tip to learn or trick to know, there's even some courses for advanced photographers.