We've tested the large expandable Knack pack for a few weeks. In that time, we've tried it out on a road trip, and on short trips around town as an everyday bag. Here's what we thought.
Knack large expandable backpack specs
Unexpanded dimensions: 21.5″ x 14″ x 4.5″
Expanded dimensions : 21.5″ x 14″ x 9.5″
Unexpanded capacity: 22 Liters
Expanded capacity: 37 Liters
Weight: 3 pounds 4 ounces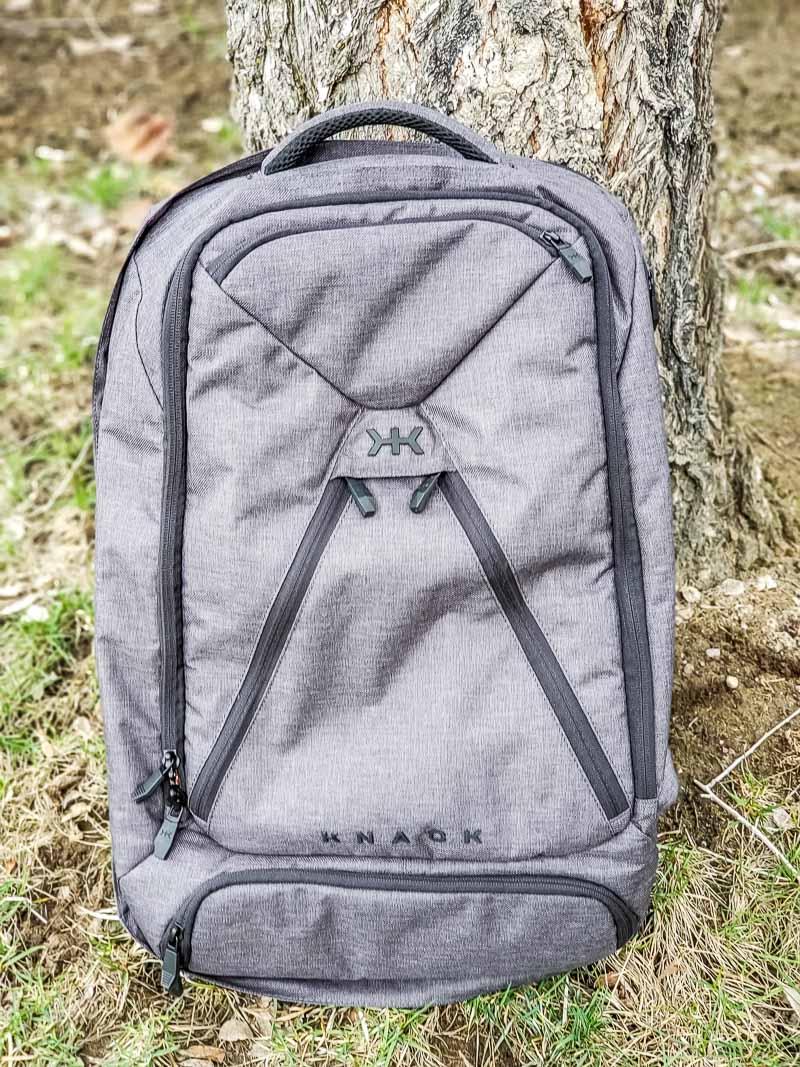 Our Knack Backpack Review (Large Expandable Pack)
The large expandable backpack by Knack Bags is designed to easily convert from a daily use bag to a carry-on size bag for travelling. It's an expandable bag that goes from 22 liters (unexpanded) to 37 liters (expanded).
See the Knack large expandable bag here.
Before we get into the details, there's one feature that I really find useful in the Knack pack, which I haven't seen in any of the other backpacks that we've reviewed. My favorite feature of the Knack backpack is the hidden sleeve that slips over a suitcase handle.
This means you can slip the backpack over your suitcase handle, and just pull your backpack along on top of your suitcase.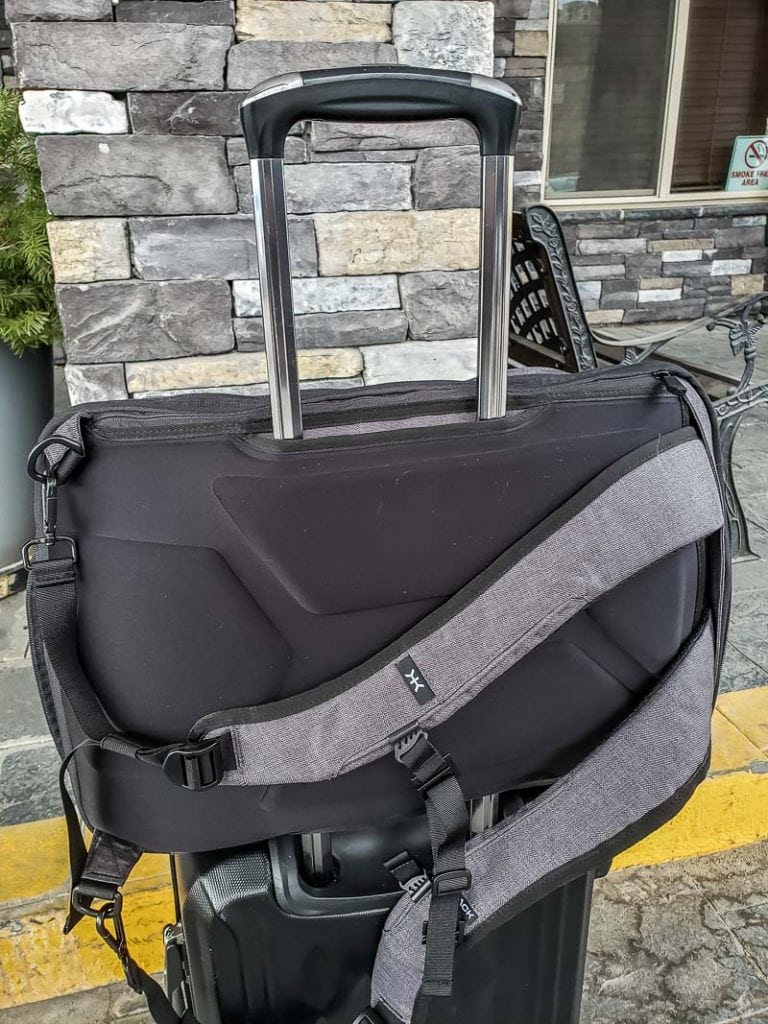 We've always carried our backpacks through airports and city streets by placing them on top of our suitcase, and wrapping the straps around the suitcase handle. Unfortunately, the backpack tends to slide around, and it sometimes even slides off.
With the sleeve for the suitcase handle, the backpack's held securely to our suitcase handle.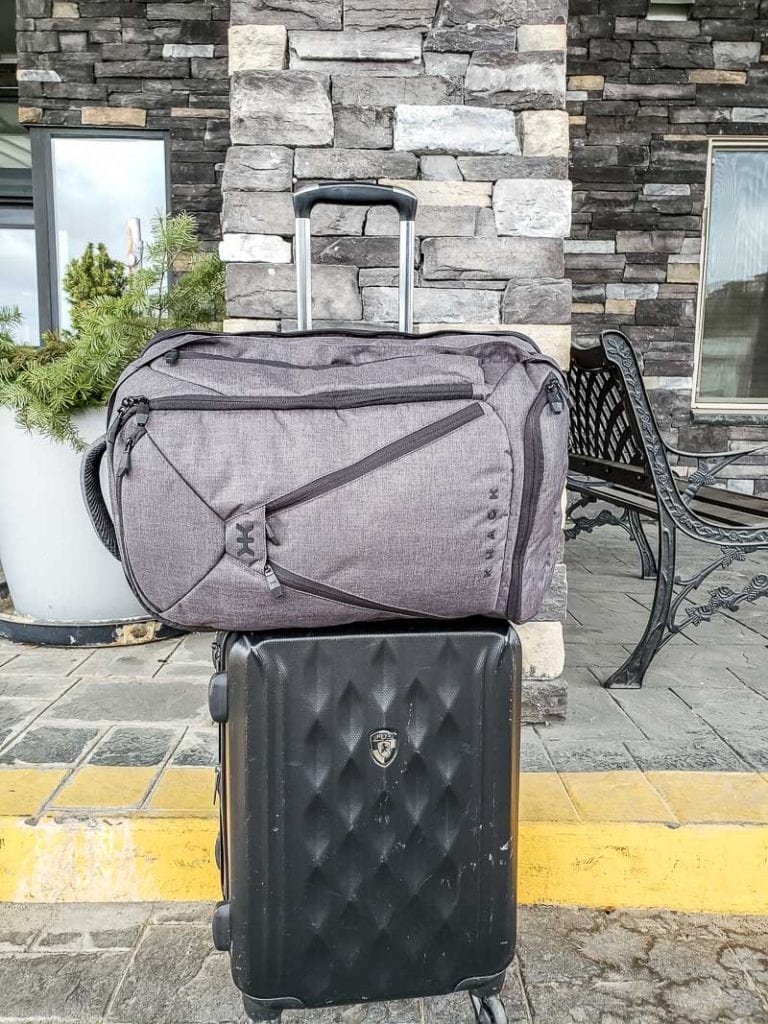 Storage and organization
The Knack backpack has a good amount of storage and I found the organization to be good as well.
The first thing that stands out about the Knack backpacks is the unusual front pocket, which is a triangle with zippers on two sides. Inside, there are small pockets for business cards or other tiny items, and a larger back pocket that could fit charging cables, and so on.
The front pocket is made with an RFID-blocking fabric, and designed to hold bank or credit cards and a passport. That said, I wouldn't store my passport and money in the front triangle pocket. For me, it's too easily obvious and accessible for a pickpocket.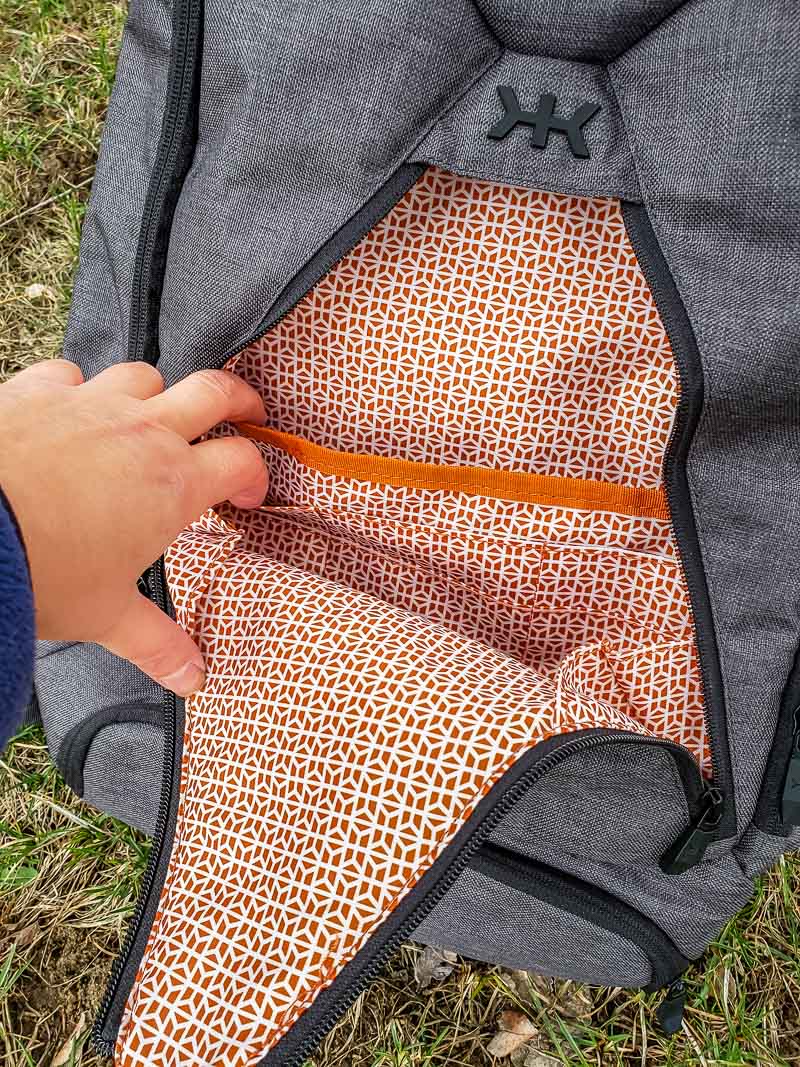 There's also a top pocket above the triangle. It would be a good place to store sunglasses, battery chargers or cables for easy access.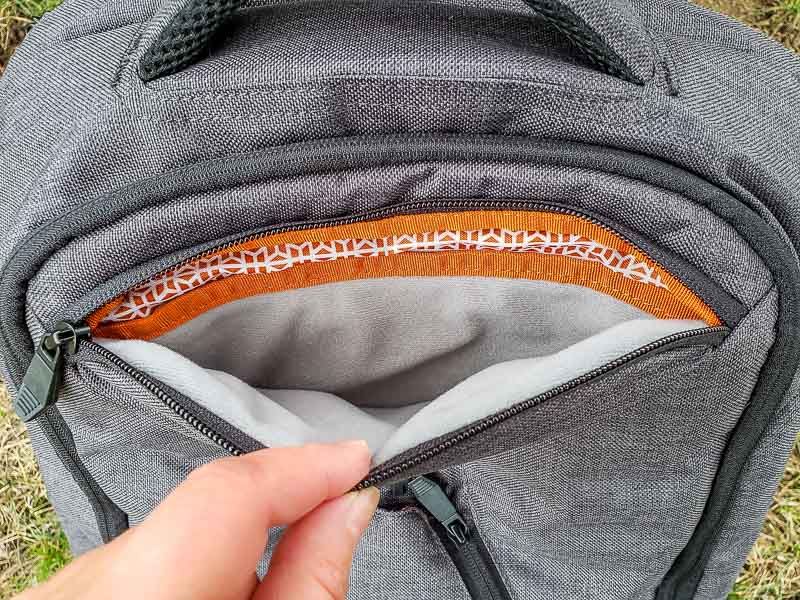 At first, I couldn't figure out the location of the laptop pocket, since it wasn't in the two other large interior pockets. Instead of having the laptop pocket inside a larger interior pocket like many backpacks, Knack's decided to create a separate laptop sleeve accessed by a side zipper.
The easy-access, padded side-zip computer pocket fit up to 17″ laptops, and protects your laptop with durable padding.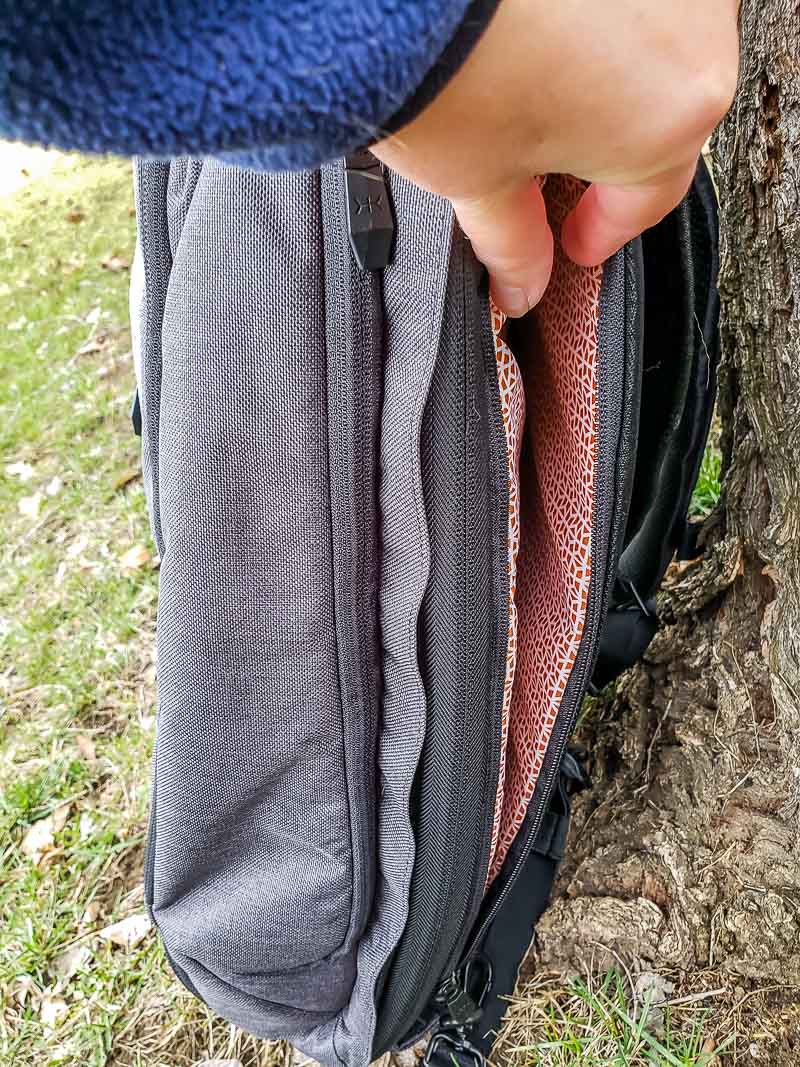 There are two main compartments in the bag, both with lockable zippers. The first is the front compartment, which has plenty of storage and zippered pockets. The tablet pocket, which is lined with soft fleece, was a great place for us to store our e-readers.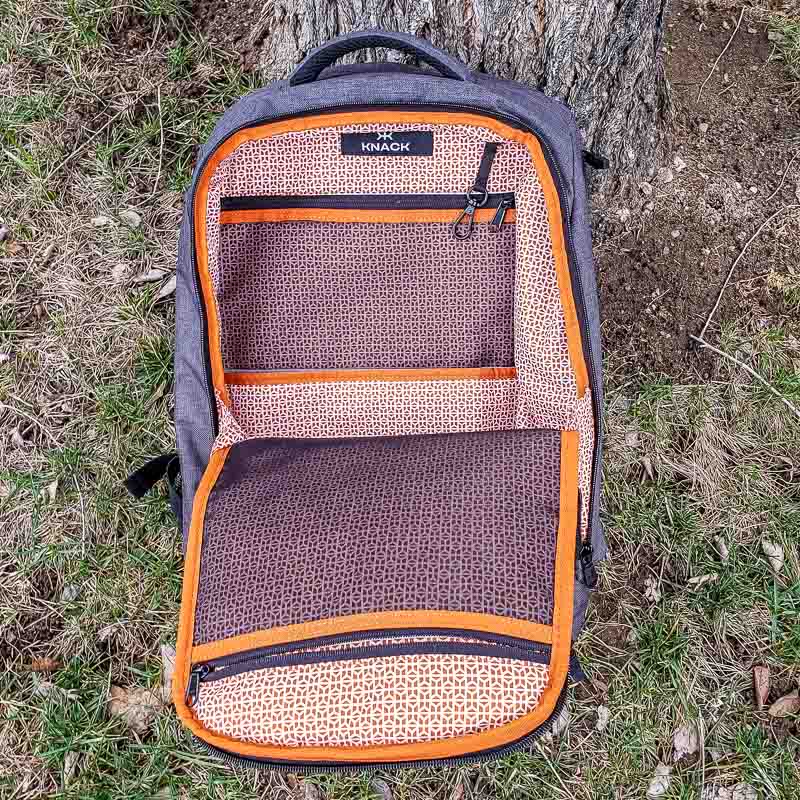 The largest main compartment is the compartment that expands, and it's designed to be used like a typical suitcase interior. There are straps for holding clothing, and a large mesh zippered area.
It also makes a great cat lounge.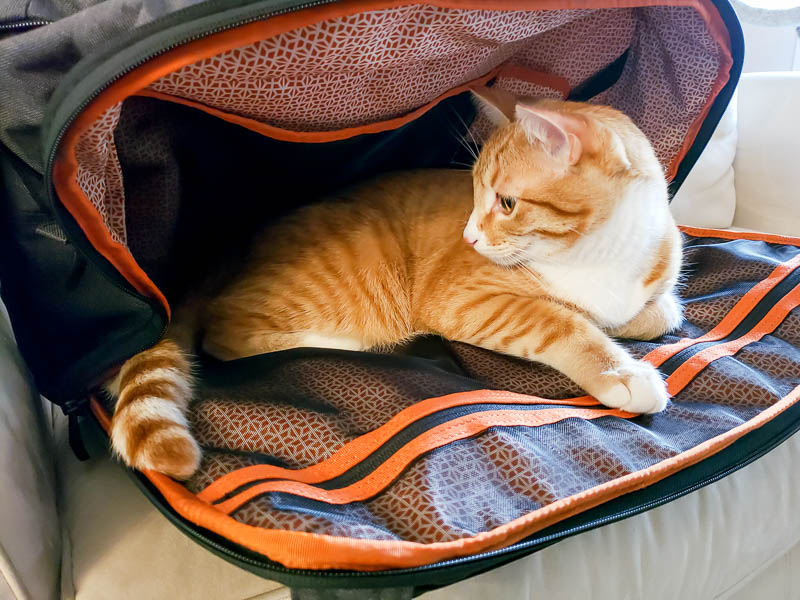 To expand, you just unzip the expansion zipper on the outside. The zipper's covered with a flap, which I found made it a bit awkward to find on the fly.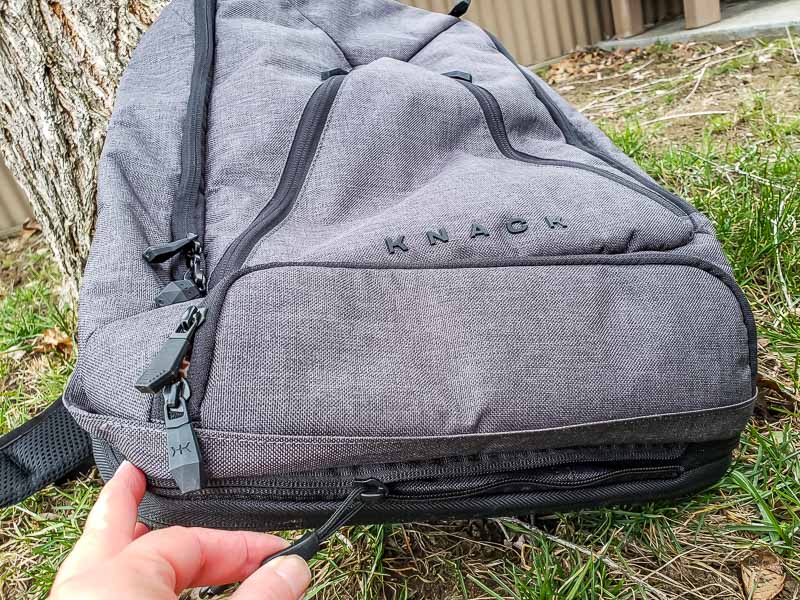 For me, the zipper's cover also made it a bit awkward to zip and unzip.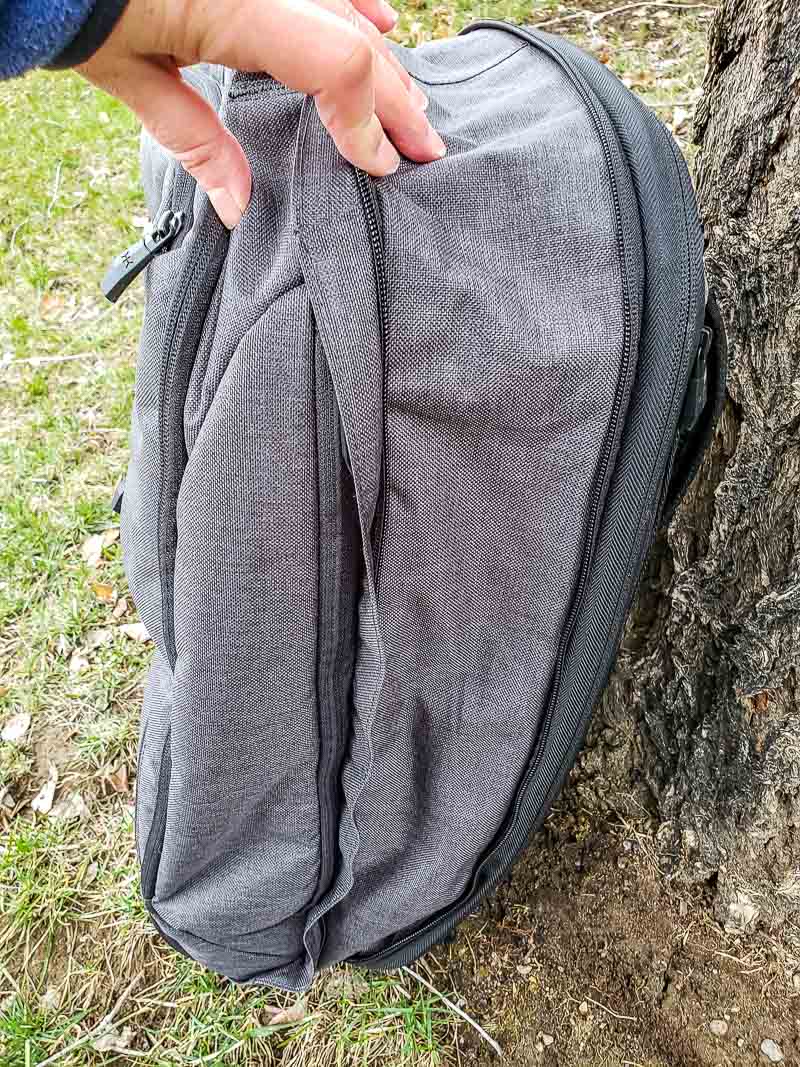 In the unexpanded state, there's enough room in the compartment for a few shirts, and a pair of pants, and a change of underwear.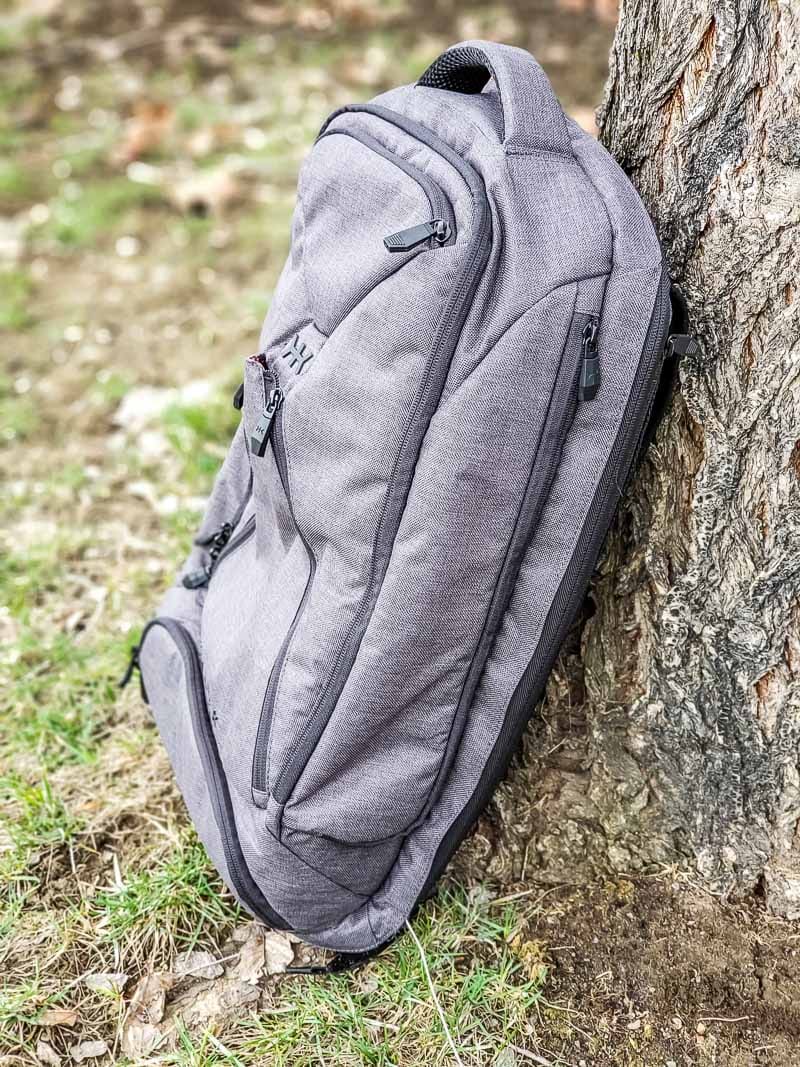 In the expanded state, the main compartment can hold enough clothes to last for 3-4 days (if you're a light to moderate packer), but it stays compact, whatever you pack in.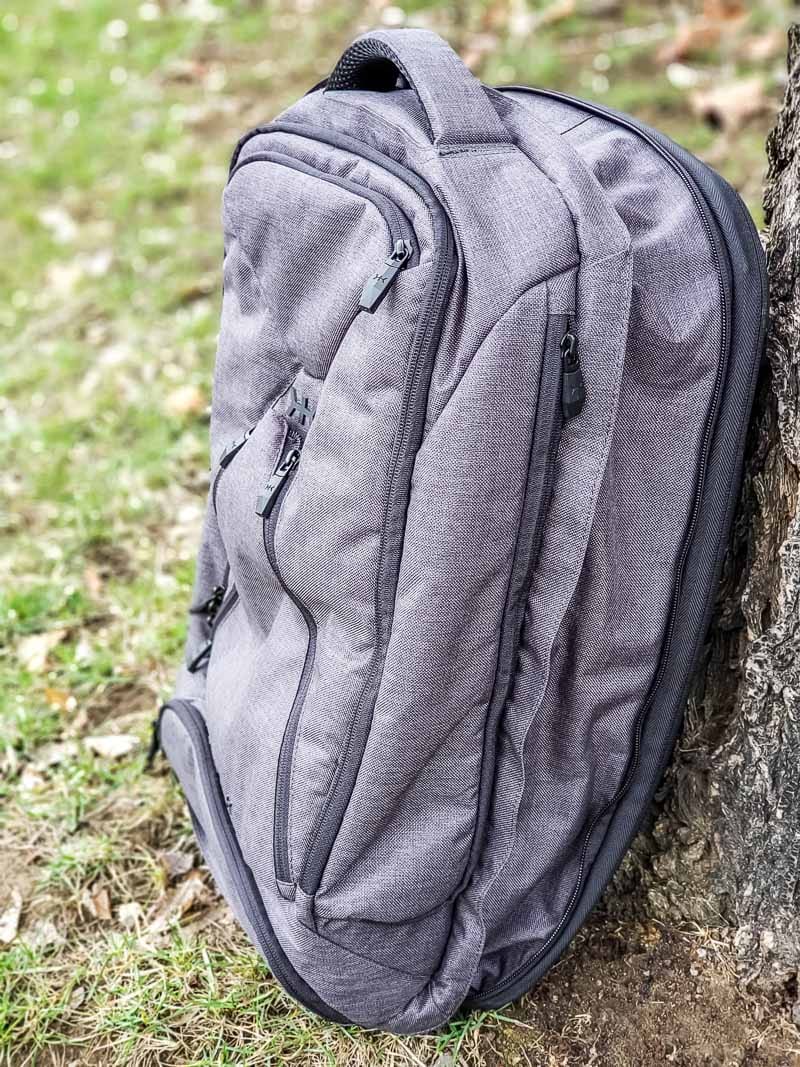 Looking for a place to hold a water bottle? There's a side pocket for your water bottle to make sure that you stay hydrated during all your errands. When not in use, you can zip the pocket shut.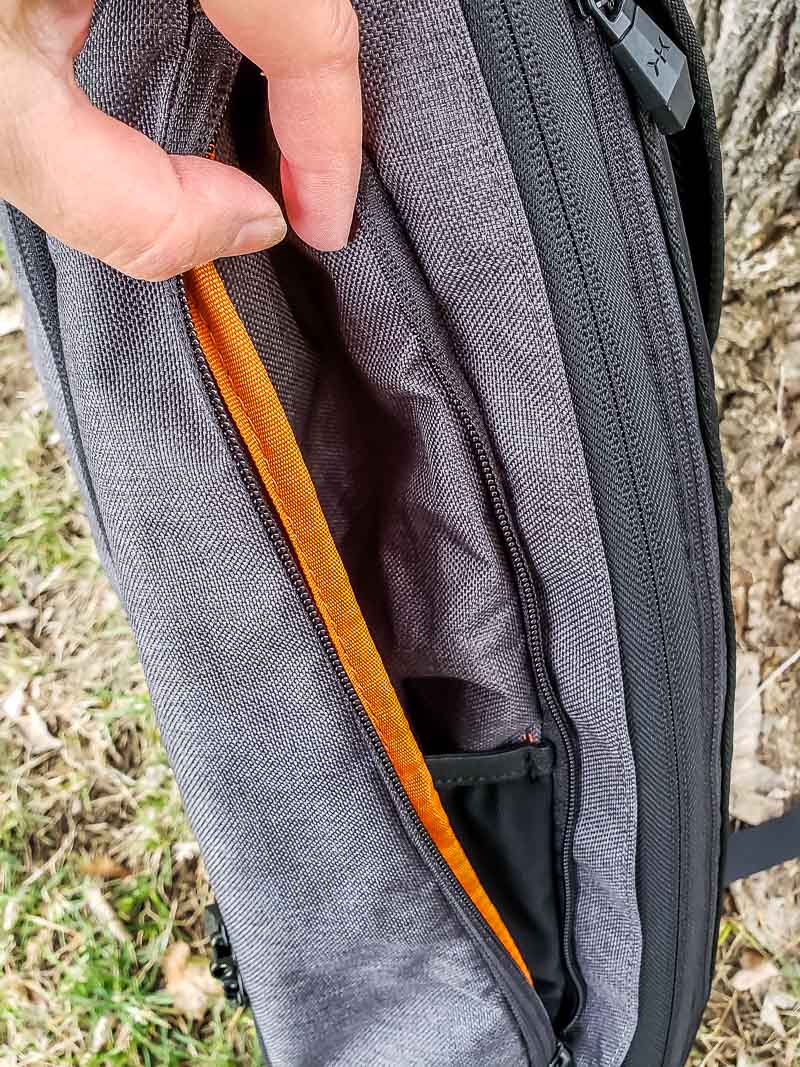 The bottom front pocket is big enough to hold odds and ends for tech accessories, including cords, USB sticks, chargers, adapters and batteries.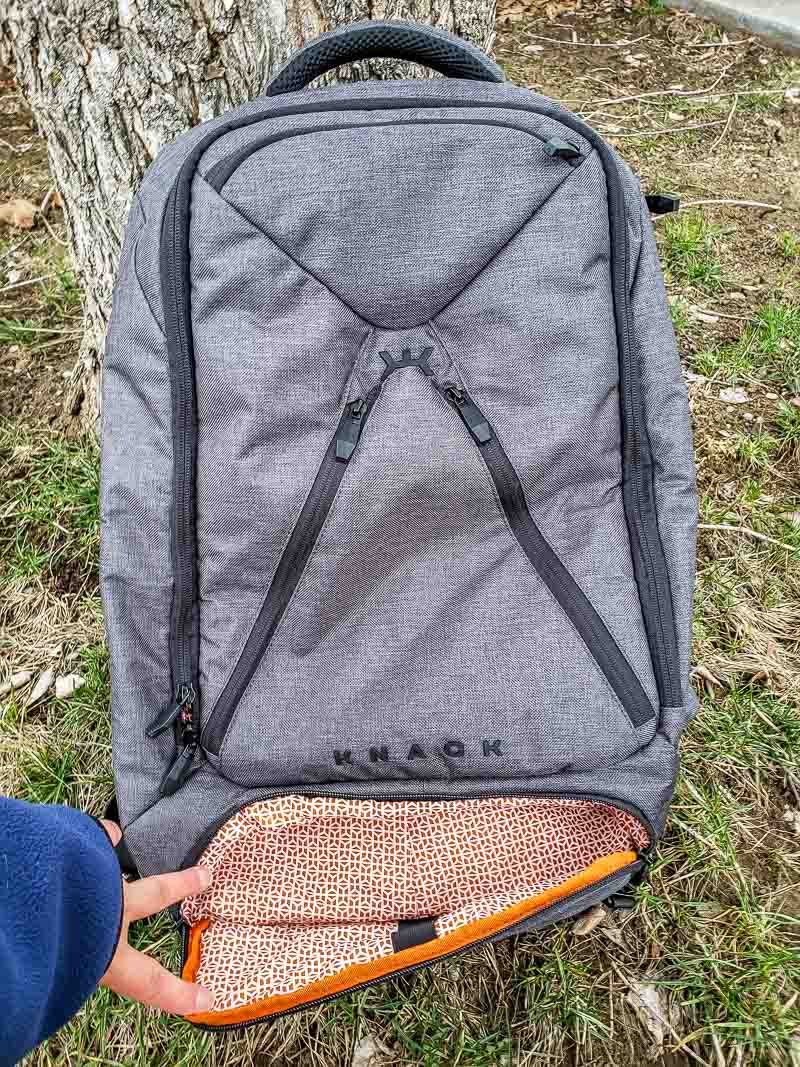 Is it carry-on safe?
The Knack large expandable pack should fit most airline regulations for carry-on size, even when fully expanded. In the expanded form, it measures 21.5″ x 14″ x 9.5″, and holds 37 liters. When not expanded, it measures 21.5″ x 14″ x 4.5″ and has a volume of 22 liters.
Comfort and Looks
The backpack's handle is sturdy and comfortable, while the back panel is made from molded foam that feels great to wear, and is comfortable.
The padded shoulder straps and the hip straps make the bag comfortable to wear, even when it is packed full. You can unclip the backpack main straps and stow them out of the way in the back panel pocket.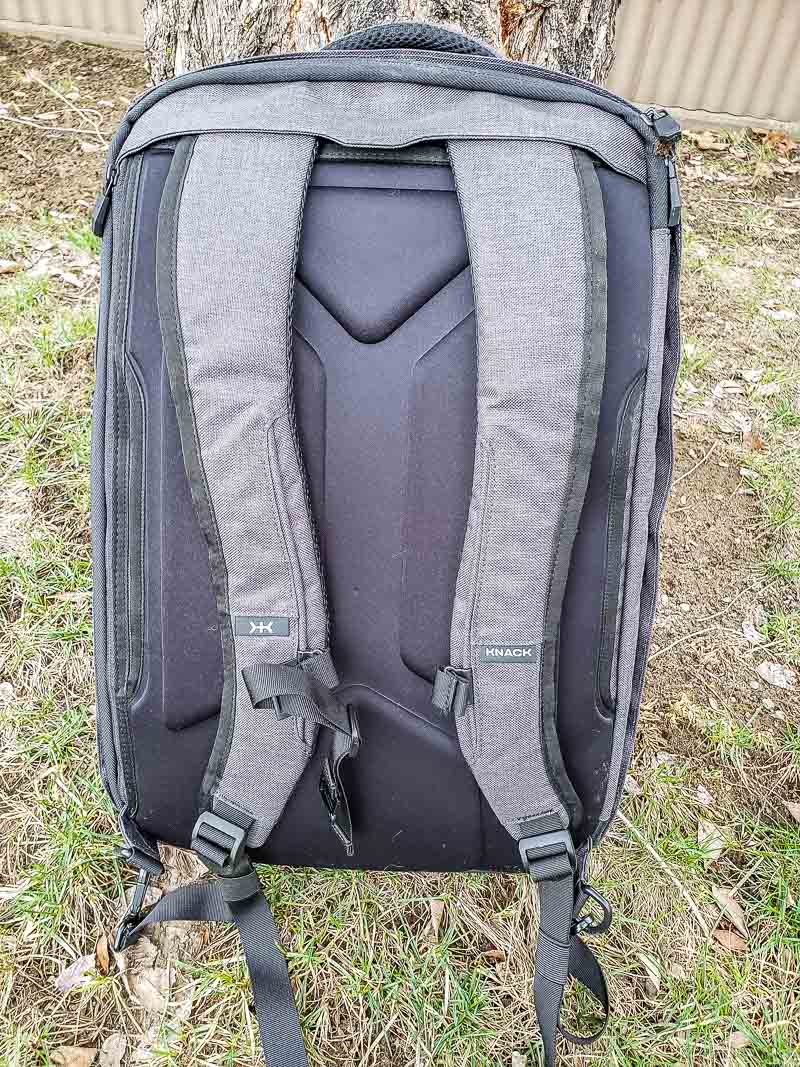 I wasn't a huge fan of the sternum strap's clasp, which hooks into a loop. I much prefer a buckle that I can easily do up, and release, with one hand.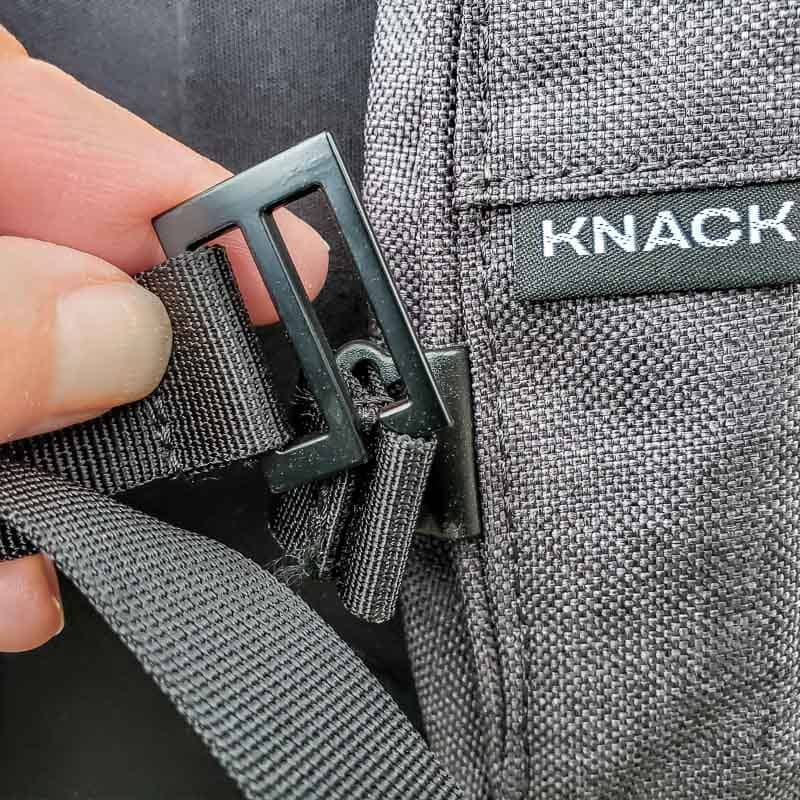 While this is pretty subjective, I liked the look of the dark grey, two toned fabric. It's definitely not waterproof, but the zippers and fabric are both designed to repel water
The inside of the pockets is lined with an orange and white fabric. I loved it, but Charles wasn't such a big fan initially. I think it's growing on him, though.
The bottom line
Overall, we liked this pack. It's a nice option for people who want an expandable pack that can go easily from daily use to carry-on luggage.
Click here to get Free Shipping to U.S. and Canada (including Alaska, Hawaii) with orders over $40!
Looking for the Knack small or medium bag?
If you're looking for something smaller, Knack's small expandable bag is a great everyday carry. Unexpanded, it's only 16 liters, and it expands to 29 liters.
The medium expandable bag is a little bigger, at 17 liters, which expands to 33 liters. It's a nice option for an everyday carry that expands to a travel bag with enough room for a weekend trip.
Knack accessories
Knack also sells travel accessories, like a margarita travel kit (alcohol not included), laundry bags, travel candle, insulated bottles, zip cord pouch, and extra sternum straps or key leases. Check out their travel accessories here.
Knack also makes packing cubes. There are large or medium cubes, or bundles of cubes. See Knack's packing cubes here.