Today, I personally review Lingopie: The most fun way I've found to learn a new language.
As a frequent traveler, I've tried most of the language learning apps and programs. I've had good progress with most of them, but learning a language hasn't always been fun for me.
To be completely honest, most of the time I stop after a month or so because I'm not enjoying myself, or because I'm finding that my conversational skills aren't improving.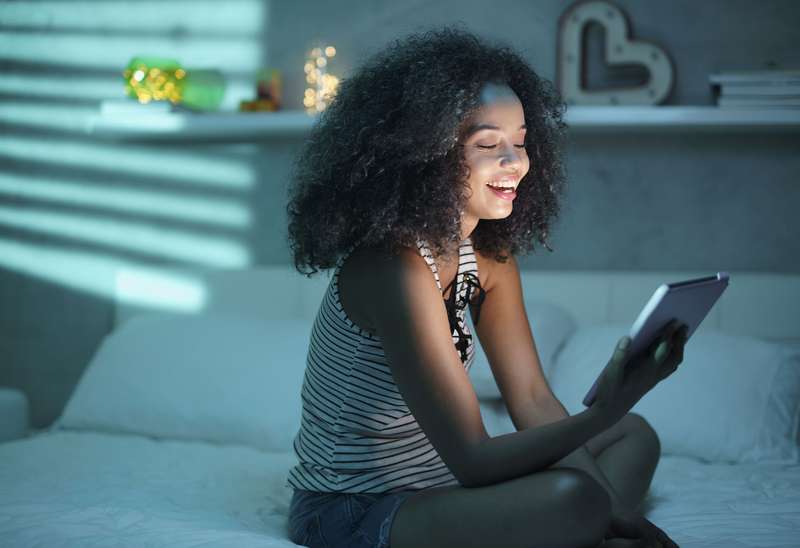 So when Lingopie came onto my radar, claiming to make language learning fun again, I absolutely had to give it a try.
Want to learn Spanish by watching TV? Don't mind if I do. If that piques your curiosity, meet Lingopie – an innovative language learning platform that turns your screen time into a comprehensive language learning adventure.
As you watch your favorite shows, movies, audiobooks, or even podcasts, Lingopie allows you to learn new languages in a fun, interactive, and engaging way.
This isn't your traditional, dull language learning app. Lingopie's unique feature of creating flashcards from unfamiliar words you click on in subtitles makes absorbing new vocabulary and grammar rules intuitive and enjoyable.
Lingopie lets you choose from a wide variety of over 3,000 shows (including telenovelas, comedies, sitcoms, and more, plus Netflix's biggest hits. When you're done watching, follow up with flashcards and comprehensive reviews to help you absorb what you just watched.
Want to learn more? Follow me as I try it first-hand, and learn how it has transformed the way I and many others approach language learning.
Lingopie Review: Is Lingopie Worth it?
So what's Lingopie all about?
At its core, it's a language learning tool that uses TV shows and movies to help you master a new language. The whole premise is to make language learning as easy and engaging as binge-watching your favorite TV show. It's a neat concept and with over 100,000 users, it seems to be gaining traction amongst language learners and travelers.
Lingopie is pretty versatile when it comes to device compatibility. You can access it on your phone, computer, or tablet, which is very convenient for those on the go. Want to watch it on your TV? Just use the mobile app, and cast content directly to your TV via Chromecast or Airplay.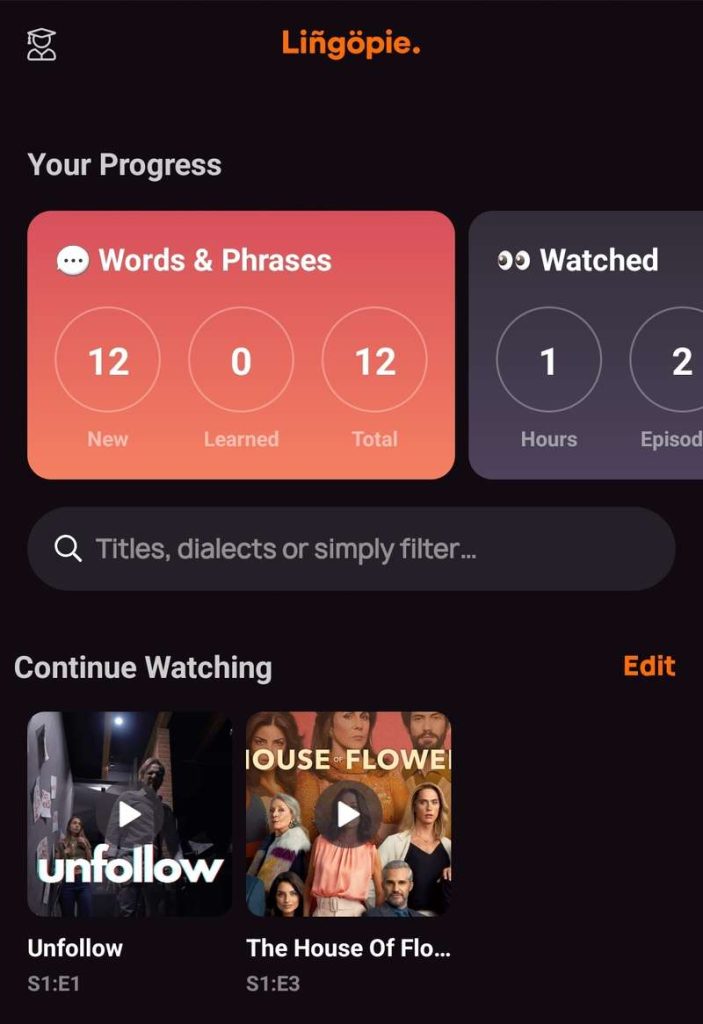 One of the more unique features of Lingopie is how it uses real TV shows and movies from the language you're trying to learn. Each show comes with subtitles in the original language, plus your native language. This feature enables you to learn in a more immersive environment, which I found to be pretty helpful. There's a substantial amount of content to choose from, with over 3,000 exclusive shows and some Netflix hits included as well.
IMPORTANT! I didn't realize this at first, but you'll also need a Netflix account to watch Netflix shows on Lingopie. You only need to log in to Netflix once.
After you finish watching an episode, Lingopie offers built-in flashcards and word lists for reviewing new vocabulary and grammar rules. It's a good reinforcement method and definitely adds to the overall learning experience.
Lingopie boasts a substantial library of content to choose from. With thousands of hours of original TV shows, movies, music videos, and even Netflix originals, there's something for every taste and interest. Whether you're a fan of telenovelas, comedies, travel shows, or something else, Lingopie has got you covered. Plus, they keep the content fresh by adding new shows every month, which I found to be a nice touch.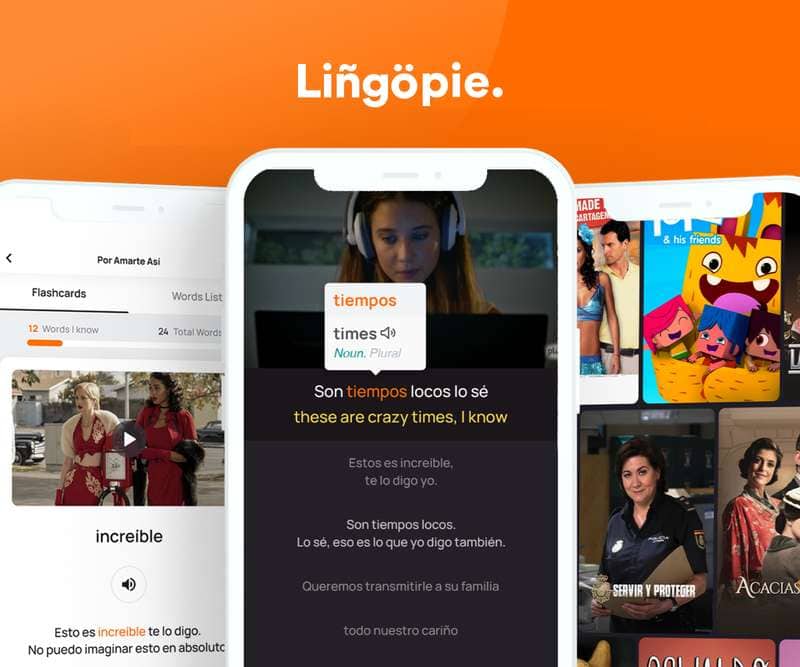 Lingopie vs language learning apps and programs
You might be asking yourself, why should I learn a language from watching TV instead of relying solely on an app or classroom instruction? Well, it's about the context. Learning with TV provides a more natural and relatable context for language learning compared to just drilling words in isolation.
In the past, there have been countless stories of people learning another language from watching movies and shows from big Hollywood blockbusters to Japanese anime. Lingopie has just taken it to the next level.
What is the difference between Lingopie and language learning with Netflix?
So how does Lingopie stand apart from simply switching on Netflix's language captions?
This is important: If you want to watch Netflix originals on Lingopie, you'll need a Netflix account.
Here are a few reasons why I personally prefer Lingopie's subtitles:
Lingopie is a more active and interactive learning process. It allows you to click on specific words that catch your attention and save them for later review. This feature enhances your focus and retention during the learning process.
And finally, an underappreciated aspect: I personally found subtitles on Lingopie to actually be accurate. Trust me, it makes a big difference when you're trying to learn a new language.
The content on Lingopie isn't just randomly selected. The shows are chosen with language learning in mind, providing content that is not just entertaining, but also beneficial for picking up new words and phrases.
The platform offers immersive and enjoyable review and practice options. Think video flashcards, games, and more. It adds a fun spin to the traditional language learning routine.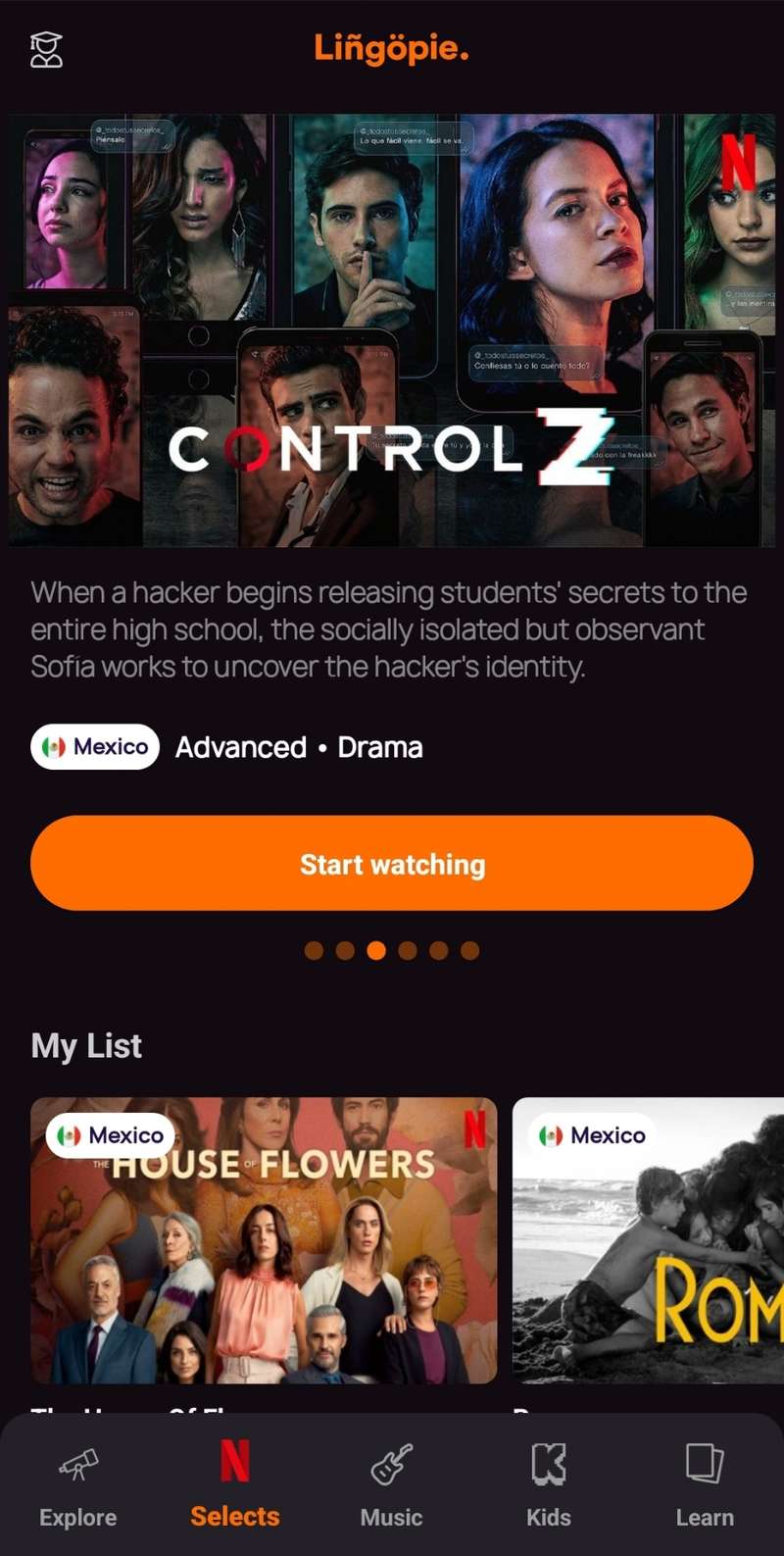 Tip! To watch Netflix shows with Lingopie on your computer or laptop, you'll need to watch on Google Chrome, and install the extension.
What languages does Lingopie offer?
Lingopie includes all nine languages for the same price, which is a nice change from Language learning systems that charge per language.
For one price, you can learn Spanish, French, German, Italian, Russian, Portuguese, Japanese, Korean, or English. There is one exception – the three month plan only allows one language.
Content for each language varies, but there are over 3,000 titles, plus Netflix picks. Looking for the best Italian series on Netflix, or an indie movie in Spanish? You're probably in luck.
How much does Lingopie cost?
If you're new to Lingopie, there's a free full access 7 day trial. There's no charge during the seven day trial.
Important! To cancel the trial, you'll need to contact support at least 24 hours before the end of the trial.
On a yearly plan Lingopie only costs $5.99 per month (or $71.88/year). This includes ALL languages.
If you're sure Lingopie is for you, the best value is a $199 one-time lifetime plan, with free lifetime access.
Lingopie's three month plan costs $12 per month (or $36 total). This only includes one language, though!
Our personal, hands-on Lingopie review
I tested Lingopie on the Android app on my smartphone, and using the desktop version on my computer. Lingopie also works on tablets, phones, and other devices.
Here's what it was like to use Lingopie on the Android app. The experience was essentially the same on the desktop.
After an initial short glitch logging in, using Lingopie was smooth sailing on the app.
Lingopie looks and feels a lot like any other streaming app, making navigating it a breeze.
You can add shows to your Watchlist, which is handy, or click Start Watching right away.
If there's a word or phrase you don't understand, just click on it in the subtitles to get an instant definition of the word, along with a spoken pronunciation. There's more information if you click View Details, such as singular and plural versions of the word.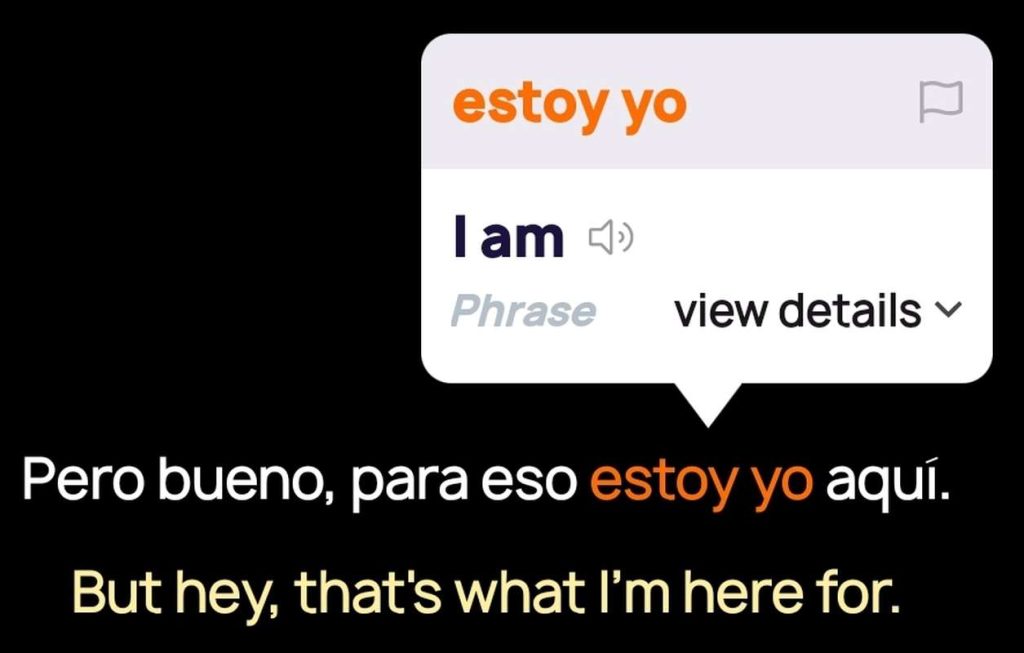 Any time you click on a word, it's automatically added to your Lingopie flashcards.
When you're done the episode or movie, you can study the words you didn't know by going through your flashcards.
You can slow down the video if you're having trouble following, or speed it up if you're more advanced.
You can even manage subtitles, if you'd like. As I'm quite rusty in Spanish, I chose to have both Spanish and English subtitles, but you can turn off English subtitles if you'd like a more immersive experience. You can also turn off all subtitles, or just turn off Spanish subtitles, if you prefer.
There's even an option to automatically pause at the end of every subtitle, or a loop button to repeat a subtitle and audio.
When I was done watching, I headed on over to the Learn tab, where you'll find your flashcards, games, and a words list.
The games were pretty simple, but fun. There's a pop quiz, and a word master game, based on the words you selected for your flashcards.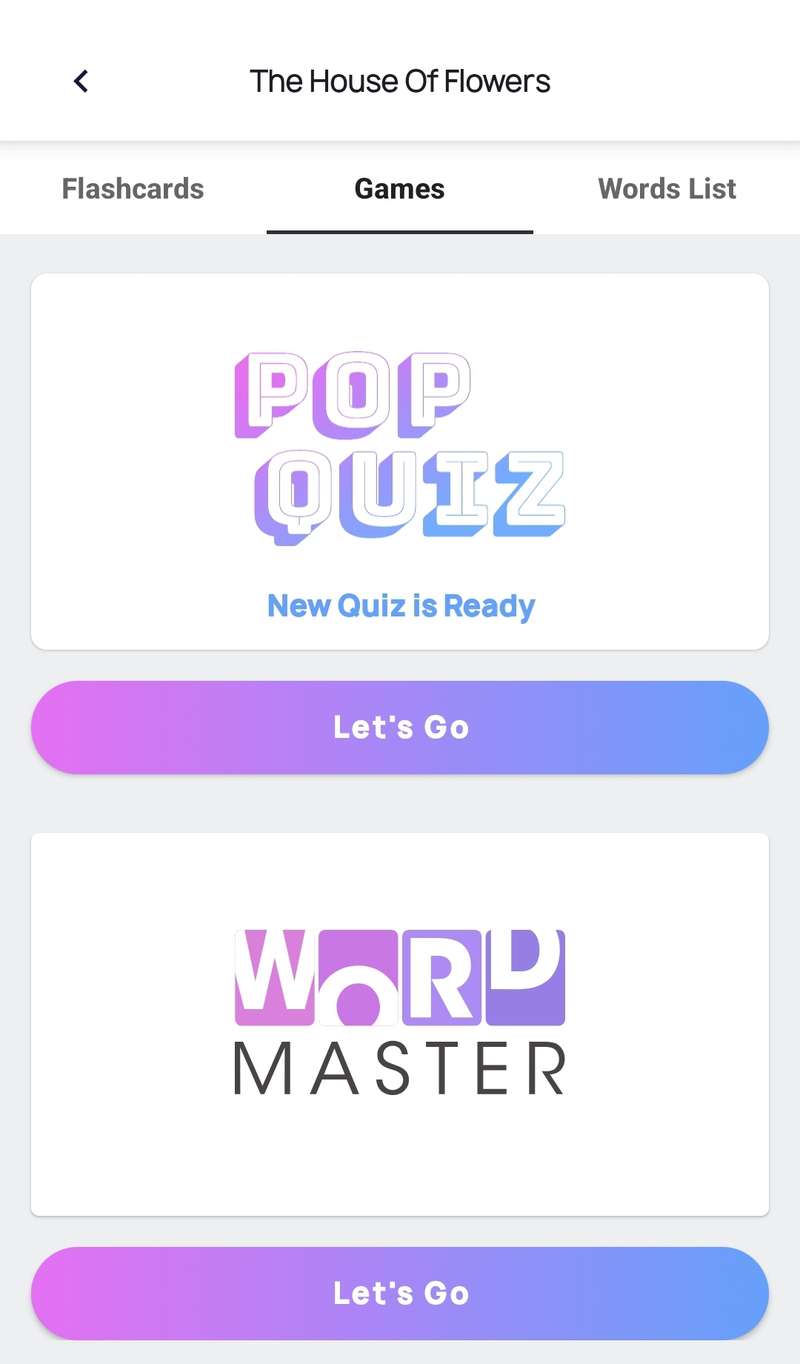 They were fun, and really focused on understanding the meaning of the words.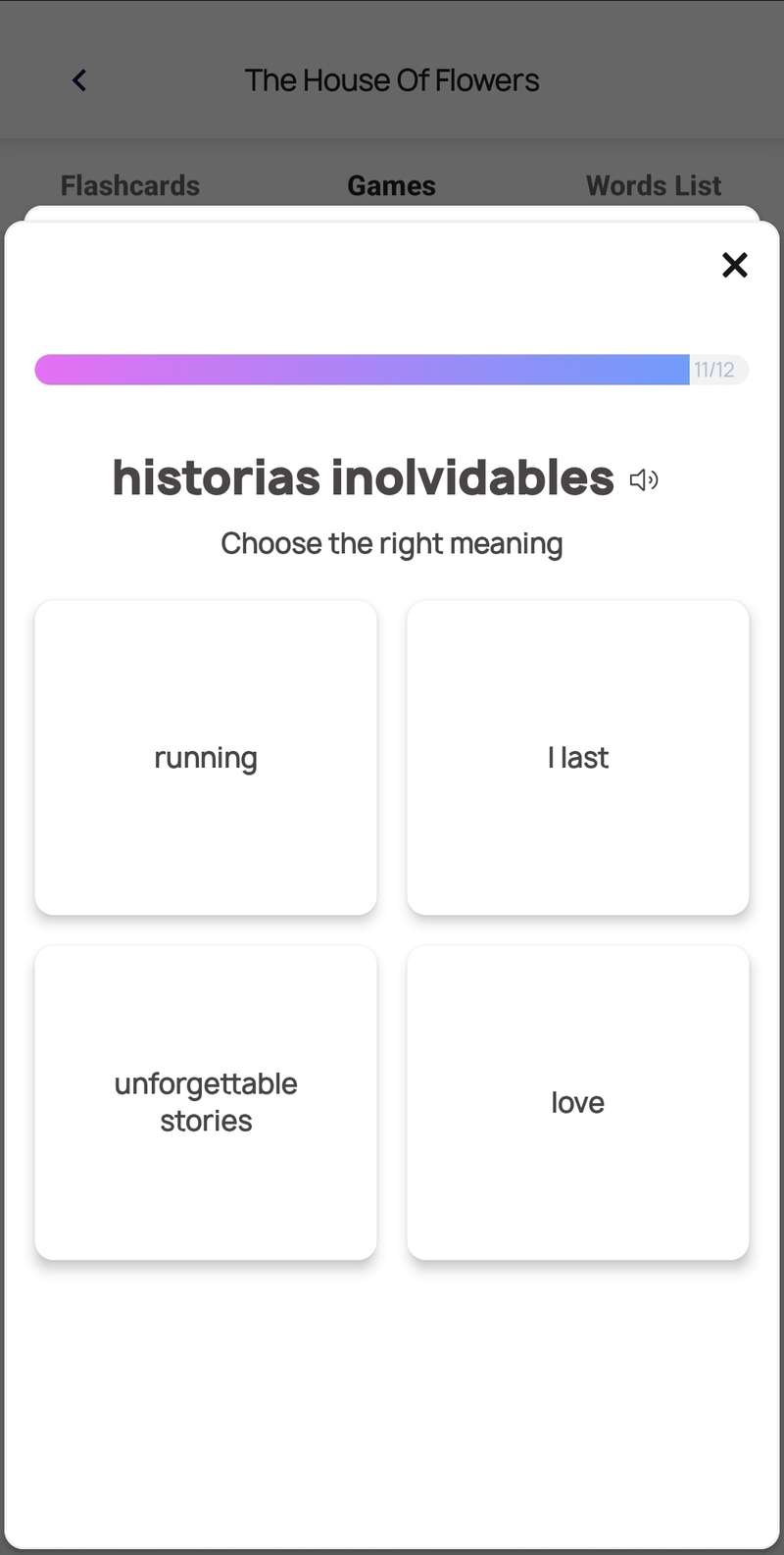 The words list is a list of the words you've highlighted for your flashcards. You can click on the word to see the translation and listen to the word. You can even delete words once you know them.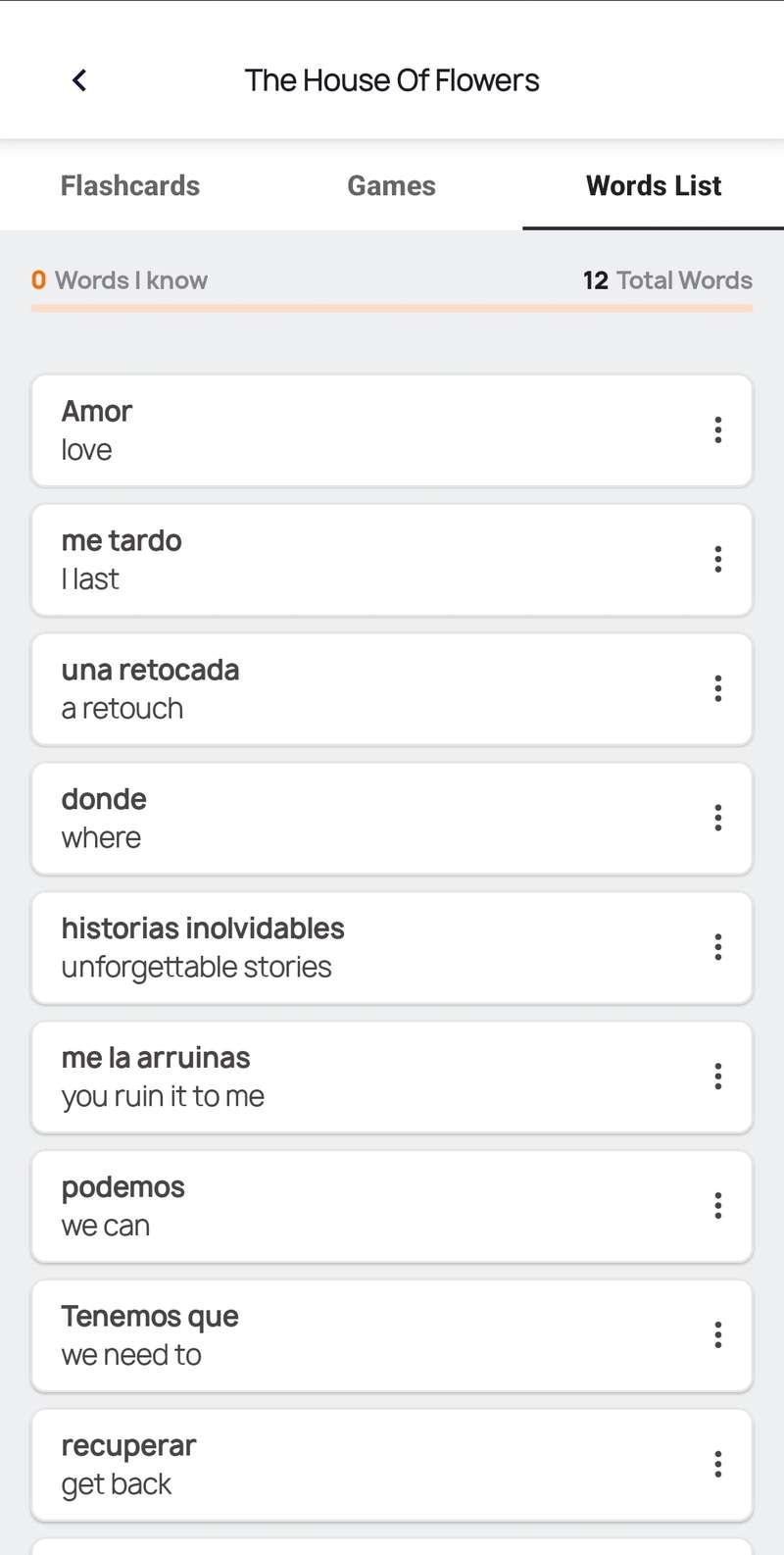 Lingopie Spanish review
Want to learn Spanish with Lingopie?
Spanish is one of the languages most people want to learn, so I was crossing my fingers that there was a lot of Spanish content. Luckily for me, there is! You can watch TV shows and movies, as well as Spanish language podcasts, music videos, documentaries, short films and even kids shows in Spanish. I really enjoyed the Netflix selects, but there are plenty of non-Netflix shows as well. You can get content from Argentina, Mexico, Costa Rica, Columbia, Spain and more.
I'm not great at speaking Spanish, but I do understand quite a bit, and I found the translations to be quite accurate.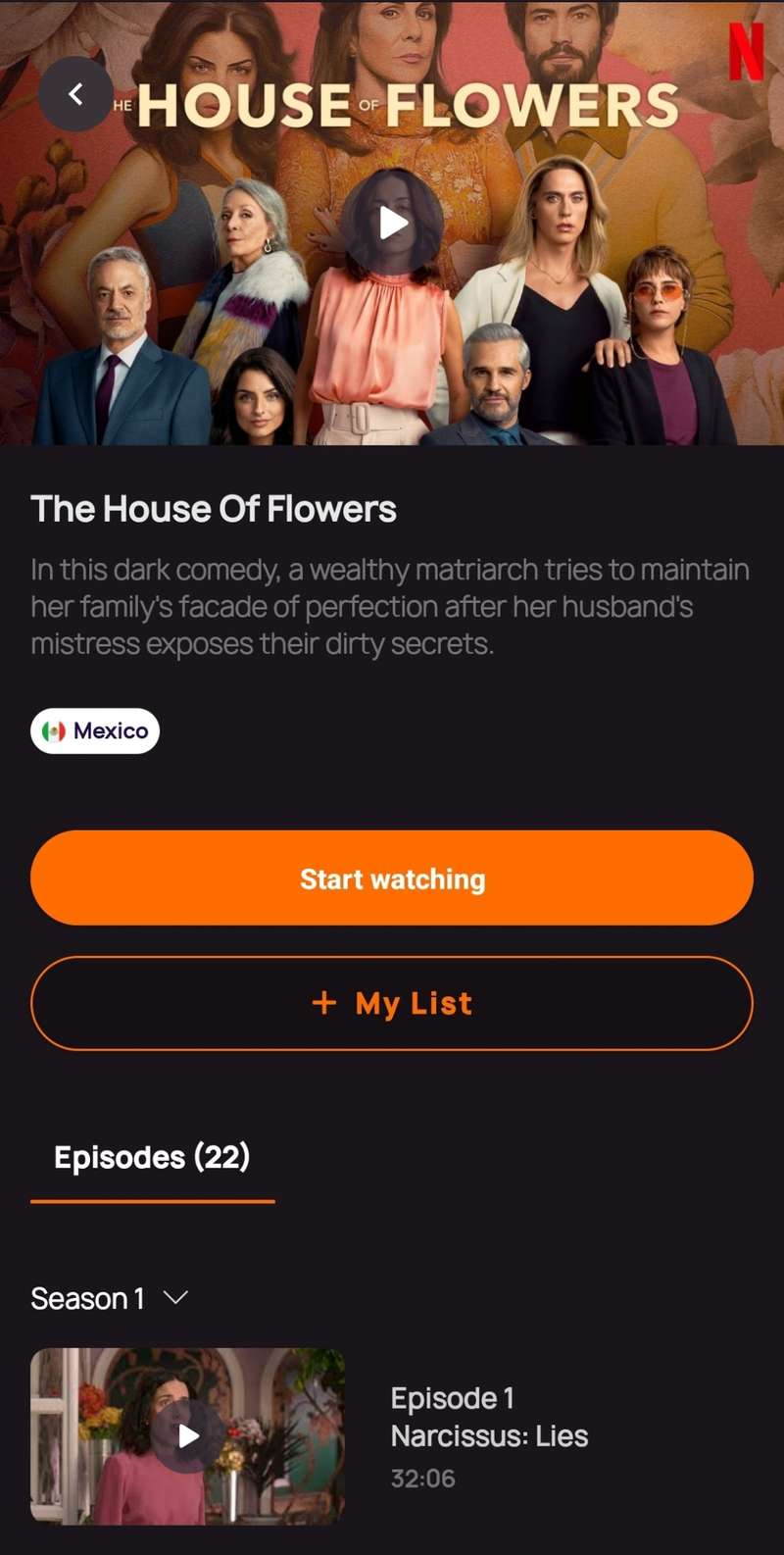 I also really liked that the Lingopie shows had a lot of conversational Spanish, which is always awkward sounding or overly formal in classroom language classes. Lingopie had so many normal conversations in the shows, including slang, Spanish swear words (don't worry parents, there's a Lingopie for kids, plus a setting in the regular Lingopie for teens or preteens).
Every show on Lingopie comes equipped with two sets of subtitles. You can click on any word that piques your interest or confounds you, and voila – an instant translation pops up. It's as simple as that. The more you indulge in your viewing habits, the more you absorb and learn.
However, it's not just about learning new words. Lingopie also helps you develop, review, and track your language skills over time. It's like having a personal language coach, keeping tabs on your progress and nudging you along the way.
Lingopie French Review
Like Spanish, Lingopie has a lot of content in French, with everything from sci-fi movies (my favorite) to kids' cartoons and TV. The French content is all from France, so you won't be able to learn in a variation like Canadian or Belgian French. As a Canadian, I'm mostly interested in Canadian French, but I found that my vocabulary and understanding of French improved a lot with Lingopie's selections.
As a Canadian, I have a basic understanding of French, and I found the French translations to be quite accurate.

Who won't like Lingopie
I really liked Lingopie – I mean, any chance I can get to lie on the couch and bingewatch and learn another language is a win for me. That said, I can think of a few situations where you might not like Lingopie.
If you hate reading subtitles, Lingopie might not be for you, since almost all of the language learning features are based on the subtitles.
If you want a formal, classroom style of teaching, Lingopie's informal structure might not work well for you either. There's no verb conjugation here and while I personally find that a big plus, everyone's different.
Lingopie for Kids
For the younger language learners in your family, Lingopie offers a dedicated kids' section. It's a safe and curated learning environment hand-picked by language experts and well-received by educators. Plus, the family-friendly games add a layer of fun to the learning experience.
Lingopie is also mindful of its user preferences. If you wish to keep your content PG, there's a handy 'Hide Mature Content' toggle in the settings. This removes any video content that could be deemed mature or sensitive.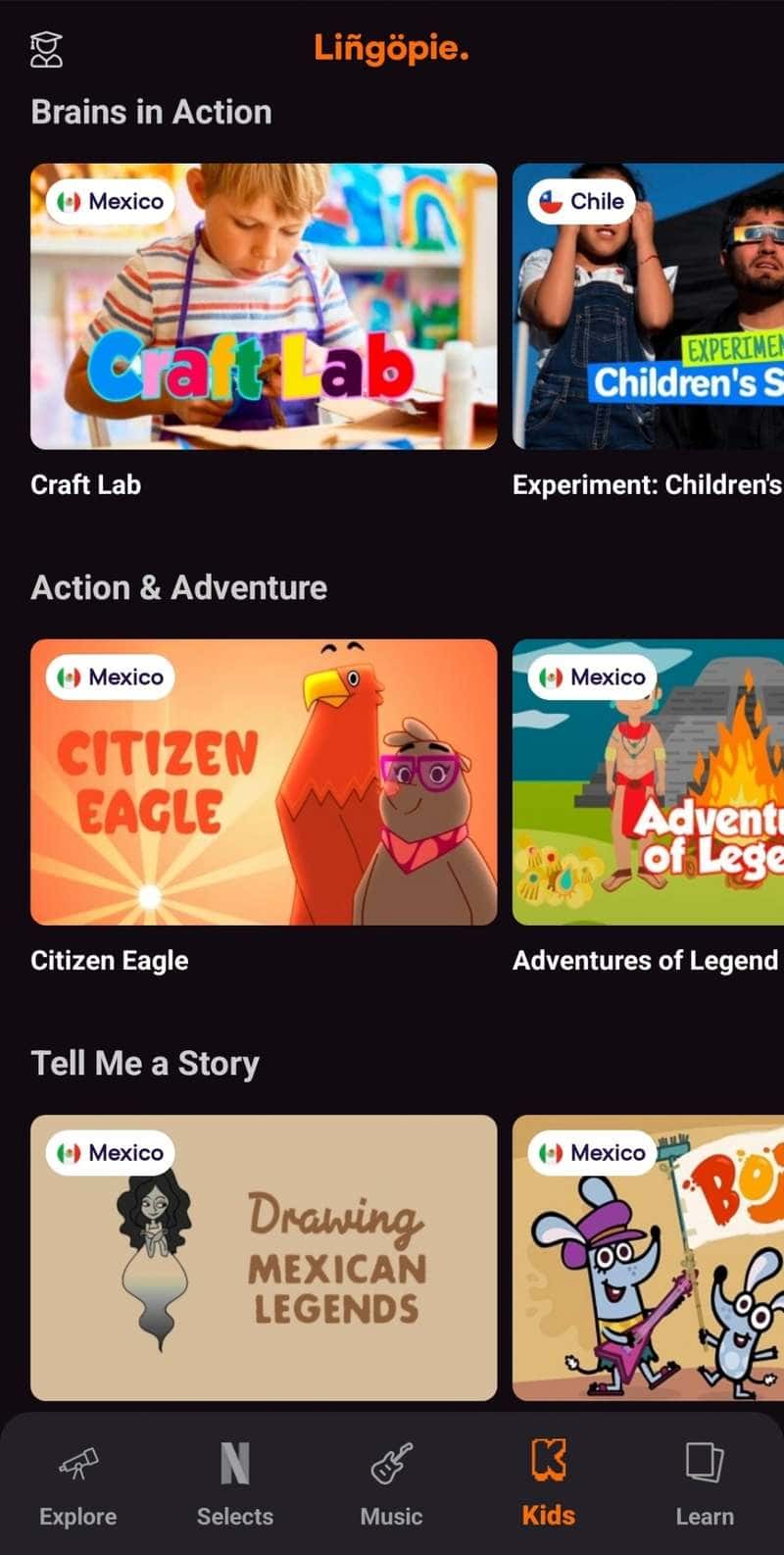 Private Language Lessons with Lingopie
If you're interested in intensifying your language learning journey, Lingopie provides an option for private lessons in Spanish, French, Italian, or Portuguese. These one-on-one sessions with a private teacher are a fantastic opportunity to practice your language skills, improve your fluency, and gain confidence by discussing your favorite Lingopie shows. It's a personalized approach that accommodates learners of all levels.
Lingopie on Discord
And let's not forget the Lingopie Discord community. It's a great space to connect with fellow language learners and share your experiences.
Looking for a Lingopie coupon or promo code?
Looking to give Lingopie a whirl without any commitment? Well, you're in luck. Lingopie offers a free trial period, giving you the chance to experience its features before making a decision.
If you're a teacher or part of an educational institution, there's more good news. Lingopie provides academic pricing, making it an affordable option for educational settings. Give it a go and see the difference it can make in your language teaching or learning journey.