Have you heard about Little Passports? In this article, we review the Little Passports subscription box for kids, explain what it is, and how to choose the best subscription for your child.
We found Little Passports when searching for fun, indoor activities for our kids, with a travel and exploration focus.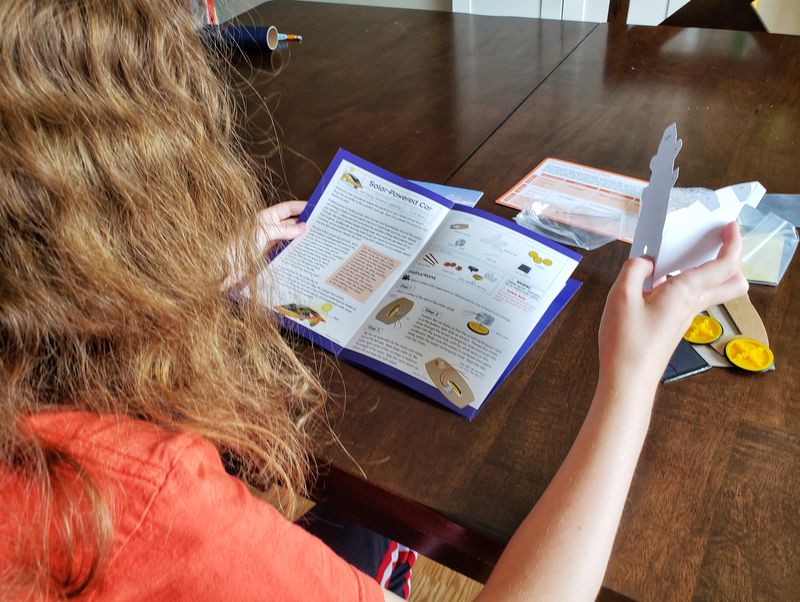 After over a year of not traveling due to the pandemic, we miss the sense of adventure and exploration that we used to get from seeing new places and experiencing new things. That's why we've been looking for ways to bring some of the fun you get while learning and exploring during travel to our home life.
Sure, watching the best travel vloggers on YouTube is a lot of fun, but its educational value is debatable, especially for our kids, and to be honest, planning out your next adventure can only go so far until you can actually start booking things and marking off dates.
What is Little Passports?
Little Passports is a monthly subscription box for kids, with kits that focus on travel and exploration, or science (or both).
The subscription delivers everything your kids need to make, create and play, with different kits for different ages and interests.
They have monthly boxes for kids aged three to twelve.
Little Passports has five subscription packages (more on these down below):
Early Explorers (ages 3-5)
Science Junior (ages 5-8)
Science Expeditions (ages 8+)
World Edition (ages 6-8)
USA Editions (ages 7-12)
Looking for a deal? Little Passports usually has a coupon on the home page, so check them out.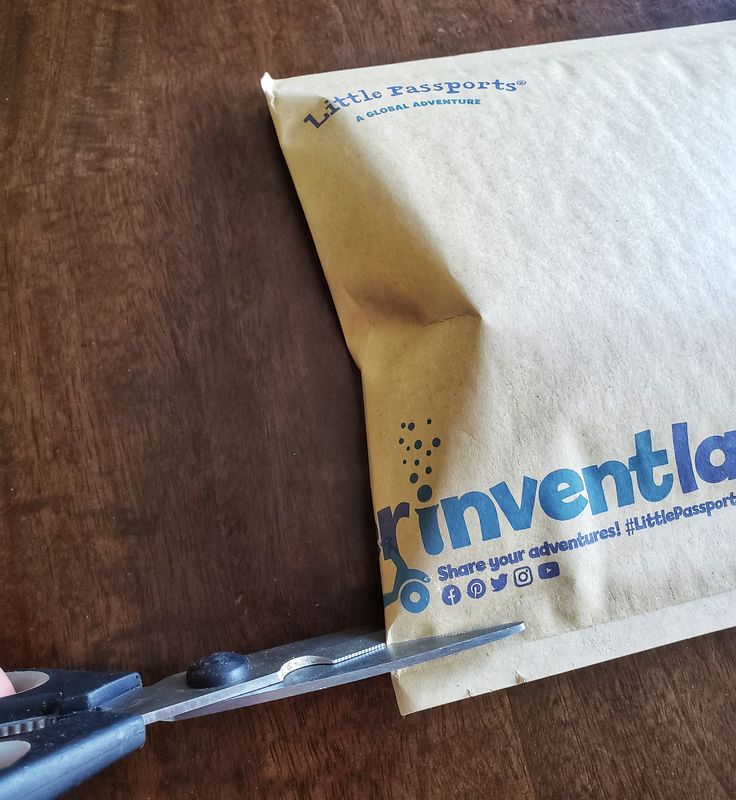 Little Passports Review
We tried Little Passports to see if it could bring together education and exploration for our kids.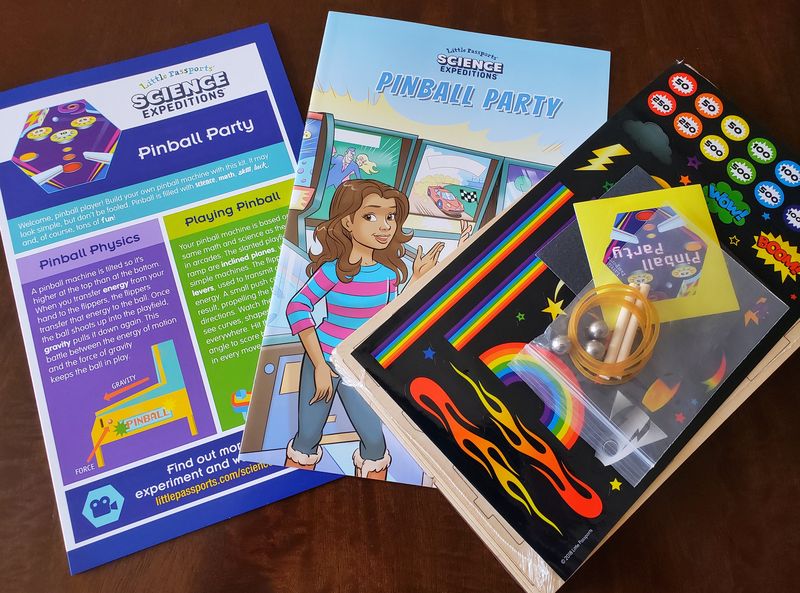 Science Expeditions Review
We tried the Science Expeditions kit, aimed at ages 8 and up.
The Science Expeditions subscription lets kids solve real-life scientific mysteries every month, helping characters Sam and Sofia learn about the mysteries of the world through science experiments and activities.
The first, introductory, Science Expeditions kit comes with:
Science Expeditions tote bag
science lab notebook
forensic science experiment kit
fingerprint analysis card and ink pad
a booklet with more fun games and activities
We tried a regular monthly Science Expeditions kit. Each monthly kit lets you solve new mysteries with cartoon characters Sofia and Sam, and comes with:
16-page comic book with glossary and bonus activities

hands-on science experiments

achievement badges for each subsequent theme
access to bonus online videos and science content
Little Passports Science Expeditions review
The first Science Expeditions kit we tried was the Pinball Party.
Pinball Party kit
The first thing I noticed was that the 16-page comic book for the kit is glossy, colorful, and nicely illustrated. Inside there were fun facts about pinball's history, and an illustrated story about Sam and Sofia, which taught about how pinball machines work, and which raised a lot of fun questions.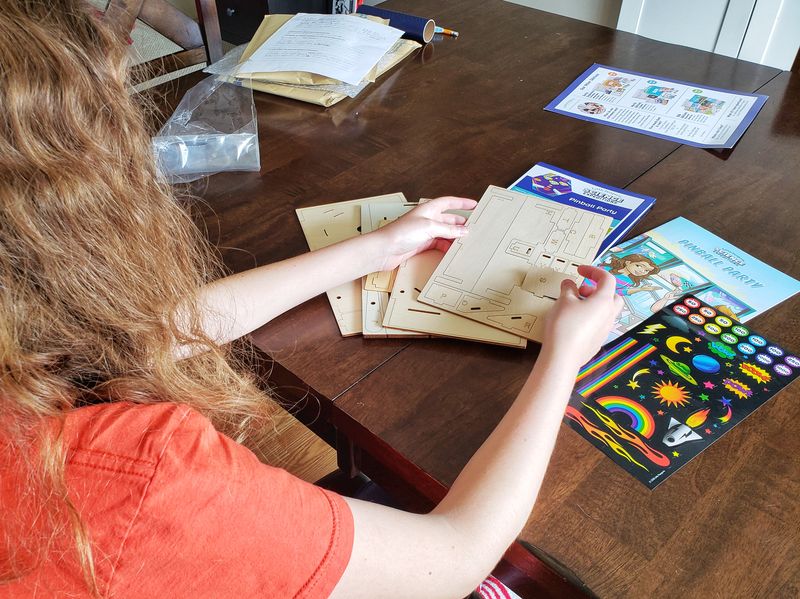 The comic book is full of games and puzzles, a pinball word search, and a comprehensive glossary at the end.
There were physics terms and questions throughout the book, and they were presented in a way that was fun, and simple, but also challenging.
There is even a link to more fun facts and a video online.
Once my 12 year old was done reading through the comic book for Pinball Party, she moved on to the science experiment.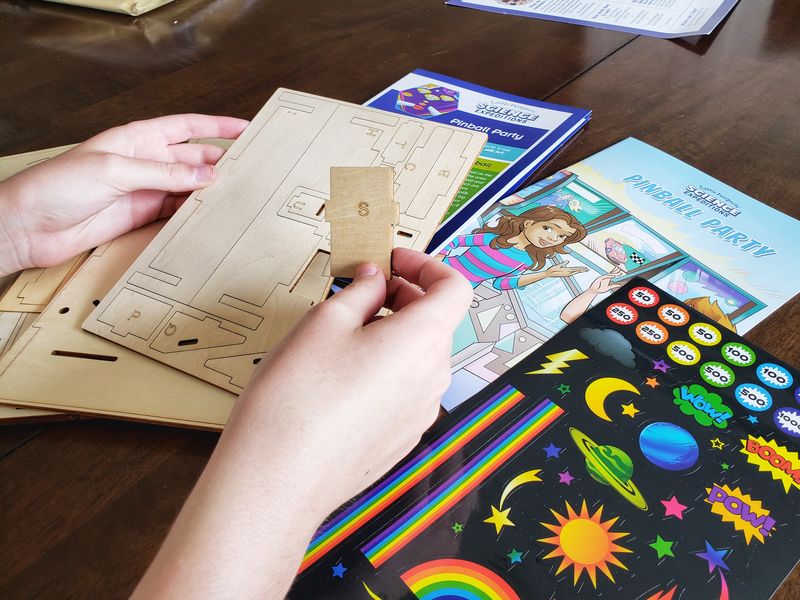 The experiment had her create her own pinball machine with a guide, pre-cut wooden pieces, and all the assorted bits she'd need to make the pinball machine.
I really loved that the experiment guide is thoroughly illustrated, and easy to follow, with plenty of color illustrations, and tips.
What's especially fun is that she ended up with a working pinball machine at the end of the experiment. She had the fun activity of building the pinball machine, learned a lot about physics and building, and she also ended up with a fun toy to enjoy at the end.
The second kit we tried was a Solar Energy Science Expeditions kit.
Solar Energy Science Expeditions kit
The timing of the solar energy kit was perfect, since we are working on getting a solar system for our travel trailer.
The illustrated comic for the solar energy kit started with a fun story of how Sam and Sofia join their Aunt Charlie on an adventure to monitor the movement of snow leopards in the Himalayas.
That's a win – science and travel adventure combined!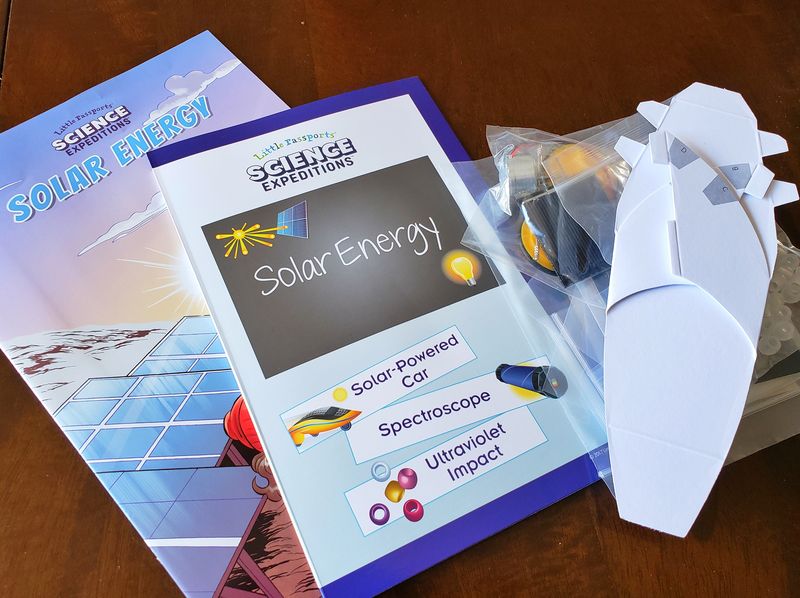 While visiting a local village in the Himalayas, Sofia and Sam are surprised to learn that the village has adopted solar technology for everyday uses like cooking and drying clothes. Along the way, they learn how solar energy works.
For this kit, the science experiments are a solar powered car, a spectroscope, and an ultraviolet impact experiment. Again, all of the parts needed to do all the experiments are included in the package.
Our daughter hasn't quite finished all three experiments yet, but she keeps asking when we can get started. We had a busy week, so we haven't had a chance to get going on the last experiment yet, but I think her enthusiasm to start says it all.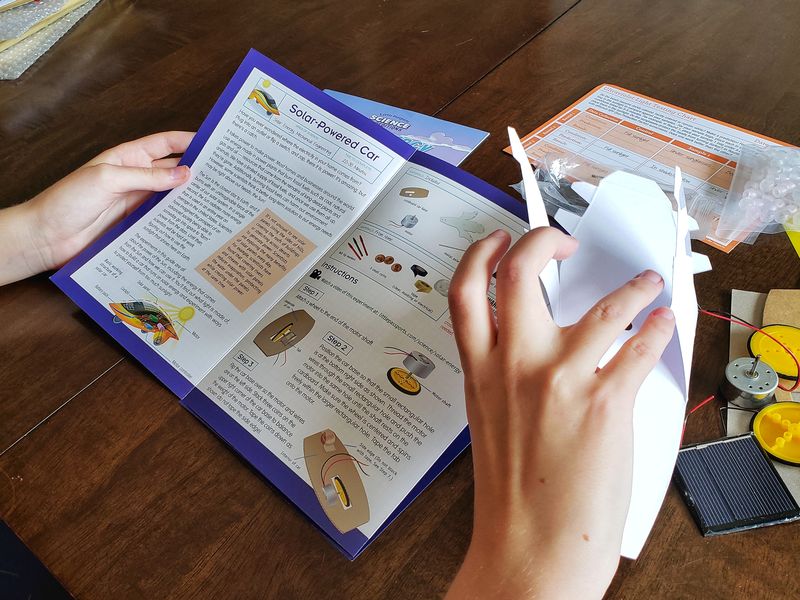 All in all, I was really impressed with the subscription. The booklets, instructions, and supplies are high quality, and they were fantastic at keeping our daughter engaged and entertained.
Early Explorers kit
Early Explorers ages 3-5. Characters, Max and Mia, and their dog Toby, travel around the world exploring a different theme each month.
World Edition subscription with Little Passports
The World Edition subscription is for ages 6-8. In this kit, characters Sam and Sofia travel to a new country every month, teaching kids about the world.
USA Edition Little Passports box
The USA Edition subscription is for ages 7-12. In these kits, characters Sam and Sofia travel to two new states every month, with an activity-packed State Journal.
Little Passports Science Junior box
The Little Passports Science Junior subscription is for ages 5-8. In this subscription, characters Sam and Sofia explore mysteries through science experiments and activities.
Get hands-on educational activities for all ages delivered to you every month,.
Summer Camp with Little Passports
This year, Little Passports has a limited time Summer Camp subscription.
The summer camp boxes come in three types:
World Edition, for ages 6 – 10.
Science Junior for ages 5 – 8.
Early Explorers for ages 3 – 5.
Little Passports Cost
Little Passports subscriptions start at $16.95/month.
The Science Expeditions box costs $27.95 monthly, $25.95/month with a 6 month subscription, or $23.95/month with a 12 month subscription.
You can pay monthly, get a six month subscription, or a 12 month subscription.
Shipping is free within the continental USA.
See up-to-date Little Passports prices on their website here!
Little Passports coupon
Looking for a Little Passports discount?
We found the best Little Passports coupons by navigating to their home page, where they usually have a discount up front.
Is Little Passports worth it?
What we like about Little Passports:
on time delivery
the kit was perfectly age appropriate, and had great quality supplies
subscriptions include everything you'll need. There's no need to shop for additional supplies.
the kits did a great job of engaging the imagination, and were a lot of fun
What we didn't like
We have a 15 year-old, and I would love to see a subscription geared toward older kids.
In our case, the kits were fun for our younger child, but we had to find a different activity for the 15 year old. It would simplify our lives to have something for our older one as well.
I would especially love to see an older version of the World Edition subscription, which is for ages 6 to 8. The USA edition is geared for ages 7 to 12, but, as Canadians, we were less interested in a USA-only kit than subscribers based in the USA may be.
Learn more about Little Passports.
More about Little Passports
Here's what the Little Passports website has to say about their service.
Little Passports creates products designed to inspire children to learn about the world through monthly subscriptions, educational toys and characters kids love. To date, we've delivered over 4 million packages designed in conjunction with professional educators, PHDs, and award-winning writers and designers. Headquartered in San Francisco, Little Passports is a National Parenting Publication Award winner and a Parent Tested Parent Approved product. The company was founded in 2009. Today our products are available in 16 countries and counting.

– littlepassports.com