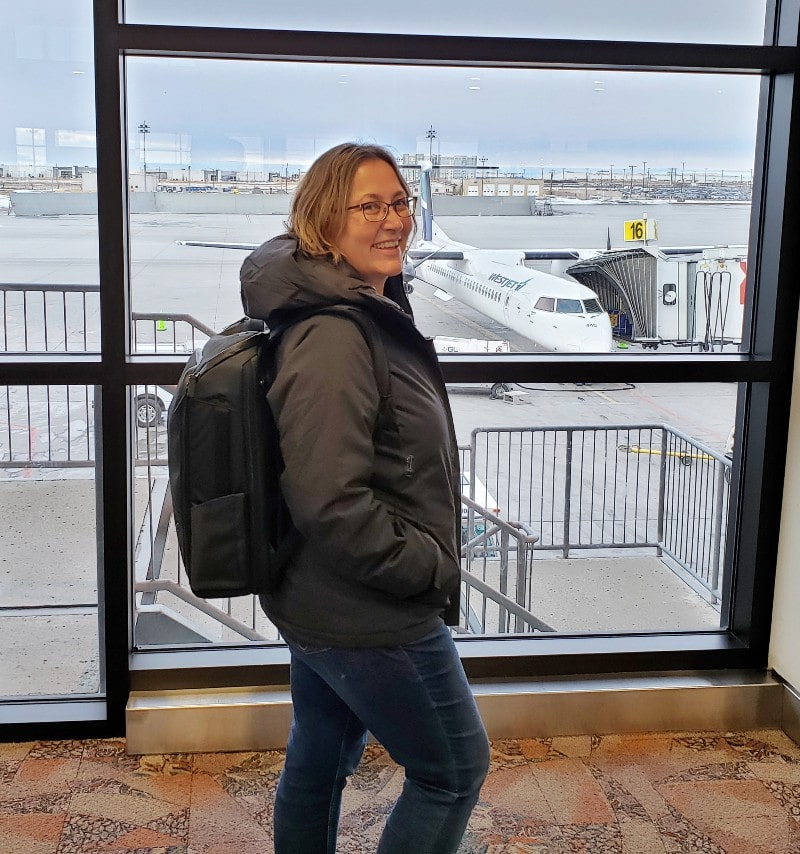 In this Nomatic backpack review, we test the Nomatic pack over a few months as an everyday backpack, and on several trips.
If you're looking for an everyday backpack, this Nomatic pack is sleek, with a minimalist-like design is packed with features and plenty of pockets.
The classic Nomatic backpack we tested is small at only 20 litres, though it does expand to 24 litres.
Nomatic Backpack Review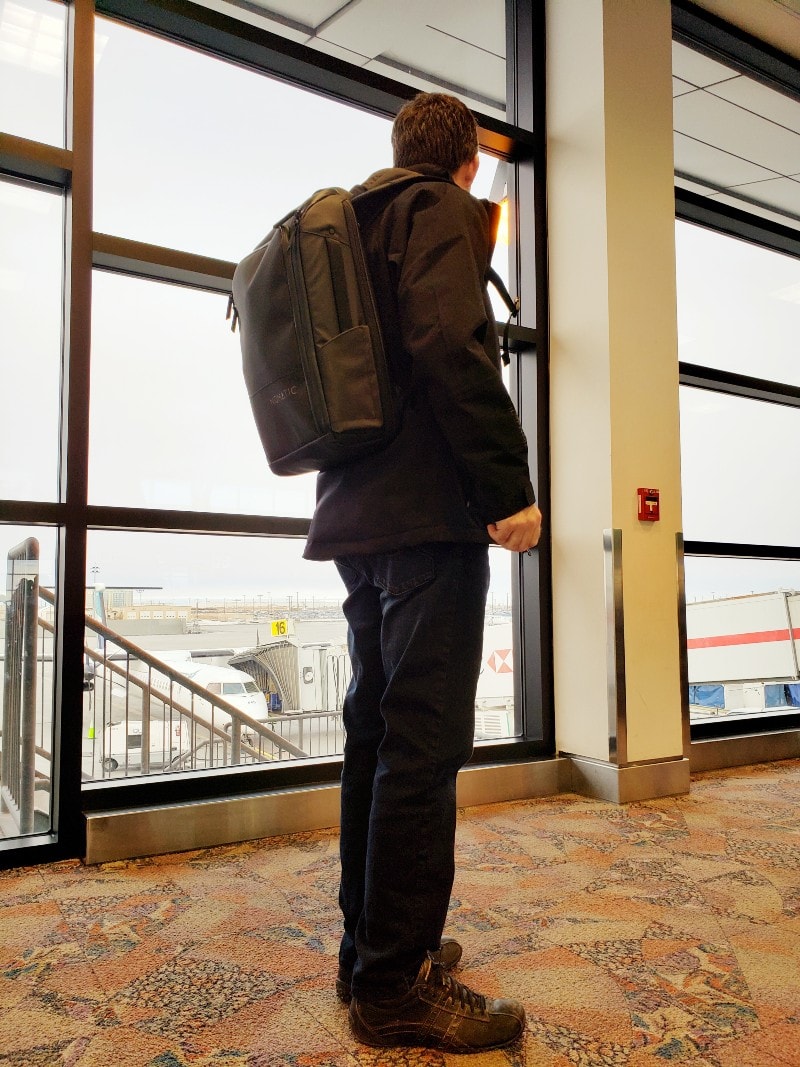 Pros
plenty of pockets
sleek, stylish design
great for organizing electronics
Cons
the snaps are hard to snap strap for hiding straps in suitcase mode
too small for use as a practical travel carry-on at 20-24 litres
Specs
Weight: 4 lbs
Dimensions: 18.5″ x 12″ x 5″ (7.5″ expanded).
Volume: 20 l (24 l expanded)
Since the Nomatic backpack is only 20 L (and expands to 24 L), it's made for daily use, rather than as a carry on pack for longer trips.
The Nomatic backpack could work as an overnight bag if you travel extremely light, love plenty of packets, and don't carry large items.

Pockets and Organization
The backpack has many pockets and sections that are perfect for gadgets and items of various size, and the padded laptop sleeve has easy access for better convenience at the airport.
There's a front pocket that zips completely open, allowing full access. There's plenty of room in there for cables, chargers, and other odds and ends.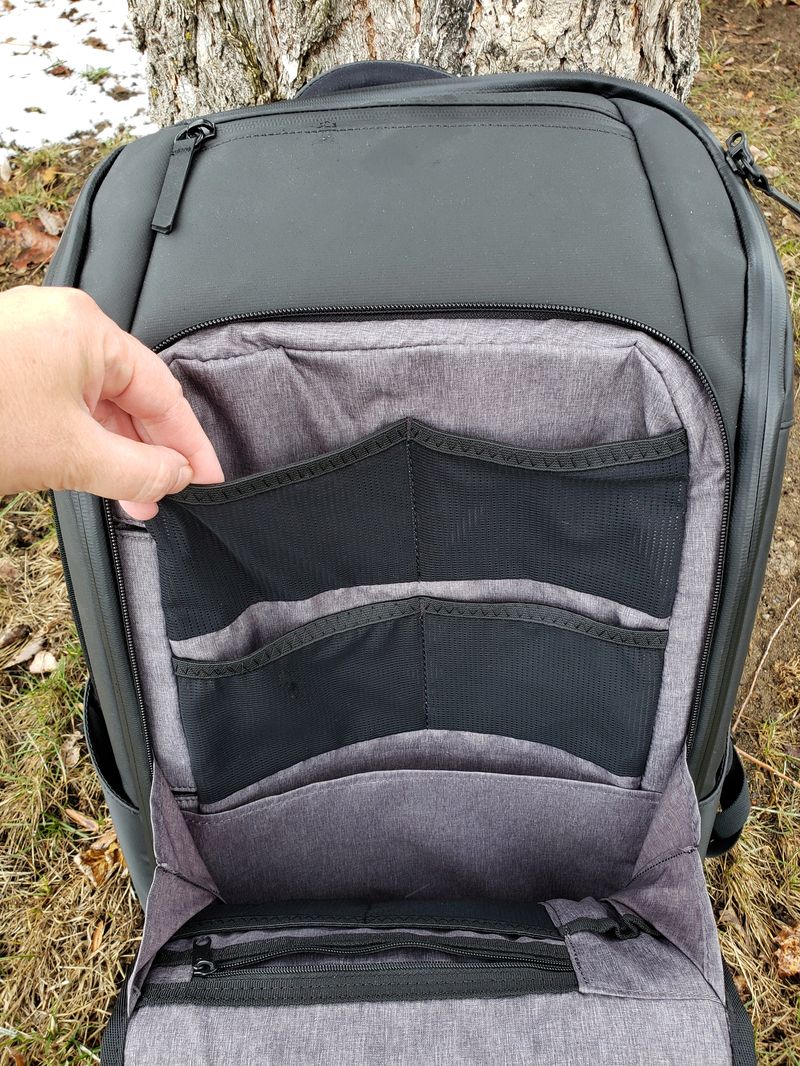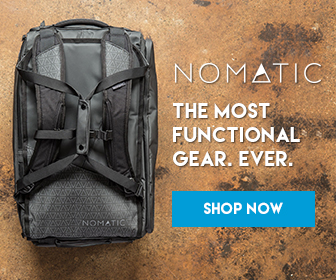 There's a small, easy access pocket on top of the backpack that's perfect for storing things you need to access quickly, like a passport, wallet, or phone.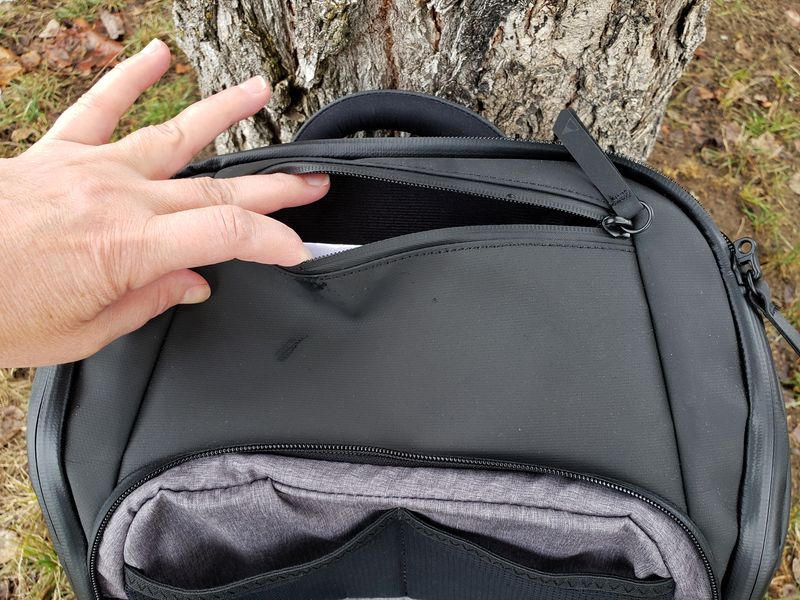 There's a power cord pass-through, which is handy if you plan to listen to music or use a power bank for your phone and other mobile devices.
The interior, largest compartment opens up like a suitcase. There's a padded laptop sleeve, plus another large pocket that we found was perfect for our Kindle.
When compared to other minimalist backpacks for every day use, the Nomatic backpack can fit quite a lot of items.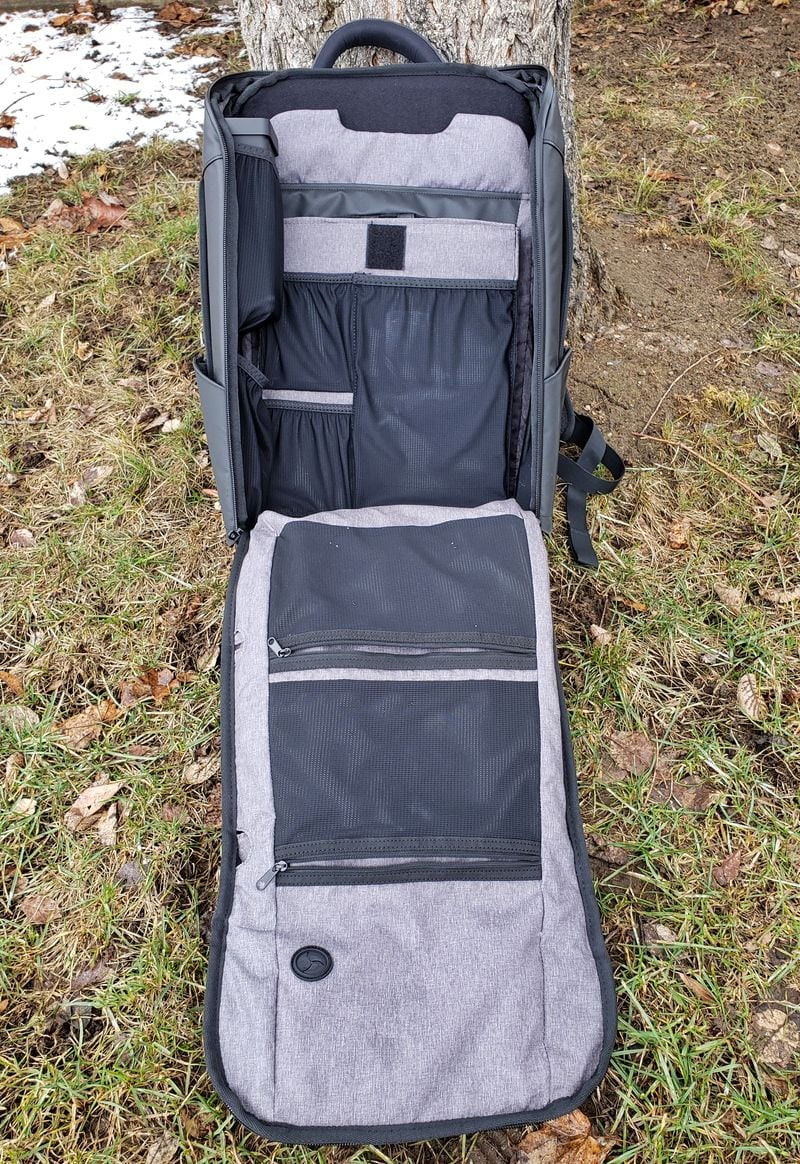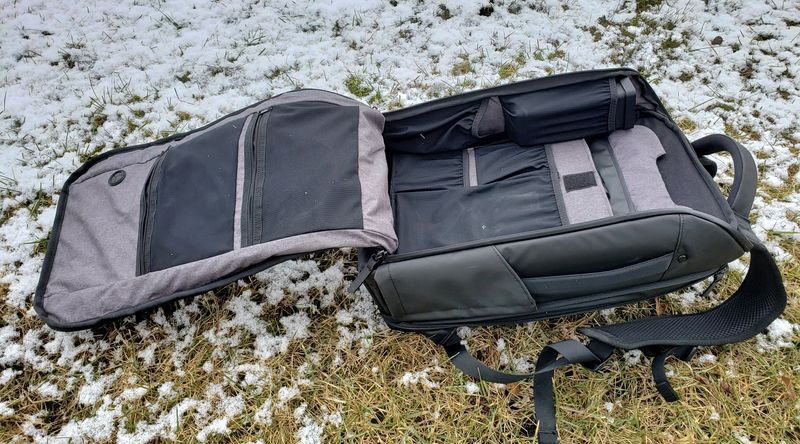 Materials and construction
The materials and construction seem to be pretty sturdy. I't made with durable construction and resilient, waterproof materials. Its zippers won't easily be deteriorated, and the straps will stay comfortable, even if you're hauling a heavier load.
Other Nomatic backpack features
Here is a quick glimpse at some of the Nomatic backpack's other features:
pocket offering protection against RFID skimming;
retractable key leash that makes it easy to use your keys safely, without running the risk of losing them;
hidden pocket to store anything from extra money to valuables and jewelry that you want to keep away from prying eyes;
magnetic pocket for storing your water bottle;
top access pocket for fast access to your most important items;
Using the Nomatic backpack for travel
I used my Nomatic backpack as a personal item on my last flight.
At an official size of 18.5″ x 12″ x 5″ (7.5″ expanded) it's just a hair larger than most personal item sizes. For example, United Airlines' personal item size is 9″ x 10″ x 17″, while Air Canada's personal item size is 6″ x 13″ x 17″.
The Nomatic backpack's a bit larger than the official personal item size for United or Air Canada, but it's pretty close. I flew with it on Air Canada on a domestic flight in Canada, and had no problem.
That said, I've never had a personal item checked for size in Canada or the US, but I always make sure my personal item isn't obviously over size. That said, there's always a first time.
Is the Nomatic backpack right for you?
The Nomatic backpack is a great choice as a day pack, a personal item when traveling, or minimalist overnight trips.
Is the Nomatic backpack for men or women?
Because this is a smaller pack, this pack seems to work equally well for men and women.
At a 5'5″ woman, it fit me well, and was tight and snug to my body, with comfortable straps.
Charles also tried it out for a few hours, and reported back it fit well. The straps were comfortable on his shoulders, and it looked in proportion to his size as well. He's just shy of six feet tall.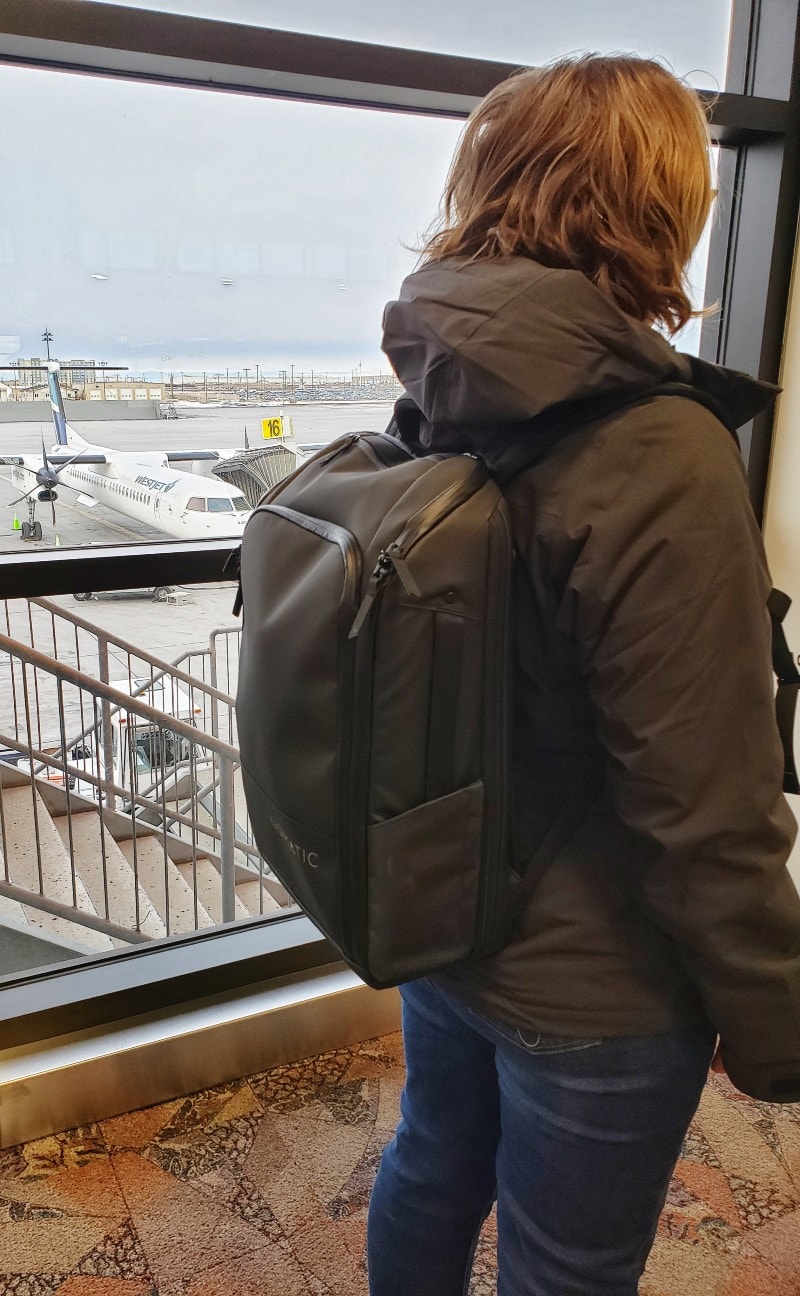 Converting to briefcase mode
One cool feature of the Nomatic backpack is that it converts from backpack to briefcase mode, making it a great choice for business.
Here's what the back of the pack looks like as a backpack.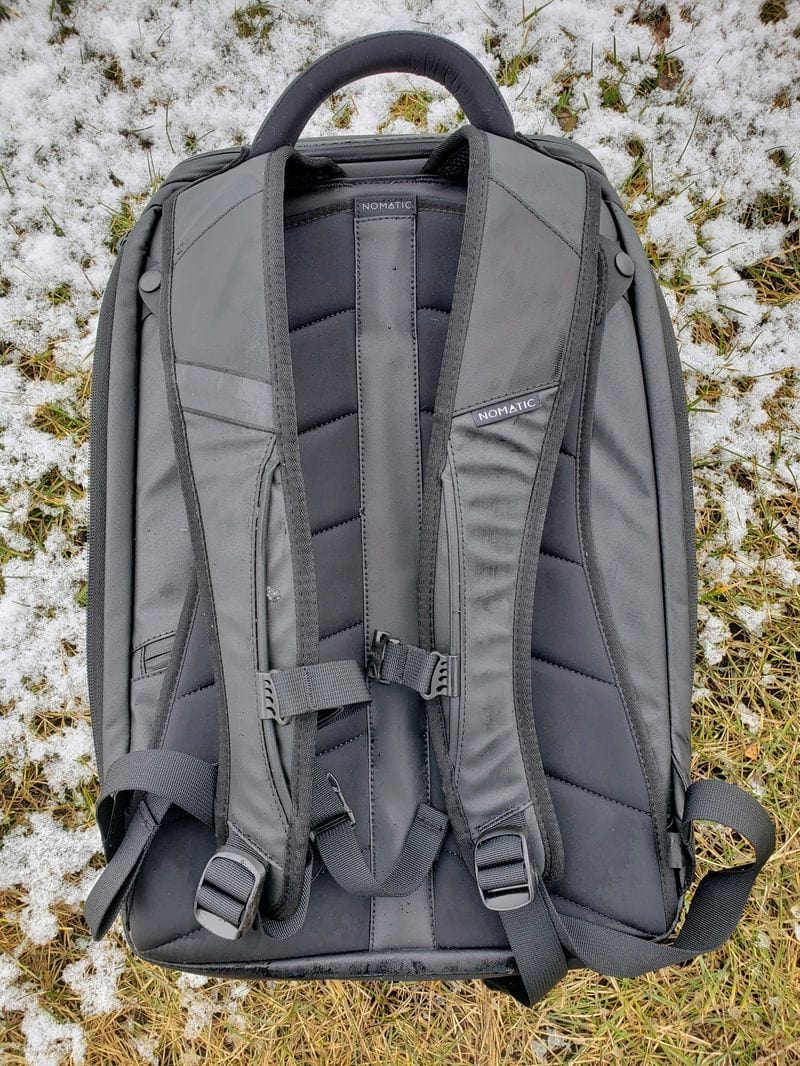 To convert to briefcase mode, just undo the snaps at the top of the backpack straps.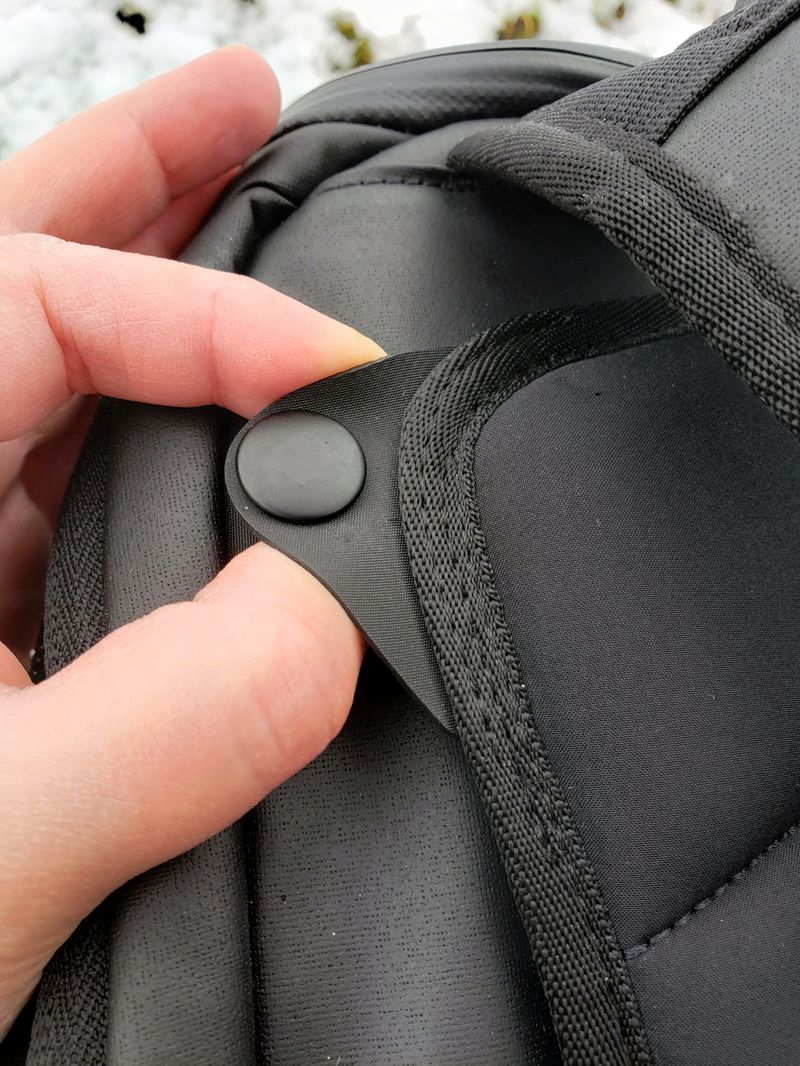 Then, tuck away the backpack straps under the padded back of the backpack, and re-snap the snaps.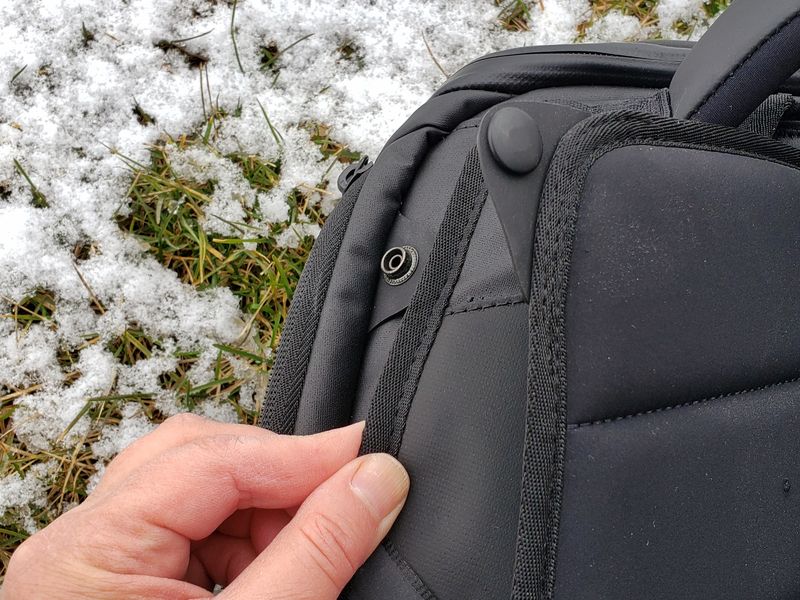 Viola! It's in briefcase mode.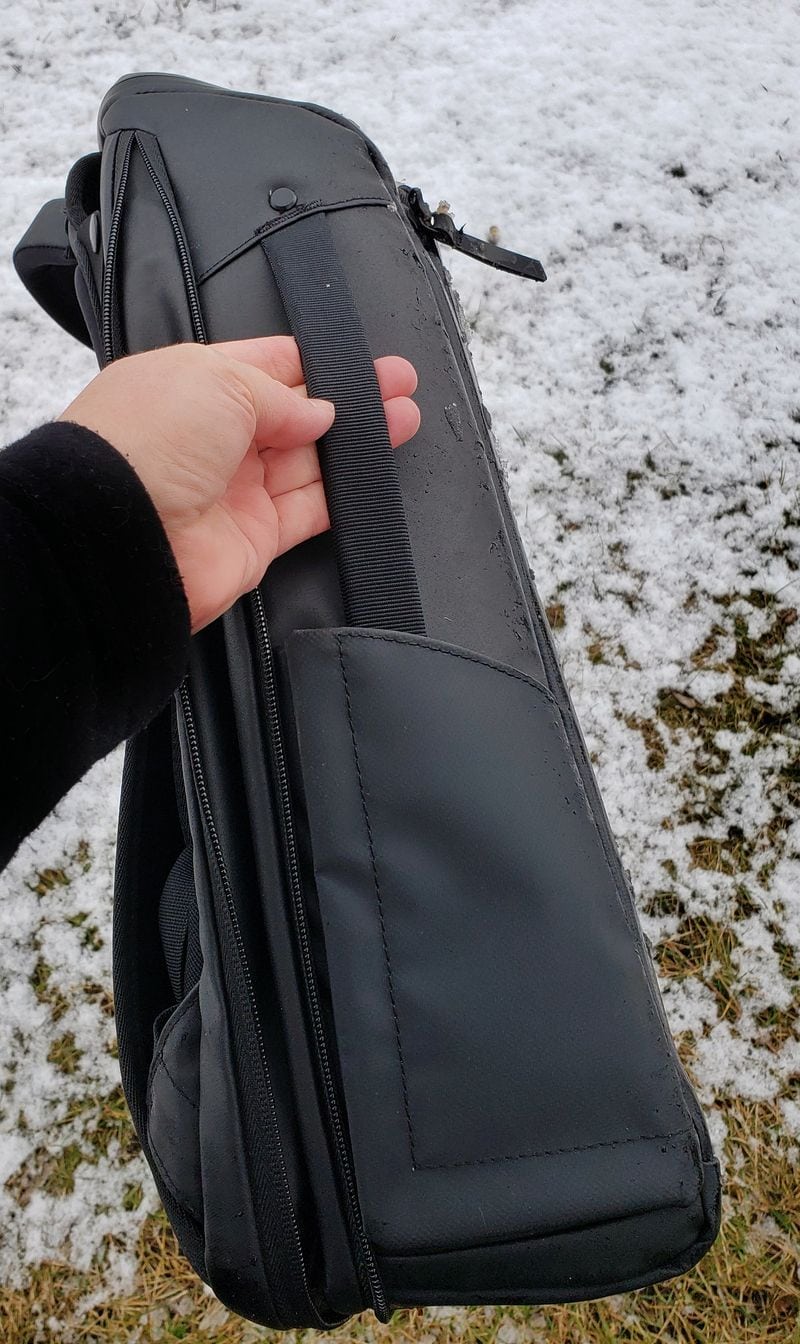 Looking for something bigger?
If you're looking for a carry on size bag, the Nomatic travel bag comes in either a 30 liter (9 x 19 x 13) or as a 40 liter (9 x 21 x 14).
The Nomatic travel pack is a little smaller than the backpack with 20 liter that expands to 30 liter.
Nomatic also now sells rolling luggage. See their rolling luggage here.
About Nomatic
Nomatic is a brand that launched on Kickstarter, and aims to make functional travel gear. The company sells travel backpacks, duffles, travel wallets, and other travel gear.
See all of Nomatic's gear here.
The bottom line
All in all, we've used the classic Nomatic backpack for a few months when we wrote this review.
It's rapidly becoming my top choice for my everyday carry when I'm out and about. I'll grab it, throw it in my laptop and go work in a cafe for the day. I've used it as my personal item when I'm traveling, or as a small electronics bag on a road trip.
As I keep using the pack of the next months, I'll update with more information on how it's holding up for durability.
See a slightly different version of the Nomatic backpack on Amazon