Unlike a lot of travelers, we're not the best at pre-booking hotels as we travel. Occasionally, this has led to spending nights in dumpy hotels or having to spend way more than we anticipated.
Of course, the upside to this is it gives us the flexibility to stay or go on our terms.
Important update for 2017
We contacted TravelPony website support back in January 2017, and asked why their search only TravelPony hotels check box wasn't working.
Here's their reply "Our inventory is currently more limited than usual because we are in negotiations with our primary inventory supplier. Please check back periodically to see if we've added new inventory in your desired locations."

When we checked in March, and again in April 2017, the search TravelPony hotels check box had disappeared. We also couldn't find any TravelPony hotels in searches of ten cities we searched.

Why is this important? You can only use TravelPony credits on TravelPony hotels. You cannot use TravelPony credits on hotels booked through other sites, such as Hotels.com, or Booking.com.

If you have TravelPony credits (like we do), as of now, you can't use them on the site or on the app at all.

We're now using Booking.com for most of our hotel bookings. It's fast, has a huge inventory, and I've found it to be very reliable.
If we find ourselves in love with a place we can stay longer, or if we're bored, we can move on. On the whole, we think this is worth a few less than stellar stays on occasion. (Just don't ask us this when we're forced to share a single bed or the neighbor's snoring wake us up all night long. 😉 )
We've been traveling with our iPhones since they came out and when sites started creating apps specifically for booking hotels, our way of traveling started sucking less.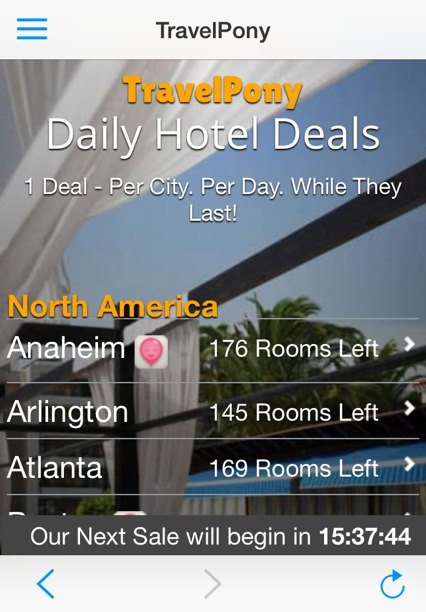 In the past, we've found some great hotel deals with the TravelPony website. TravelPony tends to have amazing deals on higher end and mid-level hotels that bring the better places into our budget level.
So, we were excited when TravelPony reached out to us to review the new TravelPony app, which would definitely make booking a hotel on the go a lot easier.
We reviewed the TravelPony app over the weekend and can definitely say that it's a keeper.  With a straightforward front end and the header "1Deal – Per City, Per Day. While They Last!" you quickly realize that it's exactly that. One deal per city, per day, and that it's a first come, first served type of thing.
The TravelPony app isn't just last minute booking app. Sure, you can book a hotel at the last minute, but you can also search The TravelPony app for hotels far into the future.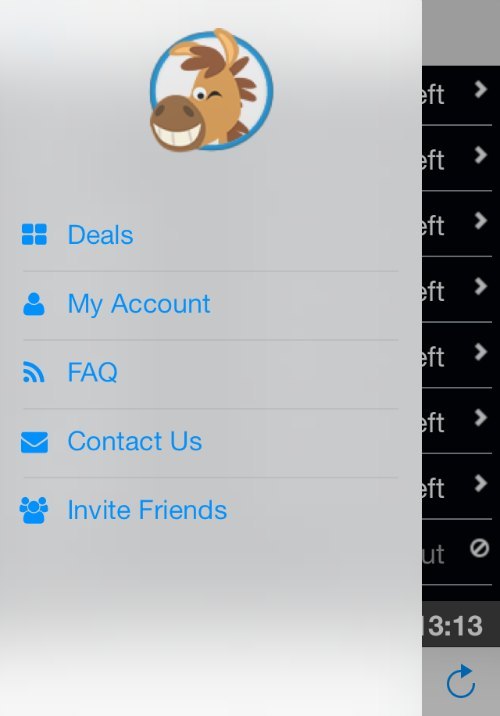 Need a ride?
To help make the app even more appealing, TravelPony has partnered with Lyft.com, a popular ride-sharing platform and car service company.
When you book a room using the TravelPony app, you'll either receive a free ride to your hotel or Lyft credits that you can use to zip around the city by redeeming them at lyft.com.
Testing the TravelPony app promise
TravelPony makes a pretty bold promise on their app webpage of "better rates than available online. Even TravelPony.com."
We just had to put it to the test.
So does the TravelPony app's price promise measure up?
We checked the best price of the TravelPony app deal of the day for Toronto, Canada. The Travel Pony hotel deal of the day was the Fairfield Inn & Suites by Marriott Toronto Airport.
We did a price comparison with some of the leading hotel deal sites out there including Expedia, HotelTonight, Trivago, Agoda, HotelsCombined and Orbitz and here are the results:
Price on the TravelPony app:
Standard 2 beds: $86, including taxes and fees $98, continental breakfast included.
Standard king bed: $86, including taxes and fees $98, continental breakfast included.
This price also includes a $5 Lyft ride credit.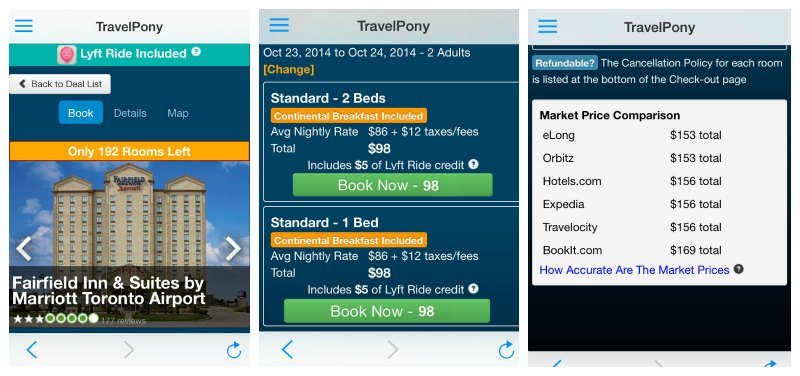 Price on the TravelPony website:
The Fairfield Inn and Suites wasn't available on the TravelPony website for that night so we couldn't compare it directly, however it averaged $9 to $12 a night cheaper than the competition over the next few days.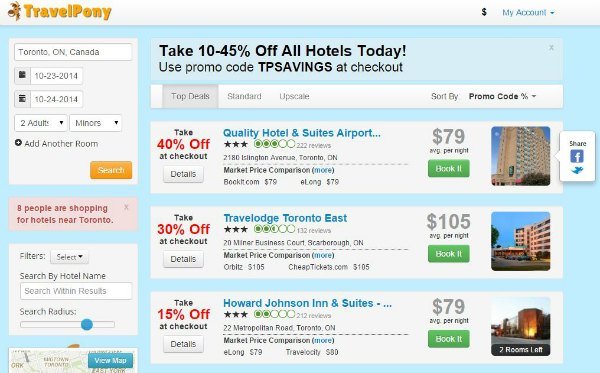 Price on Expedia:
Standard Room, 2 Queen Beds: $134, plus taxes and fees $150.86, continental breakfast included.
Standard Room, 1 King Bed: $134, plus taxes and fees $150.86, continental breakfast included.
This price doesn't include a Lyft ride.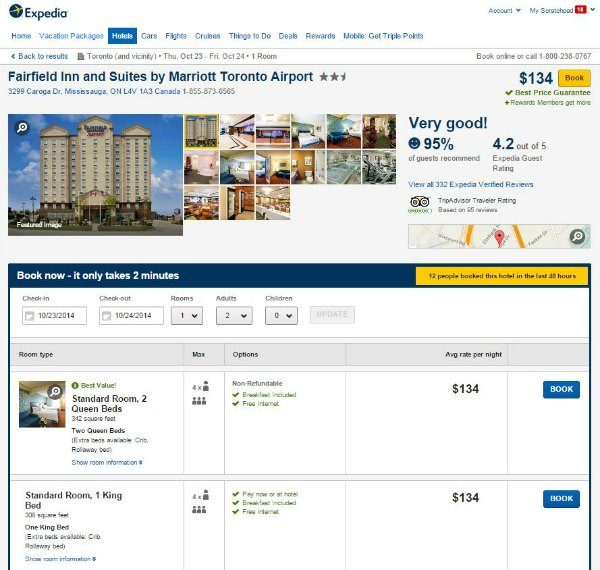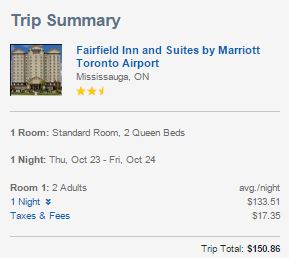 Price on HotelTonight
If you're booking last minute, the real competition is probably a last minute booking service, so we put TravelPony's promise up against HotelTonight.
The Fairfield Inn and Suites wasn't available on the HotelTonight app. However there were 15 other hotels available, with prices ranging from $329 to $105.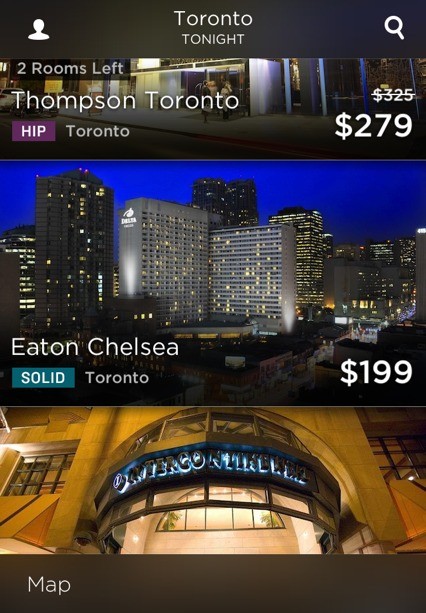 Price on Trivago
Trivago is known as a great comparison site so we thought we'd see how it stacked up. As you can tell from the screenshot, the lowest price, per room is $133, plus taxes bringing it to $150.29.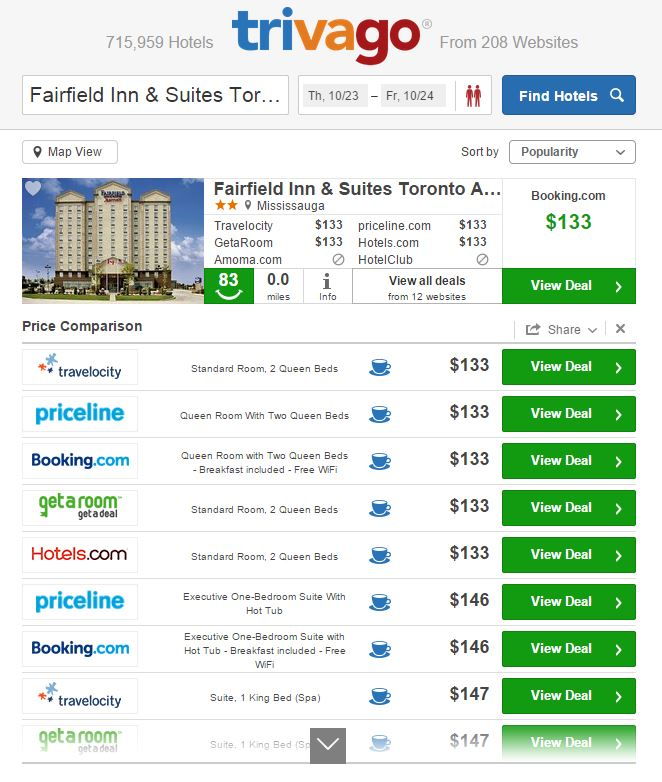 Prices at Agoda, Hotels Combined and Orbitz
We also checked for the cheapest prices at Agoda. Their lowest price started at $132.66 which comes out to $149.91 with taxes.
Hotels Combined started their prices at $150 (not sure if that included taxes or not) and quickly ballooned up from there.
Orbitz is another popular site and we found their prices starting at $132. At $149.16 with taxes, they were the second cheapest site next to TravelPony.
Our verdict?
Price is king, and based on our research, the TravelPony app delivers on its promise of a great price for one hotel, one city, each day.
At $98 for the night it easily blew away the $148 to $150 average that the other sites were posting. Obviously if you wanted to stay at the Fairfield Inn in Toronto that night, TravelPony easily galloped ahead of the others and had the best price.
What we liked
The app worked well for us, even on our older iPhone 4s. It never crashed, or glitched.
We loved that the Travel Pony app lets you choose the number of adults, and the number of kids. This is a great feature missing in a lot of apps since children usually cost less than adults. If you're traveling as a family, this can make a big difference, as a lot of hotels (especially in Europe) charge extra per child.
Above all, we loved that you can get a great price on a high to mid-range hotel.
What didn't we like?
By default, the app selects dates that are about 10 days into the future. You need to change the date whenever you search for a new hotel. It's a bit of a bother.
As well, for many hotels, there's limited  information available in the app. If you want to find out more about hotel amenities or to see a plethora of pictures you may need to browse elsewhere for a minute.
What you need to know
There's a single hotel deal available for each city and the deals change every day at noon (Eastern Time).
If you want to make sure you get the best deal it's best to check early.
TravelPony also has a great referral system that makes it easy to get extra credits when friends and family book using your referral code so if you love the app, pass it on to others.
How to get the TravelPony App
You can download the free TravelPony app for your iPhone at the AppStore or for your Android device at Google Play.