Holiday travel can be tough. Not only are there more people in the air, on the roads, and in hotels all around the world, but prices also tend to skyrocket during the holidays.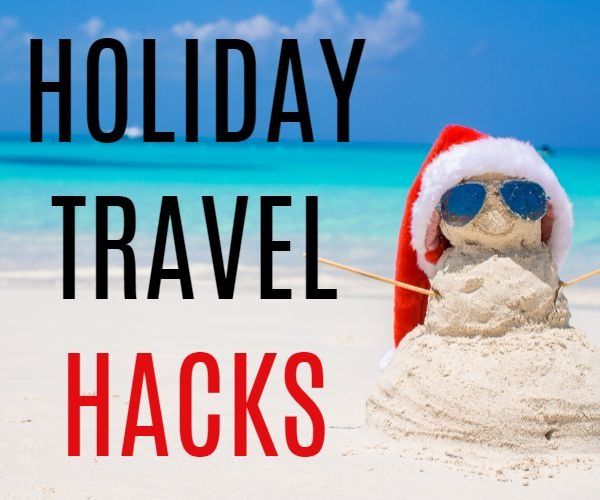 First as a couple, and now as a family of four, Charles and I have travelled together since 2002. In those 15 years, we've managed to learn a few things about holiday travel. Some were tougher lessons than others.
The only real mistake is the one from which we learn nothing. – John Powell
Sometimes, we're the ones who've made the mistake, like the time we were stuck in a small Thai town for 3 days because we forgot to check if local transportation shut down for the holidays. Other times, we've learned from the mistakes of our Barefoot Nomad community, as well as friends and family. Either way, those mistakes have taught us plenty.
Here are our best, hard-learned travel hacks and tips for holiday travel to help you save money and travel more smoothly this holiday season.
So what are travel hacks? They're tips, tricks or tools to help fellow travellers get the most from their travels. That can mean saving time, saving money or saving them from making the same mistake others have made beforehand.
Don't wrap gifts before you fly
We've been guilty of this one. Wrapping gifts before your flight sounds like a great way to save time when you're flying, right? Unfortunately, no. Airport security can ask you to unwrap gifts to see inside, meaning you may have to wrap them twice. We've also found that gifts often get little tears and rips in transit, anyway.
Instead of pre-wrapping our gifts, we now bring tape and wrapping paper and child safe scissors for this reason. Gift bags are also a great solution, as you can easily pop the gifts into the bags at your destination.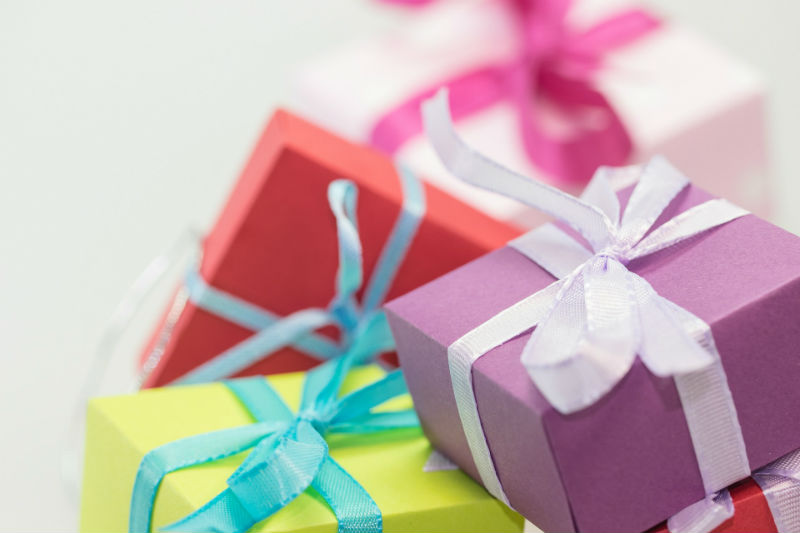 Even better, consider shipping your presents to your destination ahead of time. You can also have presents shipped directly to relatives through Amazon as a gift. Just be sure to tell your recipients not to open them before you get there!
Sign up for price alerts
Price alerts have saved us a lot of money over the years. Last year, we needed to fly over the Christmas Holidays in late December from Calgary to Cancun, Mexico. You could have knocked me down with a feather when I first saw the high prices. Even worse, almost all of the flights had a long connection somewhere in the USA. Luckily, we had over a month to find a better price, so I set up a flight alert.
Boom! A few days later I got a flight alert saying that there was a sale on direct flights on one of our favorite Canadian airlines. Taking two minutes to set up a flight alert saved us hundreds of dollars, and also a lot of time.
Take advantage of cancellation policies
We've rarely seen this tip anywhere else, but it could save you a lot of money.
Book in advance to lock in a good price, but make sure that your hotel or flight has a clear, no cost cancellation policy. Then, mark the last day you can cancel by on your calendar, and set a reminder for a day or two before.
If your plans change, or if you find a better deal before the cancellation date, you can cancel without penalty. If your plans don't change, you'll have grabbed a good early booking discount.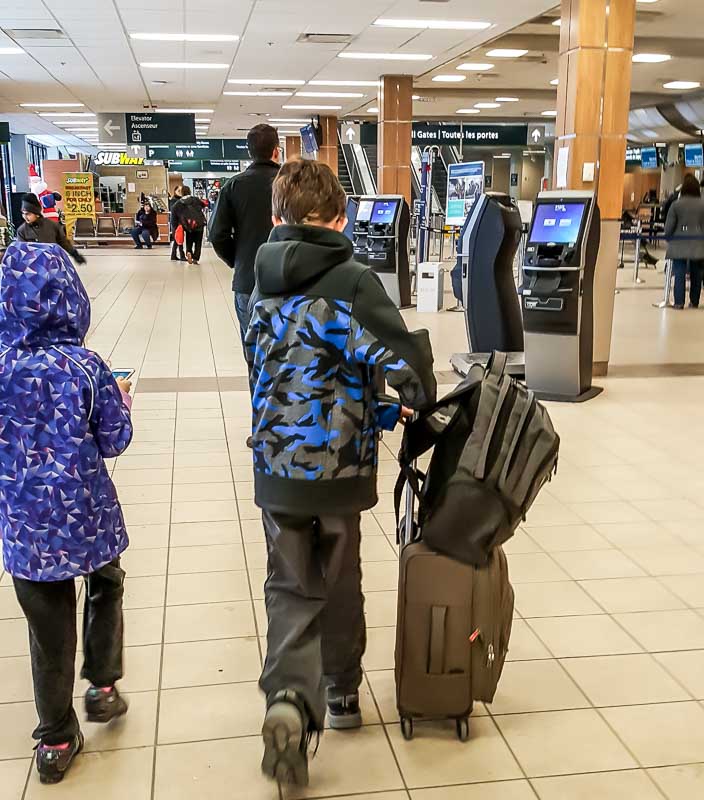 Stay flexible
It's hard to have a lot of flexibility during the holidays, but if you can use an alternative airport, or fly on alternative days, you can save a lot of money.
Even managing to move your flight or hotel reservation a day or two can be a big money saver.
Consider Christmas in early December
Even if you're incredibly flexible on dates, travel during holiday peak season costs more, and attractions are almost guaranteed to be more crowded.
If you can reschedule your trip, consider travelling during low season. Not only do prices drop, there are also fewer people around, and you'll have a better choice of accommodation.
In North America, low season is usually mid-September to early December, and then mid-January to the end of February, and finally April to May.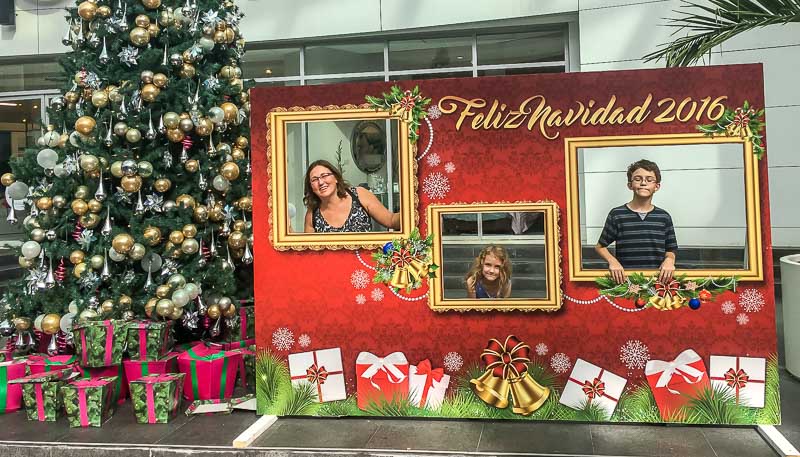 Be prepared for delays
Unfortunately, since the holidays often bring poor winter weather and busier airports, delays become more common. You may end up having an extended wait at your gate, or even a delayed flight.
Be prepared by having a movie on your phone or laptop (Netflix now lets you download many shows for offline mode!) in case airport WiFi is overwhelmed or spotty.
Strongly consider buying trip cancellation and interruption insurance that covers you for itinerary changes or cancellations.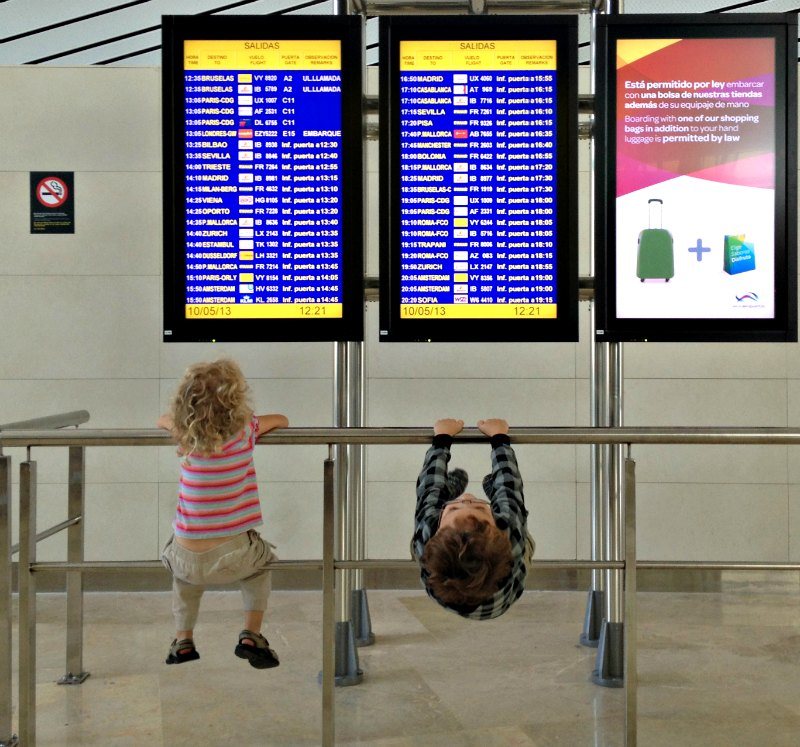 Choose alternative airports
Want to save even more money or get a more direct flight?
When selecting your destination on a search engine, check the little box that reads Nearby Airports at the top of the drop down menu. You'll automatically see results for airports close to your original choice, which can help you snag a flight with a chance of fewer connections or at a better price. Miami and Fort Lauderdale are perfect examples of this. We've saved hundreds per ticket by flying into one airport and departing from the other.
We've also saved by flying into one place and renting a car and driving down to another. The nice part is that we've often incorporated the drive into the journey. Like the time we flew into Las Vegas, stayed for a few nights then rented a car and drove to Arizona to visit family. Not only did we get to check out Hoover Dam but we also had the opportunity to see the Grand Canyon and the picturesque town of Sedona. The nicest part was that we saved so much on our tickets by flying into Las Vegas that it paid for the cost of our rental car and a few nights in a hotel.
For Canadian flights, depart from the USA instead
For Canadian departures or arrivals, you can save a fair bit of money choosing an alternative airport at a border city in the United States. It's common practice for Canadians to do this, but it's not common practice for other nationalities flying into Canada.
You'll need to drive, or grab a bus or taxi from Canada, but you can save a lot of money. We did this for a trip to Oahu, Hawaii back in 2012, choosing to depart from Bellingham, Washington instead of Vancouver, Canada (the cities are 56 miles or 89 km apart). We saved hundreds of dollars on that flight, plus we got a better direct flight, and had a chance to do some shopping in Bellingham on the way back.
Common US border cities are:
Bellingham, USA for Vancouver, Canada
Grand Forks, North Dakota for Winnipeg, Manitoba
Detroit, Michigan for Toronto, Ontario
Burlington, Vermont or Syracuse, New York for Montreal, Quebec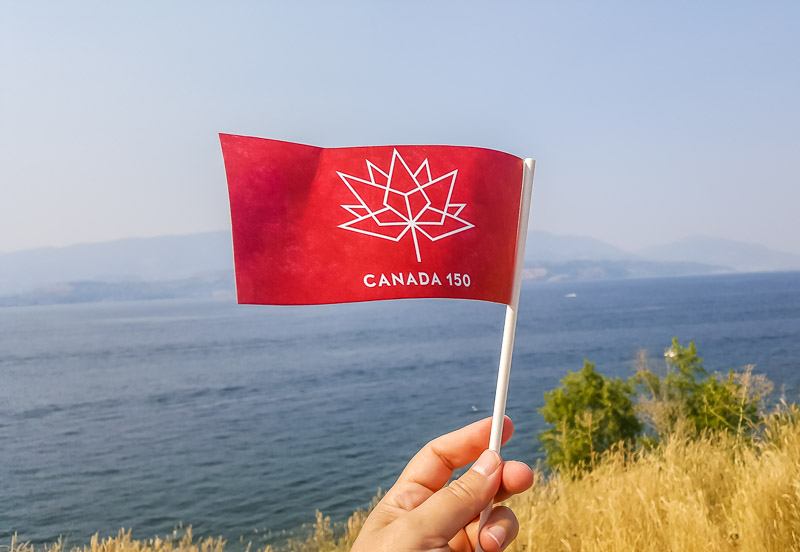 Book two one-way flights
Surprisingly, booking two one way flights with different airlines can save money over a round trip ticket with the same airline.
Warning! Be cautious if you're booking with two separate airlines in one direction. If your first flight is delayed or cancelled, the second airline isn't obligated to reschedule your next flight. If you can, allow plenty of time for delays and cancellations and if delays do occur, contact the next airline as early as possible so they can arrange alternative flights.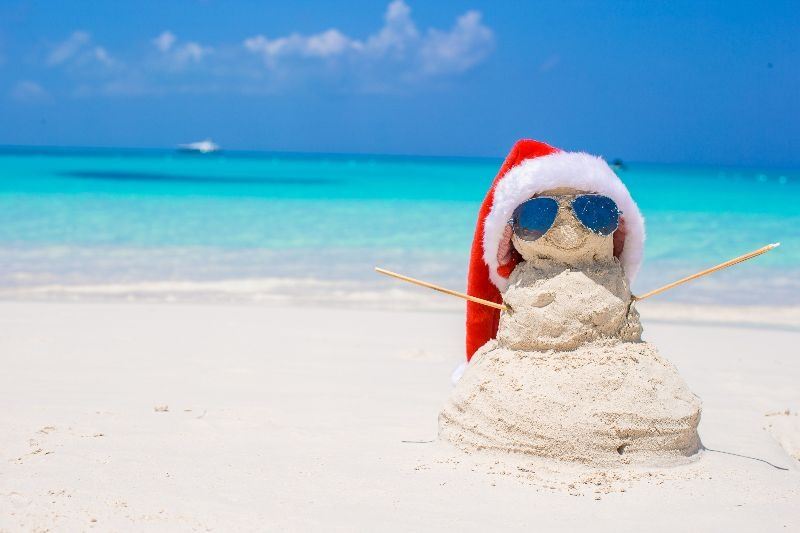 Fly on the actual holiday
We've found some smoking hot airfare deals by being willing to travel on Christmas Day and even New Year's Day.
Since most flyers want to be at their destination early, tickets for flying on the actual holiday are often more affordable. We've flown on Christmas day and New Year's Day several times over the years when trying to see both sides of our family during the holiday break and have found it to be one the quietest times to fly. As a bonus, companies often include holiday perks like special snacks and holiday themed meals. We even had the president of Canadian airline Westjet join us on our December 31st flight to wish the passengers Happy New Year!
Looking for more travel tips?