Our Buddha Board review of this fun, water-activated canvas for mess-free travel with the kids.
Let's dive into our Buddha Board review and learn how this compact, drawing tool can transform your family's travel experiences.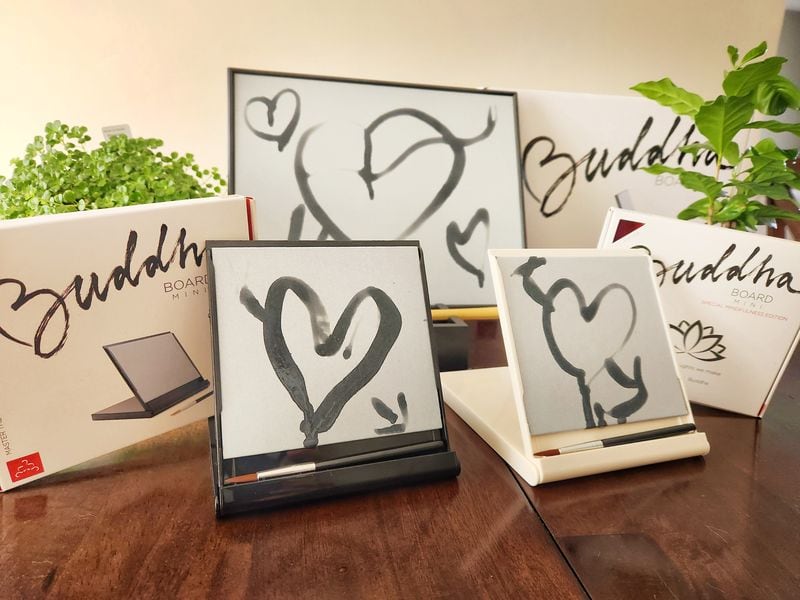 We've had our original Mini Buddha Board (and its cousin, the white Special Mindfulness Edition) for about a month now. In that time, the mini has become a staple both in our house and when we're on the road.
In a hurry? You can buy the Buddha Board on the Buddha Board website here or on Amazon.
That's given us plenty of time to run the Buddha Board through its paces, both at home and on the road.
But first, let's dive into exactly what a Buddha Board is, and how it works.
What is a Buddha Board?
A Buddha Board lets you create art using only water, a brush, and the board itself. The board is made of a material that turns dark when wet. As the water evaporates, the image slowly fades away, leaving a blank canvas for you to create anew.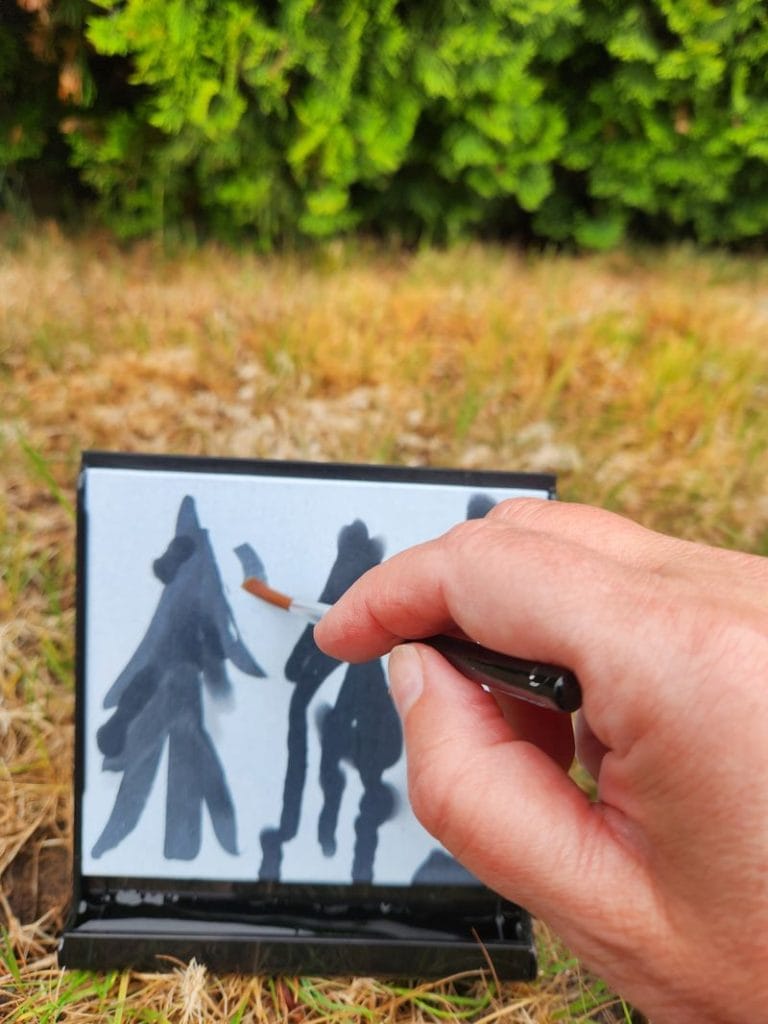 Because it only uses water (no ink, chemicals, or paint is used), the Buddha Board is environmentally friendly. Plus, it lasts for years with proper care.
What's the point of a Buddha Board?
The Buddha Board is inspired by the Zen concept of living in the moment and embracing impermanence. It encourages users to practice mindfulness and let go of their attachment to their creations, as the art eventually disappears.
People use the Buddha Board for relaxation, stress relief, and meditation, as it promotes a sense of peace and tranquility through the process of creating and observing the temporary nature of the artwork.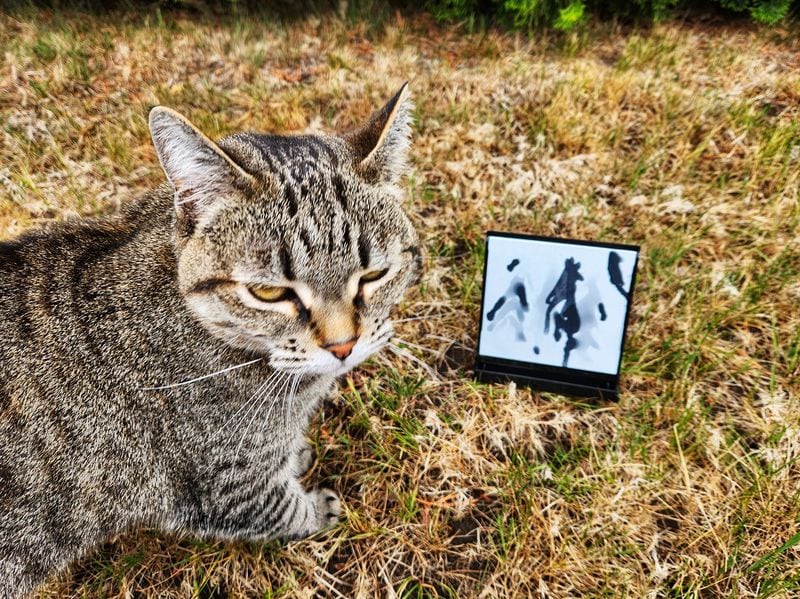 Buddha Board Review
When we travel, we don't have room to carry much for art supplies. Usually, we only carry a sketchpad and pencils, but we invariably run out of paper. We do explore our creativity with photography to capture landscapes, people and animals as we travel, but we were craving another form of creative expression.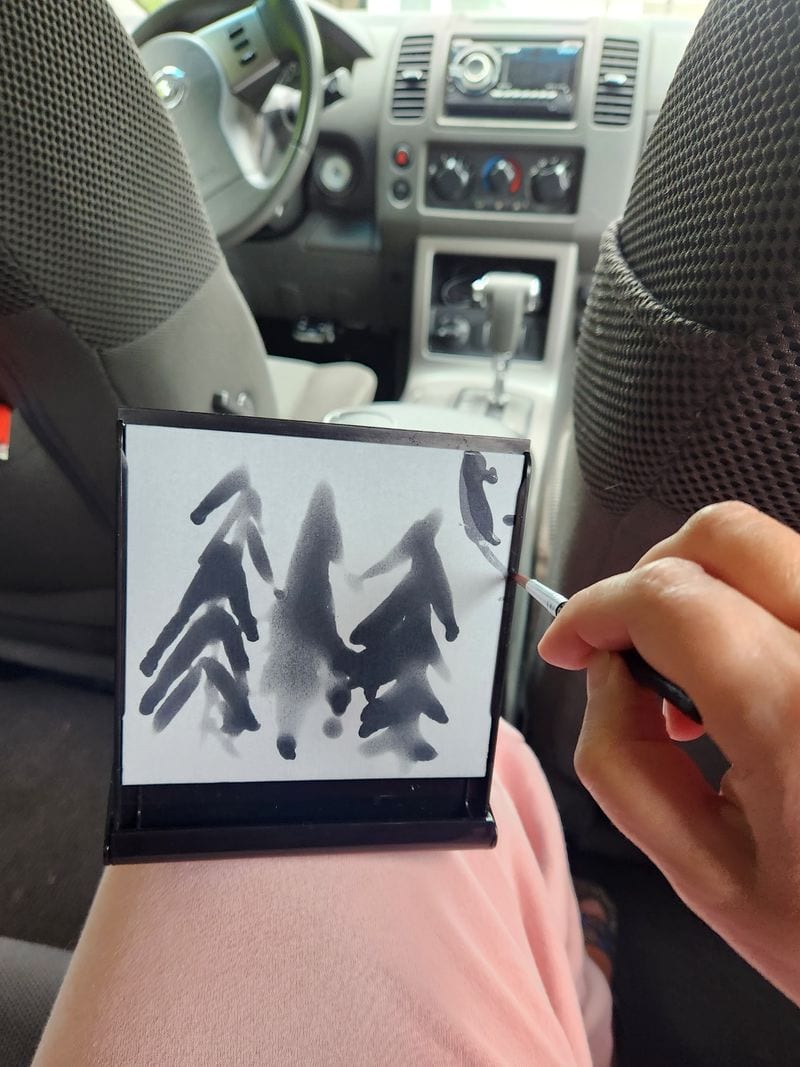 Turns out, we needed the Buddha Board all along. All you require is a bit of water and, with a canvas that flips to become a cover that's about the size of a CD (remember those!), and you can make art anywhere you travel.
There are two sizes of Buddha Board available: the standard size, equivalent to a letter-size paper, and the mini Buddha Board, our choice for travel.
We found the standard-size Buddha Board to be perfect for creating bigger artistic creations at home, but it's not great for picking up and carrying around. This is why we choose the mini Buddha Board for travel.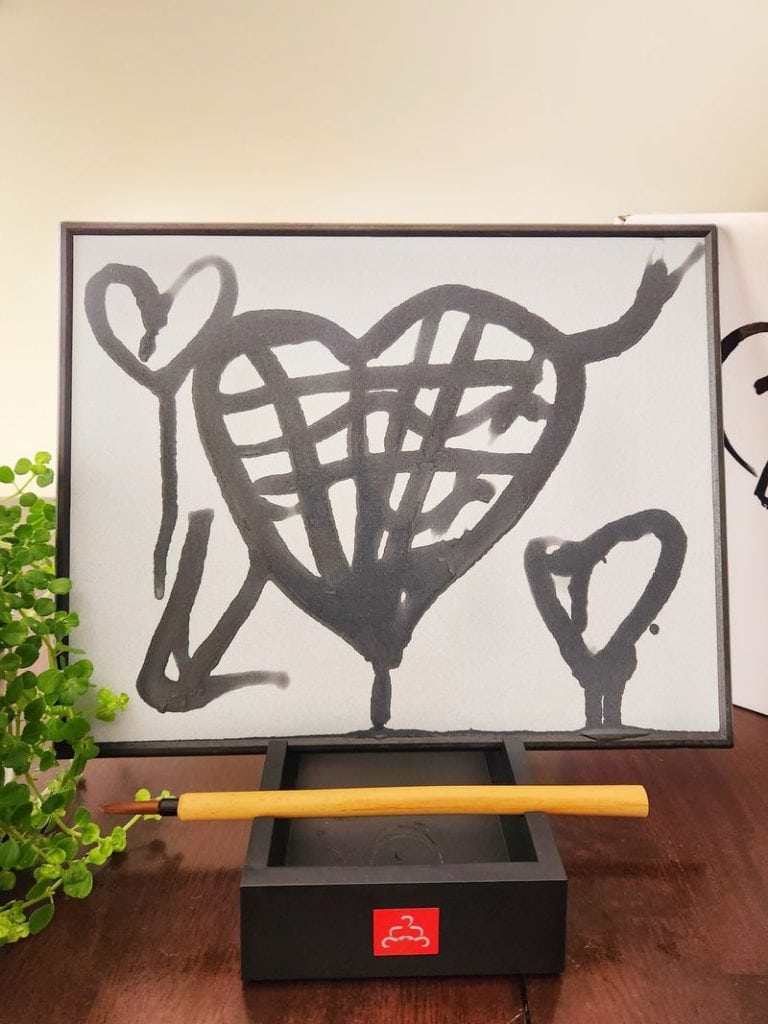 The compact mini Buddha Board fits perfectly into a travel backpack or suitcase. It's only five inches square and 1/4 inch wide.
How does a Buddha Board work?
You draw on the board using a brush, dipped in water. When you draw, the image appears shortly after you use a brushstroke but not immediately like an pen would.
I expected a cheap brush to be honest, but the quality of the brush is very good, with a long, tapered end.
You can put water into the stand compartment, and dip your brush in or have a small bowl or cup at the ready and use that instead (that's our preferred way).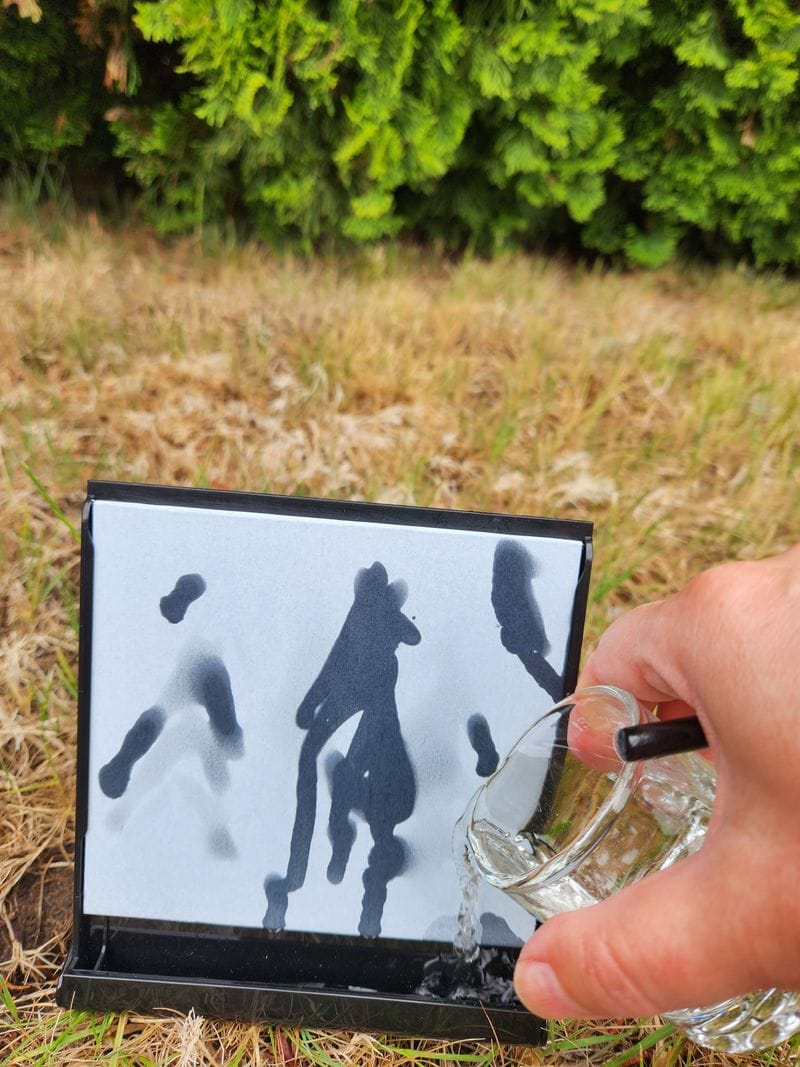 As you draw, your brush strokes slowly fade away within about 10-15 seconds.
For darker strokes, use more water on the brush, and for lighter strokes use less water. The more water you use the longer it takes to disappear. So, by adjusting the thickness of your strokes, and the amount of water, you can really control the darkness and thickness of your Buddha Board water art.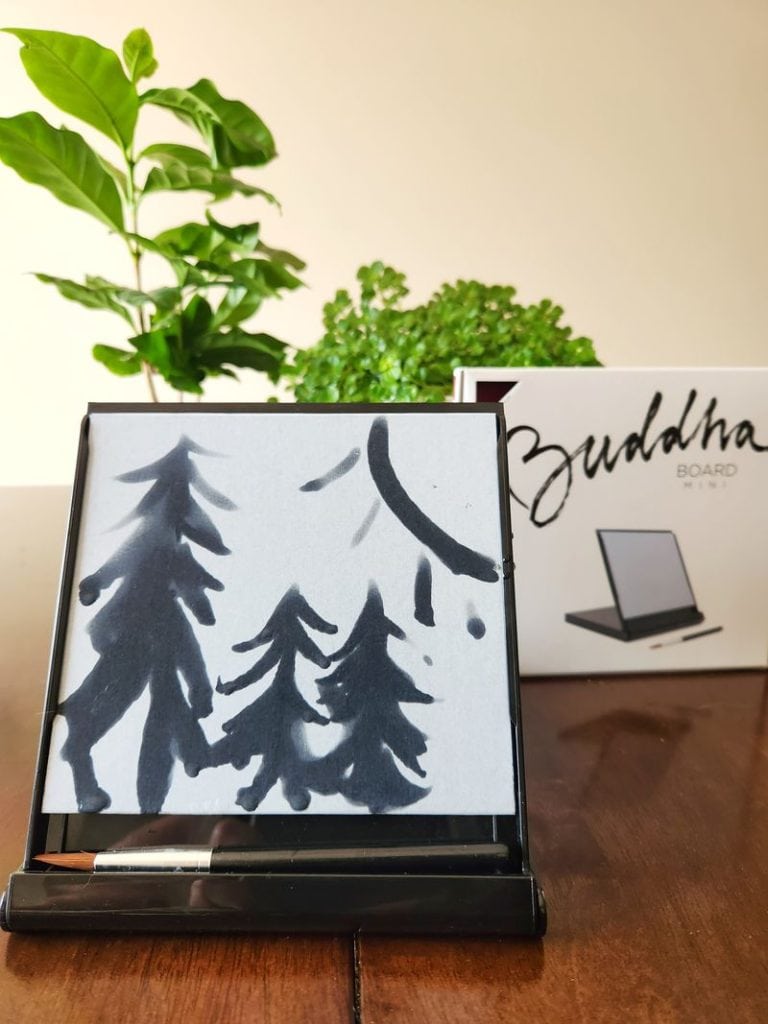 The Buddha Board takes away the stress of worrying about making a mistake when drawing. You don't need to be a great artist, because if you make a mistake, it just fades away.
Our family also like to paint a sketch then as the image fades, recreate a new painting using the fading brush strokes as inspiration for our next creation.
The mini Buddha board folds into its own small easel stand and holds the paintbrush for your next moment of creative inspiration.
Want to preserve your artwork longer? Simply snap a photo of your drawing with your phone.
There are several different Buddha Boards. They all come with a brush and a stand.
The Original Buddha Board is the largest, measuring 12 × 9.5 and is 1/4 inches deep.
The Mini Buddha Board is perfect for travel, at 5 × 5 and is 1/4 inches deep.
Special Mindfulness Edition (White) of the Mini Buddha Board, measuring 5 × 5 and 1/4 inch deep, just like the Mini Buddha Board.
Using the mini Buddha Board for travel
As parents, we understand the challenges of entertaining little explorers during road trips and long flights.
The quest for mess-free, engaging activities is never-ending, but the water-based fun of the Buddha Board happily occupies young artists without leaving a trace of chaos in their wake.
You don't have to worry about any cleanup because the image is drawn on with water. There are no inks of any kind.
The Mini Buddha Board lets your little ones create masterpieces with just a brush and water. It's perfect for road trips and airplane rides, keeping kids busy during long flights or car rides, and filling their time with imagination and Zen-inspired fun! It's quickly become one of our top tips for fun family travel.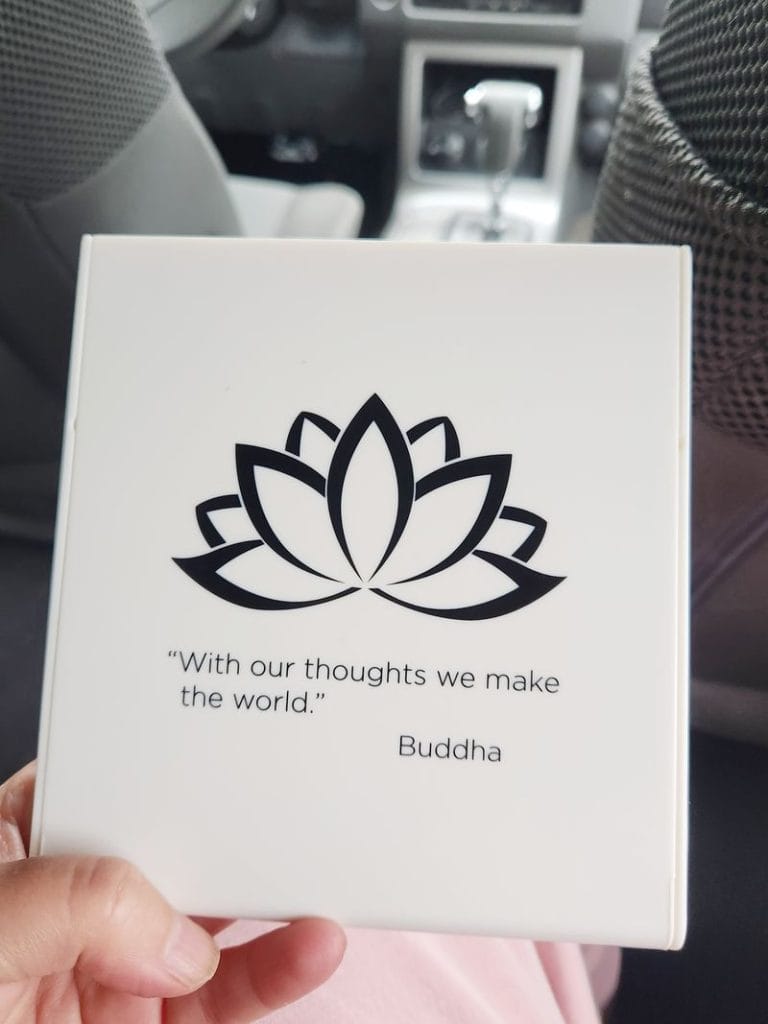 Tip! Place a glass 1/4 full of water in your car's cup holder to minimize water spills in the car. While we've used the mini Buddha Board in our vehicle, it does require water, so water in the stand can tip over the stand. To minimize water spilling, we just use a small cup, fill it with a bit of water, and place it in the cupholder in the car.
The Buddha Board's perfect as an electronic-free distraction at your destination, too, and it's one of our new favorite unique travel gifts.
What is a Buddha Board made of?
The Buddha Board website says "both the surface and backing are made of natural and man made materials".
You can damage the surface by scratching, or even from oils on your fingers, so you need to use some care to keep your Buddha Board useable for years.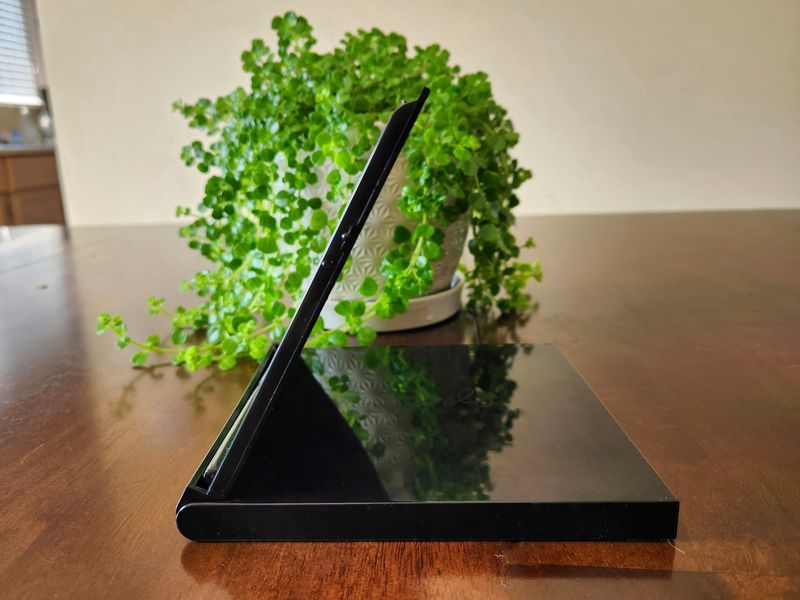 Buddha Board cons
Overall, we like the Buddha Board a lot. It's small, easily packs in our backpack, and is a lot of fun to use on the road (with only a little water needed).
That said, no product is perfect for everyone, all of the time. If you want to keep and display your art pieces, then you may want to use a more permanent canvas for your creations.
The Buddha Board canvas seems tough but can be scratched or damaged by oils on your fingers. If you tend to be rough on your belongings, you may want a less delicate canvas.
It would be great to have an extra large version as well, to have plenty of space for larger creations at home.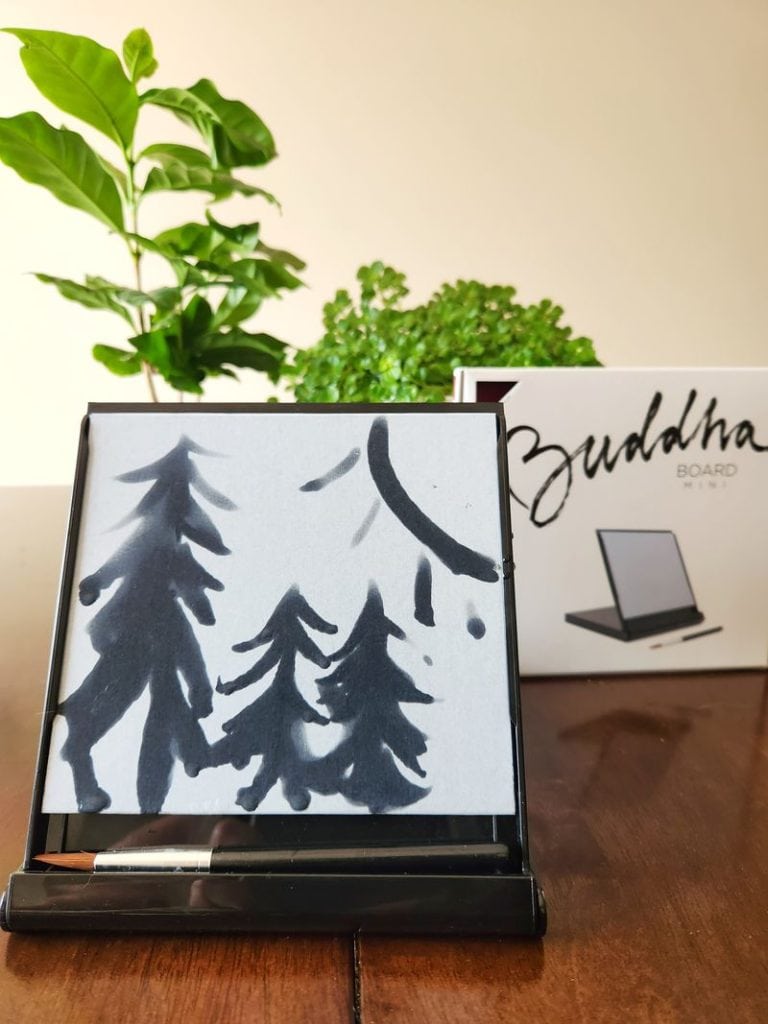 How much does the Buddha Board cost?
You can buy the Buddha Board on the company website here or on Amazon.
The mini Buddha Board is about $18 USD, and the original runs about $38 USD on the company website.
See prices for the mini Buddha Board.
See the mini mindfulness edition Buddha Board.
See prices for the original Buddha Board.
Did you try the Buddha Board? Let us know what you think in the comments below.