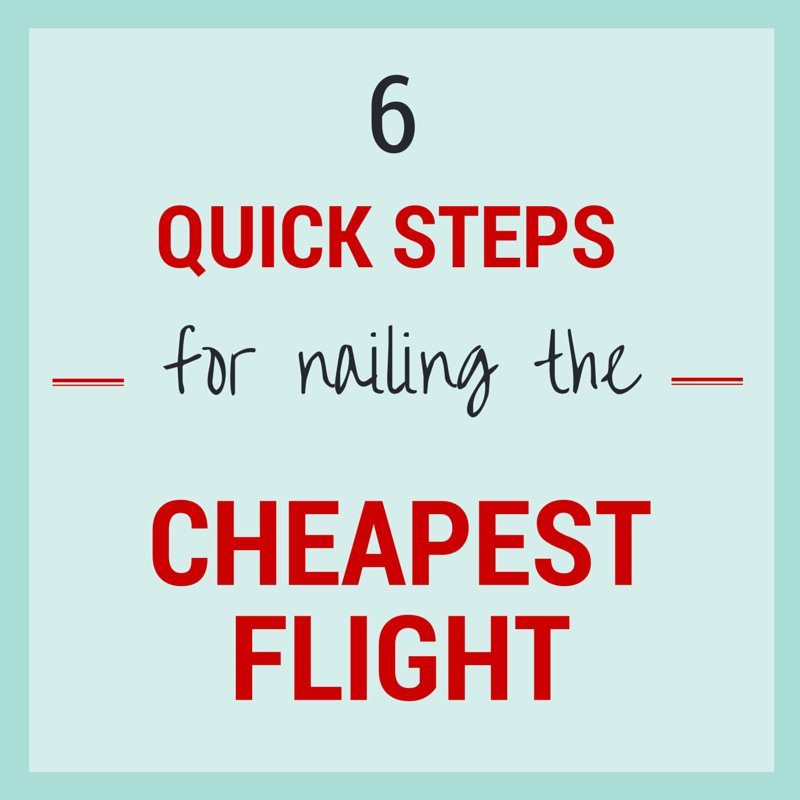 If you're like us, you don't have hours to scour every possible points option and compare dozens of airfare searches over a few days.
With that in mind, we wrote this step-by-step guide to help you land the cheapest flight – fast.
Step 1 Get a baseline price
You won't know what's cheap until you have something to compare it from.We use Google Flights to compare prices. It's ad-free, easy to use, and it allows you to compare a month's worth of fares. All prices include taxes.
Travel hacker's tip: The more flexible you are with your dates and your airports, the better price you'll find. Click in the date field below the departure or arrival airports in Google Flights to automatically search for airports near your desired city.
Step 2 Compare your baseline
Generally, the big flight search engines like TripAdvisor and Expedia return exactly the same results, and search exactly the same airlines, so searching more than one of these biggies is usually a waste of time.
Instead, we search one of the big flight search engines, and then do a search with an international search engine that tends to get different results. These are the alternative, international search engines we use:
Skyscanner. Our favorite. Reliable for low prices, they search through many different aggregators to find the best fare. Skyscanner has a great feature that will let you search for the cheapest flights from your destination city to anywhere in the world, including Europe. Click here to search Skyscanner.
Kiwi.com. A newcomer that we're continuing to evaluate. It lets you search the cheapest flight by any date you choose, including  monthly, a specific day, or all time. Click here to search Kiwi.com.
Hipmunk. They do a great display that compares flight length and layovers visually, without annoying ads. Hipmunk can display a one month calendar of fares, and often come up with different results than ITA Matrix. You can also sign up for email fare watch alerts.
Travel hacker's tip:  Set up fare alerts if you don't need to buy your airfare today. Click here to set up a fare alert.
Step 3 Look for budget airlines
Most flight search engines don't include budget airlines like Allegiant or Jet Blue, and this omission can cost you a fortune. To get the best airfare, you'll need to find the budget airlines that fly your route.
Here's how. Few people know this, but Wikipedia has a good list of low cost airlines. If you're in Europe, the Low Cost Airline Guide lets you search for budget airlines by departure and arrival cities. Click on the green route lines to see what discount airlines serve your route in this map of low cost airline routes (thanks to Nora of the Professional Hobo).
Travel hacker's tip: If you're coming up blank using the lists of low cost carriers, old school it – go to your departure airport's web page, and find all of the airlines that fly from the airport. Now, search the budget airlines that serve your airport.
Step 4 Look up hidden fees
These days, hidden fees can add a significant amount to a base airfare cost. Some airlines now charge for checked bags, carry on bags and any meals. RyanAir will ding you 60 Euros (you read that right – 60!) to print your boarding pass at the gate if you don't print it at home. You can find baggage costs for almost every airline out there at SeatGuru.com.
Make sure you know the cost from the airport to your destination. Low cost carriers like RyanAir often fly in and out of commuter airports because the costs are cheaper for them. The problem is, getting a taxi to a more remote airport can often cost a pretty penny.
Step 5 Check the airline directly
Once you've got some good airfares through the search engines, check the airline's home page to verify the price, and check the airline's deals page to see if you can get a discount. Some airlines have deals that won't show up automatically when you search for a fare. Instead, their deals page provides a code you need to type in. While you're at it, quickly check RetailMeNot or other coupon sites to see if there are any deals for your airline.
Travel hacker's tip: If you're good with currency conversions, check the airline's foreign website, e.g. AirCanada.uk instead of Air Canada.com to see if flights are cheaper using a different currency.

Travel hacker's tip: If you're not in a hurry to book, sign up with the airline's promotions email newsletter. Some airlines (Alaska Air comes to mind) offer great deals through their newsletters.
Step 6 Ready to book? Here are a few last minute tips
Sign up for the airline's mileage program. Programs are almost universally free to join, and miles are often transferable to other programs.
Click here to search Skyscanner.
Click here to search Kiwi.com.
Before you buy your flight, clear your browser's cache, or switch browsers. We have it on good authority that some airlines and search engines will jack the price up if they know you're returning to their site, based on your search history.
Travel hacker's tip: If you're wondering if standby fares will save you money, sorry – you're in the wrong decade. Cheap standby fares went the way of the dodo with the arrival of the Internet and last minute online booking. Standby tickets are mostly used these days if you already have a ticket, but you want to board a different flight on the same day.
Do you have any tips for saving on fights? Let us know!
Like this article? Check out more ways to save: