Since Charles and I first met, we've done more than a few major road trips together. We've literally spent years driving through Australia, New Zealand, Costa Rica, Mexico, Spain, Portugal, Ecuador, and of course, many zigzags across the USA and at home here in Canada.
There's no denying that there's something wonderful about the the open road, with all of that possibility in front of you. At no other point in your travels, save for perhaps the open sea, will you have so many options open to you.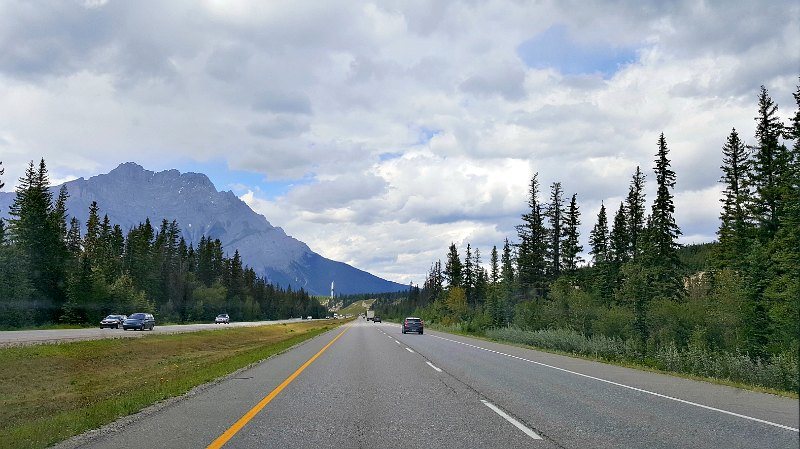 Whether you're driving through the mountains, across the plains, through tiny villages or giant cities, having your own vehicle gives you the freedom to see and do whatever you want. That being said, if you're not prepared, road trips can eventually get tedious and boring.
After years of long road trips under our belts, we've figured out that one of the best ways to make a road trip easier and more fun are via audiobooks.
A great audiobook can make a long drive fly by so when you're stuck in the car for hours on end, with nothing but open prairies or four lane highways for as far as the eye can see, these great audiobooks for road trips can save your sanity!
The best audiobooks for road trips 2022
Looking for a great audiobook for the family, or the best audiobooks for fantasy, romance, comedy or even science fiction? We've got you covered. The first part of this article is for the best adult audiobooks for road trips, but scroll down to the end (or check out this post) to see our top audiobook choices for the family.
Tip! Always take a minute to listen to the audiobook sample in FREE for 30 days, and that includes two audiobooks for free. After that, your membership gives you one credit per month, which is good for any audiobook.

There's more information on membership at the end of this post.

Try Audible for free for one month.

Best nonfiction audiobooks

New York Times business reporter Charles Duhigg focuses on how habits form and how they impact our lives. He delves into scientific discoveries that explain how habits are formed, and how habits are crucial to the success of our lives, communities, and businesses.

This audiobook is in my personal favorite's list. It's an easy listen, but there are plenty of great nuggets of inspiration and information in here.

Author: Charles Duhigg

Narrator: Mike Chamberlain


This is a fascinating intellectual look at the world of our society's outliers – the best, the most successful, and the most famous of us. Gladwell wonders: "why are they different"? As he carefully examines the lives of great athletes, successful business people, and tech geniuses, he uncovers some interesting and unexpected truths.

This is a great listen, and perfect for when you're in an inquisitive, thoughtful mood. I've listened to it a couple of times now, and enjoy it anew every time.

Author and Narrator: Malcolm Gladwell

Dr. Brené Brown tackles the cultural myth that vulnerability is weakness. Instead, she argues that vulnerability is, in truth, our most accurate measure of courage.

It's another one of my favorites.

Author and Narrator: Brené Brown

I'm a big Wil Wheaton fan, from way back during his days as Wesley Crusher on Star Trek: The Next Generation. So, any time he narrates an audiobook, it's a win for me. The author, Randall Munroe, is the creator of the popular xkcd webcomic, and answers interesting questions like "How fast can you hit a speed bump while driving and live?" and "If there were a robot apocalypse, how long would humanity last?".

It's an interesting listen, even if you're not a huge science geek.

Written by: Randall Munroe

Narrated by: Wil Wheaton

Best fantasy audiobooks

The Game of Thrones books are huge bestsellers and the entire series of Game of Thrones audiobooks are no different. Like the HBO TV series of the same name, they're full of intrigue, great characters, and a gripping story. The book series, actually called A Song of Ice and Fire, in case you're one of the few who hasn't heard of it, chronicles two powerful families playing a deadly game for the rule of the Seven Kingdoms of Westeros.

Narrator Roy Dotrice switches effortlessly between character voices and accents, and it's a real treat.

This is perfect for long, epic road trips, with a whopping 33 hours and 46 minutes of listening time.

Author: George R. R. Martin

Narrator: Roy Dotrice

See The Game of Thrones: A Song of Fire and Ice audiobook here.

Check out the entire Song of Fire and Ice audiobook series here, including A Feast for Crows and more.

This is one of the most popular Fantasy audiobooks in Audible's collection. This is the first book in the Lord of the Rings series, and follows the adventures of the Fellowship of the Ring – hobbits, elves, wizards, humans and dwarves alike – as they plunge into the beginning of the ultimate clash between good and evil.

Narrator Rob Inglis switches effortlessly between characters accents.

This unabridged edition is a whopping 19 hours and 7 minutes, so get comfy and settle in.

Author: J. R. R. Tolkien

Narrator: Rob Inglis

Best fiction audiobooks


This is a huge bestseller. Like the movie of the same name, Crazy Rich Asians is a hilarious look at the life of three super-rich Chinese families. There's back-stabbing, gossip and scheming galore, and it makes an entertaining and easy listen.

Author: Kevin Kwan

Narrator: Lynn Chen


Yet another thriller by Stephen King, The Outsider lives up to his reputation for unsettling and gripping stories.

The story follows Detective Ralph Anderson's investigation into the death of an 11-year-old boy. The investigation's suspension and tension will keep you following closely.

Not suitable for kids.

Author: Stephen King

Narrator: Will Patton


This is one of my all time favorite audiobooks. We listened to it as a family on our epic Oregon Coast road trip. It had every single one of us transfixed and we hesitated every time it was time to get out of the car and turn it off.

If, like us, you're fans of video games and 1980's movies, personas and nostalgia, it's a must listen.

Ready Player One is set in the year 2044, and it follows the story of Wade Watts, who escapes the grim reality of his dystopian world by spending his waking hours in the realistic cyber world of the OASIS. Brilliant and eccentric OASIS creator James Halliday has left his immense fortune to the first person to find a well hidden Easter egg in the OASIS. There's plenty of action, adventure, and even romance as Wade races to win the contest.

There's now a movie of the same name directed by Steven Spielberg (which I hate to say was entertaining, but doesn't do the book justice at all).

You'll either love it intensely or hate it. Give the sample a listen before you buy.

Author: Ernest Cline

Narrator: Wil Wheaton

Here a sample of Ready Player One.

Best sci fi audiobooks

Beautifully narrated by Academy Award-winning actor Tim Robbins, this is a great favorite of mine.

Fahrenheit 451, written by Ray Bradbury, is set in a bleak, dystopian world where books are almost extinct and television rules. This tells the story of fireman Guy Montag, tasked with destroying printed books and the houses where they're hidden. In time, Guy meets a young neighbor, Clairisse, who introduces him to a past where people didn't live in fear, and the ideas in books weren't forbidden.

Author: Ray Bradbury

Narrator: Tim Robbins

Get it on Amazon's Audible now.


This is an all-new, original script written by Orson Scott Card for the Hugo award winning Ender's Game (which was also made into a movie with Harrison Ford as Colonel Hyrum). Join Andrew "Ender" Wiggin as he trains in Battle School to fight the Formics alien threat.

This gets 4.5 out of 5 stars in over 9,000 reviews. That said, it wasn't my favorite, but I think a lot of folks may enjoy it, so I've included it here.

Listen to a sample now to see if you like it.

Author: Orson Scott Card

Narrator: Full Cast Recording

The entire family really enjoyed the geekiness that is Bob. This quirky sci-fi comedy audiobook spans centuries as Bob, once a normal, living, breathing human being dies. When he comes back as a computer a century later, he never imagined he would one day be humankind's only hope for survival. This audiobook delves into everything from space exploration to what it means to be considered human.

The narrator, Ray Porter, does a great job giving life to all of Bob 2.0's emerging personalities and the story is incredibly fun to listen to. We're almost done book 3 and are sorry the ride is coming to an end.

With 4.6 stars of five from 1,900 reviews, you know people are enjoying this one.

Listen to a sample now, but just be warned, you won't want to turn it off.

Author: Dennis E. Taylor

Narrator: Ray Porter

Best mystery and horror audiobooks for road trips


At the top of the best seller charts this year, Origin is the newest novel by The Da Vinci Code author Dan Brown. Like his other novels, Origin is an inventive thriller that navigates hidden history, religion, and technical advances.

As the book starts, Robert Langdon, Harvard professor of symbology and religious iconology, arrives to the unveiling of a discovery that's supposed to "change the face of science forever."

Author: Dan Brown

Narrator: Paul Michael


World War Z tells the story of the Zombie War that almost eradicated humanity. Max Brooks travels the world to get first hand experiences of survivors, from cities destroyed in the heartland of the USA to the most remote and inhospitable parts of the globe.

FYI, it was eventually adapted into the movie World War Z starring Brad Pitt however like most movies based on books, loses something intangible in the retelling.

Author: Max Brooks (Narrator, Author), Alan Alda (Narrator), John Turturro (Narrator), Rob Reiner (Narrator)

Narrators: Max Brooks, Alan Alda, John Turturro, Rob Reiner

Classic audio books for the road

Admittedly, I'm personally not a huge Jane Austen fan, but this gets 4 and a half stars (out of five) from a whopping almost 8,000 reviews. The narrator, Karen Savage, does a nice job switching between character voices with an English accent and an American accent as narrator.

Well worth a listen if you're an Austin fan, and if you're heading out on a long road trip, since the total length of this Pride and Prejudice audiobook is a considerable 11 hours and 1 minute.

Author: Jane Austen

Narrator: Karen Savage

Best romance audiobooks


Eccentric and awkward Eleanor Oliphant's life spirals out of control after a chance encounter with Raymond.

This witty and uplifting quirky romance is soon to be made into a movie starring Reese Witherspoon.

I really love narrator Cathleen McCarron's spot-on accents and the timbre of her voice here.

Author: Gail Honeyman

Narrator: Cathleen McCarron

Listen to Eleanor Oliphant now.

This hugely popular historical romance is a great listen. It begins in 1945 when Claire Randall, a former combat nurse, is instantly transported to 1743 Scotland by touching an ancient stone ruin. There, she's thrown into a romance with gallant James Fraser and warring border clans as she tries to make her way home.

Sure, unlike the TV show, you won't be able to see Sam Heughan (who plays love interest Jamie on the TV show) shirtless, but it's still worth a listen.

Diana Gabaldon (Author), Davina Porter (Narrator).

Best funny audiobooks for road trips

There's nothing like a good laugh to break up a long drive. This list of comedy audiobooks for road trips features some of the best comedians around.

In this audiobook, The Daily Show host Trevor Noah tells the story of his journey from his childhood during the dwindling years of apartheid in South Africa to his life in the USA hosting The Daily Show.

His stories are in turn comical, dark, poignant, hilarious and sometimes simply weird. Whatever they are, it's pretty clear that Trevor Noah is a voice well worth listening to.

Author and Narrator: Trevor Noah

If you're a Tina Fey fan, you'll love this book. It's full of her usual quick wit, sardonic reflections and self depreciating humor.

Don't let the cheesy first minute of the sample turn you off, this is Tina Fey at her funniest.

Author and Narrator: Tina Fey


This is classic Mindy Kaling: full of funny observations on friendship, weight, romance, and coworkers.

If you like her standup or tv roles, you'll like this audiobook.

Author: Mindy Kaling

Narrators: Mindy Kaling, Michael Schur, B. J. Novak

Best free audio books

It's honestly tough to find good free audiobooks, but I've tracked down a few. Give these free Audible audiobooks a try to give your wallet a rest.

In this fantasy adventure short story, lead character Riyria is hired to get a jester's treasure, and Royce and Hadrian are trapped in a booby-trapped cave.

While this is a companion story to The Riyria Revelations and The Riyria Chronicles, you don't need to be familiar with them to enjoy the story. Narrator Tim Gerard Reynolds is a pleasure to listen to, and the hours listening to this passes quickly.

Author: Michael J. Sullivan
Narrator: Tim Gerard Reynolds


The Hospital is a great, fast-paced listen, especially for a free Audible book. This is a dystopian tale of "Mountain Man" Augustus Berry who survives in an undead suburbia. There's some strong language and potentially disturbing graphic violence. Narrator R. C. Bray has a rough, deep voice that I really enjoyed in this story.

Author: Keith C. Blackmore

Narrator: R. C. Bray


This is an engaging drama adventure that follows recruit Evan Gabriel trying to make his way in the the elite Naval Special Forces of the North American Federation Navy. In this first book of a series, he's on his way to becoming a respected North American Federation Navy Commander, but first he must work his way through a difficult journey as part of a top secret military experiment.

This book is set in a science fiction world of Mars and more remote planets, but it feels more like the personal journey of a military man.

Author: Steve Umstead

Narrator: Ray Chase

Best audiobooks for family road trips

Audiobooks are a fantastic way to keep kids entertained on long drives, without resorting to a lot of screen time, or hearing endless bleats of "I'm bored" from the back seat. It also gives rise to meaningful family conversations as the stories are shared and topics you might never discuss (though are worth discussing) come up during breaks and meals.

I've included what we think are the best children's audiobooks for road trips, but you can read our full list of the best audiobooks for family road trips here.

The list starts with the best audiobooks for older kids, but scroll further down to find some picks for great audiobooks for younger children.

Best audiobooks for teens and tweens

Listening to audiobooks with teens and tweens is an entirely different beast than listening with younger children. Once kids are in their tweens, there's a whole world of tween and young adult audiobooks that are also entirely entertaining for adults.

Here are our very favorite audiobooks for road trips with tweens and teens.

Coraline is an inventive, dark children's fantasy. Heroine Coraline finds herself trapped in a lost world behind the mirrors with other lost children.

This is narrated by the author Neil Gaiman, and he does an excellent job.

Author and Narrator: Neil Gaiman

See prices and details for Coraline now.

Harry Potter and the Sorcerer's Stone, Book 1

The Harry Potter series of audiobooks are probably our favorite family audiobooks. To date, we've listened to five of the seven books in the series and have just started book 6.

We really love the audiobooks narrated by Jim Dale. He does a great job with all the voices, even Hagrid and Hermione Granger though some people prefer the Harry Potter audiobooks narrated by Stephren Fry. To be honest, we've listened to them both and you can't go wrong with either of them.

Written by: J.K. Rowling

Narrated by: Jim Dale

See Harry Potter and the Sorcerer's Stone on Audible

See the complete Harry Potter series on Audible

The Lightning Thief: Percy Jackson and the Olympians, Book 1

I'm personally not a huge fan of the narrator's voice, but Charles and the kids loved it.

This series is a great choice for tweens, in particular, and both our son and daughter loved the Percy Jackson books during the tween years.

The best part is the books in this series can stand on their own, so you're not forced to listen to every single one of them.

Written by: Rick Riordan

Narrated by: Jesse Bernstein

Series: Percy Jackson and the Olympians

Listen to a sample of The Lightning Thief.

Check out the complete Percy Jackson and the Olympians series here.

This take on the Peter Pan origins story is read by Jim Dale, who narrates the Harry Potter series.

It's imaginative and engaging, and adults should enjoy it as well.

Written by: Dave Barry and Ridler Pearson

Narrated by: Jim Dale

Hear a sample of Peter and the Starcatchers here.

Audio books for younger children

While some audiobooks for little kids are excruciating for parents, these picks should keep the adults happy as well.

Treasury of Classic Children's Stories

These are sweet and nostalgic, and both parents and kids should enjoy these classic stories.

Written by: Oscar Wilde, Brothers Grimm

Narrated by: Audrey Hepburn, John Ritter, Sharon Stone and Orson Welles

The Ralph S. Mouse Audio Collection

This story of a mouse on the lookout for more excitement honestly couldn't be more adorable.

Written by: Beverly Cleary and Tracy Dockray

Narrated by: B.D. Wong

Julie Andrews' Collection of Poems, Songs, and Lullabies

If you love Julie Andrews, this is the collection for you and your little ones. It's both charming and sweet.

Written by: Emma Walton Hamilton, Julie Andrews

Narrated by: Emma Walton Hamilton, Julie Andrews

Listen to Julie Andrews' Collection here.

About Audible membership plans

You can order books on Audible without a monthly membership, but I'm actually a fan of the monthly membership.

An Audible membership is FREE for 30 days.

Click here to sign up for free!

Audible has two membership types, Plus and Premium Plus. Both membership types offer a 30 day free trial, and you can cancel anytime.

Plus membership includes access to thousands of Audible Originals, podcasts, audiobooks and more.

An Audible Premium Plus membership includes one free title in the Audible premium selection, 30% off all additional premium selection titles, access to exclusive sales, plus everything you get with Audible Plus. The one free title is credit is good for any audiobook, at any price.

Sign up for a free month of Audible Plus or Premium Plus.

You keep your audiobooks even if you cancel. If you want to buy more books, you save 30% on any additional purchases.

I especially love this last part – if you find you don't like an audiobook once you've started it, Audible will let you exchange the book. I've returned an Audible book a couple of times with no hassles once I've started a book and realized I didn't care for it.

Do you have any favorite audiobooks for road trips? Let us know your favorites below!