A good travel backpack can make any business trip more enjoyable, and a lot less stressful. I've done a lot of business travel over the years, and learned first hand which backpacks were great for business trips and which weren't.
Choosing the best business backpack is an important decision, because it can mean the difference between enjoying your time on the road, and having a miserable trip. You need to make sure that your laptop fits, and that the backpack is comfortable and stylish.
Luckily, we've done the work for you. Keep reading to find our reviews of the best business travel backpacks below.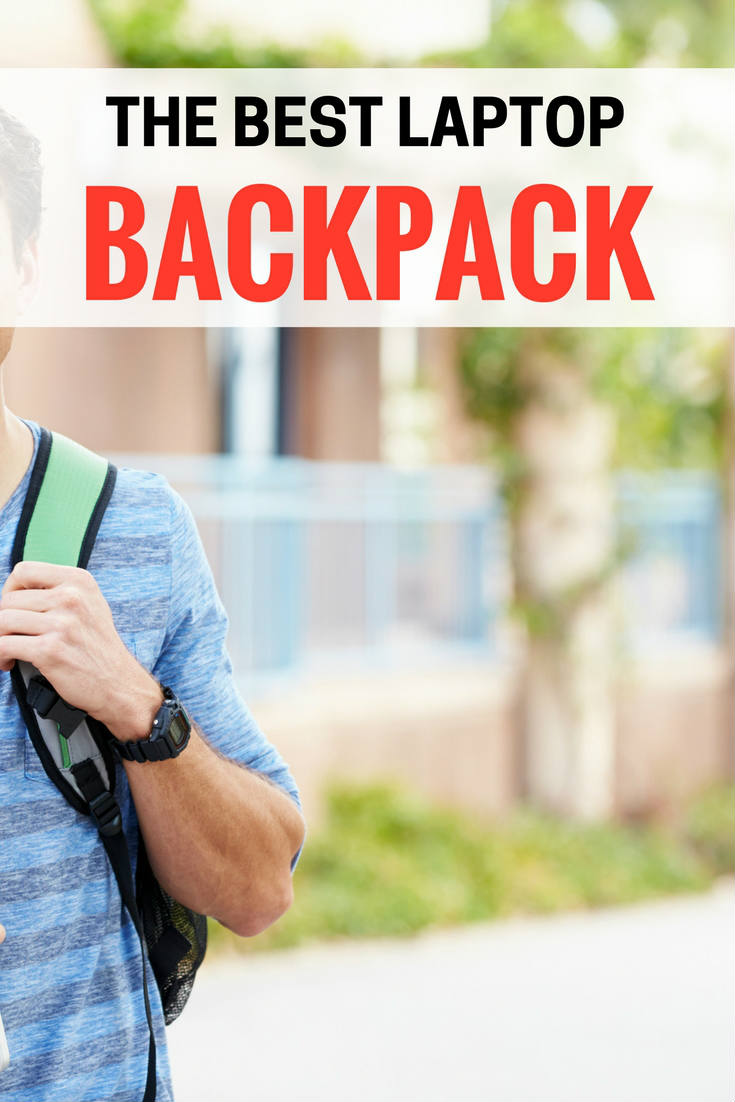 The Best Business Travel Backpack
Looking for something specific? Just click the link below to go directly to that section.
Comparison Chart for the Best Business Travel Backpacks
Check out our comparison chart with all of the options for the best laptop backpack that we've reviewed here. Just click on the column headings to compare!
How to choose the best business backpack for travel
There's a lot to consider when you're looking for a great business backpack. Just because your boss loves her backpack, doesn't mean that it's right for you. You need to take a look at fit, style, and if the backpack will fit you properly.
Organization
When you're traveling for business, it's pretty much guaranteed you'll be carrying a laptop and charger at all times. On top of that, you may be bringing a portable international WiFi device (we love our little Skyroam portable WiFi), plenty of chargers, plugs, business cards, and so much more. All of that means you're going to need pockets, and plenty of them. Above all, you need to make sure that your backpack is big enough to pack all of your gear.
Does your laptop fit?
If your laptop doesn't fit in the backpack, it's time to head back to the drawing board.
Fit
If a backpack's too big for your frame, it'll seem clunky and awkward, not to mention heavy. If it's too small, you'll likely find the straps and general fit awkward.
Padded against accidental damage
I've learned the hard way that padding in a business backpack is crucial. I dropped a laptop bag on the floor a couple of years ago, and because it didn't have good padding on the bottom, my nice new laptop ended up with a good crack on the casing. Luckily, it still works perfectly to this day, but I won't make that mistake again.
Make sure that there's padding on the bottom of the bag especially, but padding all around the laptop sleeve is a great feature as well.
Weatherproof
If you're spending a lot of time outdoors, you may want to make sure your laptop backpack is waterproof, or at least water resistant.
Security
Since I carry my laptop and other valuable gear, I like to make sure that my backpack's as secure as possible. Many backpacks have partially hidden compartments, as well as zippers that are theft proof, and some are made of materials that are hard to cut or slash. Some backpacks even have an RFID pocket to protect your passport and cards from RFID scanners.
Straps
Straps are a crucial part of the best business laptop backpack. If the straps aren't comfortable, you won't like the backpack, and you won't use it. Good straps mean the fit is comfortable. Here are a few things I like to look for:
Adjustable straps. If a backpack doesn't have adjustable shoulder and waist straps, don't buy it. Even if it fits you as is, you may want to wear the backpack with a heavy coat someday, and then the straps won't fit. You might also not be the only one to one day carry it.
Padded shoulder straps. A padded shoulder strap means that your sometimes heavy backpack won't dig painfully into your shoulders. I know that my backpack gets pretty weighed down with my laptop and accessories, so a comfy shoulder trap is important.
Padded back. You don't want so much padding on the back that the backpack gets heavy. A softly padded back can be a blessing when you're running to catch your flight, and your backpack keeps bumping against your back.
Carry strap. Usually a carry strap is a loop at the top of the backpack. It makes it easy to pick up your backpack from the floor.
Style
Because you're using your backpack in a business capacity, you're going to want a pack that reflects your style. Whether you're the buttoned down power suit type, or an edgy, creative type, there's a style that's suited for you.
Easy access
My favorite backpacks have what's called a u-zip. This means that you can open them completely on at least two sides, making access easier. I'm not a big fan of top access only backpacks, as I find it hard to find things that have moved to the bottom.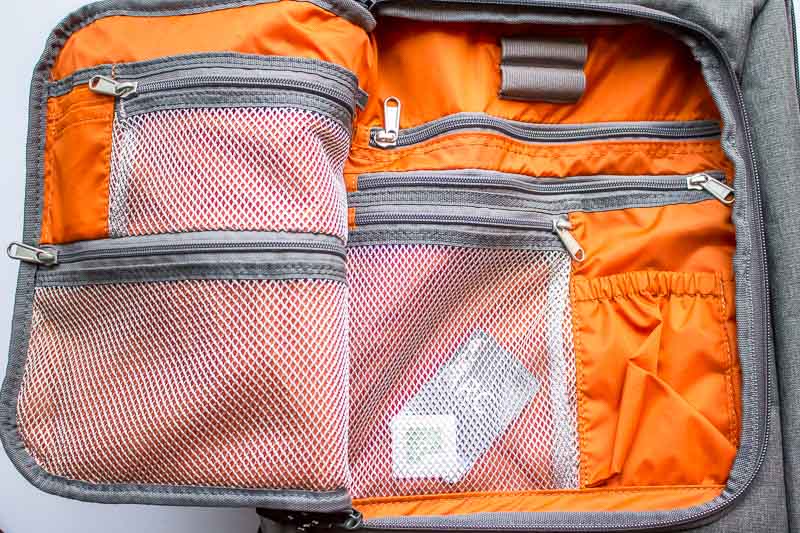 The best laptop backpack for women
For women, the best business laptop pack is one that fits their body, and (hopefully!) also fits all their gear as well. Most (not all) women have shorter bodies and narrower shoulders than men, making a slightly smaller and compact backpack a great choice. We've used a Dell backpack for years now, and while it holds a ton, as a woman who's 5'5″, I find that it's uncomfortably big and bulky to carry around when it's packed.
I really prefer our new, narrower and more compact eBags Professional Slim Laptop Backpack.
eBags Professional Slim Laptop Backpack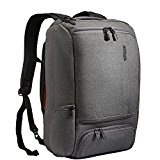 I'm definitely a fan of this eBags backpack.
It fits me well, and easily holds my monster of a nearly 16″ Lenovo Ideapad laptop in the back compartment.
This is a great backpack for someone who wants a professional look, as it also converts to a briefcase when you tuck away the straps.
At 18.5 inches high x 12.75 inches wide, it's plenty small for carry on luggage for most airlines, or even as a personal item.
There's plenty of padding in the back, the Airmesh back panel keeps it from being too sweaty on hot days. The straps are contoured, padded, and fully adjustable, making for a great fit. There's even a removable front (sternum) strap for heavy loads.
The front compartment is chock full of zippered pockets to hold cables, flash drives, and all your gear. There's also a limited Lifetime Warranty against defects in materials and workmanship.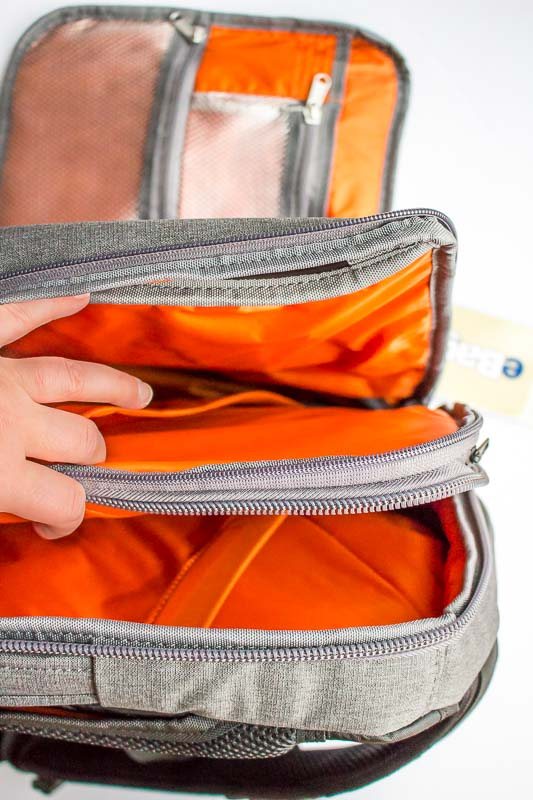 All compartments have a u-zip, meaning that you can open them up and load from the the top or side.
Best business backpack for men
The best men's business backpack takes into consideration all of the points above, but also considers a man's (generally) broader shoulders.
The SwissGear Travel Gear 1900 Scansmart TSA Laptop Backpack is a great choice.
SwissGear Travel Gear 1900 ScanSmart Backpack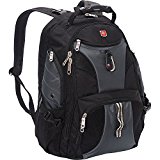 SwissGear products usually get good reviews, and the SwissGear Travel Gear 1900 Scansmart TSA Laptop Backpack is no exception.
It's another more casual choice, and a medium to large size bag, at 9 inches deep, 13.5 inches wide and 18.5 inches high. It fits a 17 inch laptop.
This is marketed as a TSA SmartScan backpack with lay-flat technology, which just means that it's designed to meet the TSA's criteria to allow a your laptop to stay in the bag during screening. That said, I've always had TSA agents ask me to remove my laptop, and they don't seem especially keen to discuss exceptions.
This is made with weather resistant 1200D ballistic polyester. It's not waterproof, but it should withstand some tough knocks and a bit of rain.
The shoulder straps are all adustable and padded, and there's a padded back panel as well.
The main laptop section zips to lay completely flat, making access to your laptop a breeze.
All in all, this is a solid, more casual choice, that should last a while.
More reviews, current price, and more.
Dell Pro Backpack

We've had our old Dell laptop backpack since 2014, and it's still going strong. There's hardly any wear on it, and it's traveled with us to at least four continents, carrying a lot of gear each time.
Our original backpack isn't available anymore (how annoying, right!), but the Dell 17-Inch Pro Backpack is similar. It gets great ratings, too.
The downside of the Dell 17 inch backpacks is that they're pretty big, and ours gets insanely heavy when it's jammed with all of our gear.
Of course, the upside is that it's so big that we can jam in a crazy amount of gear.
The 17 inch Dell laptop backpack fits a laptop with up to a 17 inch screen. In our old Dell 17 inch laptop bag, wwe once carried three laptops and their power bricks, two tablets, four e-readers, a DSLR camera in its own case, two GoPros, a couple chargers and a half dozen cables in ours.
Needless to say, the Dell 17 Pro is a good size at 18.7 x 6.3 x 13 inches.
There are padded and adjustable shoulder straps, along with a padded, mesh back. There's no waist strap.
Access to all of the compartments is easy, with zippers that open wide.
Click for the current price, more information and reviews.
Amazon Basics laptop backpack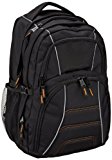 The Amazon Basics laptop backpack is a good size backpack that holds a 17 inch laptop, and is seven inches deep, fifteen inches wide, and nineteen inches high.
If you're looking for a wide backpack, this is for you, as it's the widest one in our review.
It's also an affordable option.
As with all Amazon Basics products, it's great value for the price, and people seem to really like it.
Like all the other backpacks in this review, the shoulder straps are padded, and the back is padded as well. There aren't any hip straps.
There's nothing fancy here, no specialized waterproofing or security features, but it's a good value. There's light padding on the bottom of the laptop pocket.
You can get it with, or without, the Amazon logo on the front.
Click here for the latest prices and to see more information.
Best travel laptop backpack for security
For my last few solo trips, I've used our top-loading Pacsafe Venturesafe X30 anti-theft adventure backpack. I don't love the fact that it loads from the top, so it doesn't make my cut as the absolute best backpack for business travel, but other than that it has some great security features.
It has anti-theft Slashguard stainless steel wire mesh embedded into it complete with RFID protection. The Venturesafe X30 is fairly lightweight, has a padded tablet sleeve, with plenty of pockets and locking zippers. It also has a built-in rain cover, an aluminum support back panel, and a stowaway hip belt for adventurous hikes.
At roughly 18 inches high and 9 inches wide, it's small enough to use as either a carry on or even as a personal item with most airlines, and it holds an awful lot. It also has a molded aluminum frame that sits on my body quite well.
If you're really concerned about security while you travel, check out our in depth money belt and neck wallet review here.
Pacsafe Venturesafe X30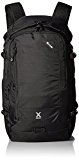 In terms of security, the Pacsafe is my top backpack for security pick. I've had my Pacsafe Venturesafe X30 for well over a year now and I really love it. It's lightweight, good looking, and has great security features like RFID protection and slashguard fabric.
It has a 30 liter capacity, fits a 15 inch laptop, and officially measures in at 7.9 inches deep, 11.8 inches wide and 20.3 inches high.
Tip: If you're looking for something even smaller, Pacsafe sells the Pacsafe MetroSafe 20L, which has a 20 liter capacity, and measures in at 17.7″ high x 11. 8″ wide x 5. 1″ deep.
The big disadvantage to this backpack is that it's top load only, making it hard to get at gear in the bottom. Of course, being top load only means that it's also harder for thieves to access your gear. It also has a bit more of a casual look than the eBags professional.
That said, I've used this backpack on multiple trips now, and it has plenty of room for my laptop, charger, cables and gear, plus my DSLR camera and lenses, my MeFOTO Roadtrip lightweight tripod, plus a GoPro HERO 6 and accessories.
See prices and more reviews now.
The best business travel backpack reviews
Now that we've talked about backpacks that are great for different uses, here are my other picks for the best business travel laptop backpacks. These packs are in addition to the backpacks noted above, and are all solid choices.
Kopack Slim Business Laptop Backpack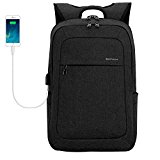 Along with our eBags slim pick, the Kopack slip business laptop pack is one of the more stylish laptop bags we found. It has a sleek, professional look, and it comes in black, grey, and a nice pinkish purple.
It's on the smaller end, at 7.1 inches deep, 11.8 inches wide, and 17.7 inches high. It will hold a 15.6 inch notebook computer.
The fabric is water-resistant, and anti-scratch nylon.
It has a dual access zipper with anti-theft design, but no RFID or anti-slash tech. There's a hidden back waist slot for concealing a credit card or small item.
Shoulder straps and the back are padded, and there's a loop handle on top to make picking it up easier.
It has a useful external USB charging port on the outside. Just connect your power bank to it on the inside (check out our favorite external battery pack on Amazon), and connect your USB charging cable to the outside port. No more rummaging in your pack for your spare power bank!
The front pocket has a large, easy access u-design zipper, but the laptop compartment only loads from the top.
Unfortunately, there's no extra padding at the bottom of the laptop compartment, so be careful when placing it down on hard surfaces or pick up an laptop sleeve to give you extra protection.
Click here for the latest prices and to see more information.
Uoobag KT-01 Slim Business Laptop Backpack

The Tigernu laptop bag is a pretty sleek looking back, in pure black with red accents.
It fits a 15.6 inch laptop, and the entire laptop compartment is padded. It measures in at 5.9 inches deep, 13 inches wide, and 18.1 inches high. It weighs in at 2.1 pounds.
The bag also comes in a lighter grey color.
Safety features include anti-theft dual zippers and a waist pocket. There's a lockable ring on the side of the laptop compartment.
It's made of a sturdy oxford fabric.
Click here for the latest prices and to see more information.
DYJ Vegan Leather Laptop Backpack

The DYJ Vegan Leather Laptop Backpack is our only leather option that we rated well enough to be included.
It's a vegan leather laptop backpack that fits a 15.6 inch laptop, and measures 11.4″ L x 6.7″ W x 19.3″ H.
It's one of your best bets if you're looking for leather look backpack.
It comes in black, khaki and coffee colors.
Shoulder straps are padded and adjustable, with a padded laptop compartment. It comes in espresso only.
There's no strong fake leather or plastic smell, and there's a u-zip to make access to the middle compartment easy.
See prices, and more reviews and information here.
Targus Drifter II Backpack for 17-Inch Laptop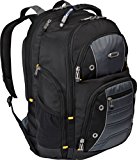 The 17 inch Targus Drifter II is a solid choice, with a bit more of a casual look. It's also on the larger end of these choices, and while it is casual, it's a real workhorse, with the 17 inch version holding a 34 liter capacity.
It's a good size, at 7.87 inches deep, 14.57 inches wide and 20.08 inches high. Be warned, though, it does swell to more than 7.87 inches deep when it's full!
There are approximately eight million pockets in this backpack. While that's definitely an exaggeration, there are pockets in this thing for everything from your laptop (of course), to a microfiber lined pouch for sunglasses.
Straps are fully adjustable and padded, and the back is also padded for comfort. It doesn't have a sternum (chest) strap.
There are no special security features like RFID or fancy zippers here, but there is a cool secret zipper compartment on the back for hiding keys or your wallet. There's also no waterproofing on the zippers, and no separate rain cover.
It also comes in a 16 inch version, if you're looking for something slightly smaller.
The only issue with this backpack is quite a few reviews that mention straps that start to wear with use.
See prices, reviews and more here.
Want to find out more?
See how we manage to travel carry on only for a family of four here, or check out our business travel checklist here.
What's your favorite laptop pack? Let us know, and maybe we can add it to our business backpack reviews!