It's a little known secret that I've been looking for a good travel jacket for a while now.
While I've found a few jackets I like, it's been hard to find a good women's travel jacket with hidden pockets. Every jacket I find that fits well and is comfortable doesn't have any hidden pockets to help hold my belongings when traveling, or to protect my stuff from pickpockets.
Check prices on the SCOTTeVEST website.
Enter the SCOTTeVEST Chloe Glow hoodie. This jacket's made specially for female travelers, with 15 hidden pockets and plenty of room for all my gear, gadgets and passport.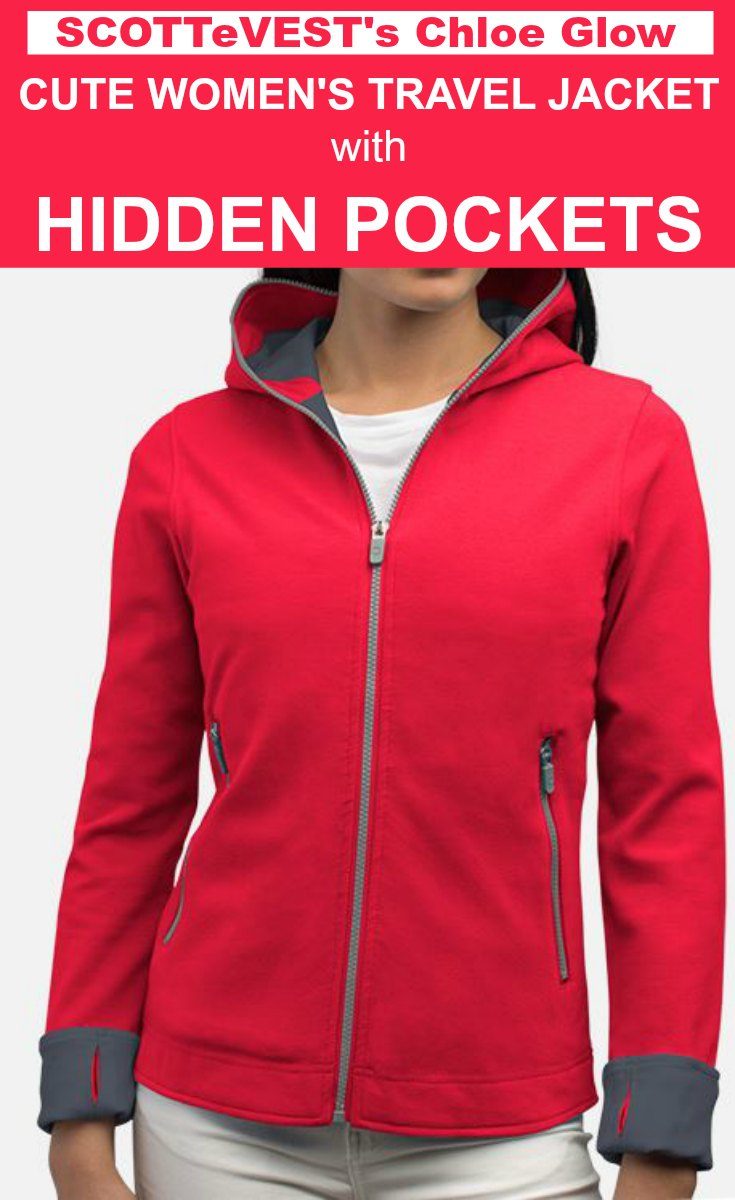 Women's Travel Jacket with Hidden Pockets – Our SCOTTeVEST Chloe Glow Hoodie Review
I got my Chloe Glow four months ago. I wanted to wait a bit to write a review to see how durable it was, how well it handled repeated washing, and to test the jacket on the road in a bunch of different conditions.
In the past four months, I've worn the Chloe Glow in Canada's winter, on extended trips to Mexico, Belize, Ecuador,and Colombia, as well as in airports from the Galapagos Islands to Regina, Saskatchewan, Canada.
First impressions
From the first time I tried it on, I loved the fit, as the Chloe Glow has a waist that tucks in to give me some shape.
The Chloe Glow fabric is a thicker cotton/poly/spandex blend. It's not fleece, so it breathes well, but I do find the Chloe Glow's thicker than a standard sweatshirt material.
My favorite first thing were the thumb holes. They help keep the jacket from riding up, and keep my hands warm when it's cold here in Canada.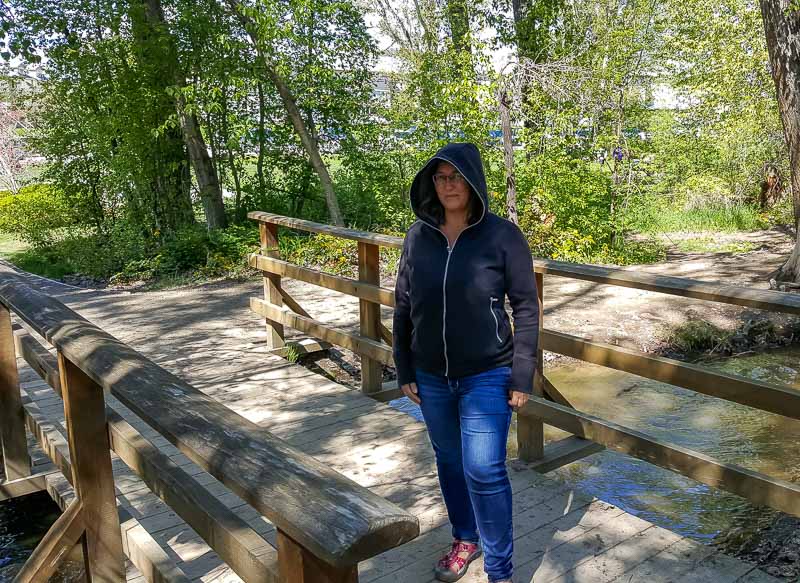 The SCOTTeVEST Chloe Glow hoodie vs the original SCOTTeVEST Chloe hoodie
Don't confuse the SCOTTeVEST Chloe Glow hoodie (I'm reviewing the Chloe Glow here), with the original SCOTTeVEST Chloe hoodie. This Chloe Glow hoodie has smooth cotton fabric and 15 pockets, while the Chloe has a fluffy fleece fabric and 14 pockets.
What can the Chloe Glow carry?
There are 15 pockets in the Chloe Glow, making it a serious travel jacket.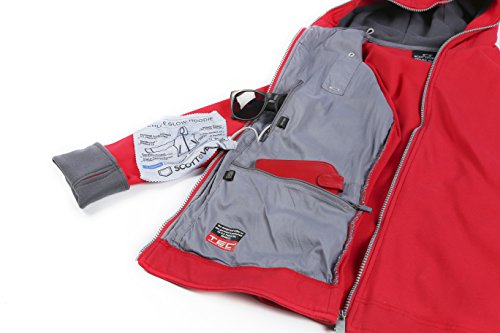 It's definitely gadget and tech friendly, with plenty of pockets designed to hold a phone, wallet, keys, camera equipment, Kindles, sunscreen, sunglasses, and even dog leashes and treats if you have a furry friend. In my case, I carry snacks for the family and a little first aid kit.
There's a oversize interior pocket that's big enough to hold our iPad or Android tablet, an extendable key holder, and a designated sunglasses pocket with an attached chamois to keep them clean.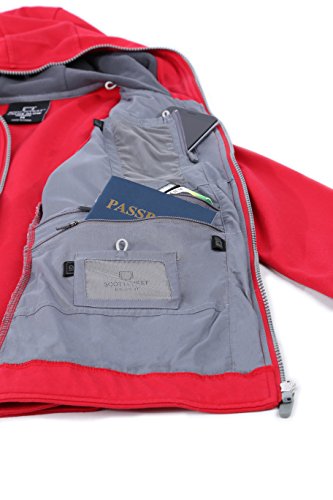 I hate to carry a purse, so I've loved using the Chloe Glow's 15 pockets to store my stuff. On any given day, I use it to hold my:
wallet
keys
smartphone
lipstick sized phone charger and cables
loose change
snacks (don't judge, I have kids, so someone's always hungry)
When I travel, I love the extra pockets even more, as I add:
4 passports (one each for me, Charles and the two kids)
boarding passes
3 sets of earbuds (for me and the two kiddos)
the kids' 2 iPods
glasses case
contact lens case
more snacks (What can I say, we're a hungry family).
Does it make you look bulky?
I think the Chloe Glow does a great job of holding a heck of a lot while maintaining a streamlined profile.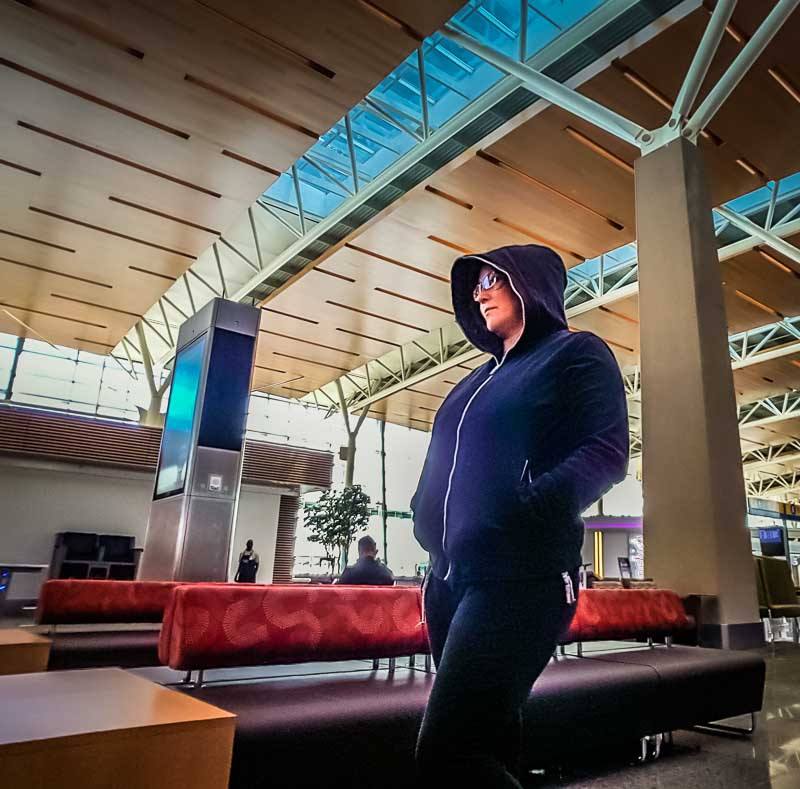 I have a curvy figure, and in bulky, unfitted, clothes I look about 4o pounds heavier. Because this jacket is made for women, it has a waist that flares in, giving it definition, even when the pockets are full.
I've carried an awful lot in the Chloe glow on some of our trips. As long as you distribute the weight among the pockets, you won't feel that it's terribly heavy or unbalanced.
Will it keep your stuff safe from pickpockets?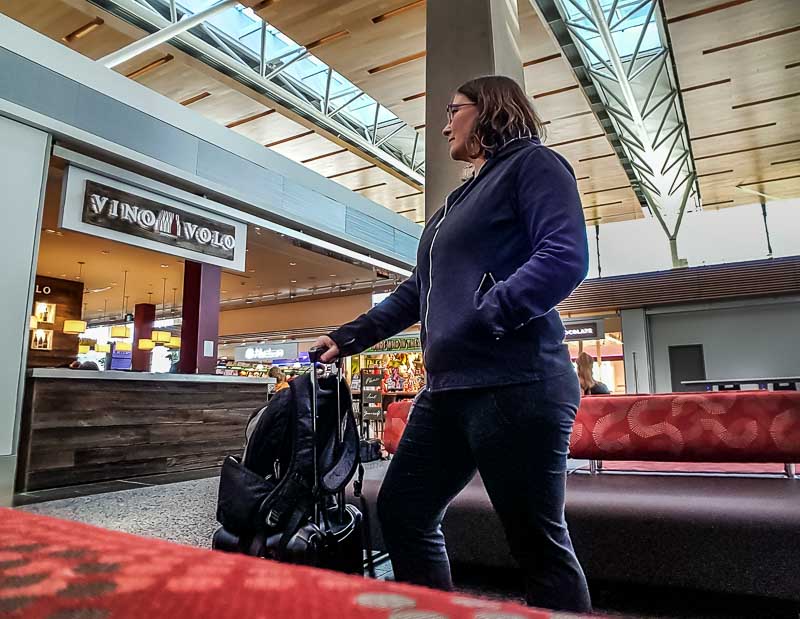 While a women's travel jacket with hidden pockets is great to have for storing stuff, it's especially nice to keep your stuff hidden. I really loved being able to have my belongings securely tucked away while we were walking around at night in Bogota, Colombia for instance.
How does it wash?
The Chloe Glow is machine washable. Over the past four months, I've washed it at least ten times, and I haven't noticed any pilling or color fading. I always wash it on cold in a regular cycle, and dry on a regular heat. You're supposed to turn it inside out to wash, but I've never done that, and it seems to be wearing well anyway.
In fact, I haven't seen any wear at all on my Chloe Glow over the last four months of almost daily wear.
What I don't like
I would love if it was a little more lightweight, as I find the jacket gets quite warm once the weather hits about 18 degrees Celsius or 65 Fahrenheit and sunny.
Now that our summer's approaching, I'm quite sad that I won't be able to wear my Chloe Glow hoodie every day. I'm the kind of girl who hates to carry a purse. Of course, as any woman can tell you, women's clothing often lacks good pockets, so I've resorted to carrying my Chloe Glow around to hold my stuff like a kind of security blanket and often just tie it around my waist.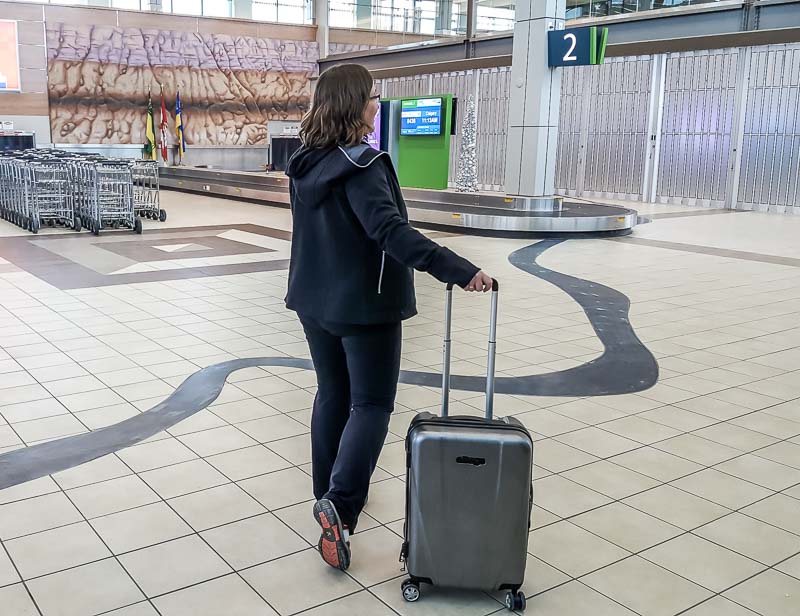 Its starting to hit the 80's, so I'm going to have to set it aside for the summer days, though I should be able to wear it at night here in our mountain climate where nights are cooler.
The jacket fits slightly small compared to other clothing – I ordered a size XL. I normally take a size L. The XL is the perfect size for me for the Chloe Glow according to the SCOTTeVEST sizing chart.  The XL is the largest size SCOTTeVEST makes in the Chloe Glow, so if you're a plus size, you're unfortunately out of luck at the moment.
Tip! If in doubt, order the larger size, as it will allow you plenty of room to fill up the pockets and let them expand.
What confuses me
The Chloe Glow hoodie zipper goes all the way up across the face, so you can zip up your entire head.
I think it's a design feature (it actually looks pretty cool). I did try zipping the hood up all the way to see if it helped me snooze on our red eye JetBlue flight from Quito to Fort Lauderdale, but I felt way too constrained and hot.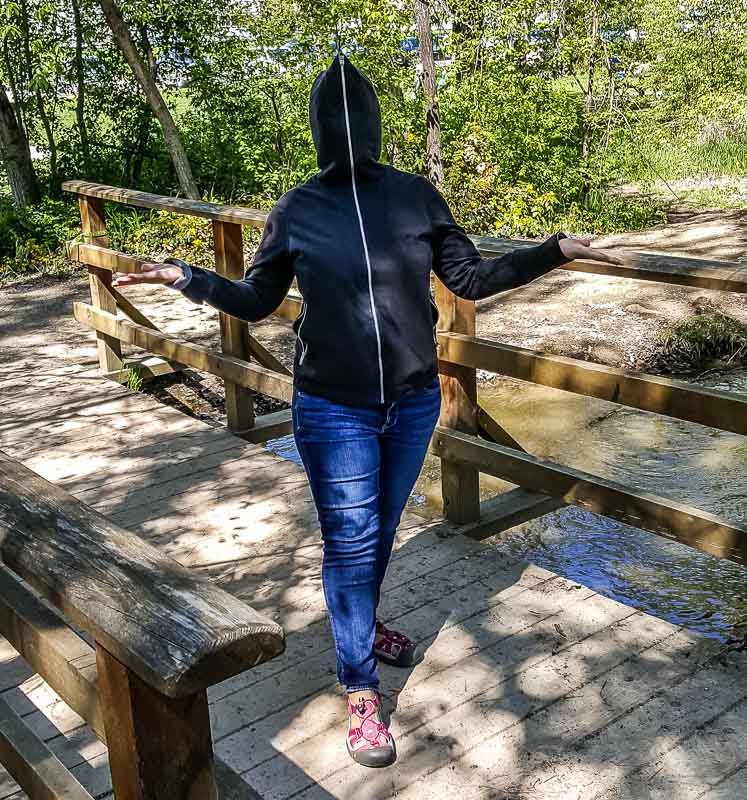 What colors are available?
white (with grey accents)
ocean (light blue, with white accents)
ember (red, with dark grey accents)
midnight (black, with dark grey accents)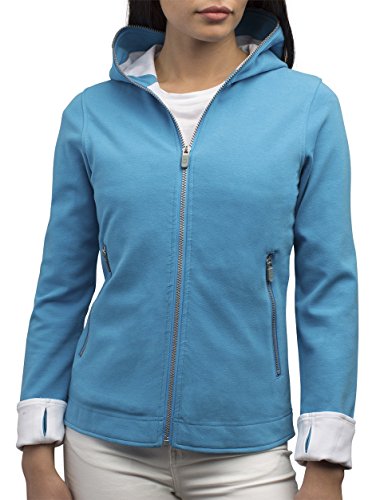 SCOTTeVEST coupon code
The Chloe Glow sells for around $95 USD.
See prices on the SCOTTeVEST website here.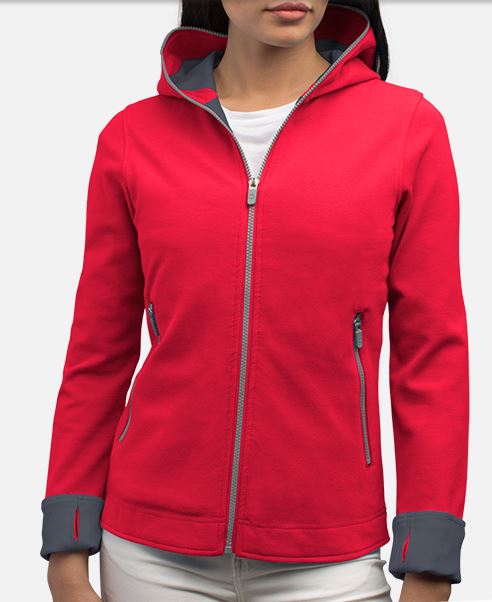 Full Disclaimer: I got the Chloe Glow hoodie for this review, but all opinions are 100% my own and you don't wear a jacket nearly every day for months unless you actually like it like I do.