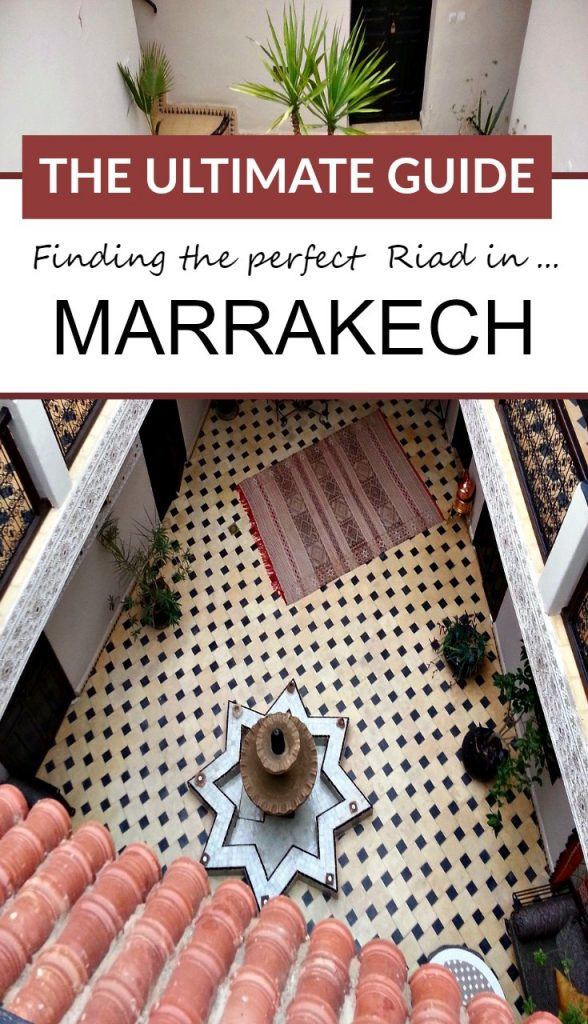 Marrakech's Medina is everything every guidebook says it is: a vibrant, teeming and wild assault on the eyes, ears and nose. Hustlers, touts, tourists, merchants, locals, mopeds, cars, and donkeys pulling carts of fresh vegetables somehow make their way along the narrow alleyways, as Moroccan grandmothers totter along seemingly oblivious to the chaos around them.
It's this chaos that makes Marrakech's riads a perfect, calm place to escape. We stayed in three riads (in four different rooms) over the course of a week, and had a chance to visit another for a very late brupper (breakfast foods for supper) with friends.
The riads ranged from simple budget rooms (Ryad Laarrous) to suites complete with two separate bedrooms and a large living area (Riad Dar Ourika).
Click here for the latest prices and more information.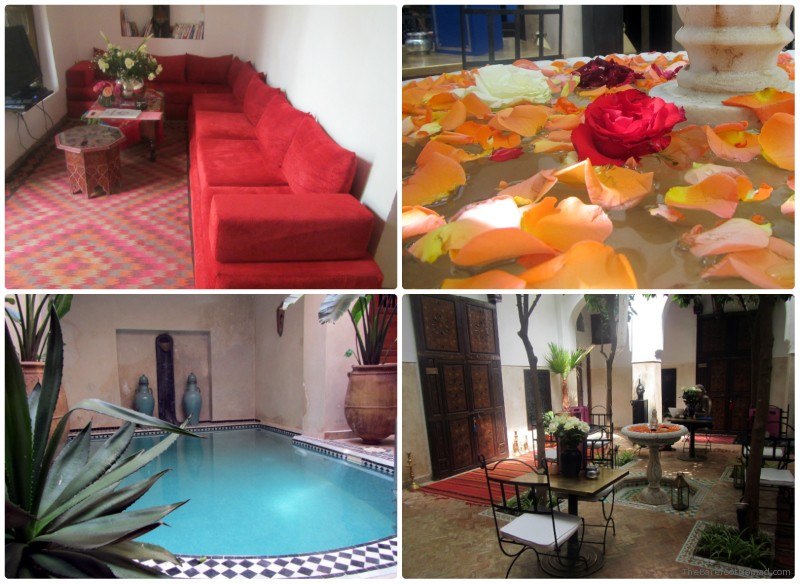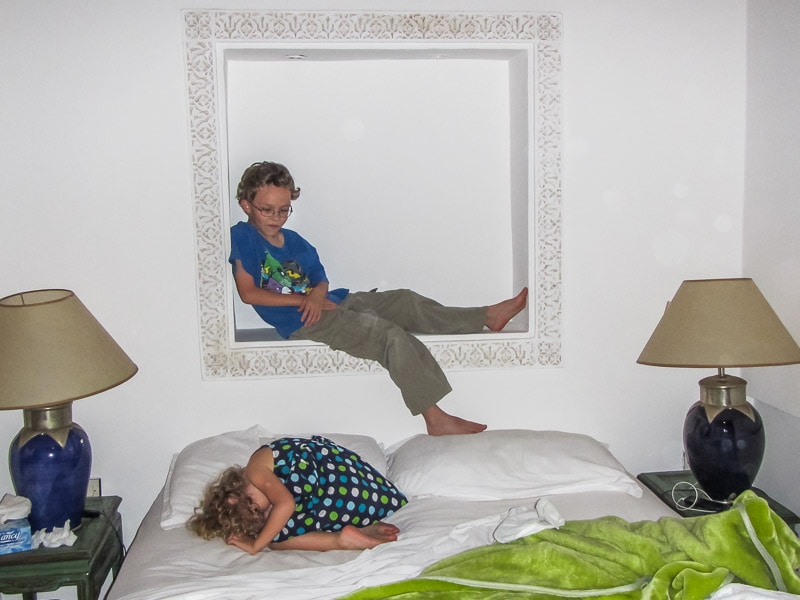 What's a riad? Riads are traditional Moroccan houses that have been converted into hotels or bed and breakfasts. Some are small enough to have only two or three rooms, others have dozens, but most only have five or six suites. They're always built around a central courtyard, with windows and doors usually facing the courtyard rather than the exterior. From the outside, riads are decidedly unassuming, and even entrance doors are usually simple affairs. The ground floor often holds the dining area, central courtyard and a common sitting room, with individual rooms on upper floors. Most riads also have large rooftop terraces that allow you to bask in the Moroccan sun and watch the sun set over the Medina.
How much does a riad cost?
Rates range from around $35 USD per night for a double room in a budget riad (like Ryad Laarrous, where we stayed three nights), right up into the thousands if your budget can handle it (check out the stunning Dar Anika). We didn't stay at the Anika (though I really wish we had). Check prices here.
You can easily get a double room in a mid-range riad for around $60 USD/night, or a large family suite for around $110/night. You can often even rent an entire riad by contacting the owners directly (most riads have websites, though many are only in French).
Why is there always a water fountain in the central courtyard?
The water in the center courtyard is a form of natural air conditioning. When hot air in the courtyard flows over the fountain, it's cooled almost instantly. Because hot air rises (and cool sinks), the cooled air stays within the riad's open air central courtyard, cooling off the building and the rooms around it.
How the heck do I find my riad? These streets are crazy!
Finding your way to your riad is probably going to be the hardest part of your stay. The streets in Marrakech's Medina look like they were designed by a honeybee strung out on a strong dose of espresso. This is especially true walking through the souks near the center.
Check out this video of the four of us navigating the narrow streets (which would be small for just a pedestrian walkway in North America) on our way to our stay at Riad Ourika in the old Medina. This was our third or fourth foray into the Medina from that riad, and notice that we still got turned around. Twice!
At least our riad had a name and address on the outside. Many are unmarked and often even the street numbers are missing. Google maps will only get you so close to where you need to be so don't rely on them to get you exactly where you need to be.
So how can you find them? Many riads will have someone meet you at the airport or train station to guide you if you contact them before you get there. Alternatively, you can do what we did, and pick a random kid somewhere near your riad and pay them 10 dirham (about a USD) to guide you to the front door. Your mileage may vary with this approach, as Marrakech is legendary for its touts and hustlers. If you get lost, trust us that within a few minutes you will have someone willing to guide you. Most are very nice but occasionally they can get pushy. Just be firm and realize that for many of them this helpful guidance is in effect a full time job for them.
What kind of amenities do riads have?
Marrakech's riads have a surprising number of amenities, including everything from swimming pools, Wi-Fi access, free breakfasts, dining rooms, rooftop loungers and restaurants to onsite massages, spas and hammams. Most will also help you set up tours of the surrounding areas and will hold your bag if you decide to head to the Atlas Mountains or decide to camp out in the Sahara desert for a night like we did.
Swimming pools in most riads are usually fairly small and not heated, making them much more suitable for a plunge after a hot day walking through the souks than swimming laps. Almost all riads offer a breakfast with the room rate and many will also make you a delicious custom Moroccan dinner on site in a private dining room if you set it up a day in advance. We've heard from numerous people that the supper they were served in their riad was easily the best Moroccan meal they had in Marrakesh. Of course this wholly depends on the riad you have chosen.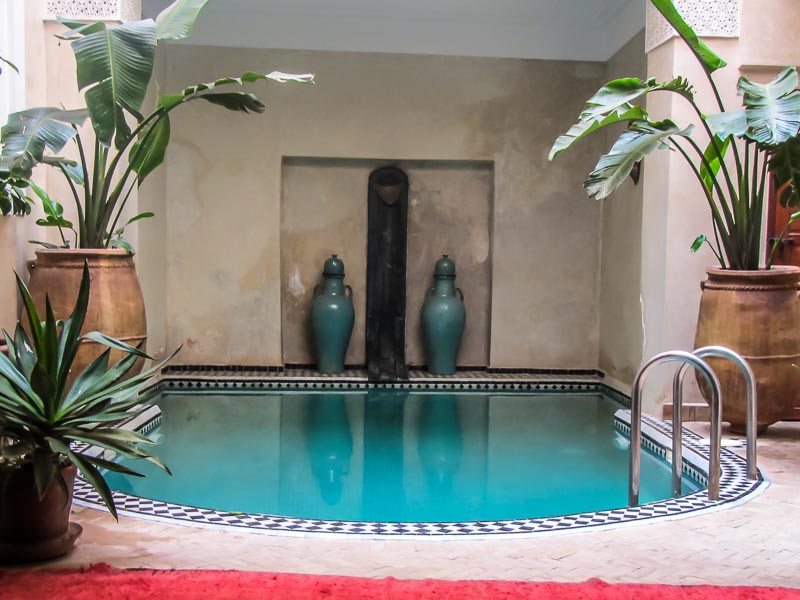 Most riads will also provide you with a welcome Moroccan tea on your arrival or a delicious glass of freshly squeezed orange juice. The Moroccan tea (usually a very sweet green tea with large mint leaves in it) is absolutely delicious and shouldn't' be missed.
What's a hammam?
A hammam (hamam) is a traditional Turkish bath. Many riads have their own onsite hammam rooms and staff, or they can refer you to a hammam nearby. Traditionally, a hammam is a communal experience, meaning you'll be getting naked in a large room with a bunch of strangers (generally strangers of the same sex, as hammams are usually male or female only). Riads, however, can arrange for couples hammams in their private rooms. The experience can include a massage, or simply a steam followed by a rough soaping by a same sex attendant.
WiFi. Can I get it?
Ah, Internet access, the bane of our travel blogging life. Unfortunately, we had problems with Wi-Fi access in all of the riads we stayed at in Marrakech, despite the riads all advertising Wi-Fi in the rooms. That said, the WiFi signal was strong in all of the riads' main lounges, and we often resorted to hanging out on the common couches when we needed to connect. You'll stand the best chance of the Wi-Fi signal reaching your room if you have a room that connects directly to the main area on the ground floor. Unfortunately, this may mean your room is a little bit louder, but it may be a small price to pay for good Internet.
Where can I find a good riad?
We booked all of our riads through Booking.com. They seemed to have the most reviews of all the search engines we looked at, and prices were more often cheaper than booking through the riads themselves.
Click here for the latest prices and to see more information.
What's the difference between a dar and a riad?
In practical terms, none. From what we could uncover, a dar should be a townhouse with a courtyard, while a riad should have a garden. However, many riads in Marrakech don't have a proper garden.
Where we stayed
Decidedly budget, the Laarous feels a bit like it's falling apart a bit at the seams. Still, it was pretty, with a cozy central sitting area offering a decent breakfast, a small pool, flat screen TVs in the rooms and a helpful front desk staff. Good value for the money however make sure you get a room that faces the inside as road noise from the few rooms facing the street can get pretty loud at times.
Click here for the latest prices.
My favorite of the riads we stayed at, the Riad Dar Ourika had a leafy sitting area and good breakfast.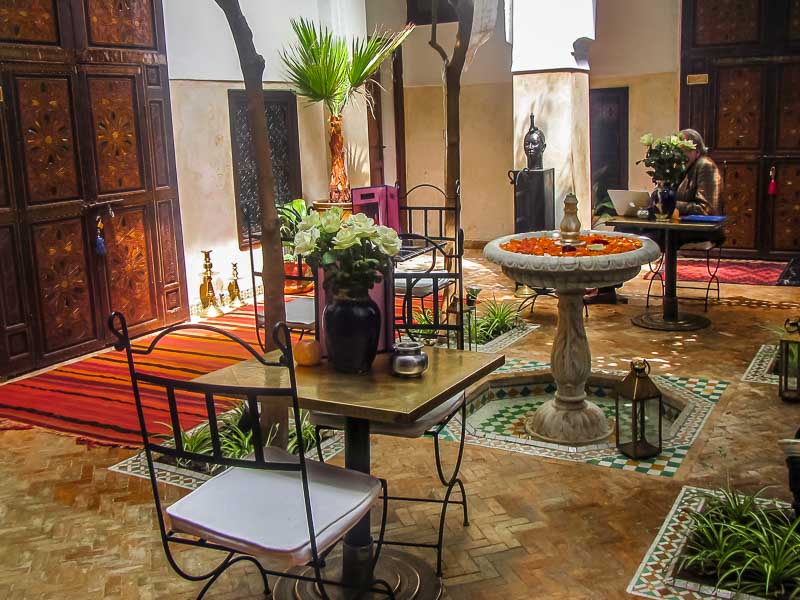 Our room, the Royal Suite (around $116 USD/night was huge, with two bedrooms, an enormous private central sitting area with fireplace and couches, a 15 foot tiled ceiling with skylight, a bathroom straight out of the Arabian nights, and a private terrace to relax on.
Click here for prices and more information.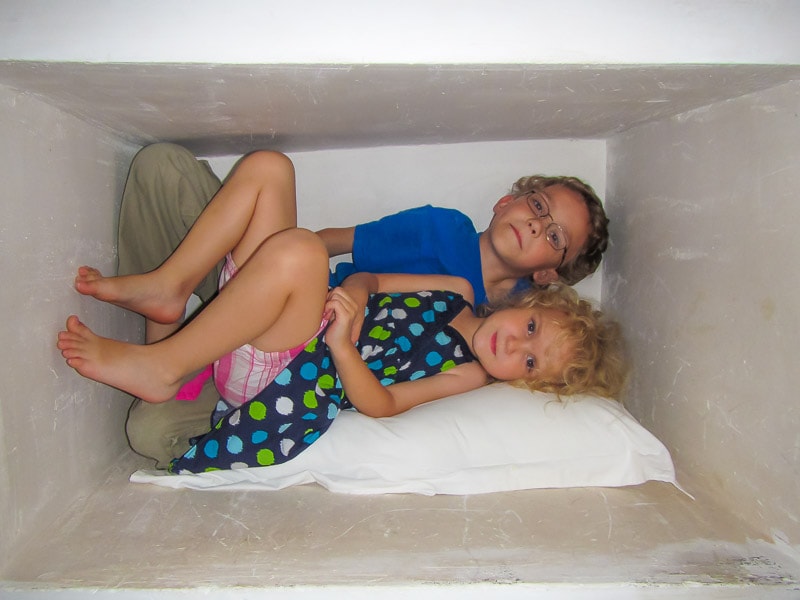 Small, lovely, and best suited to couples or singles (rooms aren't well set up for larger families), this is a charming riad. Our Canadian friends, who met us in Marrakech, stayed here and gave us a tour of their gorgeous room.
We arranged for a custom meal on the rooftop terrace, and the cook pulled out all the stops, including rose petals on the table, candlelight, and a delicious spread of fresh fruit, juices, coffee, granola, omelettes and fresh bread.