Update: Tep has just rebranded as the Travelwifi brand. They released a new website in summer of 2021, with new pricing and products.
If you've followed us for a while, you know that we love our Travelwifi International WiFi Hotspot. Formerly called the Tep hotspot, its unlimited internet has kept us connected all over the world, which is essential when you travel and work as much as we do.
See our full review of the Travelwifi hotspot here!
What is it? The Travelwifi international WiFi hotspot is a palm-sized gadget that gives you Internet access anywhere in the world.
We've used our Travelwifi hotspot for well over four years. That's given us plenty of chances to review it and I honestly don't know how we managed without it!
As frequent travelers, it's kept us connected while traveling in countries like Canada, the USA, Mexico, Europe, Ecuador and even Colombia, among other places. Since we work as we travel, we need reliable WiFi everywhere, and we found that we have that with our little Teppy.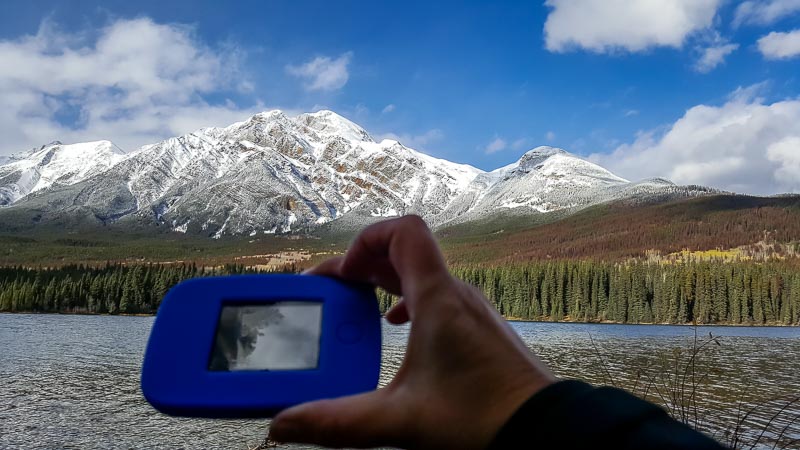 The International WiFi Hotspot – Tep 4G Wireless
When Tep reached out for us to try their brand new 4G International WiFi hotspot, lovingly called the Teppy, we agreed in a second, since we used their original Tep 3g device so much. We've had the new 4G Teppy for almost a month now, and we've had a chance to test it in Mexico and in Jasper, Alberta, as well as central Alberta and British Columbia.
What really got our attention is that Tep includes unlimited internet, which is never cut off, regardless of how much you use.
Tip! The 4G capability of the Teppy 4G only works where 4G service is available. So, where 4G isn't available, the Tep just grabs the fastest signal possible, even if it isn't 4G. For now, in some countries like Canada, 4G isn't available for the Tep, but I think that'll be changing soon. Find out where Tep now offers 4G service.
Here's the non-technical explanation: Even if 4G service isn't available, your shiny new Tep device will still work on other signals like 3G.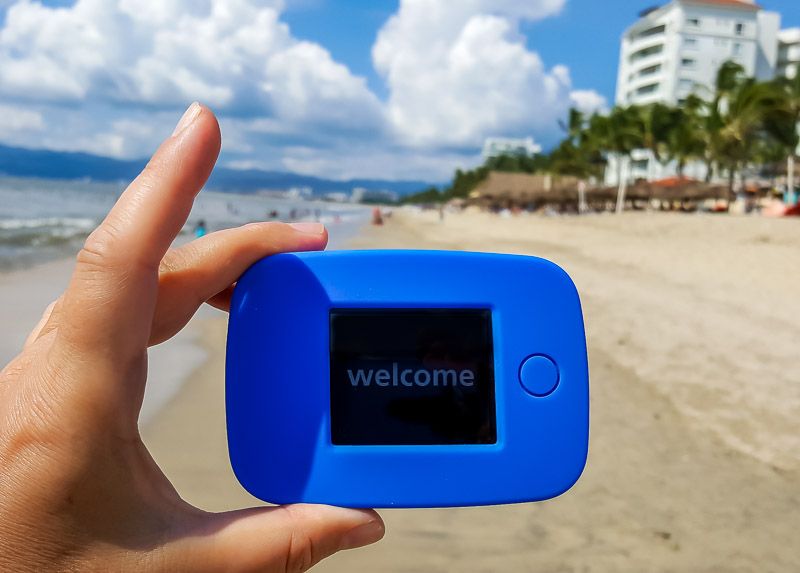 Is the Tep 4G as fast as they say it is?
We recently tested the Tep 4G service near Puerto Vallarta, Mexico. In our tests over the course of a week, the Tep 4g had a speed of over 30 Mbps. That's pretty impressive. 30 Mbps is plenty fast to stream video on multiple devices, and more than adequate for social media, phone calls, email and streaming. Tep itself says that the 4G speed is likely to be around 18.6 Mbps, but we found our Tep 4G to be faster.
What is 4G, anyway? 4G is the 4th generation of wireless cellular service, and the successor to 3G cellular service. 4G is up to 10X faster than 3G service, which is why we think investing in a 4G mobile hotspot is essential.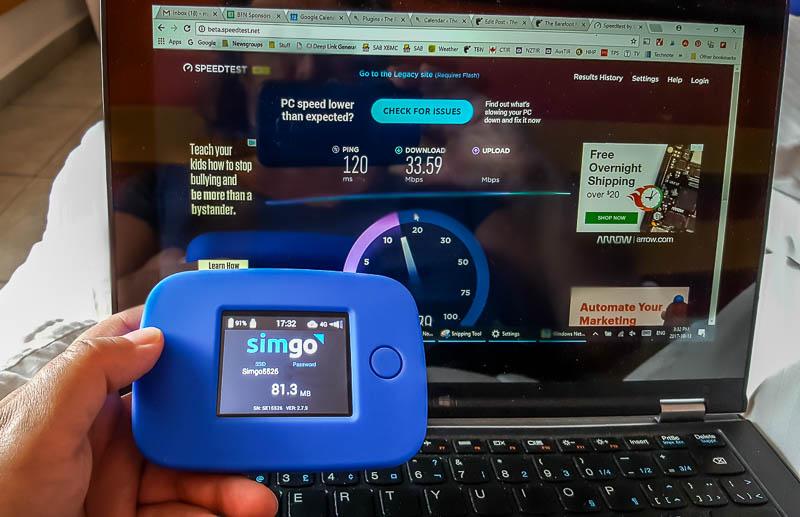 What does it cost?
It's only 8.95 a day to rent a Tep, with free delivery. Returns are easy with the prepaid envelope. You get the Tep device, a handy carrying case, a charging cable, and a compact wall charger with adapters for different voltages. For me, the Tep battery lasted for about seven hours without recharging.
Tep for short trips and family vacations
This is Tep's most popular plan. You rent the Tep device for $8.95 per day, with free delivery to your home or hotel. To return, you just pop it in the return envelope at the end of your trip.
Who's this for? We think the Tep rental plan for short trips works best for travelers who only take one or two trips a year, or who aren't sure if they'll like a mobile WiFi hotspot.
Tep for frequent and business travelers
This is the Tep plan that we use. Instead of renting our Tep, we bought it outright and it travels with us everywhere. It came with 3 days' service, and the device cost $99. Additional days are only $8 per day. We really love that we don't have to return the Tep at the end of every trip and it fits nicely into our electronics bag.
We think that the Tep for frequent travelers makes sense if you travel three or more times a year, and you're sure you'll use an international WiFi device somewhat regularly.
If the WiFi is good as we travel, we leave the Tep tucked away. However, if we're somewhere remote where WiFi isn't available, or I can't find a good connection, I just connect the Tep, and voila, instant WiFi. It's a pay as you go service, so all I have to do is turn on the Tep, grab the Wifi Signal, and I'm connected. Tep is a pay as you go service so if you don't use it, it costs you nothing.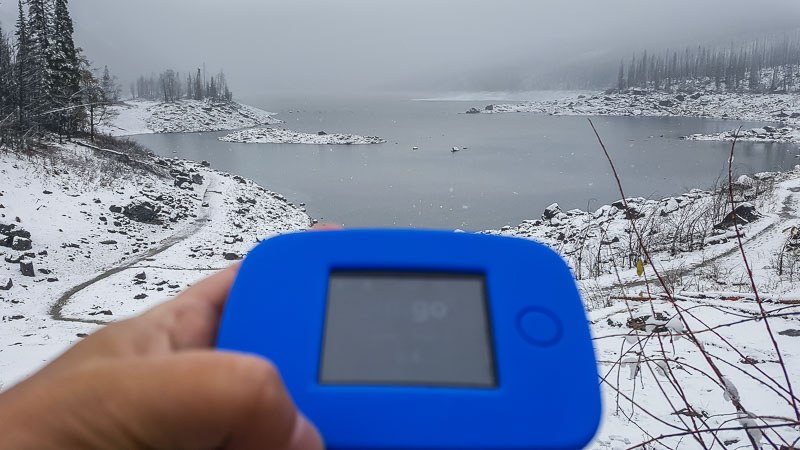 How does it work?
The Tep grabs the nearest cell signal, and uses that data to give you WiFi. Because it uses multiple carriers, we've found that the Tep often gives us WiFi when our cell phone can't get a signal. This is a huge advantage everywhere, but especially in places like rural Canada where cellular coverage can be spotty, even for major carriers.
To use the Tep, all you do is turn it on and connect your smartphone, tablet or computer using the Password and SSID (which is the WiFi name) on the front. It doesn't require any setup, cables or installation.
You can connect up to five different devices to one Tep and your day of data lasts for a full 24 hours from the moment you connect.
Can I use the Tep with my Kindle?
Yes! The Tep works with any device that's WiFi enabled, like Windows and Mac laptops, smartphones like the iPhone, Android, Blackberry and Windows phones, plus tablets like the iPad as well as games consoles and anything else that connects to WiFi.
What countries does it work in?
The Tep works in over 100 destinations worldwide, including Canada, the USA, most of Europe, Africa, Australia, New Zealand, much of the Caribbean, and many countries in South and Central America.
Who will like the Tep 4G?
All travelers
An international pocket wifi is perfect for travelers. It can keep you connected, even when the hotel WiFi you were promised is down. It allows you the hassle of trying to find a local SIM for your phone or buying an expensive international data plan when you might only need data for a day or two of your trip.
Families and groups
Since multiple people (up to five devices at a time) can connect to the Tep simultaneously, it's perfect for families and groups. The nice part is that when you factor the per device cost in, using the Tep is often the cheapest route to share data with multiple people when you travel.
Business travelers
Business travelers need reliable WiFi to get work done. Since we travel so often, and work as we go, I think we fall into this category. I was stuck in the Edmonton airport for about three hours waiting for my shuttle on a trip to Jasper, and the airport WiFi wasn't working. My monthly cell data plan only includes so many megs of data so I pulled out the Tep and had a productive three hours while I waited.
Road trippers and RVers
Campground WiFi is notoriously sketchy, so having your own mobile device can ensure you're connected even when you're out in the wild. We've used our Tep to stream Netflix while out camping on rainy days and I especially loved being connected on a five hour shuttle bus to Jasper. I got a lot of work done, and had a little downtime streaming YouTube videos to my tablet while in the shuttle.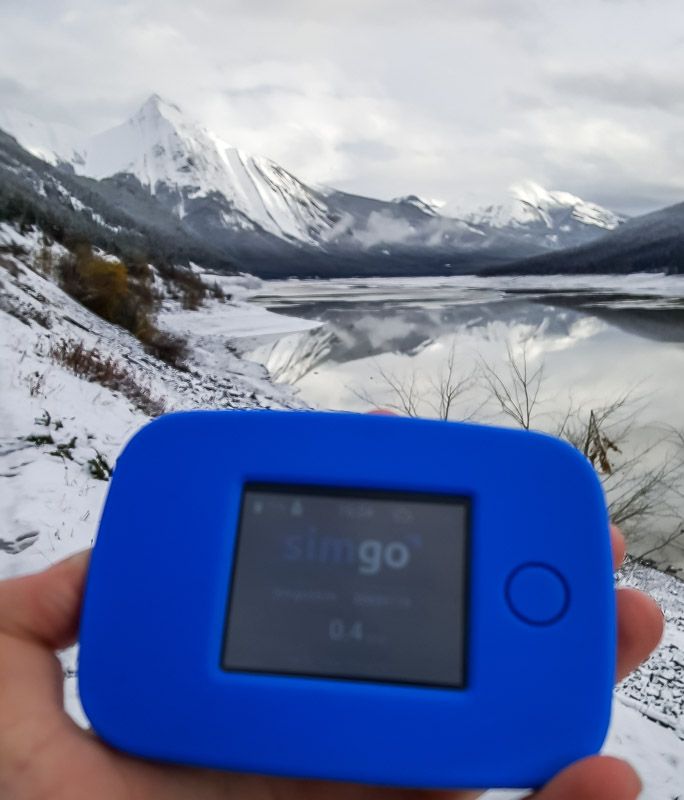 Solo travelers
I loved having the Tep with me on a girl's trip to Boston last year. Since my Canadian phone service didn't work in Boston, it was nice to know that I was always connected with the Tep and everyone in the group used it as well.
People who don't like to get lost!
When we travel, we find ourselves checking local transit maps and Google maps constantly. We often preload the places we're going to be while on WiFi but that doesn't help when we need to do some research on the go. It's nice to have our Tep with us so that information's always at our fingertips if we need it.
We actually used our Tep this Spring in Florida while we were waiting to find out if our Airbnb rental came through and then while driving to it. Since we had it anyway, the kids streamed Netflix from the back seat while we did the 3 hour drive from Fort Lauderdale up to Orlando.
Tep for Pokemon Go lovers!
My kids figured out pretty quickly that the Tep 4g is the perfect thing for playing Pokemon Go around town. Every so often, I pull out our little Tep, we all connect, and we head out for an afternoon catching Pokemon. Because it's a day to day type of device (once you connect you get a full 24 hours of use), it's a small cost for a few hours of family enjoyment and it allows our kids to not need their own data plan.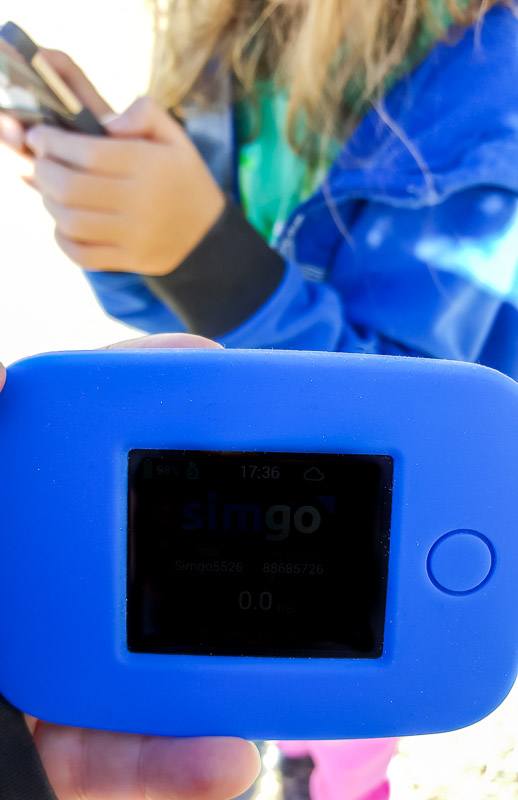 WiFi hotspot rental in Europe
What's the best mobile hotspot device for international travel?
Well, we haven't tried every mobile hotspot device, so we can't say for sure which is the very best. That said, the Tep 4G has served us very well in three continents, and there are plenty of great reviews for the Tep 4G service in Europe.