The Timekettle M3 translator earbuds are an easy, fast way to translate on the fly. Simple to use, this language translator with a 25 hour battery life is like having a personal translator with you at all times.
In this hands-on Timekettle M3 review, we put the Timekettle M3 language translator earbuds through their paces, and share their pros and cons.
Looking for in ear real time language translation? These little wireless earbuds might be what you're looking for.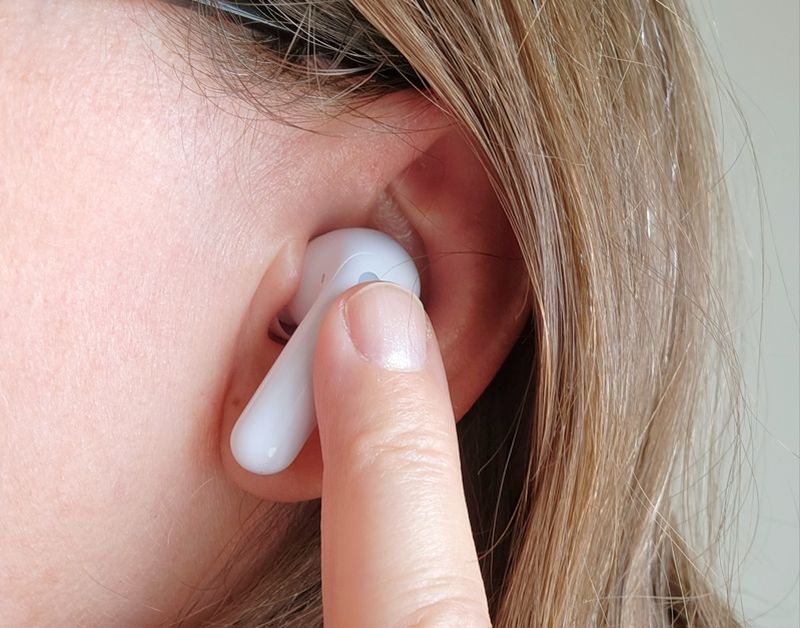 While we're not quite at the Star Trek Universal Translator yet, which let Kirk and Spock communicate fluently with many alien races, language translation has taken a light year sized jump in the past few years.
In a hurry? See prices for the M3 earbuds on the official website here, or on Amazon.
Imagine walking through the bustling streets of Tokyo, attending a lecture in Paris, or mastering Mandarin from the comfort of your own home, all without language being a barrier. Welcome to a world where language boundaries blur, unlocking opportunities for travelers, students, and language learners alike.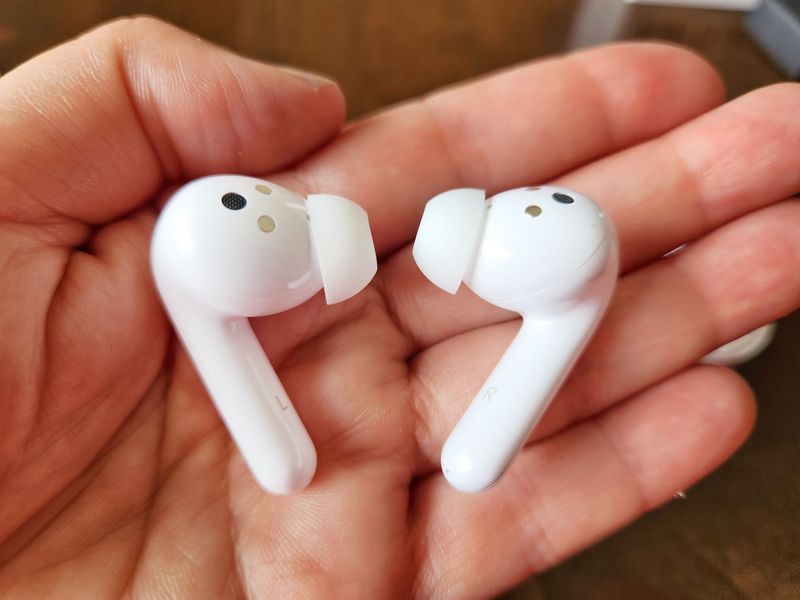 The Timekettle M3 offers real-time translations straight into your ears.
So whether you're a globetrotter exploring new territories, a student diving deep into linguistics, or a passionate language learner seeking fluency in a new tongue, the Timekettle M3 Earbuds can help.
Buckle up as we offer a personal, in-depth review of these earbuds and reveal how they just might be your ultimate language companion.
Timekettle M3 language translator earbuds review
The Timekettle M3 Translator Earbuds are earpieces that can translate different languages in real-time. They connect via Bluetooth, and have some pretty impressive specs:
translation to and from 40 languages and 93 accents
translation can be as fast as 0.5 – 3 seconds
They have three modes: Touch, Listen, and Speaker.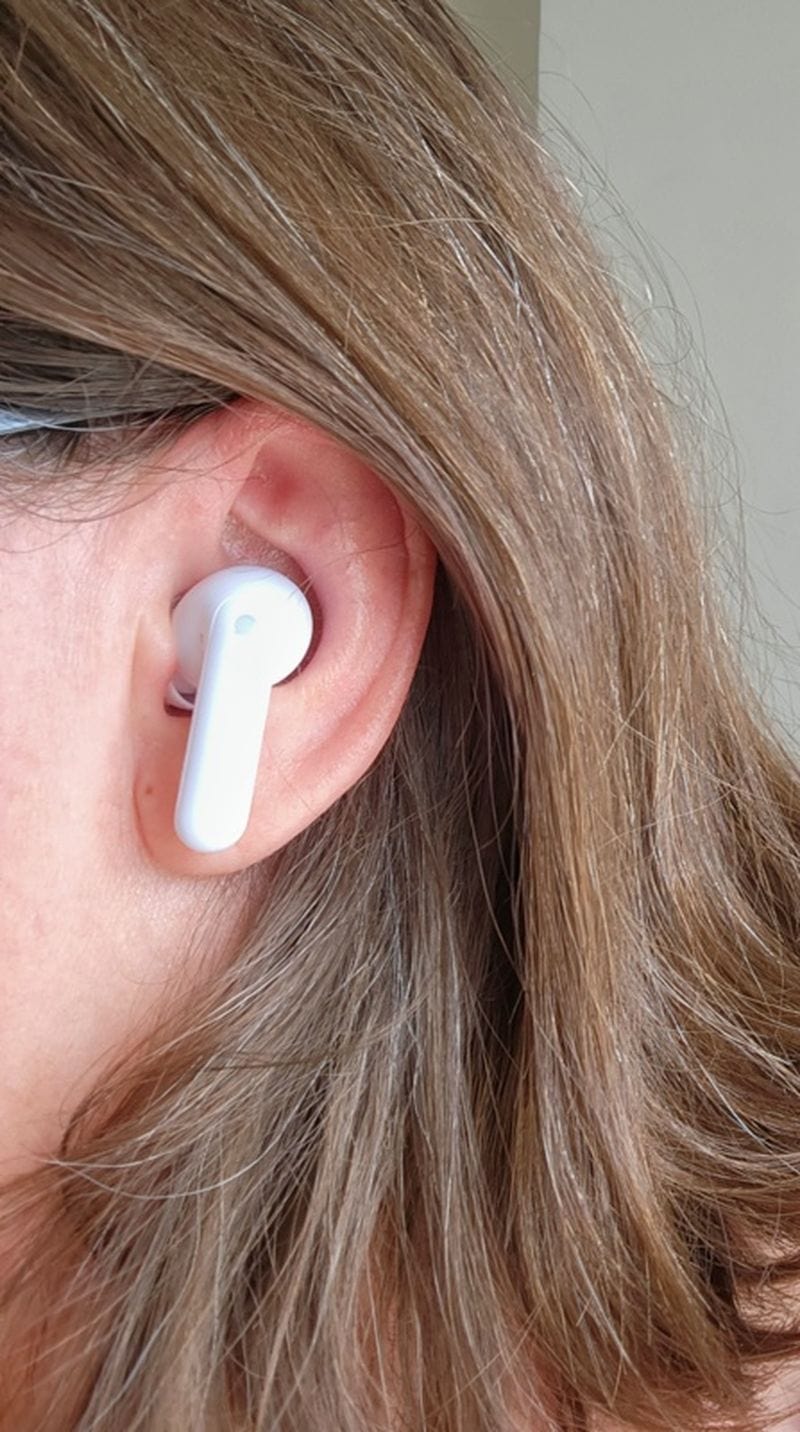 In Touch mode, they work like a walkie-talkie, but for two different languages. Each person wears one earbud and they talk to each other without having to wait for the translation. It's a lot like having a bilingual friend whispering the translation in your ear. Touch mode requires everyone to wear an earphone, and everyone can speak by touching the earphone lightly.
Listen mode is useful when someone is giving a lecture or speech in another language. You keep your phone close to the speaker and the earbud translates everything for you, like a personal interpreter.
In Speaker mode, if you are in a foreign country and want to ask for directions, you can speak in your own language and the app translates your speech to the other person. Whatever the person replies also gets translated back to you, and you can hear it through the earbud.
The app even saves all your translations so you can look at them later.
Timekettle M3 app
This is important: You'll need to download the Timekettle app on your device to use the M3 earbuds as a translation device. The translation function does not work without the app.
You can get the app on Google Play, the App Store (for iOS), or download the app directly from the Timekettle website.
We tested the M3's using the Android app.
Our experience using the Timekettle M3 earbuds
My first impression was that the M3s were nicely packaged, with components clearly marked and attractively displayed.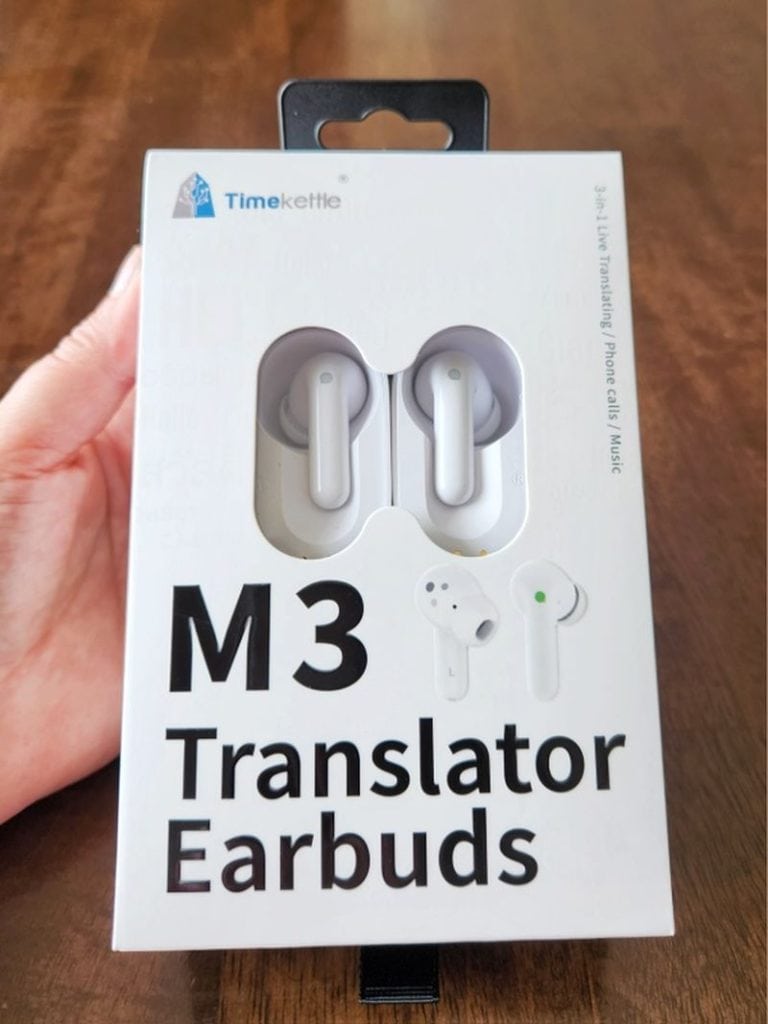 The M3 earbuds come with a charging case, a USB charging cable, an instruction manual, and three different sizes of ear tips, along with a Fish card. It doesn't come with a separate carrying case however you can buy one separately.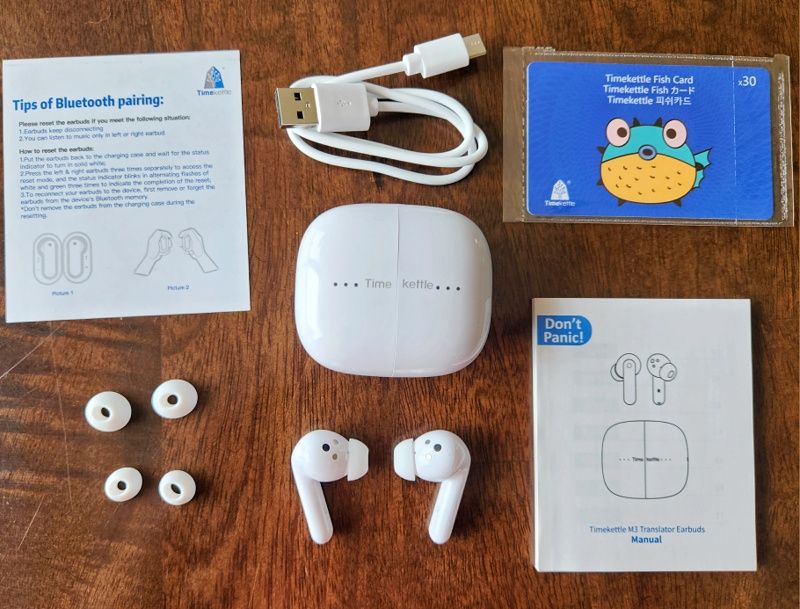 As someone with tiny ears, I really appreciated the choice of ear tips! I swapped out the medium for the small right away, and they fit snugly into my ear.
The charging case is a cool little unit, with two halves that satisfyingly snap together with the aid of a magnet in the middle.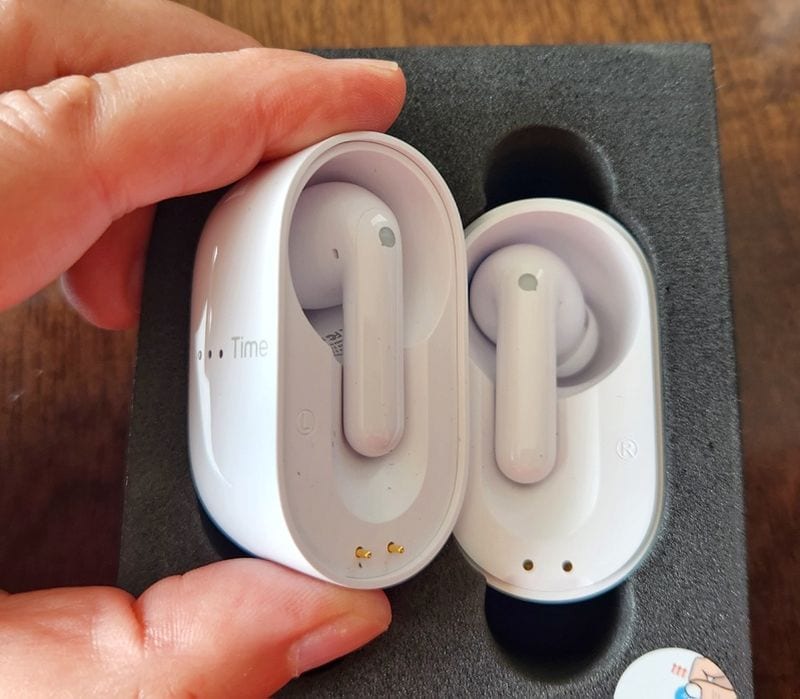 The M3s came out of the box charged about 80%, so I got up and translating right away.
Once the M3s were unboxed, the next step was to connect them via Bluetooth.
There's nothing tricky here – just take the M3 earbuds out of the case. The light turns green when they're ready to pair.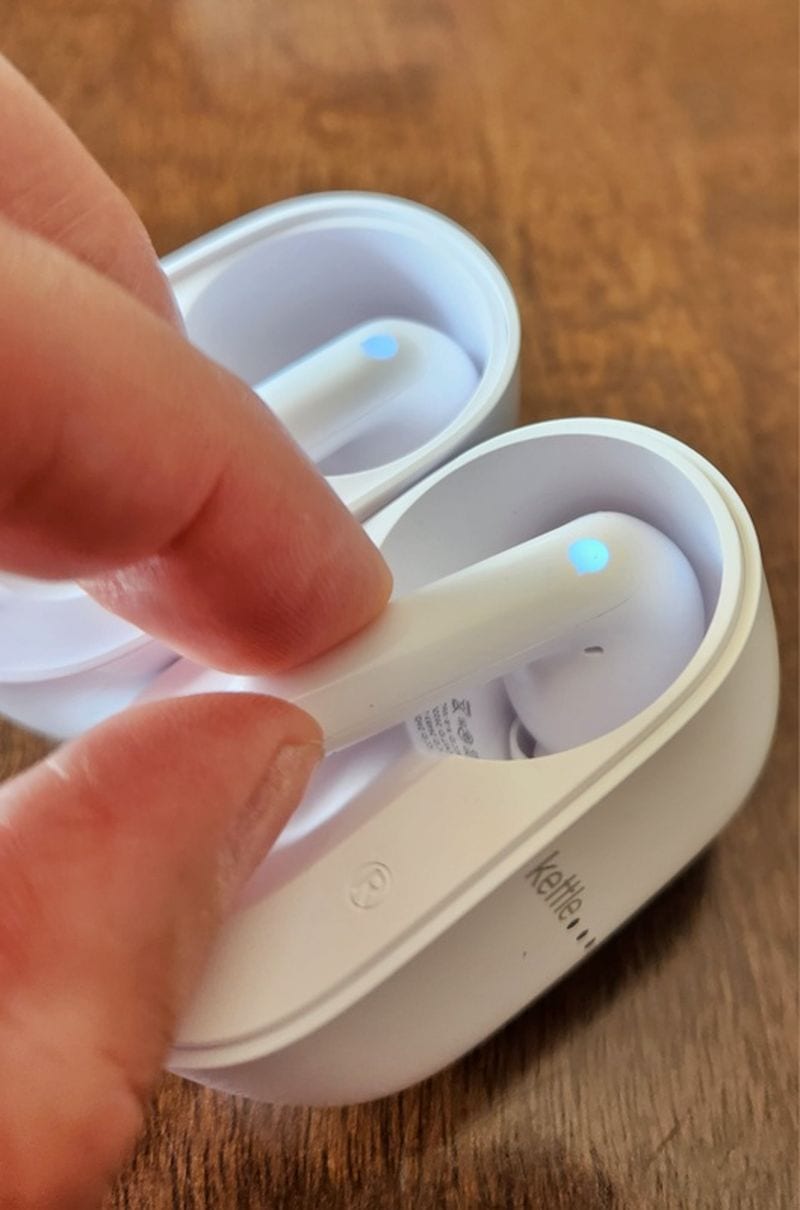 Enable Bluetooth in your device's settings, and select the Timekettle M3 from the list to connect.
Next, install the Timekettle app.
You can install the app via Google Play, the App Store (iOS), or through the Timekettle website.
Once the app's downloaded, create an account. Enter your email address, create a password, and activate with the verification code sent by email.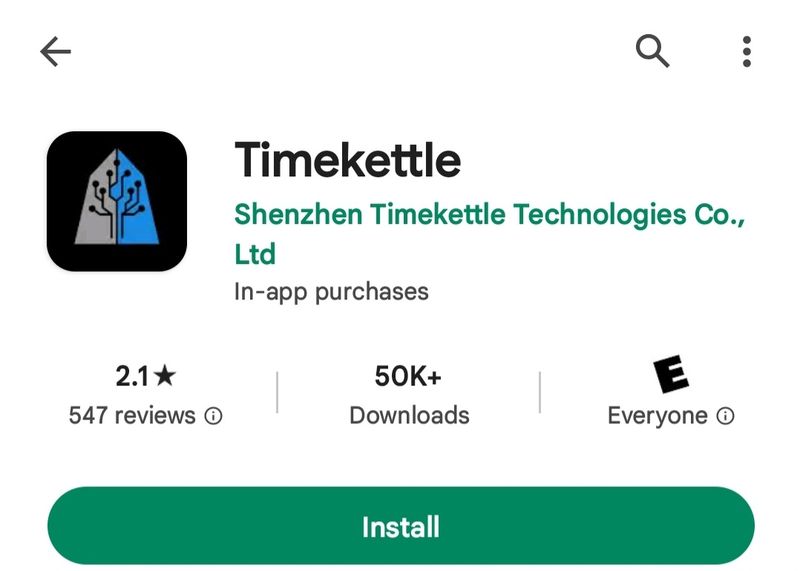 Once you activate your account and sign in, select your product (M3) from the choices offered.
Click Add in the app, and click Connect, and then OK.
All of this went really smoothly for me, and I was connected to Bluetooth and the app in less than a few minutes.
From there, I tested the three modes:
Listening Mode (for listening in meetings and classes)
Speaker Mode (for short conversations during travel)
Touch Mode (one-on-one mode, with each person wearing an earbud).
Listening mode
To test Listening mode, I turned on a Spanish-speaking YouTube video.
I selected Spanish to English, pressed the mic icon, and put my phone close to the speaker.
Sure enough, the Timekettle app picked up the Spanish conversation.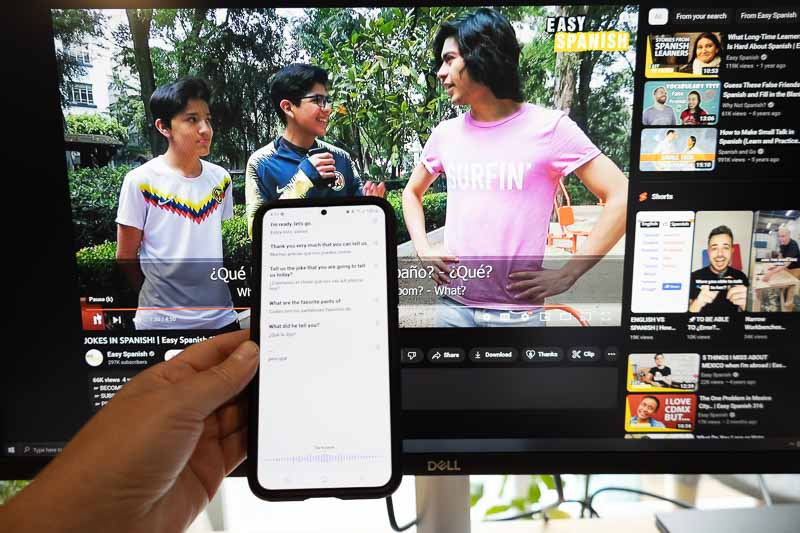 First, the app translated the Spanish in my app.
A second or two later, I heard the translation in my earbuds.
Very cool.
It all seemed pretty seamless.
I did notice, however, that I had to have the volume up to about the level of a normal conversation. I don't think the app's made to pick up whispered conversations.
Speak
Next up, I tried the Speaker mode, which is made for short, two-way conversations.
I wore the earbuds and spoke, while my partner in crime, Charles, spoke into the phone.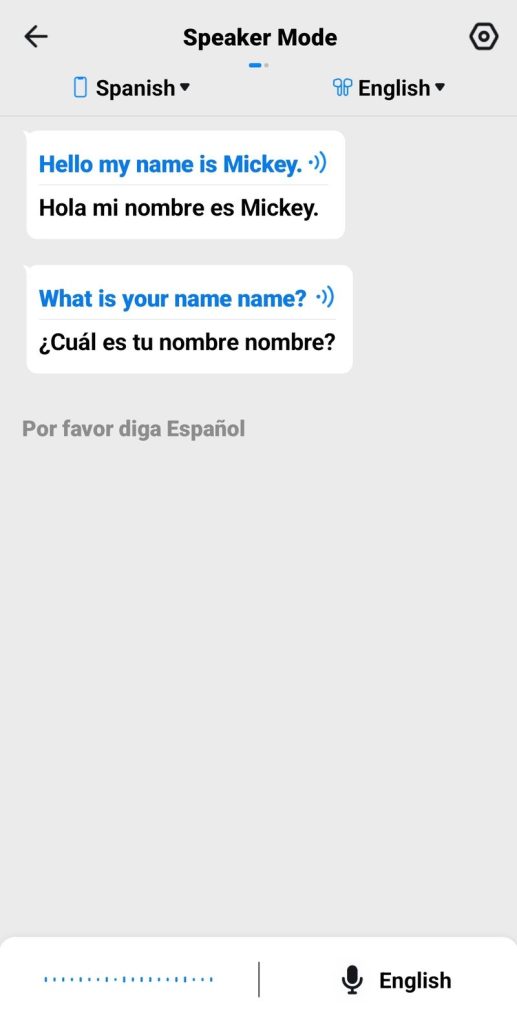 As I spoke in Spanish, my words were translated into English on the phone for Charles to read.
He replied by speaking English, which was translated to Spanish in my earbud (and also displayed on the phone).
This mode would be great for traveling, when you don't want to share one earbud with a stranger.
Touch
Lastly, we tested Touch mode.
I wore one earbud, while Charles wore the second. We had a conversation, where I (attempted to) speak Spanish, while Charles spoke English.
Touch mode required both Charles and I to wear an earphone, and we could speak by touching the earphone lightly.
The Timekettle phone app picked up our conversation, and translated it into our individual earbuds.
We could also see our translated conversation in the app.
It was pretty cool, as we could talk to each other, without waiting for the translation.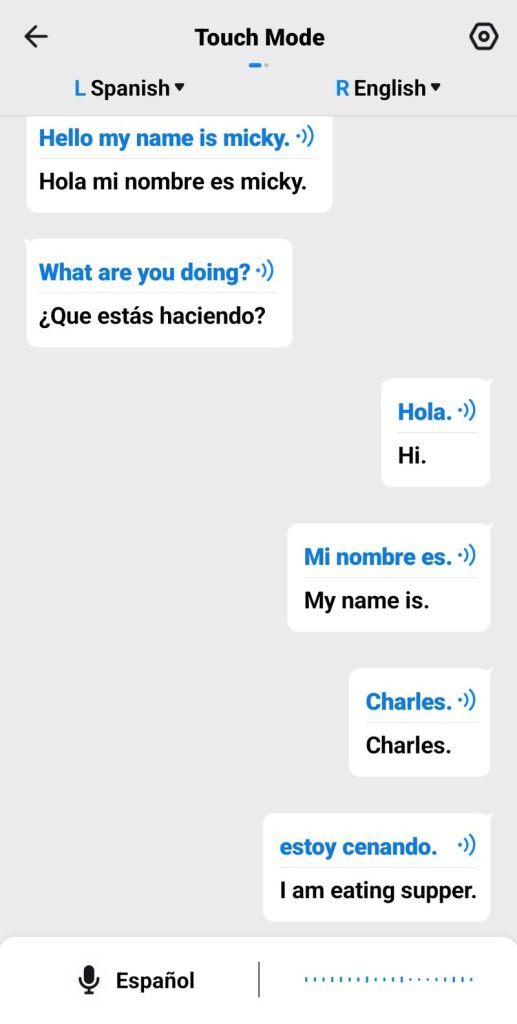 Offline translation with the Timekettle M3 earbuds
All of our testing to this point was using WiFi, but the M3 earbuds offer offline translation.
There are 13 pairs of languages available, six of them are to and from English to another language, while seven of them are to and from Chinese to another language. So, you can translate to and from English to Spanish, or to and from English to French, but there's no offline ability to translate to and from Spanish to French, for example.

To use the offline translation, you need to use Timekettle's own points to download each language pack for example a language pack for translating English to and from Spanish)
Each offline translation pack download costs 5 Fish points. Each Fish point costs $2.
Important! Buy your Fish points in the app, where you can buy them in small increments of 5, 10, and 15 point increments. On the official website you can only buy the large package of 30 Fish points for $60.
Happily, the M3 earbuds included a card with 30 Fish points.
I scratched the back of the Fish card to reveal the code, then entered my Fish points into the app.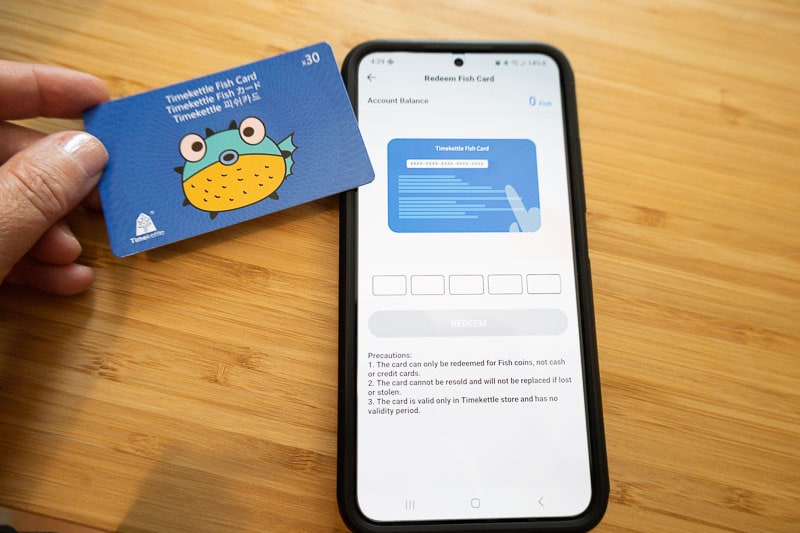 First up, I downloaded the Spanish to and from English pack. Then, it was time to turn off the Wi-Fi and cellular data on my cell phone and test offline translation with the M3.
I found the offline translation with the M3 pretty similar to the online version and worked just as well.
Can I use the M3 earbuds to listen to music?
Yes, you can use the M3 earbuds just like any other earbud. The translator function is only activated when you turn on the Timekettle app, and connect the earbuds to the app.
Otherwise, the M3 earbuds behave like any other wireless earbud, letting you listen to podcasts, music, YouTube, or anything else you'd normally listen to on your device.
Audio quality on the Timekettle Fluentalk M3 earbuds
Honestly, I thought the quality on the M3 earbuds was serviceable.
Before we got the M3s, I'd read other reviews that said the audio quality left a bit to be desired. Sure, these translator earbuds aren't made for audiophiles listening to music, but I thought they did the job just fine for everyday listening to music or a podcast.
You'll be disappointed if you're looking for booming bass notes, or a crystal clear high range, but to my ears they did a decent job in the mid-range, with no distortion or tinny sound.
Curious about a handheld voice translator? Check out our review of the T1 offline voice translator.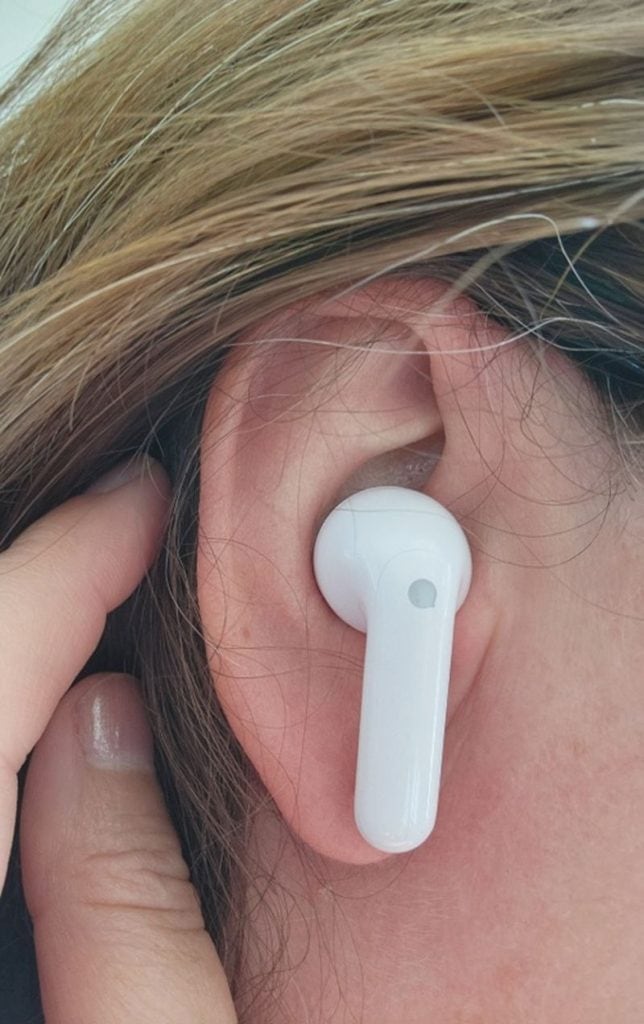 Battery Life
The M3's boast a 25 hour battery life, which is pretty impressive to me.
I used the M3's repeatedly over a few days, for a few hours at a time, and only saw the battery drop from 80% to 60%. Not bad.
Can I use the M3 earbuds with my computer, instead of a mobile device?
No, the M3 earbuds are designed to work with the iOS or Android Timekettle app, so you can't use the translation feature with your desktop computer. However, you could connect them via Bluetooth and use them like regular wireless earbuds.
Can I use the M3 earbuds with my tablet?
If you can download and run the iOS or Android Timekettle app on your tablet, you should be able to use the Timekettle M3 earbuds for translation.
Timekettle M3 vs M2
The Timekettle M3 earbuds are an upgraded version of the M2 earbuds. The M3 includes noise reduction, to make translation clearer.
Timekettle M3 vs WT2 Edge
The WT2 Edge and M3 are designed for different users, with different needs. The WT2 Edge is designed for multiple people speaking and listening simultaneously. It's useful for long conversations. The M3 is designed mostly for two people speaking in turns, and for travelers and expats.
Six people can use the WT2 Edge at one time, while 2 people can use the M3 earbuds at the same time. The WT2 Edge can't be used to make phone calls, listen to music, or access your phone's assistant, while the M3 earbuds can. It's geared towards business meetings, or a long conversation in cross-language families.
Timekettle M3 Cost
There are two options for buying the Timekettle M3s. You can get the M3 with BOTH offline and online translation included, or with ONLY online translation included (which is a little cheaper).
Timekettle M3 cost:
As with any tech, price fluctuates over time, but on Timekettle's website the cost at the time of writing was:
Offline and Online translation $149 USD
Online translation only $119 USD
See prices on Timekettle's website
Pros and Cons of the Timekettle M3s
Easy to use and fast, the Timekettle M3 translator earbuds are a solid choice for your travel backpack. With a long battery life, the only downsides are the somewhat annoying Fish points system, and lacklustre though usable audio quality when listening to music.
Pros
easy to use
long battery life
Cons
decent, but not stellar, audio quality
need to use Timekettle's Fish points to get offline language packs
See prices on Timekettle's website