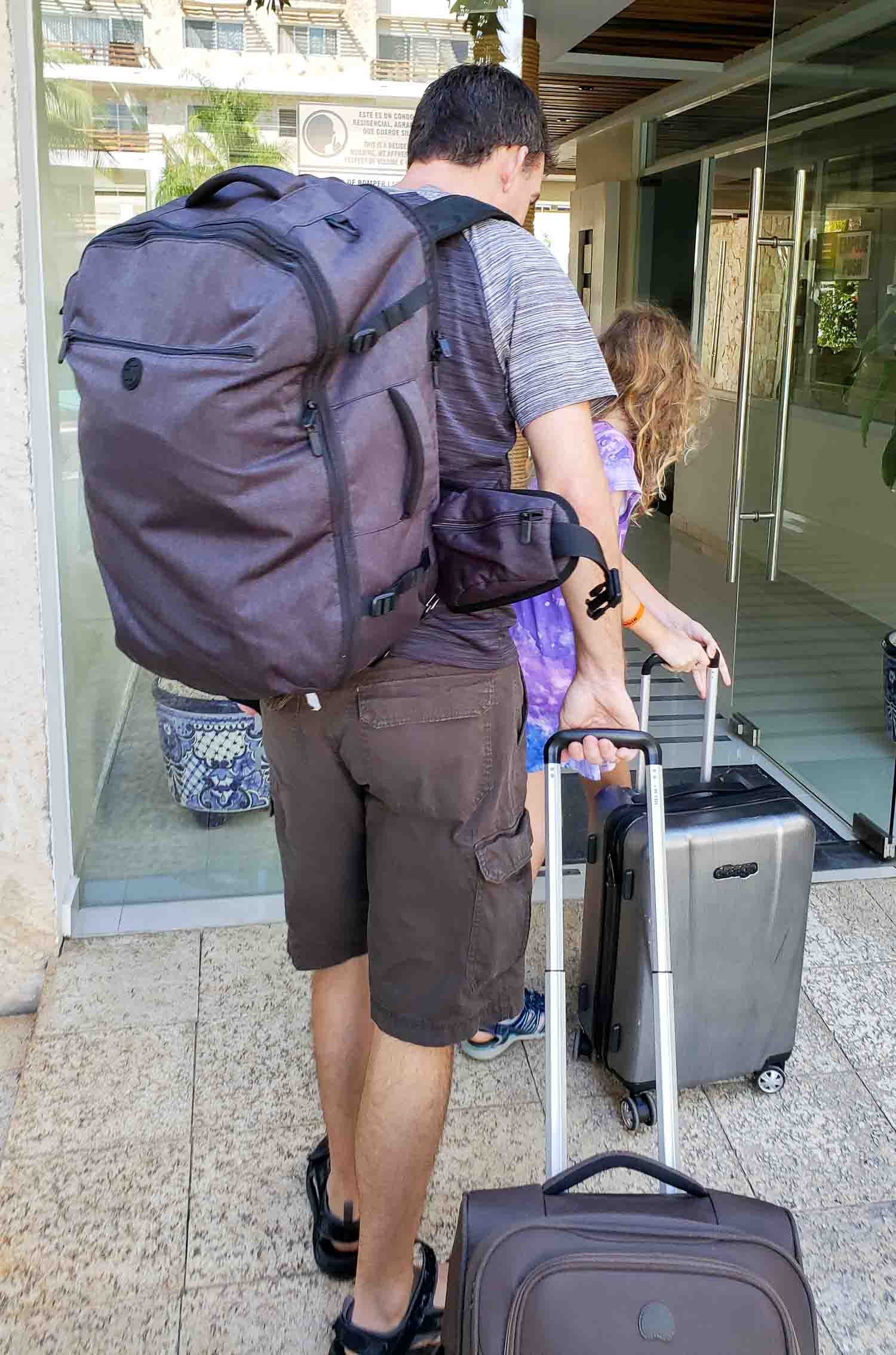 In this Tortuga Setout review, we share our personal experience with the Tortuga Setout for men, as well as the Tortuga Setout for women.
Are you looking for a stylish carry-on backpack with great organization that suits a frequent traveler? Read on!
One thing I've never loved about travel backpacks is that they always seem to look more like they're geared for hiking than city travel. You know what I mean – so many travel backpacks are a weird shade of green or orange.
Also, since a lot of travel backpacks load from the top, it's a real pain to dig out your belongings when you need to get at something from the bottom.
The Tortuga Setout solves both of these problems. It's a stylish carry-on size travel backpack that opens suitcase style to let you easily access the contents at the bottom of your backpack.
Tortuga Setout Review
Charles has used our men's 45 liter Tortuga Setout for well over a year now, both for shorter road trips, as well as international travels by plane.
I've had a chance to test our smaller women's 35 liter backpack for a couple of months, and I've really enjoyed it. Scroll down to see our women's Tortuga Setout review. The women's Setout is also available in a larger 45 liter size as well.
See it on Tortuga's website here.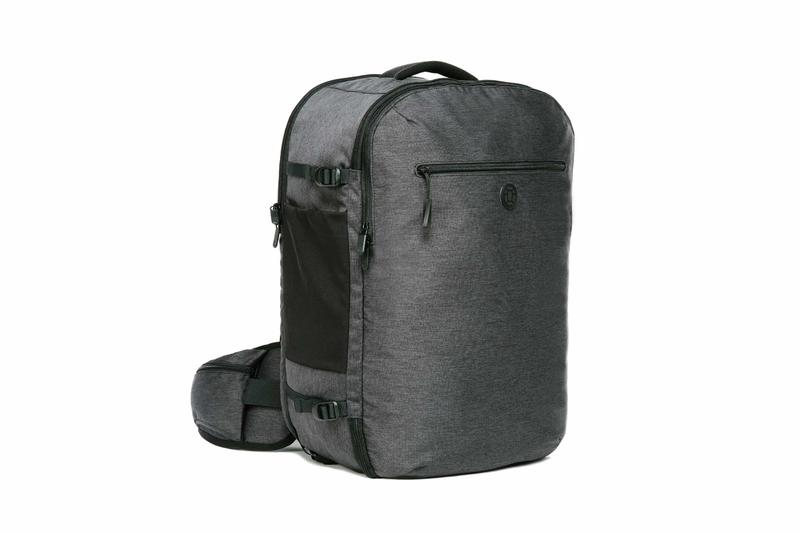 Tortuga Setout for Men
The Tortuga Setout holds an impressive amount in its 45 liter interior. It also includes interior cinch straps to make it less bulky!
Since we use this Tortuga travel backpack mostly for shorter trips, we eventually pulled off the removable waist straps. You can see in the photo below that we rarely did them up anyway. The padded shoulder straps were comfy and cushy enough that we didn't need to transfer any of the backpack weight to the waist straps and we weren't hiking for miles anyway so they were just added volume for our typical uses.
When I'm in the city, I really love that it's so minimalist and stylish. It's also a lot more inconspicuous than a brightly colored hiking style backpack, and I think that the muted color makes its much less obvious that we're tourists when we travel.
It's especially a great choice for Europe, where you'll want a pack that's stylish, but carries a lot for its size.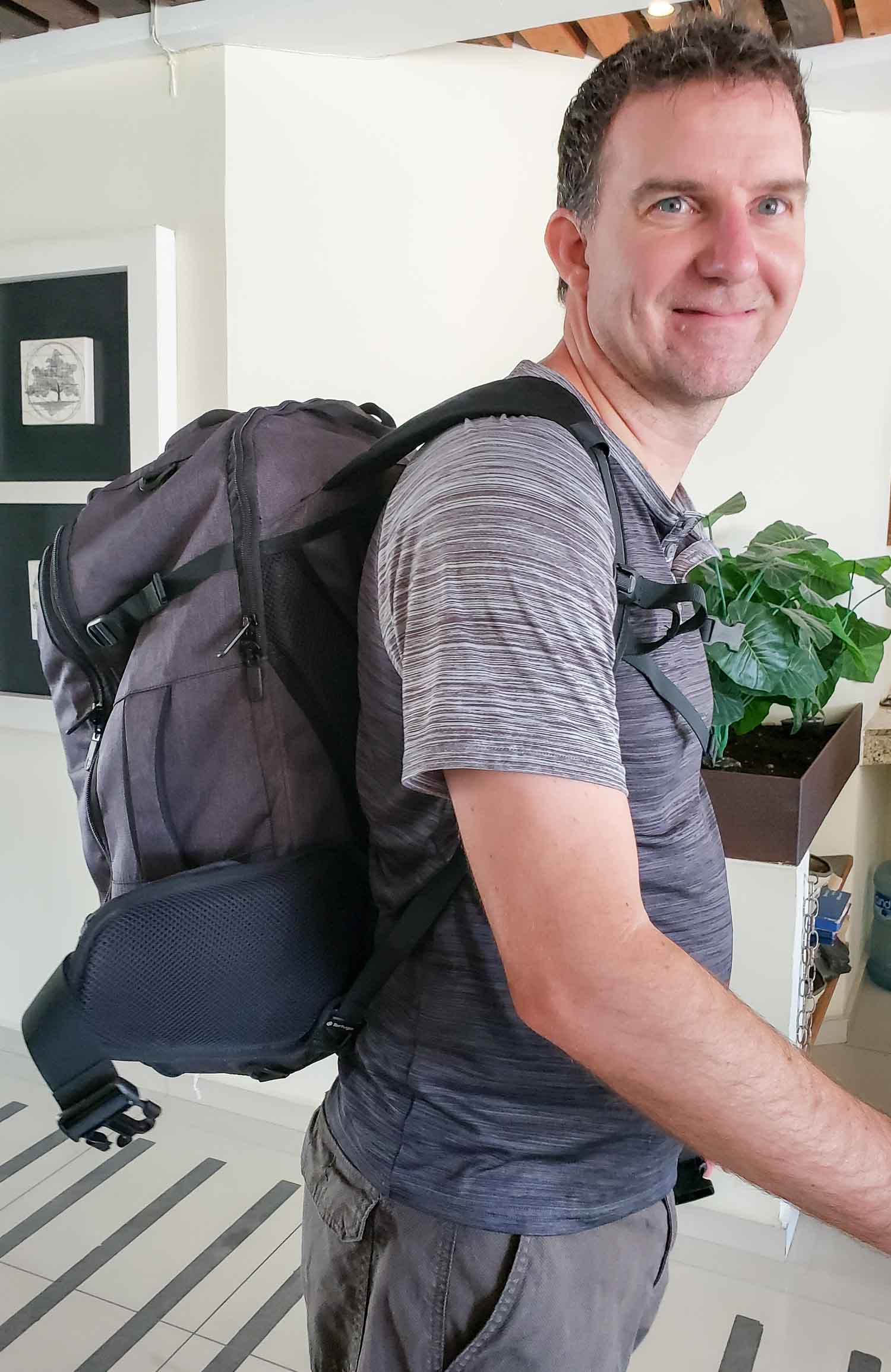 The men's Tortuga Setout is a great choice for you if:
You want an easy to pack backpack that opens like a suitcase
You'd like a backpack that's sleek and stylish, and that fits in perfectly in the city
You're looking for a carry-on size pack with great organization that can fit a lot
The men's Tortuga Setout is not for you if:
You're looking for a backpack bigger than 45 litres
You're planning on hiking more than a few hours consistently
You want a top loading backpack
Men's Tortuga Setout quick specs:
Price: $199 (45 L) or $179 (35 L)
Size: 45 L or 35 L
Weight: 3.9 lbs (45 L) or 3.4 lbs (35 L)
Dimensions: 22″ x 14″ x 9" (45 L) or 21.5" x 13.5" x 7.5" (35 L)
Is the Tortuga Setout Carry-on Size?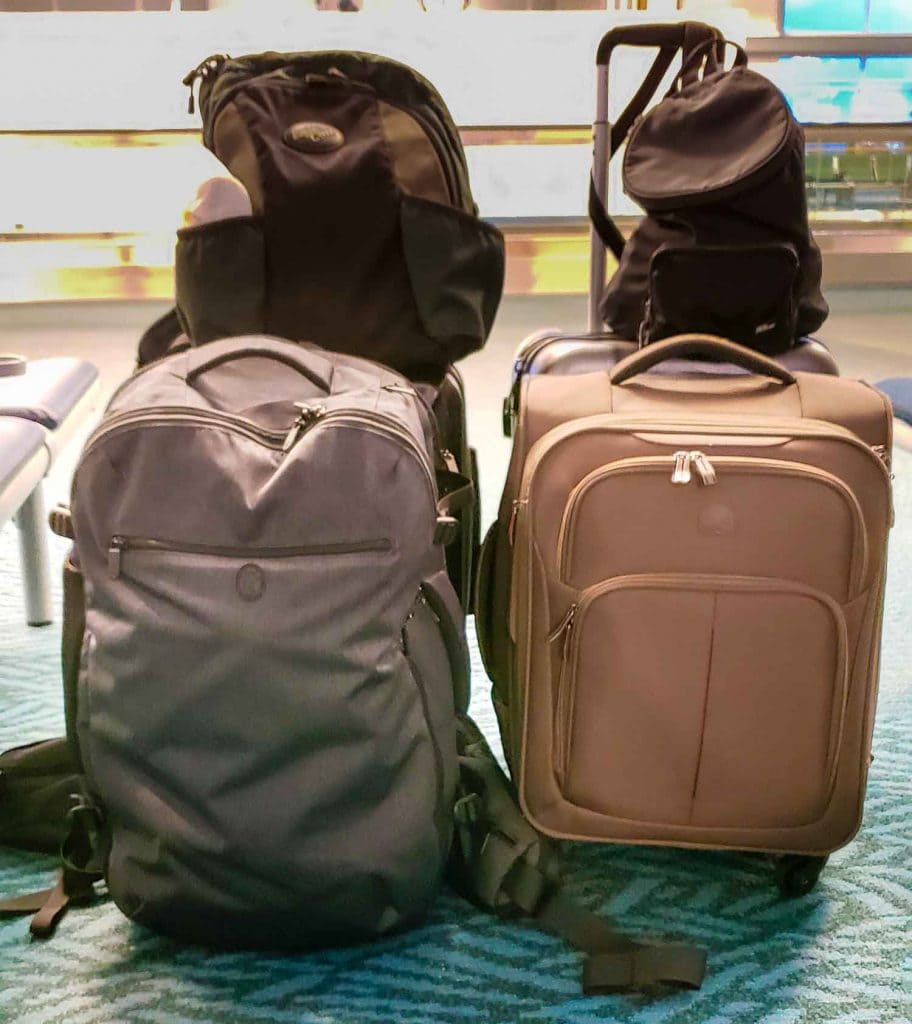 The short answer is: Yes!
The men's Tortuga Setout 45 liter is 22″ x 14″ x 9″. That mean that it's small enough to work as a carry-on, but at 45 L it's probably the most spacious pack you'll get at those dimensions. It has soft sides, so you'll be able to easily squish it to fit into those carry-on size cages at the airport.
At 3.9 lbs, it's also pretty lightweight.
That said, if you're traveling on a discount airline, especially in Europe, you'll want to check the allowable dimensions.
If size is an issue for the planes you plan to use, there's also a cheaper 35 L version of the Men's Tortuga backpack.
We really love the Tortuga Setout for carryon travel, but if you're looking for a bigger backpack, or a more hiking style of backpack, check out our best travel backpack review, where we talk about the best bigger backpacks.
Is there room for my laptop?
Yes. Both the 45 L and 35 L versions easily fit a 17" Macbook in the specialized back laptop sleeve.
We sometimes travel with my older 15.6″ Lenovo IdeaPad, which is as thick as a brick and twice as heavy, lol, and it fits with plenty of room to spare.
The laptop compartment is easy to access and separate from the main compartment, making it quick to access when going through airport security.
The laptop sleeve is both padded and suspended off the ground, protecting your laptop from sharp bumps when you accidentally put your backpack down a little harder than you expected. I learned the hard way how important a padded laptop sleeve is when I was using an older backpack and knocked a chunk out of the back corner of my Lenovo laptop when I set it down a little too hard. Luckily, it survived, but I've insisted on a bottom padded laptop sleeve ever since.
Organization in the Tortuga Setout
When I first opened up the Tortuga, suitcase style, I could hardly believe how big it is inside, even though it's only carry-on size outside. The Tortuga was designed to get the most space inside as possible in a carry on size backpack pack.
There's a separate padded laptop sleeve in back, with easy access for airport security. The front compartment has plenty of pockets and pouches for storing cables, chargers, and other electronics. There's also a very deep water bottle side pocket.
The main compartment, in particular, seems enormous. Because it's so large and open inside, you may want to grab some specially sized Tortuga Setout packing cubes.
It's designed well for airplane travel, with straps that tuck away to avoid being snagged by plane conveyor belts, and a size that's easy enough to lift onto train and into airplane overhead bins.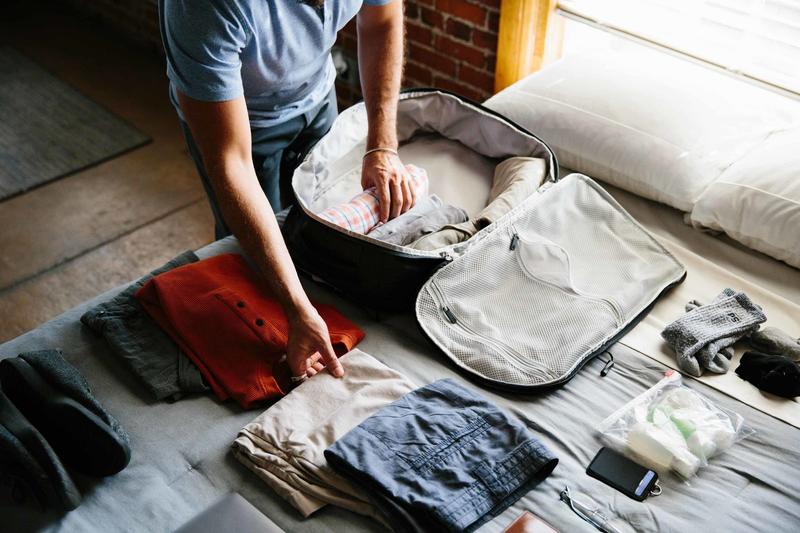 Is it comfortable?
Charles is 5'11", with a medium-light build, with an average torso size, and the Setout fits him well.
One of the first things I noticed about the Tortuga is the cushy padding on the shoulder and waist straps. This adds a bit of bulk, but very little weight, and makes for a comfy carry. There's also padding on the back of the pack, so it rests comfortably on your back yet gives your back space to breathe on those hot days. There's also a little front strap to connect the shoulder straps to help distribute the load better.
On our last trip to Mexico, we had the men's Tortuga absolutely stuffed, with everything from swimsuits and snorkeling gear, to extra electronics, to clothes and toiletries.
Even with all that weight, it was comfortable to carry, even without the waist straps tied up.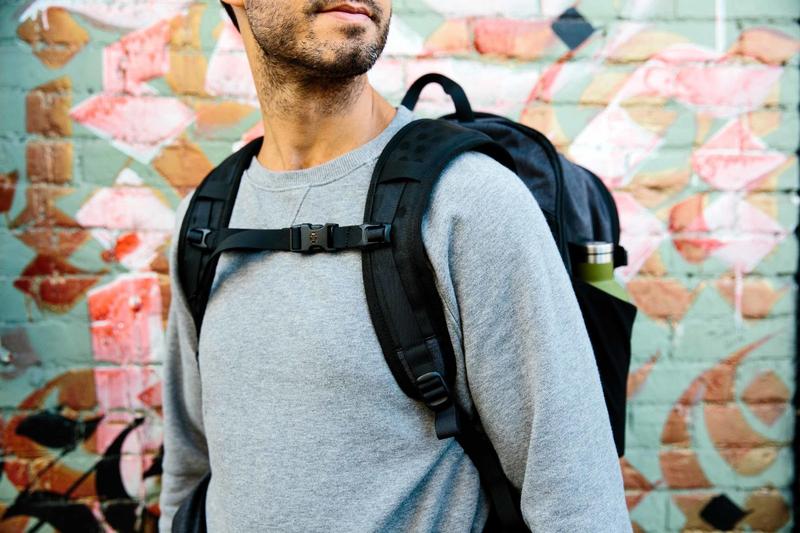 Can you adjust the height?
The Tortuga Setout is not height adjustable, and only comes in one size, so if you're very tall (over 6'1″) or smaller than (5'1″) it may not work for you. Tortuga says that it's made to fit 17-19″ torsos.
That said, the Setout does have load lifter strap suspension.
If you want a similar pack that fits a longer or shorter torso, or that's height adjustable, check out their adjustable Tortuga Outbreaker, which comes in 35 L and 45 L sizes. It is a bit more expensive and a little heavier but it's a great backpack pack as well.
Is it waterproof?
The Tortuga Setout isn't waterproof, but it is made with a high quality, durable fabric that easily handled a light ran shower for us. You can also pick up a custom fit Setout rain cover if you want. See the mid-sized rain cover on Tortuga, or the large rain cover on Tortuga.
The men's 45 L and 35 L Setout comes in heather grey, which we own, as well as black and navy.
The black and navy colors are made of recycled water bottles.
See prices and reviews for the the men's Tortuga Setout Backpack now.
Women's Tortuga Setout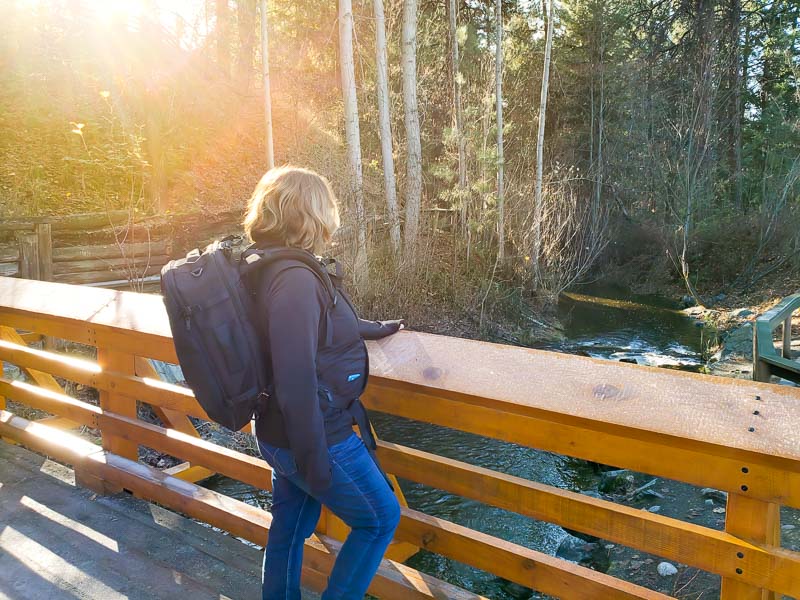 I was really excited when we first got the original men's Tortuga Setout, and I do love the backpack. However, as an average sized woman (I'm 5'5″), with an average build, I found it seemed a bit awkward and oversized for me. I still loved the pack, but I found that I was always passing it to Charles to carry, simply because it better fit his height and build.
So, I was pretty excited when Tortuga first brought out their women's version of the Setout. Since we were looking for a smaller carry-on pack, I jumped at the chance to get the smaller 35 L version.
Basically, the women's Tortuga Setout has all of the advantages of the original men's Setout, but it's just designed to fit women's bodies better.
There's also no skimping on features, which I love. I'm endlessly frustrated by companies that make women's products smaller, but with fewer features and options!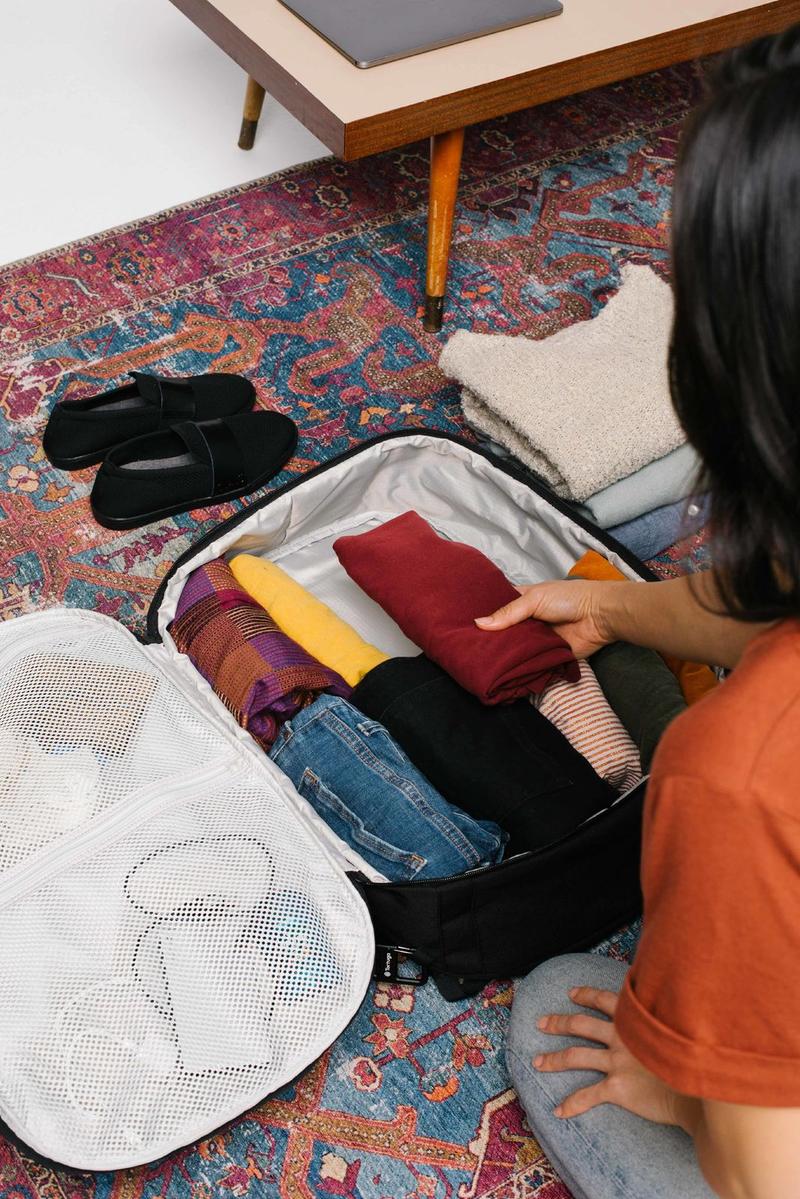 Women's Tortuga Setout specs
Price: $199 (45 L) or $179 (35 L)
Size: 45 L or 35 L
Weight: 3.9 lbs (45 L) or 3.6 lbs (35 L)
Dimensions: 22″ x 14″ x 9" (45 L) or 21.5" x 13.5" x 7.5" (35 L)
How does the women's Tortuga Setout fit?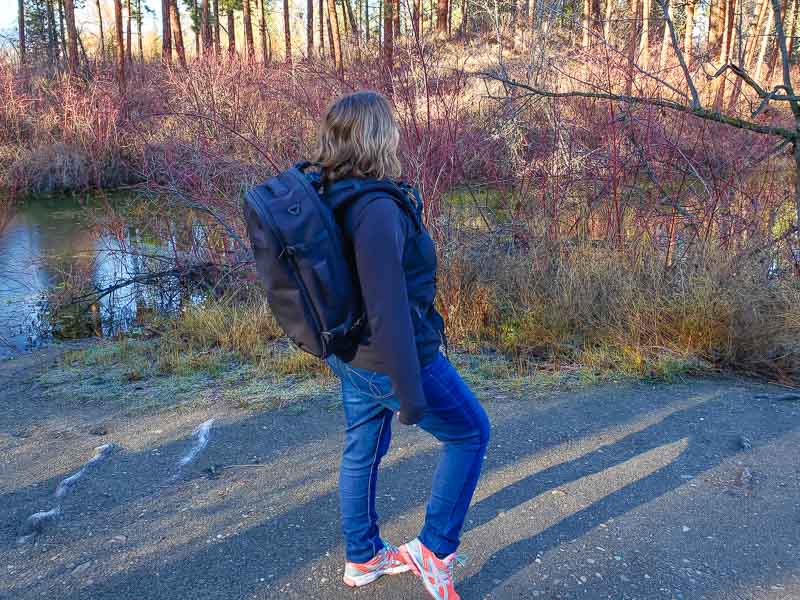 The women's Tortuga Setout backpack has a suspension system designed for women's bodies. It's designed to fit women's 15.5 to 18" torsos.
Since the women's Setout is designed for women's frames, I find that it fits me really nicely.
The shoulder straps are well padded, and fit comfortably but snugly to my body, and the waist straps fit nicely at the top of my hips, with plenty of room to cinch them smaller, or bigger, depending on your size.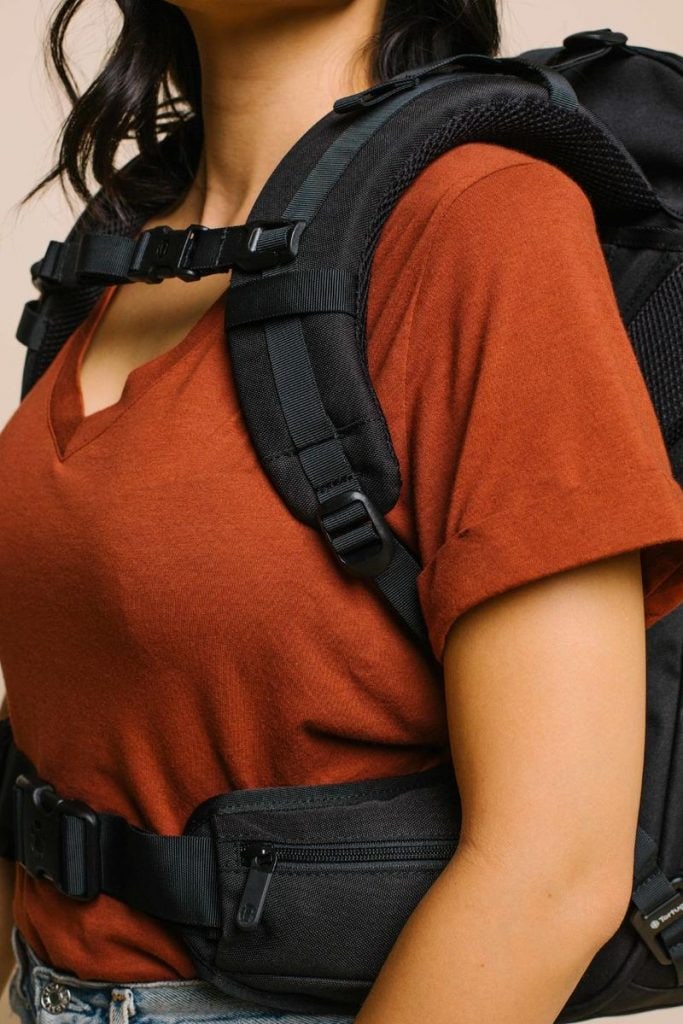 For me, the 35 L is a fantastic size for a weekend trip, or small backpack in combination with wheeled luggage. I can easily fit my laptop, basic toiletries, cables and charges, 2 pairs of pants, 2 shirts, 2 sweaters, and an extra pair of shoes into the 35 L with room to spare. It would be a great size for carry-on luggage with an European airline, since they're stricter with their size requirements.
For a longer trip of a week or two, I would probably use the bigger 45 L women's as my primary backpack. The 45 L is still carry-on size with most airlines, especially those in North America, making it a great choice for flying.
See the women's Setout backpack on Tortuga now.
Other Tortuga travel gear
Tortuga has a pretty expansive line of travel backpacks and gear.
If you're looking for a smaller travel day bag, there's the little 19 l Tortuga Setout laptop bag.
If an expandable travel backpack is your thing, there's the Tortuga Setout Divide, which expands from 26 to 34 L.
Looking for something that's easily height adjustable, but still carry on size? The Outbreaker Backpack comes at a price point about $100 higher than the Setout (depending on the exact size you get), but it is height adjustable. The straps on the Outbreaker aren't hideaway however it's absolutely jammed with pockets and storage.
If you prefer a shoulder bag, Tortuga also sells a Setout duffel bag.
About Tortuga
The founders of Tortuga designed the first Tortuga after backpacking around Europe. They found that their traditional top-loading backpack made it hard to access stuff, that there was limited storage for electronics, and they didn't like that standard backpacks made them stand out immediately as backpackers.
So, they designed Tortuga packs to be great backpacks for urban travelers with plenty of storage (especially for electronics), and a cool, urban look and feel.
Did our Tortuga Setout review help you decide? Let us know in the comments below!
Looking for more travel backpack or gear ideas?