When is the best time to buy holiday flights?
There's a lot of info out there about how far ahead you should book flights. Some sites say 54 days in advance is the magic time, some say exactly four weeks before travel, while others suggest booking airfare as far in advance as possible.
Unfortunately, most of this advice about when to book doesn't take holiday travel into consideration.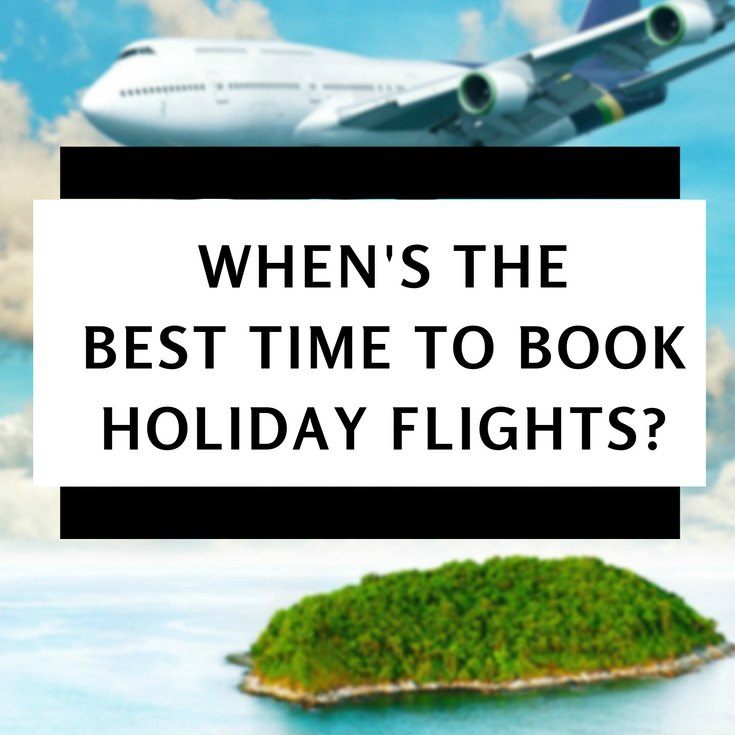 Any advice we've heard about when to book flights for Christmas or US Thanksgiving pretty much comes down to suggesting you should book as early as possible. We've even doled out some advice ourselves about booking early for holiday flights before.
But is this true? Do you really need to book early to get the best holiday flight deals?
Happily, Skyscanner's done the work for us, to get some real, data-driven answers*. They've sifted through historical data from Skyscanner's more than 50 million users, crunched the numbers, and found out exactly the best time to book holiday flights.
Click here to search for low prices on Skyscanner.
Turns out, the best deals can be found four weeks before US Thanksgiving, Christmas and New Year's Day. There are even some great deals available if you book flights the same week of a holiday.
Tip! Use price alerts to make sure you're getting the best deal. To sign up for alerts on Skyscanner, just search for a flight, then click Get Price Alerts.
If you're looking for the best airfare deal this year, we have some specific tips for each holiday season, based on Skyscanner's data.
Thanksgiving – the best time to buy flights
October's the best time to get a flight deal, with the very best deals found four weeks before US Thanksgiving, on the week of October 31, with prices averaging about 7.7 percent cheaper. Buying last minute can even save you a bit, with prices almost two percent lower on Thanksgiving week.
When's the best time to buy Christmas flights?
Thanksgiving week, which is five weeks before Christmas in 2016, is the best time to buy Christmas flights, with deals of 6.41 percent. The week of December 5, which is three weeks before Christmas in 2016, is also a good time, with savings of almost 5 percent (4.93 percent).
Click here to search for low prices on Skyscanner.
Tip! We've found some fantastic flight deals by being willing to travel on Christmas Day or New Year's Day. I think the reason prices stay low is because most people don't want to fly on these days, keeping demand for tickets down. The bonus is that airlines often do special activities on holidays and you might find yourself with a free meal or a small present for the kids!
New Year's Day – when to buy airline tickets
Ah, New Years. We've honestly found Christmas and New Years the hardest holidays to book flights. Skyscanner's data says that booking the week of December 5 could save you a whopping 10.57 percent. This one surprised us, but the Skyscanner data also says you can get fabulous last minute savings, with discounts of 6.72 percent one week before New Year's!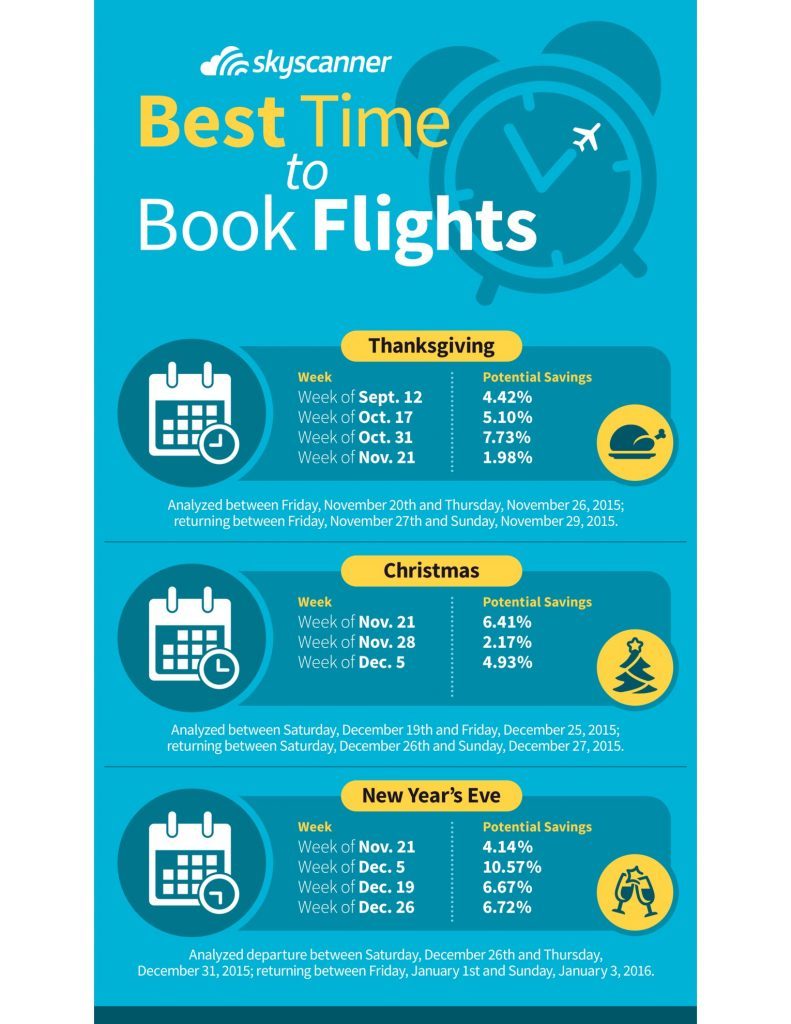 *Methodology: Skyscanner holiday travel data is based on 2015 search and exits during 2015 holiday dates on Skyscanner.com. US to US round-trip travel for one-adult ticket were analyzed.
Looking for some great travel deals? Here are some of the best prices to be found right now. Thanks, Skyscanner!
Labor Day Flight Deals
(Travel dates: September 1-6th)
Philadelphia to Columbus, Ohio
Starting at $58 (Yearly average ticket price is $235)
Cleveland to Atlanta
Starting at $71 (Yearly average ticket price is $123)
Other Cheap Flights
From $87 (Yearly average ticket price: $231)
Houston to Atlanta
Cheapest deal in September, starting at $49 (Yearly average ticket price is $170)
From $80 (Yearly average ticket price: $232)
From $361 (Yearly average ticket price: $769)