For years we've heard other travelers talk about how much they love packing cubes so we finally checked out packing cubes for ourselves and saw what all the fuss is about.
To get us started, we tested out the 5 pack set of eBags ultra lightweight packing cubes in blue, complete with two large, one medium, and two small cubes.
See prices and details on Amazon now.
To give you an idea of how much we've used the packing cubes so far, we've been using them, as a family of four, for about six weeks of constant travel through Canada, Mexico, Belize, Columbia and Ecuador.
Why should you use packing cubes?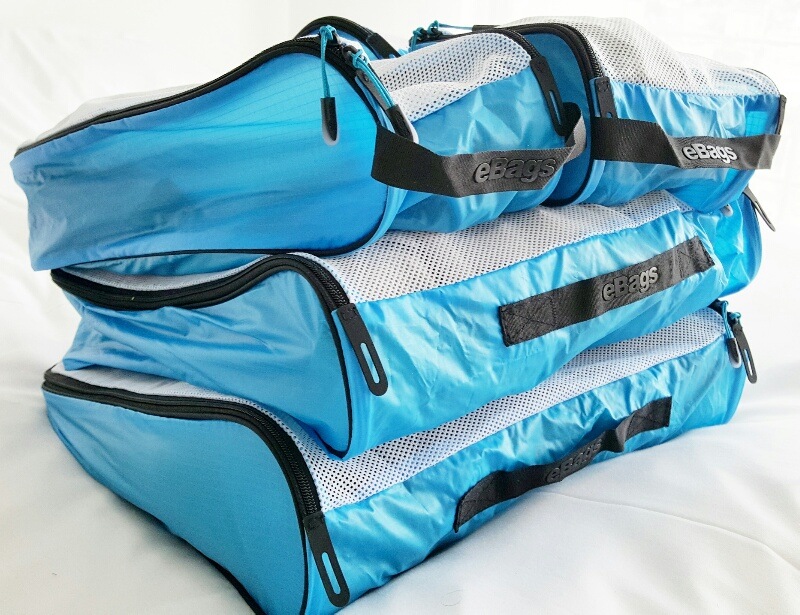 We started using packing cubes because I was tired of the jumble of clothes in our suitcases. I was constantly looking for underwear or socks that were buried in some hard-to-find corner of a suitcase.
I honestly just felt constantly unorganized and when we all shared a large bag it was a nightmare sorting everyone's things out.
That's no longer the case since we started using packing cubes. I love that packing cubes make it easy to find underwear and other small items, without tearing apart the entire contents of a suitcase. I always know when it's time to do laundry when the underwear cube is down to its last pair, and I always know where to find socks.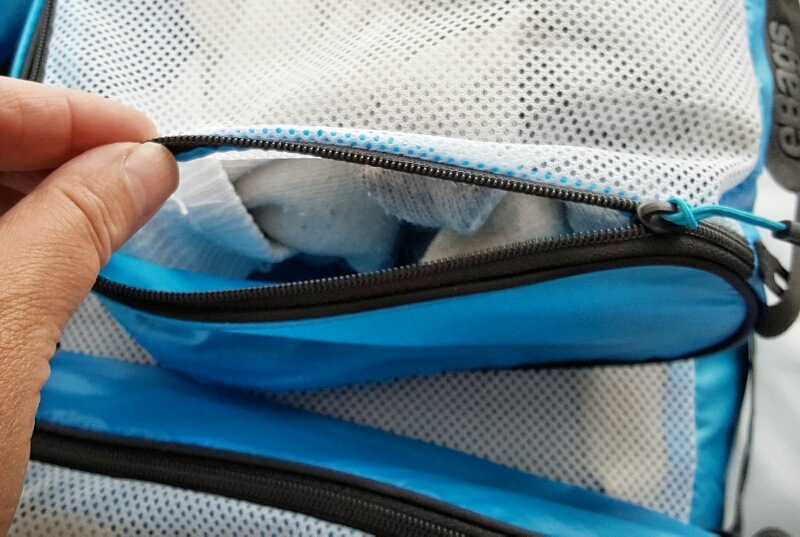 I also like that packing cubes give you a bit of privacy. Packing cubes can also help keep the contents of your suitcase private during a TSA inspection. From personal experience, it's not that enjoyable when TSA agents and every guy in the security line can see your underwear when your suitcase contents are being randomly inspected. Packing cubes can help prevent that.
How much fits inside a packing cube?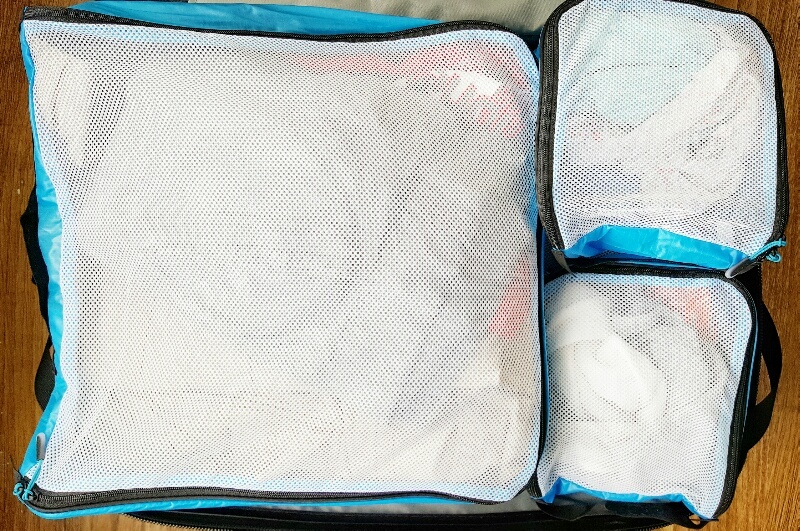 We use the small cubes to hold our children's underwear, and each cube fits seven pairs of children's underwear and four pairs of socks in a small cube. I love the medium cube, which fits seven pairs of adult women's underwear, an extra bra, and four pairs of socks, with lots of room to spare.
We use the large cubes to hold bulky items of clothing for colder climates, like extra rain jackets or jeans. Each large cube fits two adult spring or rain jackets, or six pairs of jeans.
When I travel by myself, I use the cubes to organize my clothes differently. I use the small for underwear, the medium for shoes and accessories, one large bag for tops and dresses, and the other large bags for bottoms.
Tips for choosing packing cubes
Look for packing cubes that are as lightweight as possible. There's no need to add extra weight to your luggage, especially with airlines charging a fortune for overweight luggage.
It's also a good idea to choose packing cubes with a mesh panel that lets you see what's inside, and lets the contents breathe, keeping them fresh.
Our review of the eBags ultra lightweight packing cubes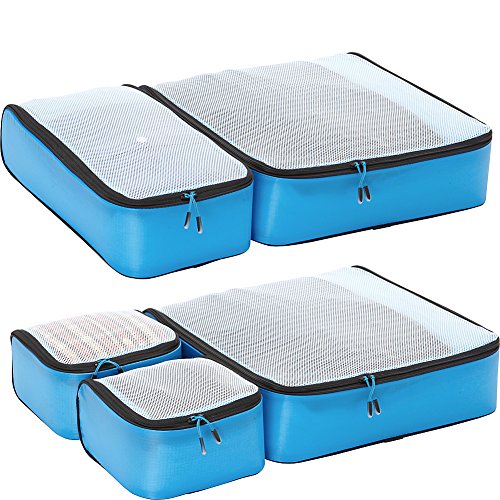 Overall, we really like the eBags ultra lightweight packing cubes. They're as nice as new after six weeks of constant use and I find that I use the carry handles a lot to grab them and move them around.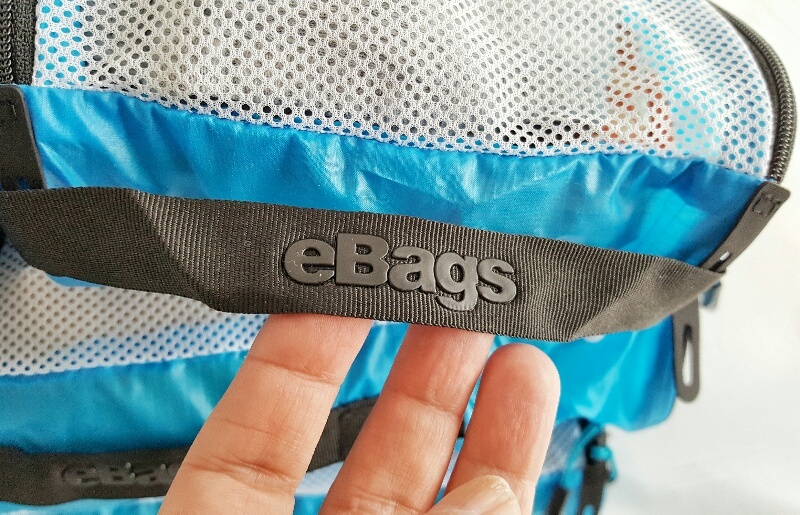 They also have pull tabs that make it very easy to open and shut and a quick loop can secure them up for transport.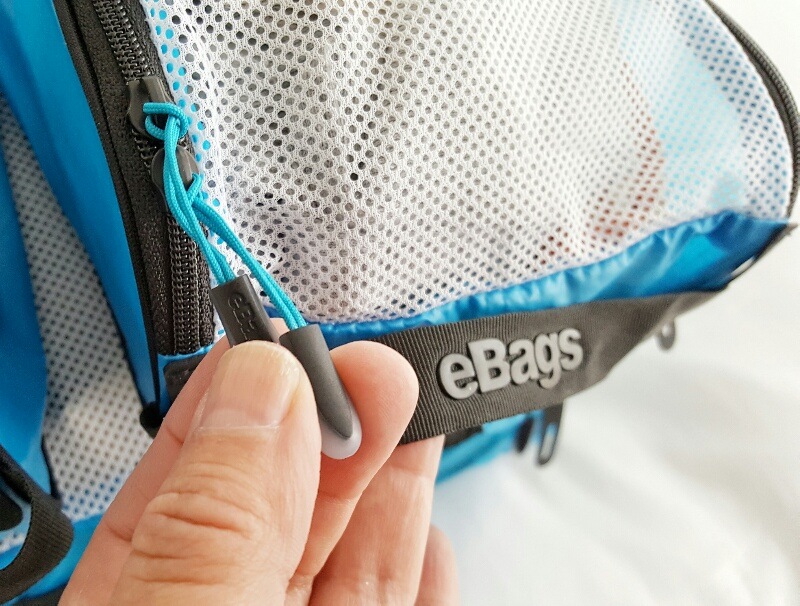 We can fit all five of the ultra lightweight eBags cubes (2 large, 1 medium, and one small) in one side of a typical carry on. That leaves the other side of our eBags carry-on, with its zippered compartment, free for other clothes.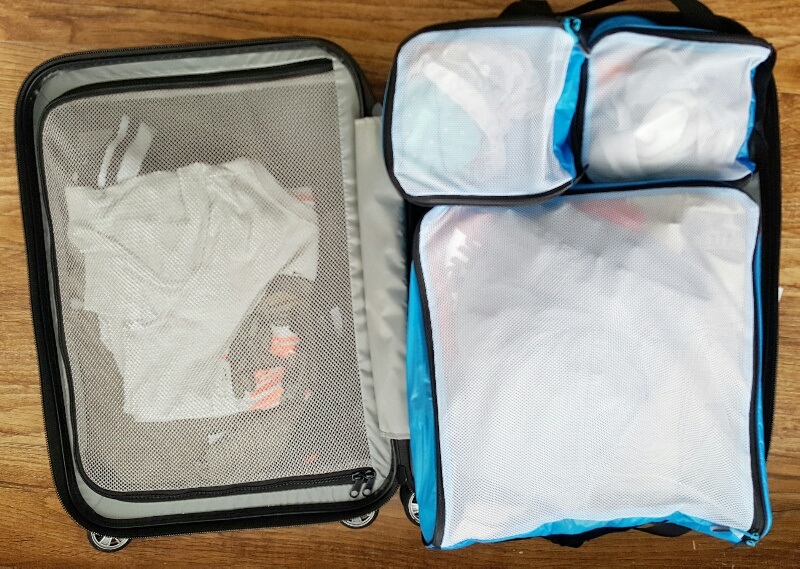 As you can tell by their name, our eBags ultra lightweight packing cubes are ultra-lightweight. This means that their shape will change when you put in bulky items unlike compression packing cubes meant to compress clothes.
Compression packing cubes are great for when you really need to your clothes into as small an area as possible and aren't as worried about the weight.
When empty, the ultra lightweight packing cubes take almost no space and weigh next to nothing however you'll be paying more for the low weight and patent pending design. Right now, the 5 pack set of eBags ultra lightweight cubes cost about $70 at eBags though they're sometimes on sale for less. If that's a bit pricey, you can check out their regular packing cubes, which start at about $35 for a three piece set.
Will they wear out?
We've used our packing cubes every day for the past six weeks, and there are absolutely no signs of wear on them. I'm pretty happy with this since I was a little concerned that the lightweight cubes would wear or rip faster than regular packing cubes.
Slim vs Regular packing cubes
Since we're traveling with carry-ons only this trip (to avoid extra weight and baggage charges), the ultra lightweight cubes work well for us. If we hadn't chosen the ultra-lightweight ones we probably would have gone for the slim packing cubes design with their eBags lifetime warranty.
For a larger suitcase, a regular size packing cube would work well. The regular size is larger, and would allow us to use a large cube apiece for each of the four of us, with separate small cubes (kids) or medium cubes (adults) for underwear.
Where to buy
You can buy the eBags ultralight packing cubes we tried out using the button below.