As a vegetarian, it can be a challenge to eat on the road, so I love to check out recipes and great eateries posted by fellow travel bloggers.
Here are a few of our favorite recipes from the multi-talented folks at other travel blogs.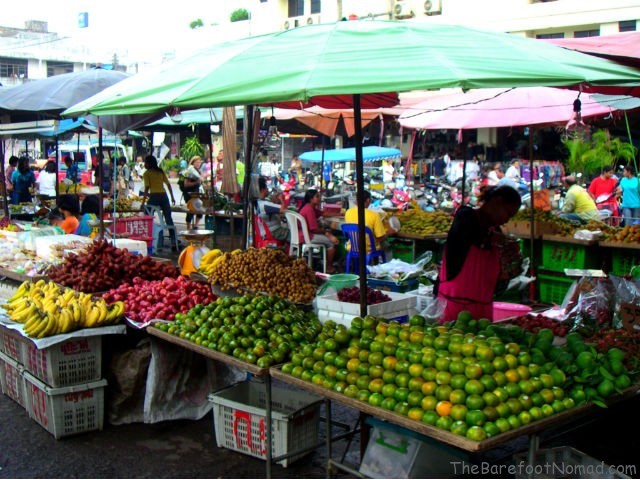 A Mouthwatering Fruit Buffet
Migration Mark at Migrationology talks about his mouthwatering experience at a fruit buffet in Thailand. While this isn't a recipe, his description of the luscious fresh fruit available in Thailand made me want to jump on a plane to Southeast Asia. Mark's fruit buffet experience is something I can't easily replicate everywhere, but it's a great inspiration for hitting the exotic fruit section at our supermarket.
Coconut Curry
Jodi Ettenberg at Legal Nomads posted a yummy coconut curry recipe. While the recipe and photos are wonderful, what I like most is Jodi's philosophy of food. Jodi says, "What fascinates me about cooking is both the way that different tastes mix and blend together, creating perfect matches from seemingly unrelated beginnings, and the history and trajectory of each ingredient in a meal."
Vegetable Biryani
Justin P. Moore from Lotus Artichoke got my taste buds working overtime with his recipe for a vegetable biryani. He based his recipe on a biryani he tasted at a little corner stall in Mamallapuram, Tamil Nadu, South India. Justin's site is chock full of great vegan recipes.
Gin Passion Drink
A great drink can make for the perfect meal. Talon Windwalker from 1Kid1Dad has a great recipe for a Gin Passion. Talon uses passion fruit juice in this recipe, but I think this would work well with almost any tropical juice, including POG (pineapple, orange, and guava) from Hawaii.
Grandma Ople's Apple Pie
All of these delicious vegetarian recipes wouldn't be complete without a great dessert. Akila and Patrick from The Road Forks deliver big time with a truly decadent recipe for Grandma Ople's Apple Pie. Check out the topping poured over the pie to make a delicious, crispy  crust. You may need a family of five to finish this deep-dish lattice topped wonder.
Hope you enjoyed these!